New Map Released Next Week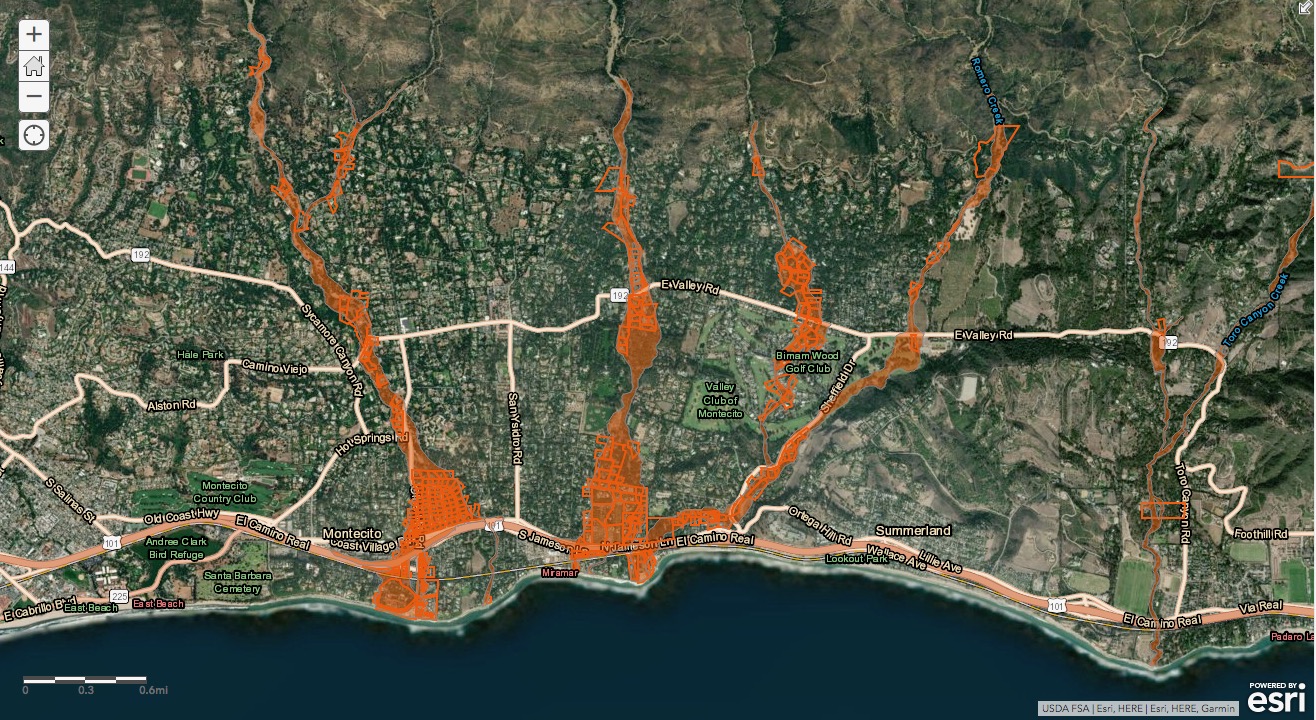 Next Thursday, December 5, Montecito Fire Department, in partnership with the Santa Barbara County Office of Emergency Management (OEM), Carpinteria Summerland Fire Protection District, and 1st District Supervisor Das Williams, invites the public to attend a community informational meeting in advance of the winter storm season. The purpose of this community meeting is to publicly release the Interactive Storm Impact Consideration Map (formerly known as the Debris Flow Risk Map) that identifies properties that may be at risk from debris flow or flooding this storm season. This map will be utilized by local emergency managers as one of many factors to determine what portions of the community will be evacuated if necessary this winter. "Unlike last year's map, this is not an evacuation map," said Montecito Fire Chief Kevin Taylor.
Earlier this week, as the Cave Fire descended into the western edge of the City of Santa Barbara – and while 13 Montecito firefighters were deployed to help fight it – Chief Taylor sat down with us to review the new map, which has been updated to include the most up-to-date scientific research and data gathered following the Thomas Fire and the 1/9 debris flow. The good news: 955 parcels have been removed from the red zone on the map, out of the 1,472 parcels that were included last year. The bad news: As Taylor reiterated multiple times, we are in "uncharted territory" when it comes to managing risk following a massive fire and debris flow. "Nobody has scientifically forecasted potential debris flow or debris laden flooding from a fire scar in year three after such a significant event," he said. "And while nobody knows for sure how the watershed will respond, we do know that significantly less material is available for mobilization, that we have enhanced mitigations, and that our community is prone to flooding regardless of fire history."
The Storm Impact Consideration Map is a map that will be used over the next year, as we transition from "high velocity debris flow" potential to "debris laden flooding" and "clear flooding" potential. For example, earlier this year, on February 2, 2019, a significant rain event caused a debris-laden flood, when big rocks from our foothills rolled rather than floated into the debris basins and creek channels. "All the debris basins filled, and Highway 101 was flooded for a few hours," Taylor recalled, adding that the risk of a debris flow like what we saw on 1/9 is definitely lower, but the community is still at significant risk for various flooding events.
The 517 parcels that are still in red areas on the new map are adjacent to waterways, or are downstream from areas in which obstruction of a waterway or creek channel may occur. The eastern portion of Coast Village Road, as well as areas below Highway 101 – including the Four Seasons Resort the Biltmore – are still on the map, as during a significant flooding or debris flow event those low-lying areas could see up to three feet of water, according to Chief Taylor. Areas in which homes were removed from the red zone on the map include the Hedgerow, Birnam Wood, and neighborhoods near Westmont College.
The new map takes into account the incredible 80% regrowth of the watershed in the foothills of Montecito, following the Thomas Fire. And while legitimate risk of debris flow still exists, the risk is different now, according to Chief Taylor. "The things that we are considering in order to protect lives and property have significantly changed," he said. "And we are committed to only evacuating the community when necessary."
In the first two years following the Thomas Fire, scientific evidence made it simpler to determine risk using a rain total threshold. In 2018 that threshold was .5 inches per hour, in 2019 it was .8 inches per hour. This winter season, there will be no set threshold, and evacuations will be determined from a combination of factors. If there is a prolonged "saturation event" that is followed by or includes a high intensity, short duration rainfall, an evacuation may be ordered. But it will also be dependent on the status of the debris basins and creek systems. "It's no longer a black and white determination," Chief Taylor said. These evacuations could be localized to one area of Montecito, they could include only the "red zone" on the map, or they could comprise the entire community, depending on the severity of the situation. "Our plan is to be completely transparent, and explain thoroughly if and why we are evacuating," Chief Taylor said.
Chief Taylor said the cleared out debris basins and channels and the newly installed ring nets above Montecito have all contributed to the development of the map, which was a collaboration between MPFD, Carp/Summerland Fire Department, SB County Sheriff, City of Santa Barbara, City of SB Police Dept., and Santa Barbara County Office of Emergency Management, as well as several consultants and weather experts.
The new map (shown on the front cover of this edition) will be available online at www.readysbc.org on December 5. Also on the website: 10 Steps to Protect Yourself Now, which includes sandbagging around vulnerable areas of your home. Sandbags are available now at Lower Manning Park, 449 San Ysidro Road. Chief Taylor said next week's upcoming rains, the first rains of the season, are highly unlikely to pose a threat.
The community meeting is scheduled to begin at 5:30 pm on Thursday, December 5 at Montecito Union School, 385 San Ysidro Road. The meeting will be streamed live on the County's CSBTV cable channel 20 and YouTube at www.YouTube.com/user/CSBTV20.
ADD PIC A
You might also be interested in...