How Hot is Today's Market?
The Montecito Heat Index spotlights present demand for single-family homes. By identifying buyer contracts, rather than sales which typically lag a month or longer, the Heat Index is a forward-looking indicator of both market strength and direction. It also shows us at five price point(s) where value is most recognized by buyers and those properties scheduled to close escrow. Today's Heat Score is compared to this date last year. All data are from the Santa Barbara MLS and are uniformly deemed reliable.
Today's Index registers 86, an increase of 38.7% over last year's score of 62.
Last year on this date, the Hottest sector was the entry level $1-2m with a score of 27, today it is the $2-3m group with a score of 30, showing a major increase of 50% over last year.
The $1-2 sector, often our most popular group, posted a disappointing score of 9, well below last year's score by 66.6 %.
The $3-4m group found strong buyer interest scoring a 26 and easily outperforming last year which found no buyers at all.
The inventory of $4-5m homes increased year over year by a surprising 88.3%. This group bested last year's score by 3 points.
And the $5m and up group, with an increase in homes for sale of 12.3%, doubled last year's demand.
In June of 2007, this column first appeared. Because both national and regional data had so often no relationship to our market, it seemed important to report how our real market was actually performing. Once again Montecito defies both California and national market trends. Where nearly everywhere in the country is feeling some reluctance to embrace the market, buyers for Montecito properties are not. Here new listings have increased 24% over last year, there are 50% more homes currently under contract, and sales are up an impressive 44%. Our average sales price has risen 17% to $4,678,321 and our median price is up 13% to $3,150,000. It really doesn't get much better than that. Hope Ranch's median sales price is down 13%, and San Francisco, the most expensive region in the state, has experienced a decline in the median sale price for nine consecutive months.
Beyond the number of homes in Montecito that should close escrow and become final sales in the short term, this column does not engage in long-term forecasts. The California Association of Realtors does and is pretty good at it. They recently warned buyers see challenges in the current market conditions. While low mortgage rates have motivated buyers to enter the market in the short term, economic uncertainties, supply constraints, and low affordability could hold demand back in the long run.
Montecito has never been too concerned about interest rates. In fact, as the often mortgage dependent $1-2m group today demonstrates, historically low rates weren't enough impetus for buyers in this sector to step up. (Contracts in this sector are currently off by over 66%.) Confidence in the broader economy, however, is an important issue here. Yet unlike the C.A.R. concern, economic uncertainty for buyers here seems not to be an issue. And perhaps with the exception of our entry-level sector, "affordability" also seems not to be holding back demand. For a community that was knocked down not that long ago, this is a very strong report.
2018: 27,20,0,12,3
2019: 9,30,26 ,15,6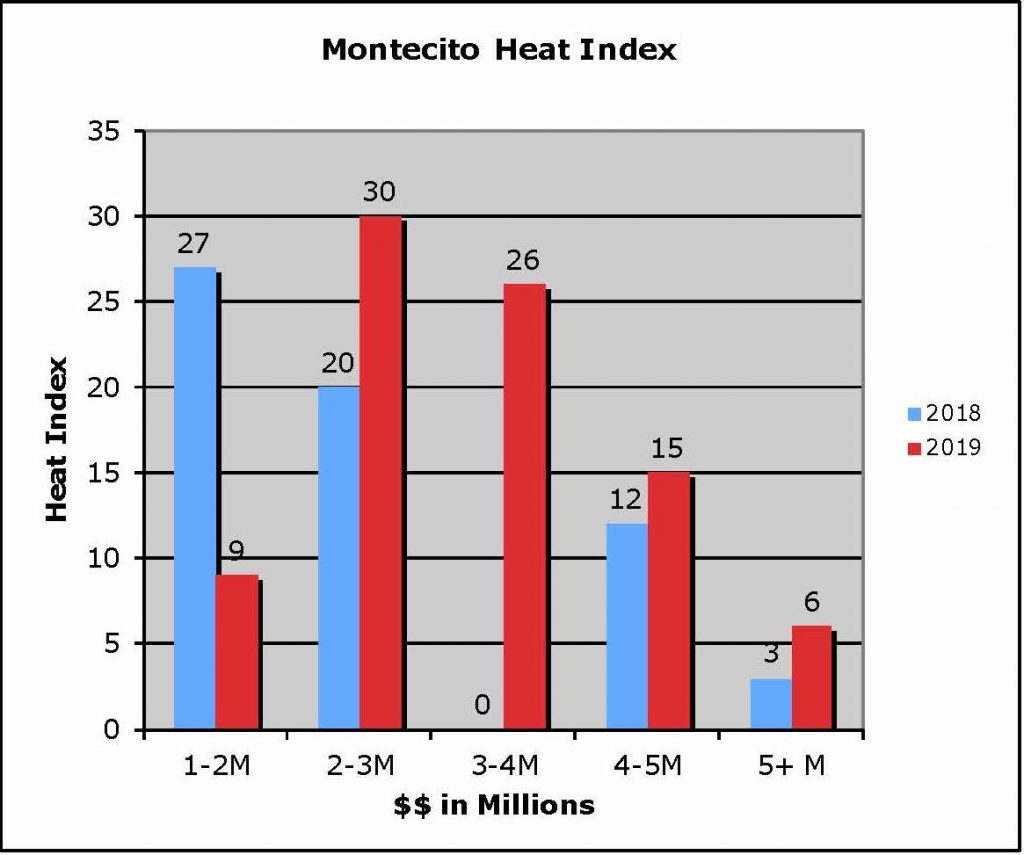 You might also be interested in...