Brilliant New Book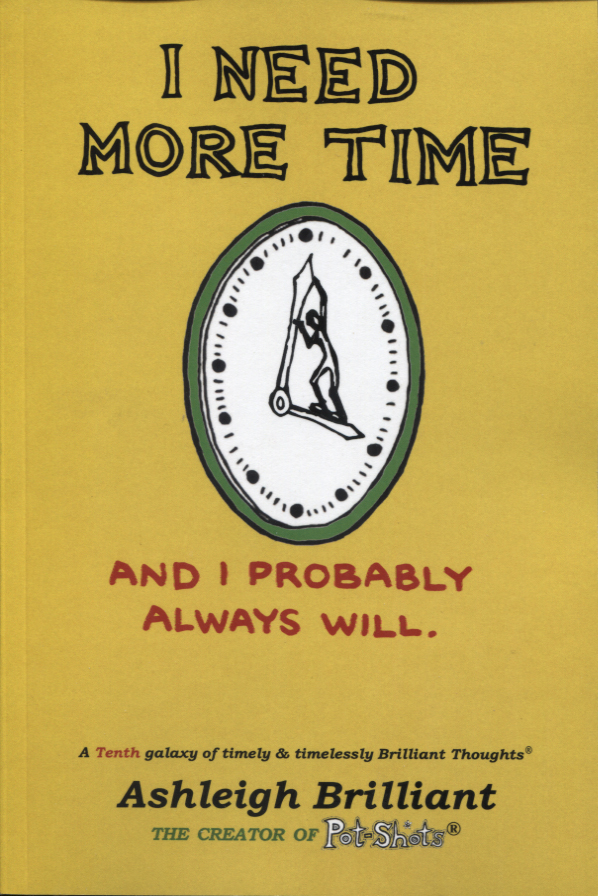 Journal columnist Ashleigh Brilliant has published his first book in 20 years and the tenth in his series of original illustrated epigrams, known as Brilliant Thoughts based on his popular Pot-Shots newspaper series.
The $25 soft cover volume, I Need More Time – And I Probably Always Will, has 400 of his epigrams in its 12 chapters, never seen in any book before, with titles including Sooner or Later, Time Out of Mind, and Yours, Mine, and Hours.
The publisher is a small local firm Kieran Publishing, owned by Journal columnist Erin Graffy.
If you'd like your own personal autographed copy, the author's e-mail is ashleigh@west.net
CAMA Kills 
How appropriate two days before Halloween that accomplished English pianist Stephen Hough should choose the theme of death when he launched the CAMA – Community Arts Music Association – centennial Masterseries at the Lobero.
It was his fourth time performing for the group, having last appeared five years ago, and he certainly didn't disappoint with a poised, precise and perfect performance on the Steinway grand keyboard.
Hough, a visiting professor at the Royal Academy of Music and Juilliard in New York, played works from Bach, Busoni, and Chopin to launch the concert, wrapping with Liszt's Funerailles and the Mephisto Waltz, and his own short work, Sonata No. 4 Vida Breve.
An enchanting evening…
Boys Like Us
UCSB Theater/Dance kicked off its 55th anniversary season in fine style at the Hatlen Theater with B. Scott Dance's Boys Like Us, choreographed, directed and conceived by Brandon Whited.
The 40-minute work which explored gender dynamics and identities, started in stark silence, but later transitioned into more energetic roles with music by Michael Wall, Gerry Rafferty, Kyle Dixon, and Michael Stein, with clever use of film and video featuring images from gay rights marches in New York and San Francisco, featuring icons like the late Harvey Milk.
The six dancers – Andrew Bauer, Elijah Hahn-Smith, Sergio Barrientos, Guillermo Castro, Ezra Nolan Spencer, Colin Sneddon – showed off abundant talents. Kudos to Michael Klaers and You-Jin Kim for lighting and production design.
Katy vs Katy
Santa Barbara warbler Katy Perry is being sued by an Australian fashion designer of the same name for using her trademark.
The Sydney-based fashionista described the litigation as "a real David and Goliath" fight.
The pair have been involved in a legal battle before after the former Dos Pueblos High student attempted to stop the Aussie from trademarking her name, but later withdrew the action.
Now the antipodean entrepreneur has filed a new case under her married name Katie Taylor after actor Orlando Bloom's fiancée launched her branded clothes across the country.
Taylor started her brand in 2006 after working overseas in the U.K.
Stay tuned…
Posthumous Profit
The late singer Michael Jackson, who had a sprawling 2,700-acre ranch in Los Olivos, has topped the Forbes magazine list of the highest earning dead celebrities for seven years, and is number one again raking in $60 million since October, 2018.
The King of Pop's music stream increased to 2.1 billion in the U.S., compared to 1.8 billion the year before.
His Mijac Music catalog, Sony deal, and a Las Vegas show also continue to contribute to his fortune.
It puts the singer, who died in 2009 aged 50, at least $21 million ahead of Elvis Presley, Peanuts creature Charles Schultz, and golf legend Arnold Palmer.
Singers Bob Marley, John Lennon, George Harrison, Prince, and actress Marilyn Monroe are also in the top ten.
Michael Moves from Maui
Doobie Brothers alum Michael McDonald, who has made Santa Barbara home for many years, has listed his Maui, Hawaii, retreat for $3.9 million.
The rocker has owned the three-bedroom and two-bedroom cottage, a total of 2,500 sq.ft. on two acres.
Coconut palms and tropical fruit trees complete the lush landscaping.
Out of this World
It's undoubtedly one of the more unusual auctions to take place.
On Saturday Andrew Jones Auctions in Los Angeles will present the first ever dedicated sale of meteorites and Moon rocks on the Left Coast, with 100 lots of rare and important meteorite specimens with estates ranging from $100 to $300,000.
One of the stars of the sale is an extremely rare Fukang Pallasite meteorite from China, discovered in 2000 in the Gobi Desert, which is estimated to be 4.5 billion years old.
It is intricately composed of roughly 50 per cent Olivine crystals and 50 per cent nickel-iron, representing less than one per cent of all known meteorites.
A novel way of getting stoned…
You might also be interested in...