Government Inspector Delivers Laughs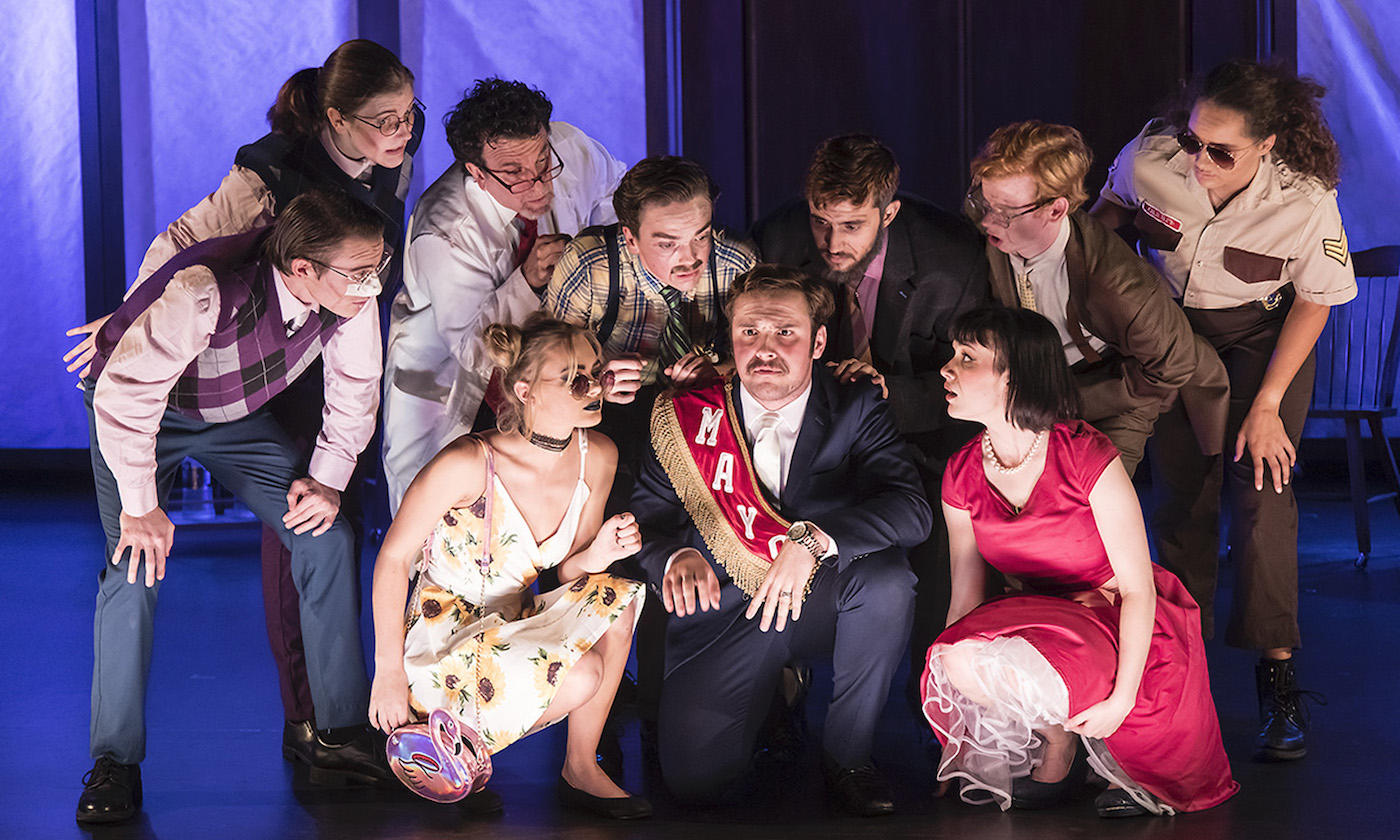 Westmont's performance of Nikolai Gogol's The Government Inspector delivers heavy doses of hilarity and introspection. Award-winning director Mitchell Thomas brings the play back to Porter Theatre for three final performances Octpber 24-26, all at 7:30 pm in Westmont's Porter Theatre. General admission is $15; and $10 for seniors and students. Purchase tickets at westmont.edu/boxoffice. For more information, please call (805) 565-7040.
Yuri Okahana-Benson, the play's scenic designer, illustrated an air of velvet luxury by draping a red curtain across the stage to create extravagant waves at the home of the mayor.
Actor Justin Sharp did an excellent job of intertwining a mixture of slapstick humor with a biting sense of genuine demand for authority.
The deep rooted greed that surfaces in The Government Inspector creates a sense of self-reflection in our own lives. When a small Russian village learns of a secret, undercover government inspector coming for a surprise visit, panic arises. A case of mistaken identity sends the whole village spiraling into a world of hysteria, disarray, and greed.
A lanky Luke Spicer creatively portrayed the greedy Hlestakov, whose feigning honesty leaves the audience stunned silence and laughing out loud in back-to-back scenes.
Chamber Orchestra Performs Fall Concert
The Westmont Chamber Orchestra and Chamber Winds, featuring performances by the Westmont Winds, Westmont Chamber Brass, and Westmont String Orchestra, host a fall concert on Sunday, October 27, at 7 pm in Deane Chapel on Westmont's lower campus. Admission is free. For more information, please contact the music department at (805) 565-6040.
"One of the notable pieces is a set of four Renaissance-era Polish dances in a new arrangement for strings," says Paul Mori, who conducts chamber ensembles and coaches the wind and brass sections for the orchestra throughout the year. "These pieces are rarely heard, but are spirited and charming."
The repertoire includes two movements (III and IV) of a symphony composed by Mozart when he was 18. The chamber brass group will open with a mystical sounding piece by American composer Alan Hovaness. "His 'Fantasy No. V' was last performed at Westmont probably back in the 1970s when Howard Stevenson led the Westmont Brass Choir," Mori says.
A spirited march by Gounod and a gospel-style arrangement of "Go Tell It on the Mountain" will follow.
The concert features student musicians Samila Aquino Holt (clarinet); Sophia Bartolo (bassoon); trumpet players Simon Janzen, Joshua Acuna, and Soren Warren; Caroline Field (horn); William Mitsuk (trombone); Chet Steussy (tuba); violinists Laura Dagg, Olivia Huebner, Caelia Moore, Laura Joy Phillips, Abbie Pryor, and Michael Rodriquez; and cellists Noah Johnson and Karis Daley.
Westmont Initiative Tackles the Opioid Epidemic
The opioid epidemic sweeping the country affects virtually every American, directly or indirectly, often in deeply personal ways. The Westmont Initiative for Public Dialogue and Deliberation (WIPDD) hosts a community conversation on the topic Thursday, October 24, from 7-9 pm at First Presbyterian Church, 21 East Constance Avenue. Community members may register to participate on a first-come, first-served basis by email at wipdd@westmont.edu. Registrants are asked to arrive at 6:45 pm. Free parking is available onsite.
Deborah Dunn, professor of communication studies, and Rachel Winslow, director of the Westmont Center for Social Entrepreneurship and assistant professor of history, created and began directing WIPDD in 2018 to encourage dialogue on difficult issues in the local community.
"The concerns that underlie this issue are not confined to party affiliation, nor are they captured by labels like 'conservative' or 'liberal,'" Dunn says. "This is a kind of talking that starts where the problem starts – with your experience of it – real, genuine, human struggles. Ultimately, this conversation is less about seeing eye-to-eye and more about looking at the costs and consequences of possible solutions to daunting problems, and finding out what we, as a people, will or will not accept as a solution."
"By facilitating these discussions, we hope to equip students and neighbors with the tools they need to cultivate healthy conversation and careful listening," says Jordan Baldridge, program coordinator.
You might also be interested in...