Ring Nets Latest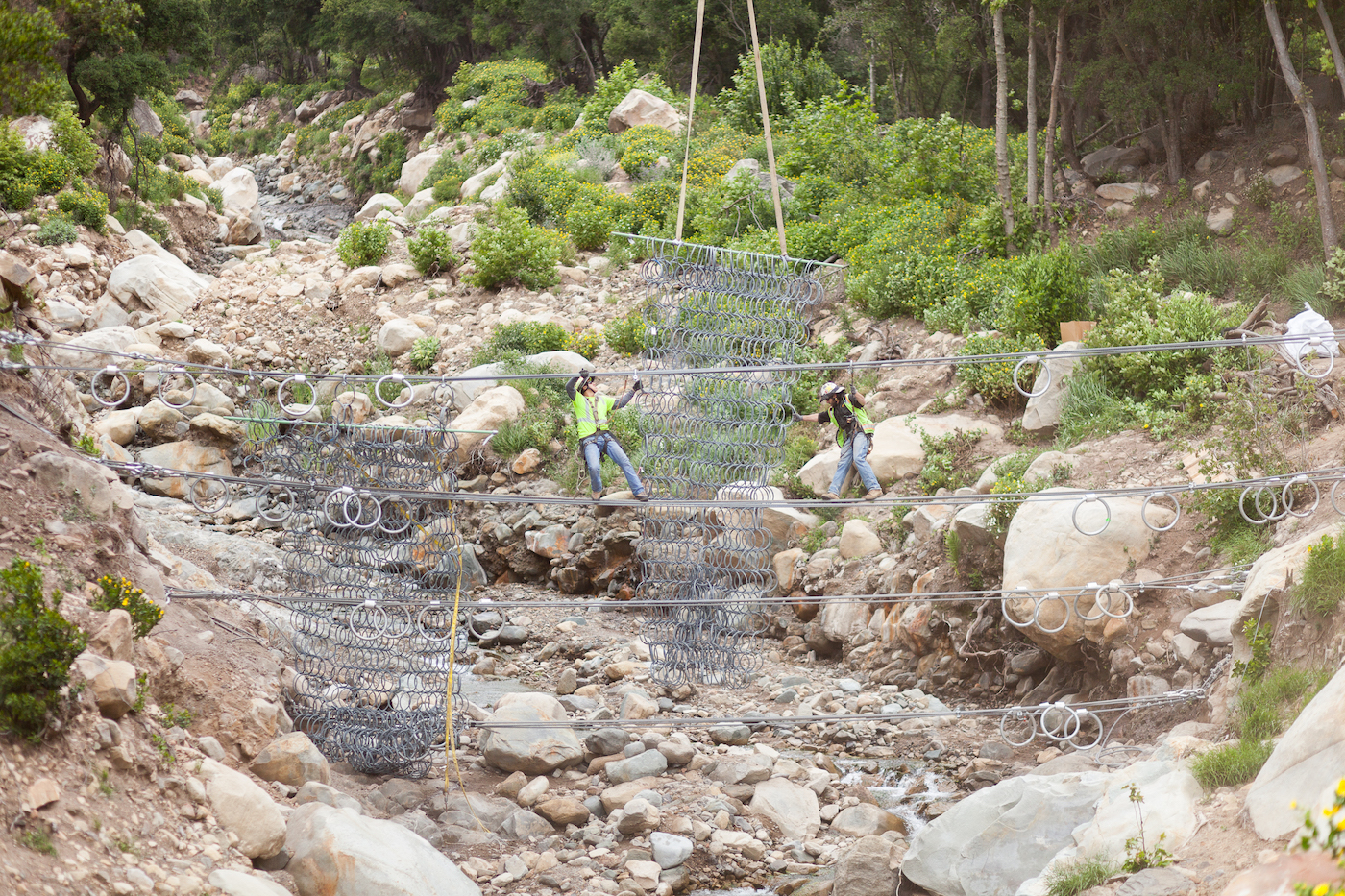 Last week Pat McElroy, Executive Director for the Partnership for Resilient Communities, reported to stakeholders that the group has reached the initial fundraising goal for the first six nets. "Because of your generous contributions, six debris nets will help protect our community during the winter rains," he wrote.
Helicopters are staging this week in the canyons above Montecito to construct two more debris flow protection nets; within 30 days there will be two nets in Buena Vista Canyon, two in San Ysidro Canyon, and two in Cold Spring Canyon. The first four steel ring nets were installed between April 5 and June 7, after TPRC fundraised $4.6M from over 400 community members and organizations. The 5th and 6th nets, in San Ysidro and Buena Vista canyons, cost an additional $800,000, which was recently funded.
McElroy says the privately funded initiative has helped spur other measures to protect the community, including a recent Board of Supervisors vote to assume responsibility for the group's $1,042,700 performance bond required by the California Department of Fish and Wildlife. "This County action released part of the funding we needed this week to start construction of the two new nets," he said. The group was formally invited by California's Office of Emergency Services to apply for $2.4 million in grant funding through the Federal Hazard Mitigation Grant Program for funds for the construction of additional nets, and the National Fish and Wildlife Foundation asked TPRC to apply for its disaster resilience funding. "NFWF is seeking approved shovel-ready projects like ours to improve community resilience," he said.
TPRC is working with the Natalie Orfalea Foundation and the Earth Sciences Division at UC San Diego on an early fire detection "instant recognition" camera system. It will be an innovative early warning system for wildfire throughout our front facing canyons; this work is in collaboration with the Montecito Fire Protection District and other Fire agencies. In upper Hot Springs Canyon and in Romero Canyon, TPRC's geotechnical engineers, biologists, and contractors are finalizing new net locations, with support from the Los Padres National Forest Supervisor for the U.S. Forest Service.
"We continue to comply with the complex permitting processes required to maintain the nets in our environmentally sensitive habitats until the slopes re-vegetate and the emergency abates. Your support has been essential to developing a new roadmap in our County to reduce risk to life and property. This roadmap incorporates advanced planning and mitigation that is long range, multi-agency, multi-disciplinary and supported by intense collaboration among our public, private and non-profit sectors," McElroy wrote.
For more information, visit www.partnershipsb.org.
You might also be interested in...