Putting Out The Fires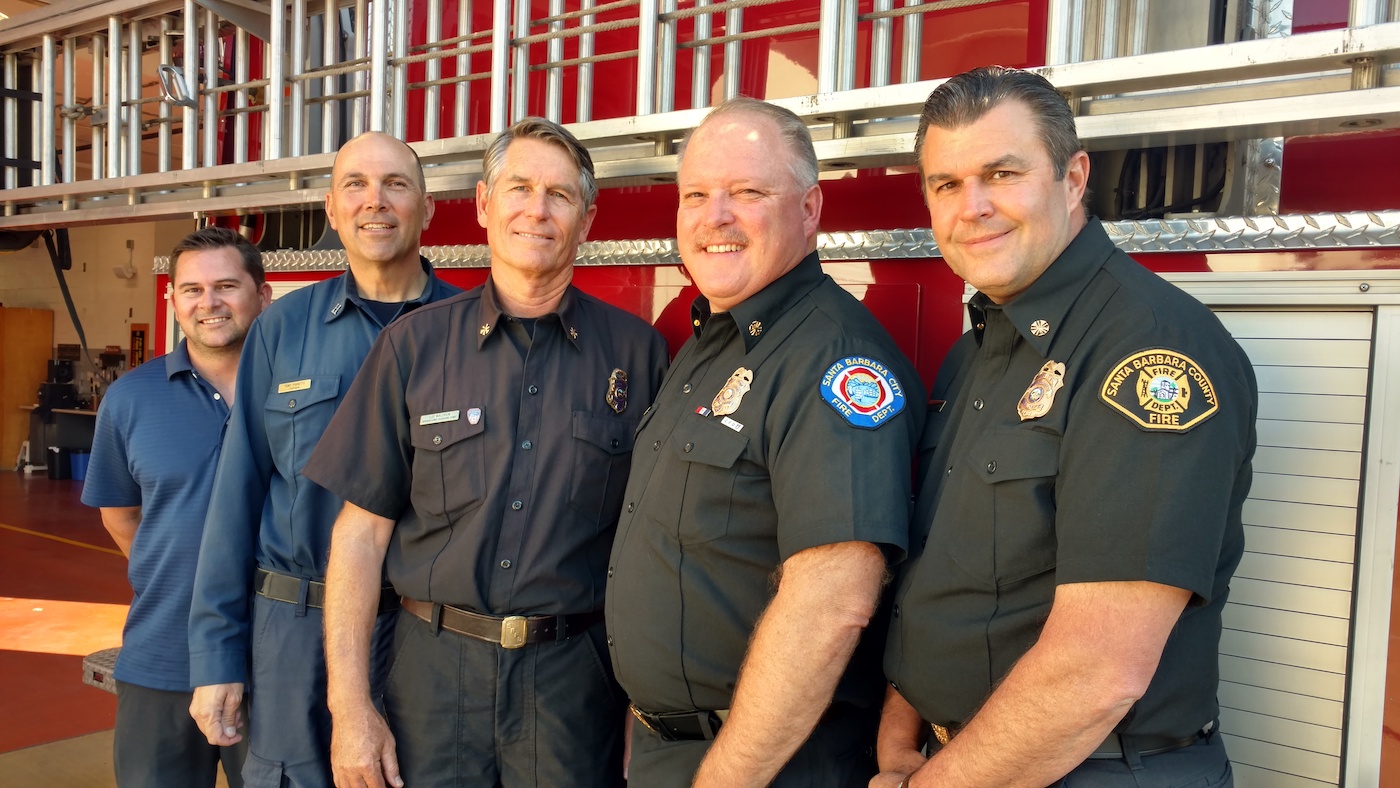 Last week, Kelly Mahan Herrick's feature "Village Beat" piece laid out in detail how Southern California Edison plans to cut off power to certain areas depending upon wind strength and the level of danger Santa Ana and/or Sundowner winds pose to those in fire zones. As a follow-up, I conducted a short interview with Santa Barbara City Fire Chief Eric Nickel and Santa Barbara County Fire Chief Mark Hartwig to learn a little more about newly promulgated countywide evacuation plans, which take into account the possibilities of both flood and fire.
The chiefs' plans include re-purposing a $20-million military Blackhawk helicopter the County has recently purchased from the U.S. Army for "about $2.8 million" into a firefighting Firehawk. "We're taking it upon ourselves to outfit it with avionics and then a water tank," Chief Hartwig says, explaining that "the Huey holds three hundred gallons; this [the Firehawk] will hold a thousand gallons, and flies twice as long."
Three hundred gallons may sound like a lot, but "That amount gets dispersed pretty quickly," Hartwig says. "A thousand gallons will go a lot further," he notes, though also adds that even that isn't enough to put out a fire. "It is designed," he says, "to slow the fire down and get ahead of the crews hiking up the hill."
Both the chiefs believe a regional approach is in the best interest of the entire county. "Montecito has a community wildfire protection plan," he says, but the regions are all interconnected and are beginning to work together better than they have in the past, including having a fire protection plan for the whole Santa Barbara County front.
Some of the state's highest priority fire areas are nearby, including Mission Canyon and Painted Cave, so we discussed what will be needed going forward, particularly when it comes to evacuations.
"[The town of] Paradise was a "model fire-safe community," Chief Nickel notes. "They did everything right," he adds, "and they lost [nearly a hundred people]… and the town."
Firefighters practice evacuation drills all year round. "There used to be a fire season," he says, "but now it is year round. We used to have four or five months [between the start of the rainy season and beginning of fire season] but we don't have that time anymore."
As for our area (MJ will have a separate interview with Montecito Fire Chief Kevin Taylor in an upcoming issue), "Montecito is safer this year," Nickel says, "but give it twelve, fifteen years, and we'll have a similar situation."
"Paradise was ready and set," adds Hartwig, "but they didn't have enough time to get out. The fire moved so rapidly that everyone was evacuated at the same time and there were limited ways off the hill," he explains.
At this point, the conversation bounces back and forth between the two chiefs, so I'm quoting but not quite sure who is saying what:
"If a flood is in the cards, evacuations take place right away, whereas in a fire, we tell people to be ready to go but not to evacuate until the last minute. That will probably change; if high winds or other kinds of conditions that could lead to a deadly fire develop, there will probably be calls for evacuation early."
"Maybe it's ready, go, and not ready, set, go. Leave during fire danger and then come back. We're pushing ourselves to do things differently. Fires are burning hotter and quicker than I've ever seen it before."
"It is different, so we're going to do things differently. We're going to look at evacuations differently. The tools are pretty much there in the tool box."
The two chiefs agreed that controlled burns should be in the mix from here on out.
"We've started having that conversation about controlled burns. Neighbors are open to any and all tools. Montecito Fire just evaluated fuel mitigations, including controlled burns."
"Absolutely, controlled burns are in the future."
"May was wet, for example, and offered up a good time to get up there and burn."
"If we love this front country, if we want to protect it, we have to treat it responsibly. If not, that coastal sage might not ever come back."
Apparently, Governor Newsom has relaxed the CEQA requirements in high risk areas, from Painted Cave south to Montecito.
"County Public Works should be acknowledged for the work they did on a twenty-four-hour basis to remove debris from the basins and preventing another incident from occurring."
When asked if he were named Fire Dictator, what the most important thing he would do, Chief Hartwig proffers that "Though we spent most of our time talking about fire, two-thirds of our calls are about medical situations. I would train paramedics."
Chief Nickel says his priority would probably be "a soup-to-nuts closest resource. 911 could get one number with one dispatch center. Right now we're a patchwork of operators and a contracted ambulance service. There are best practices models out there so that law enforcement would answer the phone and the closest resource could be called upon as quickly as possible. That would be my dream. Even if there are six or seven departments, we could act as one."
You might also be interested in...