New Manager at the Helm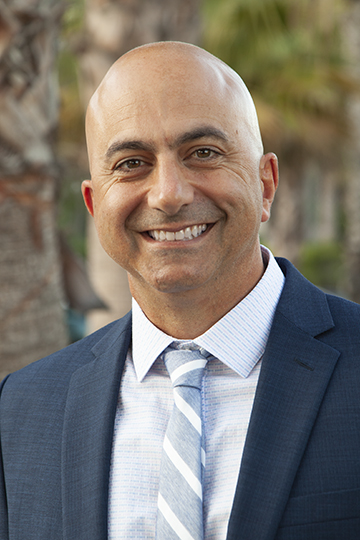 Santa Barbara Yacht Club has a new manager, Richard Nahas, who replaces Layosh Toth, heading the charming harborside nautical venue.
Richard, a former UCSB student, is normally used to more landlocked activities having been general manager of the Glen Annie Golf Club for 19 years.
"Some of my fondest memories as a child are of sailing with my father out of Catalina or just spending a night on the boat in the marina," he says. "Being involved with the joy of seamanship once again is the icing on the cake."
SVU at the Top 
Montecito mega producer Dick Wolf's long running hit show NBC's Law & Order: Special Victims Unit is now in the history books.
It has just surpassed the iconic Western series Gunsmoke and Wolf's flagship series Law & Order as the longest running prime time action series in TV history.
He joined the show's stars Mariska Hargitay and Ice-T to celebrate the milestone in the Paley Center for Media in Beverly Hills.
Under the Weather 
Our rarefied enclave's most famous resident Oprah Winfrey recently battled pneumonia as the health scare left her in the emergency room and forced her to cancel engagements.
The 65-year-old former TV talk show titan was diagnosed with an infection, with the ailment causing air sacs in her lungs to become inflamed and fill with fluid.
While she's back to full health now, she described the condition as "serious" when she spoke on her Montecito neighbor Ellen DeGeneres' Burbank talk show.
"The doctor told me I must immediately cancel everything. I've never canceled anything in my life. I work when I'm sick."
Oprah had 18 vials of blood drawn, but after a week on antibiotics she made a full recovery.
"The doctor called me every night to make sure I was using the inhaler and taking the right antibiotics."
You go, girl…
Welcome to the Family 
Montecito TV talk show host Ellen DeGeneres is expanding her family.
Ellen, 61, has adopted a three-month-old standard poodle pup she rescued from the Wagmor Pet Hotel and Spa in Studio City.
She and actress wife Portia De Rossi have called her Mrs. Wallis Browning. Wallis joins the couple's three other dogs – Wolf, Augie, and Kid.
"They're mad," Ellen quips. "I think they realized they're going to have split my fortune an extra way!"
Wedding Season 
Santa Barbara warbler Katy Perry and her British actor fiancé Orlando Bloom are obviously doing the Great Wedding Tour.
Having attended the lavish English nuptials of singer Ellie Goulding, 32, to Old Etonian art dealer Caspar Jopling, 37, at historic York Minster Cathedral, followed by a reception at 17th century Castle Howard, the peripatetic twosome were in Rome for the wedding of Meghan Markle's good friend, Bahranian-born designer Misha Nonoo, 31, to her oil tycoon beau, Mikey Hess, 33.
The La Dolce Vita-themed nuptials were also attended by Prince Harry and the Duchess of Sussex at the 17th century Villa Aurelia, atop one of the Eternal City's seven peaks, Janiculum Hill.
The party, which also included Queen Elizabeth's granddaughters, princesses Beatrice and Eugenie, Paul McCartney, TV talk show host James Corden, Jared Kushner and Ivanka Trump among the 200 well-heeled guests, continued at the celebrated Cinecitta film studios, where more than 3,000 movies have been filmed, including by legends like Fellini and Rosselini.
Sightings: Downton Abbey actors Hugh Bonneville and Allen Leech at the Riviera… Singer Beyoncé shopping in the Paseo Nuevo mall… Lauri Peterson of Real Housewives of Orange County sashaying on State Street
Pip! Pip!
Readers with tips, sightings and amusing items for Richard's column should email him at richardmineards@verizon.net or send invitations or other correspondence to the Journal.
To reach Priscilla, email her at priscilla@santabarbarseen.com or call 805-969-3301
You might also be interested in...