From Hollywood to Landscape Design
Alida Aldrich was born in 1947 in Hancock Park, California to famed Hollywood director Robert Aldrich (Whatever Happened to Baby Jane, the Dirty Dozen and the Longest Yard); her mother was Grace Foster. Both were from Warwick Neck, Rhode Island, the tony enclave on the Narragansett Bay – across from Newport. Her parents were born in 1918 (only a few days apart). They were both from distinguished families during the "golden era" in the U.S., both attending exclusive private schools. They were married in their early 20s.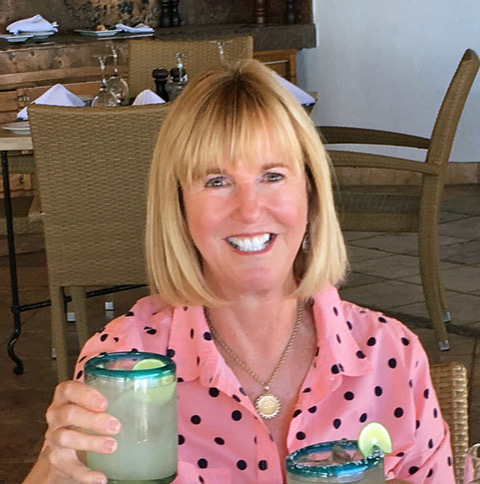 Alida is the great granddaughter of Nelson Aldrich, the Senator from Rhode Island. Senator Aldrich built an eighty-acre estate on the Narragansett Bay naming it Indian Oaks. That's where Alida's father grew up. Senator Aldrich's daughter, Abby, married John D. Rockefeller Jr. Abby was behind creating MOMA in New York and Colonial Williamsburg in Virginia. Of course, all the Rockefellers are related: Winthrop Rockefeller was the Ambassador to Great Britain, Nelson Aldrich Rockefeller was Governor of New York and Vice President of the USA, and David Rockefeller became Chairman of Chase Manhattan Bank in New York. As if that wasn't exciting enough, let's not forget Alida's father, the filmmaker…
Being a filmmaker's daughter, Alida spent her youth on movie sets, and lived in locales around the world (Mexico City, Rome, London, Athens). A great remembrance is that of the Aldrich family and Robert Mitchum's family leasing two yachts, "The Black Swans," and sailing together through the Greek Islands one summer in the late '50s.
Alida was able to meet and spend time with movie stars and filmmakers such as Burt Lancaster, Gary Cooper, Frank Sinatra, Kim Novak, Harry Cohen, Jimmy Stewart, Kirk Douglas, Rock Hudson, Dean Martin, Burt Reynolds, Better Davis, Joan Crawford, and Catherine Deneuve. She was a real Hollywood kid, leading the life others dream about – going to places like Whiskey A Go-Go and the Troubadour.
All this came to an end when she met a handsome USC Naval Reserve Candidate. His name is Rob Shaffer. They were married in 1969, with Alida becoming a "Navy wife." This being during the Vietnam War years, they were stationed at the Naval Base in Norfolk, Virginia. For the years they were in Virginia they rented a wonderful beach house in Virginia Beach. Rob was eventually posted as an Admiral's Aide to a four-star Admiral – who was the Head US Naval Commander assigned to NATO.
After Rob's tour ended, they moved to San Diego where Rob studied for and received his law degree. They then moved to Pacific Palisades. Unfortunately they divorced in the late '70s.
This is where it gets juicy!
On one of her father's sets in Arizona, where he was shooting a film with Harrison Ford and Gene Wilder, Alida met Gene and that was it! They traveled the world together for work and pleasure for some years. It was during this period Alida studied Landscape Architecture at UCLA and Pierce College. Eventually she and Gene went their separate ways.
Realizing she wasn't quite ready for her own business, she found work in a new field, in the hotel industry. She initially worked with the team that renovated the prized Millennium Biltmore Hotel in downtown Los Angeles. Afterwards, she opened and managed a small boutique hotel in Saratoga, California – which eventually led to her coming to Santa Barbara where Bob Harmon and Claude Rouas had just bought the San Ysidro Ranch. She worked at SYR as the Director of Sales for a few years – went on to do the same at The El Encanto Hotel – then returned to SYR for a time. During these years she got to travel the world, even toying with living in Italy. She loved the adventure of it all, and learned a great deal about architectural design. This is a hint about what is to come.
In the mid '90s, a friend of hers bought what was the stonemason's workshop on the original McCormick estate. He asked Alida to help with the landscape design and the renovations of the gardens. It was then that she realized her true reason for being, which would become her "Life's Work."
Her friend's garden won the Montecito Beautification Award that year (1996) which led to her opening her landscape design studio in Montecito. She went on to design other estate gardens, winning additional Montecito, Santa Barbara and Santa Ynez landscape design awards. Her work has been published in several magazines and newspapers, and has won Annual Design Awards (2015-2019) from the popular home and garden website Houzz.
Through word of mouth, an online social media presence, and her beautiful website (www.Aldrich-landscapes.com), in the past 25 years Alida has managed to build a successful landscape design business in Santa Barbara while building a group of loving friends as well. She is now happy to call Montecito her home!
She says, "My design goals have always been the same: loyalty to my client's personal vision, consideration for the building's architecture and respect for the existing landscape."
Alida is a member of the Santa Barbara Architectural Foundation, and next spring will be teaching a Landscape Design class through Santa Barbara City College.
That's called reinventing yourself – I love it.
I asked Alida if she had any sage words on the subject of aging and she had this to say:
I have two words regarding aging: "Be grateful"….
She went on to say:
"Consider the odds of being alive and well – loving, and being loved – comfortable and safe – living in this marvelous country – and being a witness to these wildly exciting times. All this, while standing atop our itty-bitty planet, spinning through an ever-expanding universe. It's a miracle at any age – all the more reason to be grateful right now."
You might also be interested in...