Coast Village Circle Closures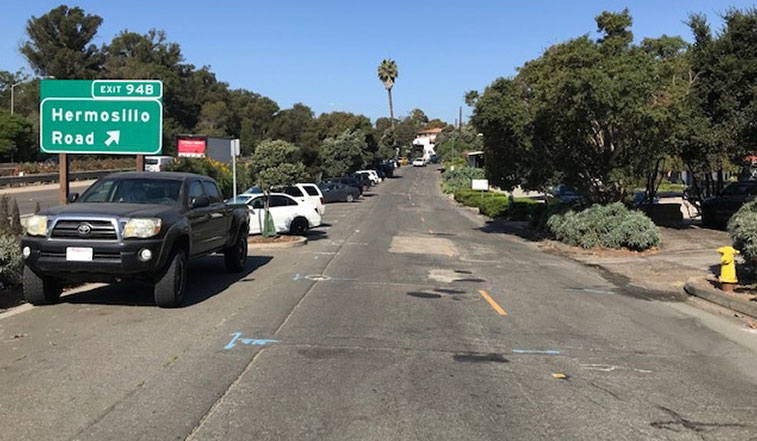 Paving work began on Coast Village Circle earlier this week; the beginning of a two-month long restoration project to rehabilitate the road following the 1/9 Debris Flow in January 2018. The Debris Flow caused major damage to the roadway on Coast Village Circle due to flooding and the presence of heavy equipment; the project will replace the base and pavement layers of the road, and replace damaged curbs to help with drainage. Parking stalls will be repaved and restriped, and the parking spots on the east side of Coast Village Circle near the Chevron Station will be eliminated in order to allow for better traffic flow.
The project will cost over $750,000, with funds coming from grants from FEMA and the Federal Government. The work will be broken down into five phases to minimize traffic and parking impacts; each phase will take approximately eight working days, and will be open to traffic after the completion of each phase. Phase 1 is near the Chevron Station, with Phase 5 being the far eastern section of Coast Village Circle. At the completion of all phases, the contractor will need to add the finishing paving material for the entire road which will take about a week, then striping will follow shortly after.
Work will be performed from 7 am to 5 pm; however each of the phases will require that the affected area be closed 24 hours a day until that phase is complete. All access will be prohibited in work areas during the affected phase; closed to all vehicles, bicycles, and pedestrians, and driveways will be inaccessible. Vehicle parking, which is imperative for Coast Village Road and Coast Village Circle businesses, will still be available in areas where work is not currently being performed.
Project information can be found online at www.santabarbaraCA.gov/CVCPaving. 
Public Safety Power Shutoff Preparation
Last Thursday, September 19, the County of Santa Barbara's Office of Emergency Management, along with Montecito Fire Protection District and Montecito Association, hosted a forum at Montecito Union School to discuss the potential for Public Safety Power Shutoff events (PSPS) that may affect our community during critical fire weather. The action, which was initiated in Goleta earlier this month, could lead to multi-day power outages in many areas during periods of extremely hot, dry and/or windy weather, in an effort to reduce the risk of wildfires. These events will affect the entire Montecito community.
The PSPS has been in the works for over a decade, as the California Public Utilities Commission (CPUC) began adopting regulations to protect the public from potential fire hazards associated with overhead power lines. The CPUC commenced the development of a statewide fire threat map to designate areas that are at the greatest risk for fires originating from power lines; that map, the High Fire-Threat District (HFTD), was finalized in early 2018. In response to the new map and regulations, Southern California Edison has laid out fire mitigation measures on both the "heat side" and "fuel side" of fire potential, meaning that they continue to harden the electricity grid with insulated wires, composite poles, and fire minimizing devices, as well as proactively identifying trees and other vegetation that may pose a risk to power lines.
SCE's Rondi Guthrie explained that over 400,000 pieces of Edison equipment have been inspected from both the ground and air, with the recent use of drones and helicopters. Edison has also invested in several weather forecasting measures, including installing weather stations that provide real-time info about wind, temperature, and humidity to help determine decisions regarding PSPS events. "We realize this is a major disruption to customers, but we believe the benefits outweigh the inconvenience," Guthrie said.
In order to implement a PSPS, a number of factors have to be at play including a red flag warning, low humidity levels, forecasted and sustained winds generally above 25 MPH and wind gusts in excess of 45MPH, a high concentration of dry fuel, and on the ground, real-time observations. It will also be based upon input from fire management experts, input from local and state fire authorities, awareness of evacuation orders, location of evacuation centers, and other emergency operations.
Edison will determine which circuits a projected wind event will affect, and shut down circuits accordingly. Areas of the community that are not in the High Fire-Threat District may still be affected by a power shut-off, as certain areas of the community share circuits that originate in high-fire areas. For example, Channel Drive and the neighborhood south of Highway 101 near Butterfly Beach is not in the HFTD, but shares a circuit that includes power lines in the area of East Mountain Drive, which is in the HFTD. If that circuit is shut down as part of a PSPS, homeowners near the beach could be without power for several days.
The length of the PSPS will be based on the weather system (likely a sundowner wind event), and the time it takes Edison to visually inspect the lines and re-energize the system. "It could be from half a day to a few days," Guthrie said, adding that the company is working closely with cellular providers and communication companies to ensure that community members would continue to have cellular service.
The PSPS notification process includes community notifications 4-7 days ahead of a forecasted event, while weather and fire conditions are closely monitored. Three days ahead, SCE would begin notifying local governments and first responders; customers and small businesses – both Coast Village Road and the Upper Village businesses are in circuit areas that are subject to PSPS – would be notified about 48 hours ahead of the electricity shut-off. High-risk customers would be given additional time, and will be reached first with an automated phone call, then a live person call, then a face-to-door visit. Power would be restored once weather is improved, and the lines have been physically inspected.
Montecito Fire Chief Kevin Taylor urged residents that they need to be prepared to endure a power outage lasting 5-7 days. "While we hope that PSPS events will be significantly shorter, we are asking you to plan for a week without power," he said. Chief Taylor reported that MFPD has been planning for such power outage events for 18 months, and the outages would not affect the operational ability of the fire district. During a PSPS, the District will be up-staffed with additional personnel. Chief Taylor suggested that everyone update their contact information with SCE, as the notifications are being sent directly from SCE, not through the County. "Take a look at your family, yourself, and your business, and figure out how power loss will affect you," Chief Taylor said. Visit www.readysbc.org for preparation guidelines.
Representatives from several other entities spoke to the large audience, including Santa Barbara Sheriff Chief Deputy Craig Bonner, who assured the community that critical services would not be affected during a power outage. Montecito Water District GM Nick Turner said that MWD is prepared to provide potable water and firefighting water during PSPS, and that their critical facilities are equipped with back-up power generators. "Customers should plan accordingly for water features on their property that require electricity, and should store one gallon of water per person per day for emergencies," he said. Montecito Sanitary District GM Diane Gabriel shared a similar sentiment, that her District will be able to provide uninterrupted sewer service. The one exception: homeowners who have a private sewer pump on their property should make arrangements for back-up power.
First District Supervisor Das Williams also spoke, explaining that he has voiced his concern to Edison that they have enough staffing to re-inspect the lines and repower, in order to avoid multiple day shutoffs. "A multiple day shut-off situation would have the largest threat to you, in economics, convenience, and livelihood," he said. Craig Lewis, the Executive Director of the Clean Coalition, explained to the audience that his team is actively trying to make the community more resilient during emergency and precautionary events, such as the PSPS, with Community Microgrid projects. For more info, visit www.clean-coalition.org.
To see the maps of the circuits that may be shut down during a PSPS, please visit www.sce.com/maps. Residents should ensure that Edison has their updated contact information for use during a PSPS, and should also be signed up for Aware & Prepare alerts (www.readySBC.org).
You might also be interested in...