Orange Crush, Part I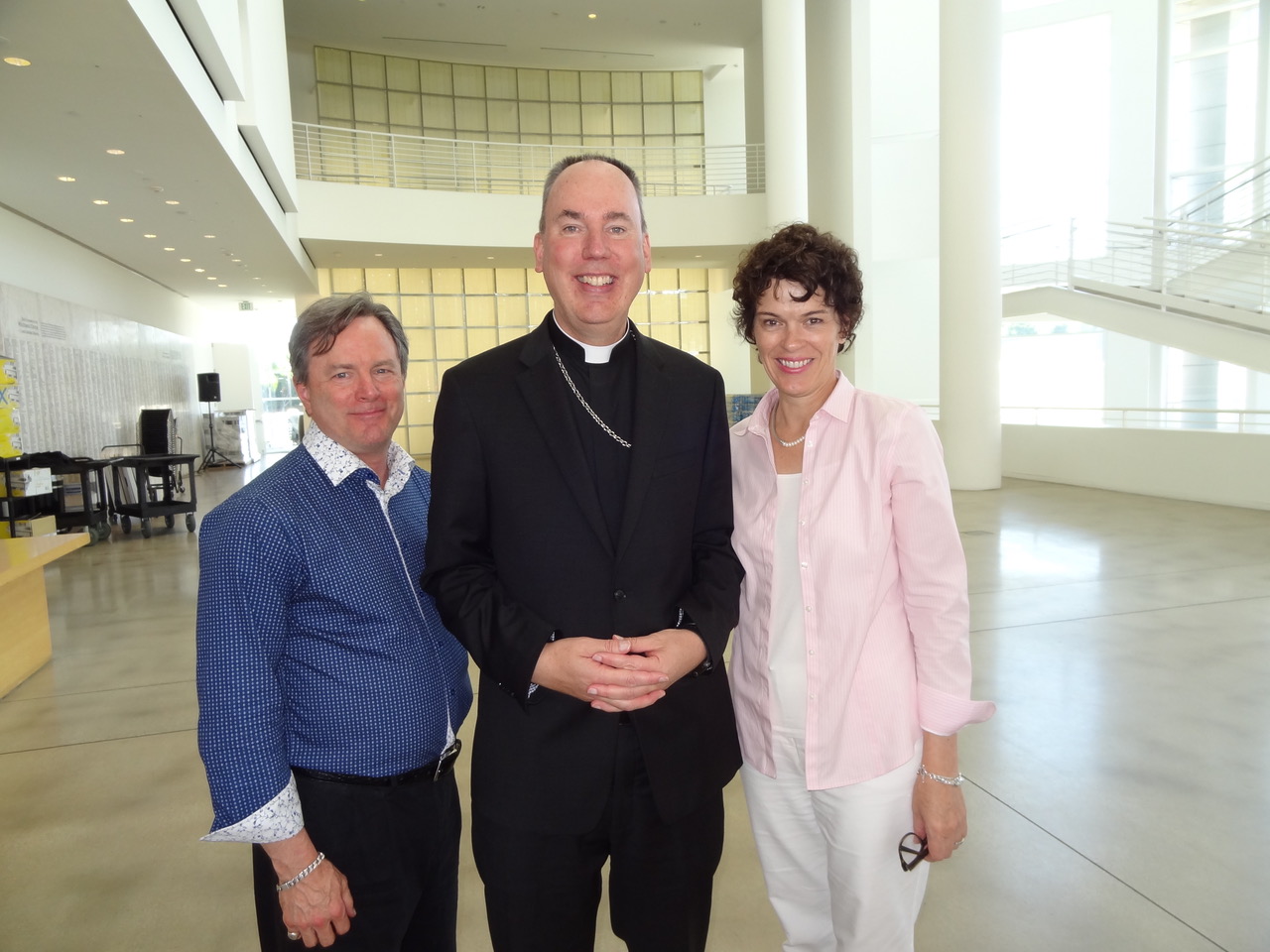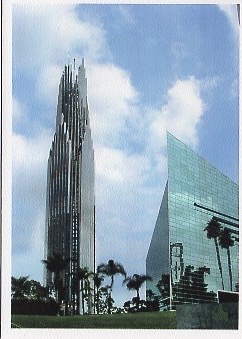 Seventeen Montecito Bank & Trust's MClub members climbed aboard a Santa Barbara Air Bus charter headed for Orange County for a jam-packed 36 hours of sightseeing, art appreciation, wining, and dining with our trusty leader and MClub director, Maria McCall.
En route to the Christ Cathedral in Garden Grove we munched on scones from Jeannine's Bakery. Then it was time for lunch. Really, what's better than a good Jewish deli? And so we went to Katella Bakery & Deli in Los Alamitos, California.
Also with us was Richard Payatt, our celebrity guest host and museum guru. He happens to be good friends with Timothy Freyer, Auxiliary Bishop of Orange and Bishop of Strathearn. He greeted and spoke to our group. According to my Catholic husband Don, it's truly a big deal to have a personal talk with a Bishop. We were now at Christ Cathedral, formerly the Crystal Cathedral. That was Protestant and now it's Catholic. Some of you may remember hearing on the radio or TV from televangelist Dr. Robert Schuller and his "Hour of Power," watched in 165 countries by millions.
The Crystal Cathedral was completed in 1980 by renowned architects Richard Neutra, Philip Johnson, Richard Meier, and Gin D. Wong. There was a collection of buildings on the 34-acre Crystal Cathedral Campus (now Christ Cathedral Campus).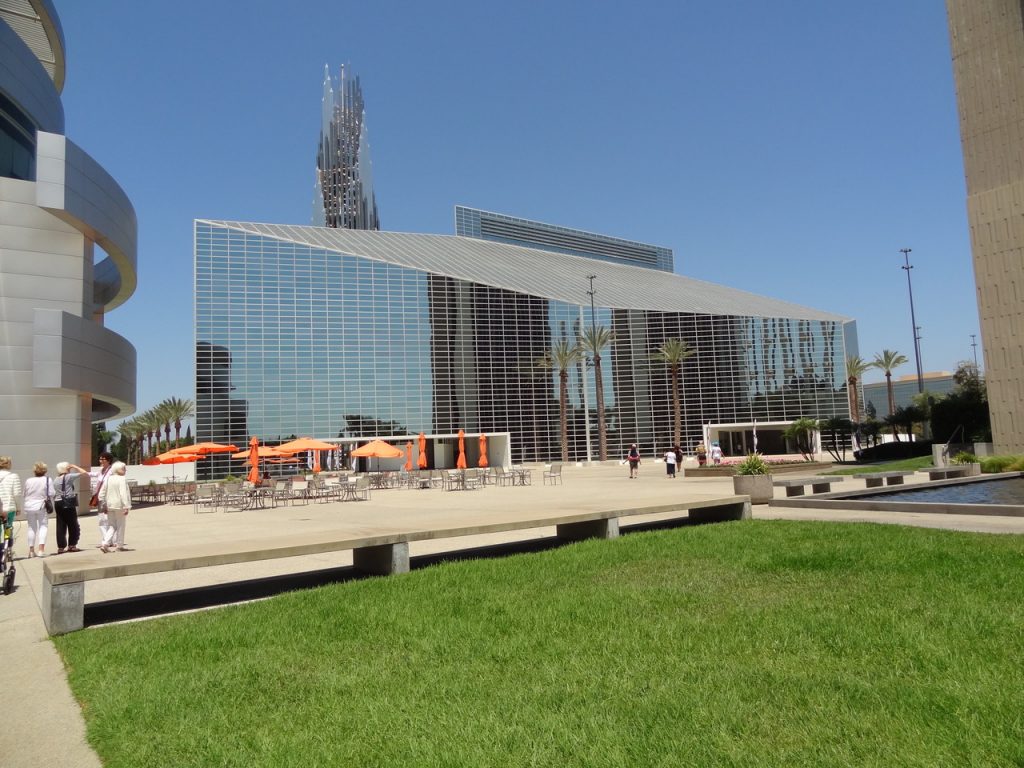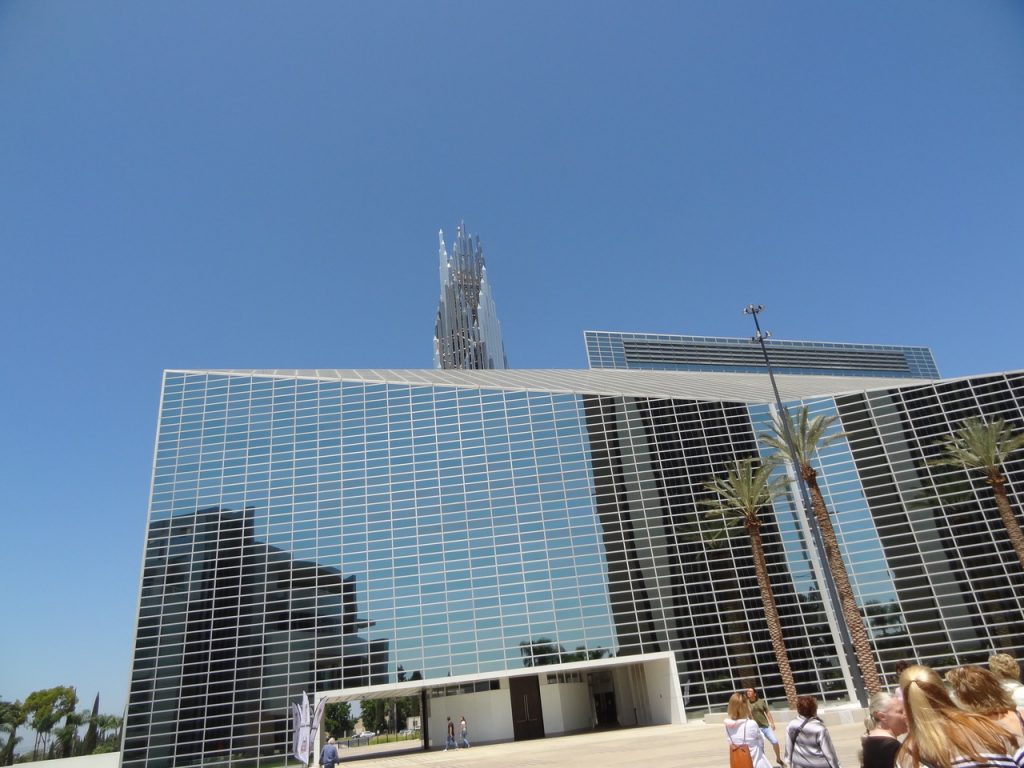 Rev. Schuller writes that he was "born at the dead end of a dirt road with no name and no number." The farm in Alton, Iowa had no electricity or plumbing. His father only went to the sixth grade. But at age four, Schuller knew he wanted to be a minister.
He graduated from high school in 1943 and went to a reform church school for college in Michigan. One summer he was on tour with a singing group that visited California and had a premonition he would return. He went to Theological Seminary, but didn't agree with their dark view of humanity. He had a theology of hope and joy, not shaming and blaming.
Schuller married Arvella DeHaan, who was a talented musician. He pastured a church in Chicago for five years, beginning with only 38 members and growing it to 500. He and his wife then drove to Orange County with their two children, $500 in assets, and a small trailer. Orange County had a population of 500,000 and Disneyland would soon open.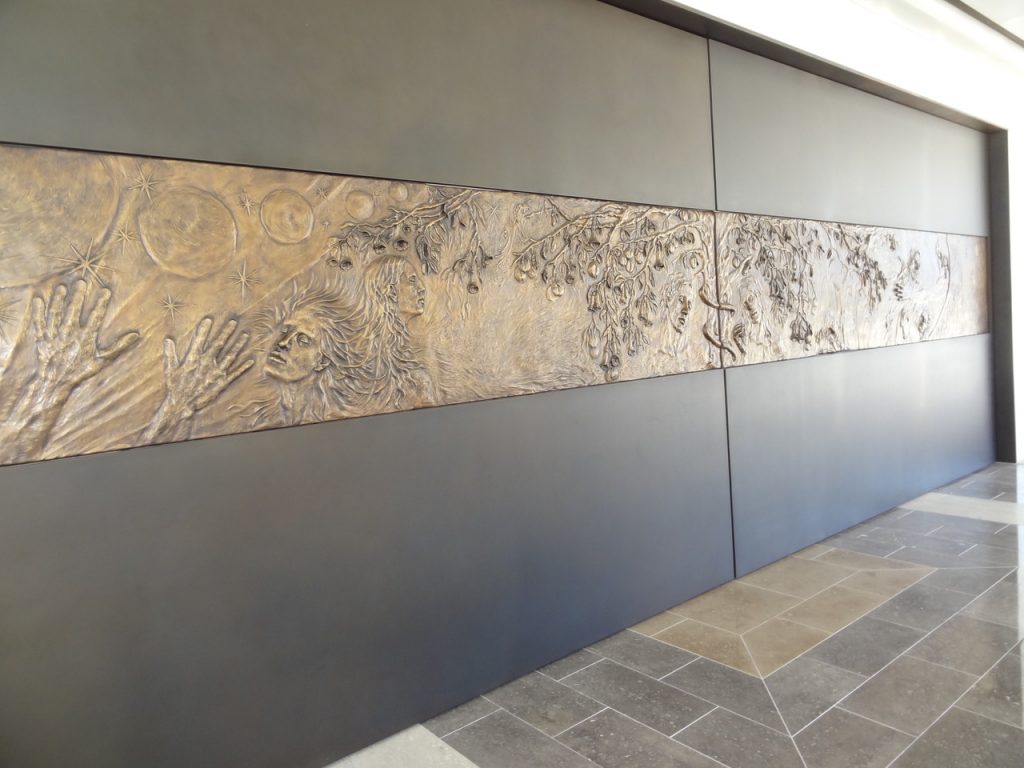 The family couldn't find a hall for the new church Schuller wanted but they found a drive-in theatre. It was unique and was available in the daytime. His motto, "Come as you are in the family car." He stood atop the tapered roof of the snack bar to deliver his sermon. In the beginning he had 100 folks for his open-air church in their cars. That influenced him to build the all-glass Crystal Cathedral. He said, "It was there I fell in love with the sky."
His wife Arvella played the electronic organ that was portable and mounted on a trailer they towed to and from their home. One congregant remembered, "Smoke and be in church at the same time. What a trip!" Schueller then proceeded to build the world's first walk-in/drive-up church. Part was indoors (the Arboretum) and the rest in the drive-in. It was completed in 1960.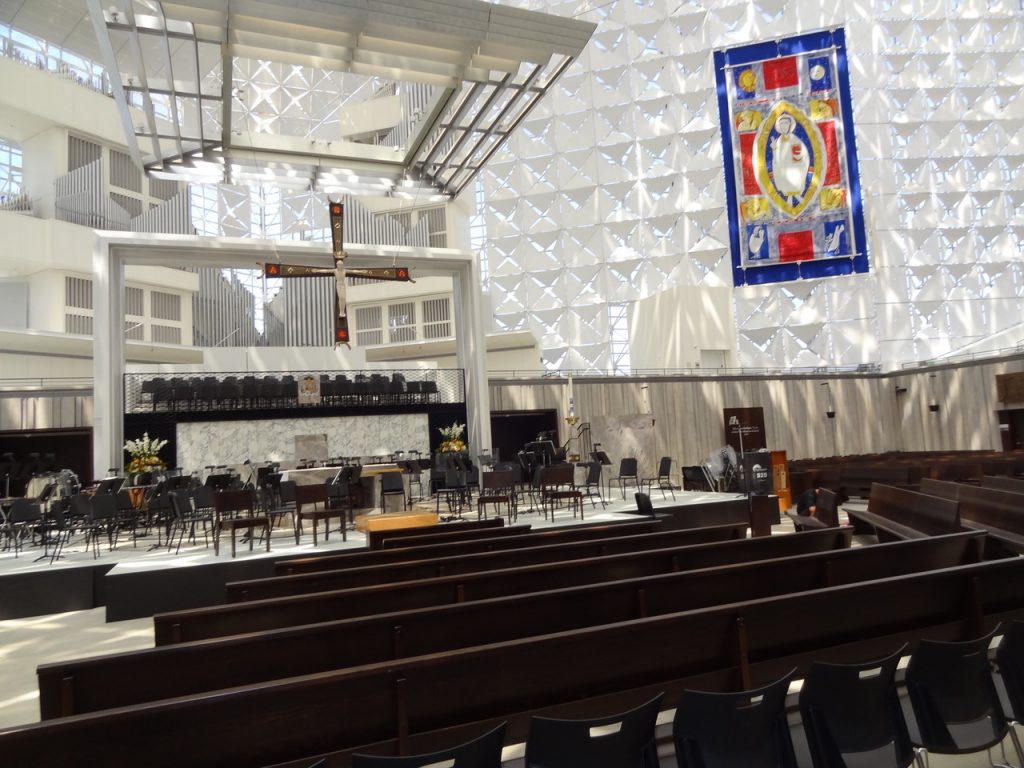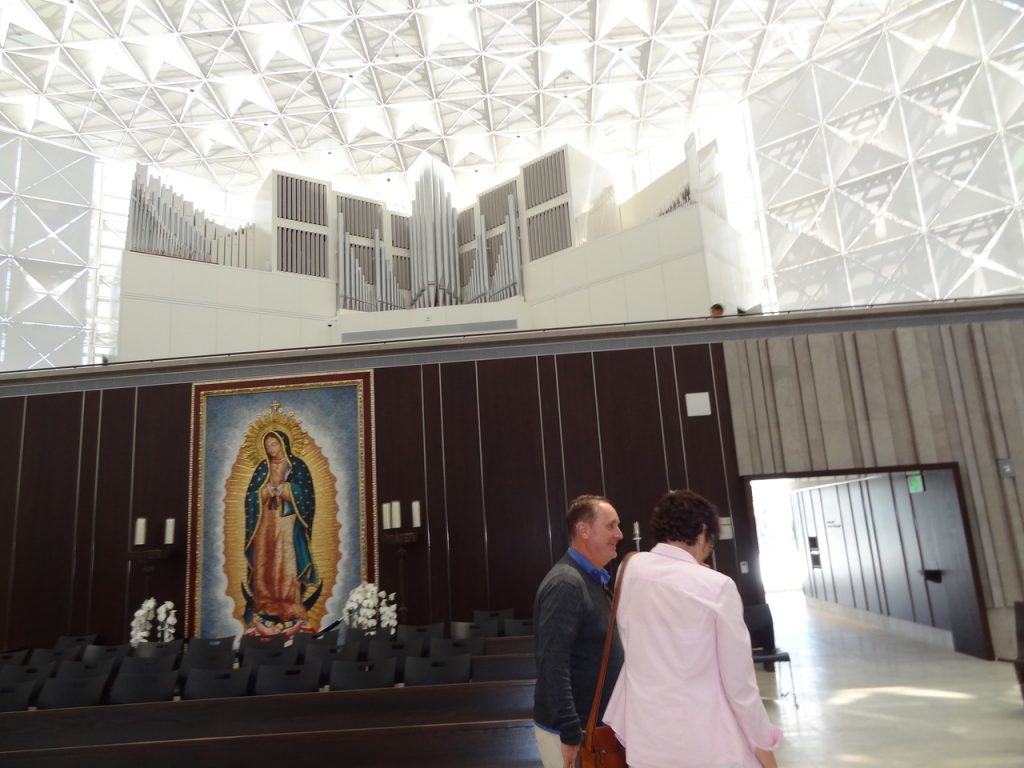 In 1968 Schuller purchased 10 more acres and worked with architects on the 13-story Tower of Hope with a 90-foot tall neon cross. It was the tallest building in Orange Country for a decade. From all the donations coming in, he decided to build the Crystal Cathedral made entirely of 11,000 panes of mirrored glass and white-painted trusses with seating for 2,100. During the recent renovation, it took more than three months just to get the scaffolding down when they didn't need it anymore. The Crystal Cathedral was debt free when Schuller opened it.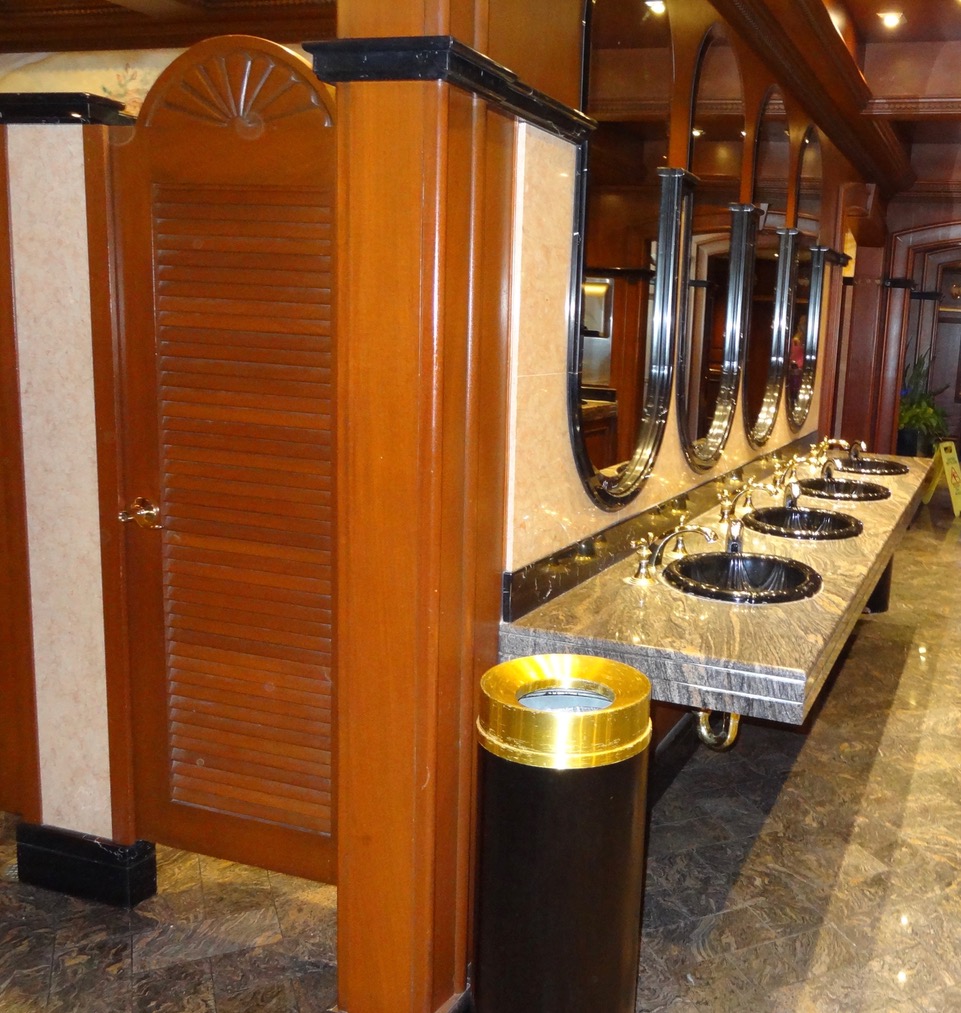 Then came the pageant shows. Don and I went to both the Christmas and Easter ones. They were all done with real animals – camels, horses etc. – that walked right through the aisles and the audience. There were human angels flying through the vaulted ceiling above us. It was quite a spectacle. We liked the Christmas one best. It had a better ending.
There was a down turn in the economy and the Crystal Cathedral ministries filed for bankruptcy in 2010. It almost went to a secular group, but Schuller spoke to the bankruptcy judge personally encouraging him to let the Roman Catholic Diocese of Orange buy it and he agreed in 2012. Total cost including remodeling was $77 million. After a major renovation and seven years it was complete and dedicated July 17, 2019. The first time ever for a non-Catholic church to become Catholic. The Diocese of Orange honors Schuller's legacy and shares Christ's message with all who would come, all faiths or no faith. Also tourists who just want to see the property. The Diocese supports arts, music, dance and painting. Part of Star Wars has been filmed there.
The 16,000 pipe organ that Arvella played had to be taken apart piece by piece and sent to Italy. There had been no funds to take care of it. The organ spent four years in a temperature controlled storage unit. It was named Hazel after its benefactor, Hazel Wright. There were termites in it and rusted pipes. Piero Ruffatti built it for the Schullers in 1981 and he came back to supervise installation. It is the second largest organ in the world and should be ready to play in December, 2019. The total organ bill is a whopping $2.9 million.
The ladies' room is something to brag about. The plaque says, "It was made possible thanks to a generous cash gift from an anonymous donor who wanted the women of this church to know that they are beautiful – the best – and deserve to be honored with facilities that are not only excellent but elegant and enduring." They call it the million dollar ladies' room.
Next week's issue will be Part II of Orange, covering the Sistine Chapel exhibit and the Pageant of the Masters in Laguna Beach.
You might also be interested in...