Caliente Cocina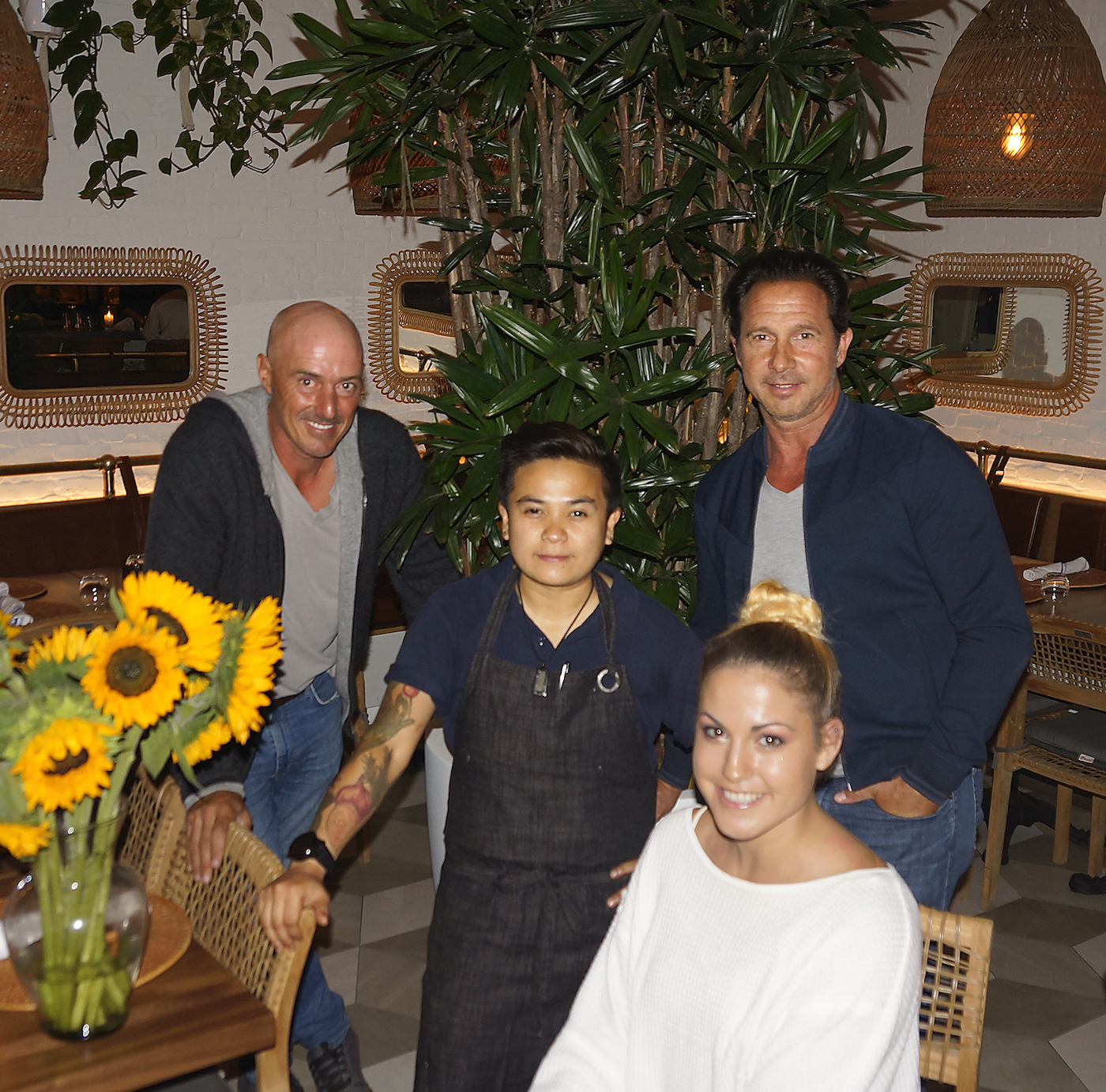 To La Cocina, formerly Somerset, with my snapperazzi Priscilla, to check out the made-over East Anapamu Street eatery, which now features Mexican-Californian cuisine.
The charming back courtyard, filled with lavender bushes and gnarled ancient fig trees brought in by flatbed trucks from Northern California and craned in over the rooftops when it first opened after being the Arts & Lectures Café for many years, was the setting for a most delightful repast.
As we quaffed agave negro, a heady concoction of mezcal, blackberry, raspberry, jalapeño, lime and agave, we checked out the guacamole and charro bean dip appetizers before moving on to the copper rock cod, and the carne asada, all deliciously prepared by chef Sara Lopez, who works with executive chef Mario Alberto.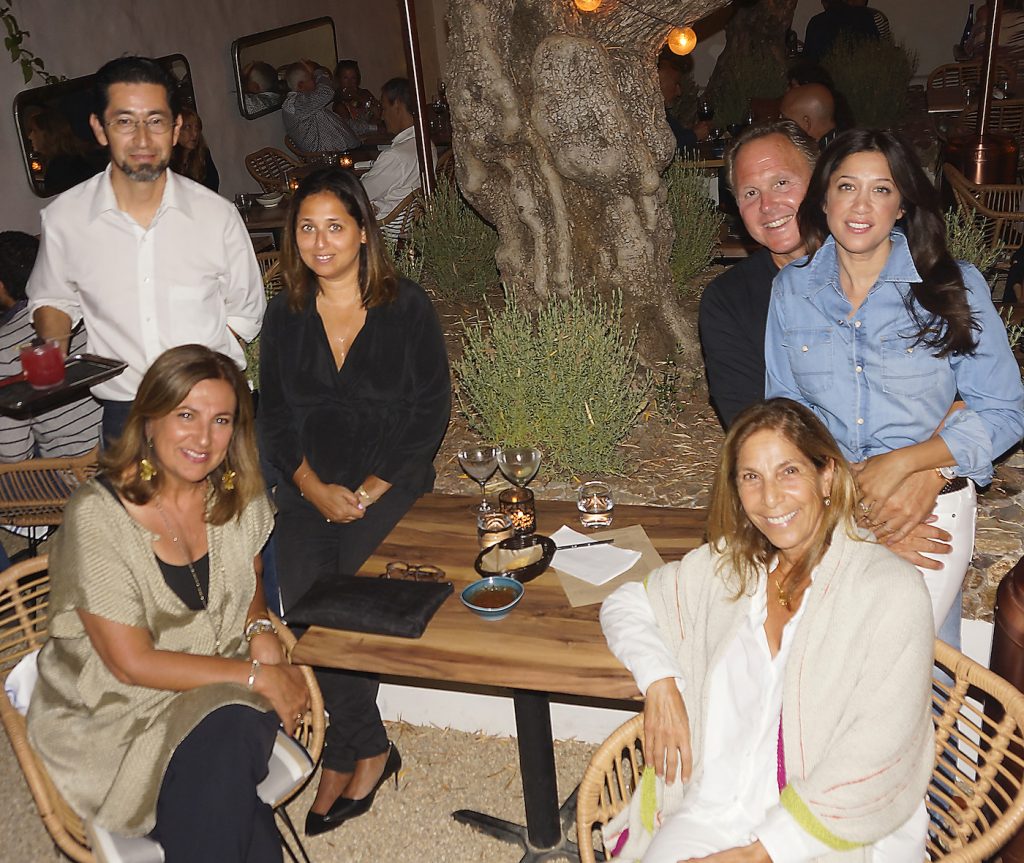 Dinner wrapped with tres leches, a three-milk sponge cake with strawberry compote, and a delightfully light coconut pudding.
Interior designer and restaurateur Steve Hermann, who purchased the property in 2015, after a couple of false starts has now got a surefire culinary winner on his hands.
Classic Crooner 
With legendary crooner Tony Bennett, who I Iast saw when he performed at a UCSB Arts & Lectures gala at the Montecito Country Club six years ago, coming to our Eden by the Beach again next month at the Arlington, I see the website Travelzoo is offering half price tickets.
Orchestra seats are available for $44 instead of $88, with an administration fee of $14.88 per ticket and $4.55 per order.
At 93 – the same age as Queen Elizabeth –, it may be one of the last times to catch the 17-time Grammy winner singing his signature song "I Left My Heart in San Francisco"…
Surf's Up 
For the sixth year, Montecito-based former world champion surfer Shaun Tomson is participating in the 100 Wave Challenge at Mission Beach, San Diego, on September 21.
Along with 200 other surfers, Shaun, 64, and his son, Luke, will be hitting the ocean to help provide in-school mentoring for more than 800 fatherless teenage boys.
Last year he raised a handsome $30,767 for Boys To Men Mentoring and plans to eclipse it this year with a target of $33,000.
I wish him well.
Defending the Royals
Montecito TV talk show host Ellen DeGeneres and her partner, actress Portia de Rossi, have jumped to the defense of Prince Harry and his wife, Meghan Markle, over their jet-setting ways.
The Duke and Duchess of Sussex, staunch environmentalists, have been under fire after taking private jets four times in 11 days with trips to Sicily, Ibiza and Nice, France, staying with rocker Sir Elton John.
Ellen and Portia met with the royal duo while in London recently to talk about their work on wildlife conservation and said they were very impressed.
"They were the most down to earth, compassionate people," Ellen posted on Instagram. "Imagine being attacked for everything you do, when all you're trying to do is make the world better."
Remembering Paul 
Meadow Walker, daughter of the late Santa Barbara actor Paul Walker, is keeping his legacy alive.
The 20-year-old actress has shared a photo op of the Fast & Furious actor next to a pig while swimming in a lake on what would have been her father's 46th birthday.
"Thinking of you xx" she captioned the pic.
Paul died tragically in 2013 when his Porsche Carrera GT crashed into a light pole in Santa Clarita going at 100 mph in a 45 mph area.
Chasing the Sun 
Santa Barbara warbler Katy Perry, who just attended the secretive Google Camp on climate change in Sicily, is doing her part in helping the environment.
The 34-year-old former Dos Pueblos High student has gone completely off-grid by installing solar panels all over her $19 million Beverly Hills home in the oh-so exclusive Hidden Valley enclave.
Katy has also installed solar panels on top of her luxury trailer.
You go, girl…
Laughter is the Best Medicine 
Montecito actress Julia Louis-Dreyfus says her hit HBO TV show Veep was "a lifesaver" during her recent breast cancer battle.
Julia, 58, says: "I've had a lot of personal challenges, losses, dear ones in my family, my own battle with cancer."
But she credits the Emmy-winning show's cast with helping her get through, admitting she would have been lost "had I not had this really close intimate relationship with all of these people."
"We linked arms and tried to do the most joyful funny things possible as a team. It was like being in a sports team, and that was the most buoying thing to be constantly coming back to.
"It also gave me something to laser focus on during my illness… so it was a lifesaver."
Finally Shacking Up 
TV producer Brad Falchuk has finally revealed the reason he and wife Montecito actress Gwyneth Paltrow waited for a year before moving in together after they had tied the knot.
Falchuk, 48, says they decided to wait to live under the same roof for the sake of their children.
Gwyneth, 46, has two children, Apple, 15, and Moses, 13, from her marriage to Coldplay rocker Chris Martin, while Falchuk has a son and daughter from a previous marriage.
"I'm moving in September," he tells WSJ Magazine. "We're just doing it slowly. Divorce is terrible, even when it's the right thing to do. And it's really hard on kids.
"Come September, we're all going to Brady Bunch it up, and it'll be great."
Wedding Bells
My congratulations to Greek shipping heir Spyros Niarchos whose son, Stavros – named after his grandfather, who was the arch rival of Aristotle Onassis – is set to marry Russian oligarch Roman Abramovich's ex-wife, Dasha Zhukova.
Dasha, 38, has two children, Aaron, 10, and Leah, 6, with the owner of England's top rated Chelsea Football Club.
They finalized their divorce in August last year, with the settlement including $92 million worth of property, including a four-story mansion in Manhattan.
Spyros, 64, was married to international socialite and beer heiress Daphne Guinness for 13 years until 2000, when she received a $39 million settlement. Stavros, 28, is the second child of that marriage.
I used to know Spyros when he lived in great style at the Sherry Netherland, overlooking New York's Central Park, in New York and was dating Venezuelan lingerie model Yelitza Nigretti.
Rest in Peace 
On a personal note, I remember David Koch, the billionaire co-owner of Koch Industries, the second largest privately held company in the United States, who has died in New York at the age of 79.
David, who I would often bump into at Moreno's, a popular Italian eatery on Irving Place, when I lived in nearby Gramercy Park, was a towering, gracious and amusing individual, as well as a great philanthropist, particularly with medical research.
He later went on to buy Jackie O's penthouse apartment on Fifth Avenue opposite the Metropolitan Museum. Forbes Magazine put his net worth at $42.9 billion, making him the world's 11th richest man.
Sightings: Fashion designer Tom Ford and Oscar nominee Robert Downey Jr. noshing at Oliver's… Ashton Kutcher, wife Mila Kunis, and children at Toro Canyon Park… Actor Christopher Lloyd picking up his Java jolt at Pierre Lafond
Pip! Pip!
You might also be interested in...