Liquor & Wine Grotto Celebrates 10 years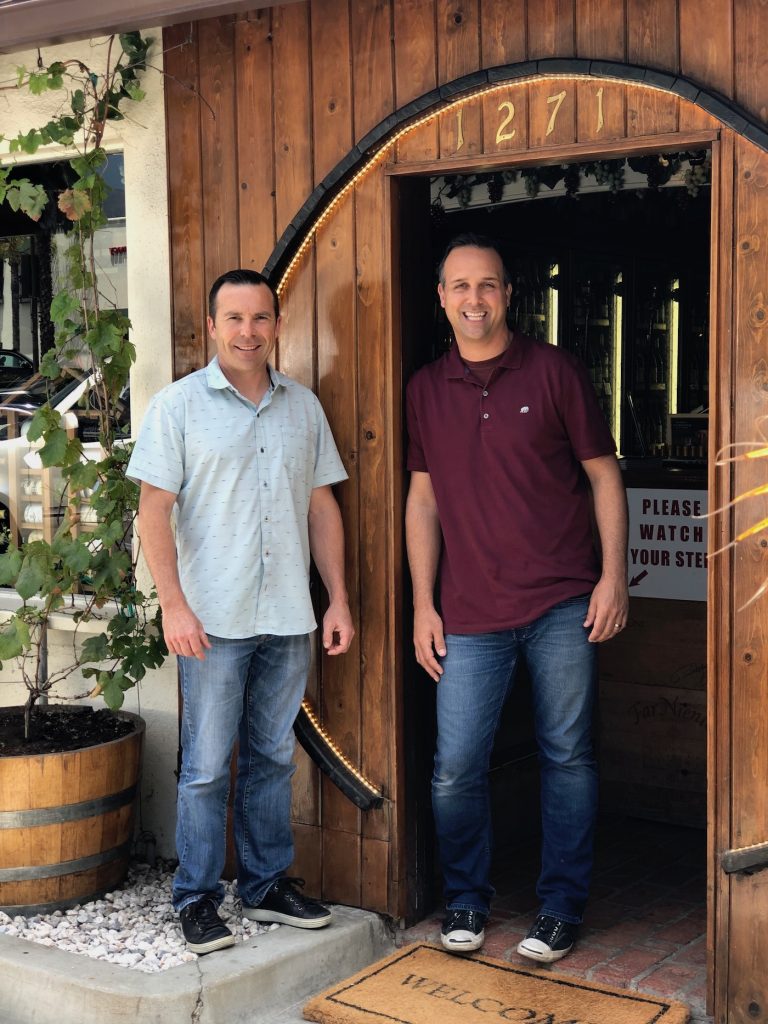 Coast Village Road's Liquor & Wine Grotto owners Jason Herrick and Brian Brunello will mark 10 years of ownership this Saturday, August 3. While the store has been in existence since 1976, Herrick and Brunello have spent the last ten years perfecting the shop, and forming connections with loyal clientele. "We appreciate them more than they know," Brunello said, crediting the store's success in part to repeat local customers. 
The shop has been in existence since 1976, originally owned by Ingela and Jess Pagliassotti, who passed away in October 2018. The original Wine Grotto carried convenience store items and boasted a full service deli from a larger space, which once included the corner space now occupied by Allora by Laura. The shop was downsized five years before the current owners took over, and the Grotto guys have carefully selected an array of wine, spirits, liquor, and beer, drawing both local and tourist clientele.
Brunello says the last ten years have brought changes to the wine and liquor industry as well as changes to customer demand. For example, the advent of craft cocktails and a growing crop of small batch bourbon, whiskey, and tequila have the guys carrying an ever-evolving array of specialty liquor. With those offerings come relationships, and Herrick and Brunello pride themselves on working closely with many vendors to stock the store with the right products; if a customer is looking for something that they don't carry, they will hunt for it and if possible, special order it.
In addition to carrying hundreds of competitively priced, mainstream wine labels, the duo also hand selects local wines, increasing their selection and setting themselves apart from other stores. "It's a big part of who we are, and we taste every wine that we carry," Brunello said. There is also a large selection of French and Italian wines, which the guys say has boosted their sales considerably. Rare, high-end wines are located in a temperature-controlled cellar in the back of the store.
Herrick and Brunello, who have known each other since high school, have put a large focus on customer service, helping customers get their hands on rare and unique liquor and wines, and offering delivery. Herrick has worked in the industry for over 30 years, and Brunello is a certified sommelier and wine geek, even planting his own grape vines in the large wine barrel planters in front of the shop. The original planters were washed away during the 1/9 debris flow last year; the guys took the opportunity to spruce up the outside of the shop, the Dutch front door of which has become a sort of landmark on Coast Village Road.
The shop also offers mixers, glasses, decanters, and wine paraphernalia. They also provide beverage service for special events, company parties and weddings. "We want people to know we are still here, business is good, and we look forward to continuing our customers enjoy their favorite wines and cocktails," Herrick said.
The Liquor and Wine Grotto is located at 1271 Coast Village Road. The store is open Monday through Saturday from 10 am to 6 pm, Sundays 10 am to 5 pm. Call 805-969-5939 or visit www.MontecitoVino.com for more information.
B) The store carries a vast selection of wine, spirits, liquor, and beer
You might also be interested in...