REMEMBERING AUDREY GRIFFIN
The following article was originally published in the Montecito Journal in 2009, in celebration of Audrey Griffin's induction into the National Cowgirl Hall of Fame. Audrey passed away unexpectedly on Friday, July 12, 2019, leaving behind countless grieving friends and family members. One of the most beloved personalities of the Santa Barbara County equestrian community, Audrey literally died with her boots on, just as she wanted. This article is reprinted in her memory.
Here's a trick question: What do the following women have in common? Sacagawea (Shoshone Indian scout who guided the 1802-1806 Lewis and Clark Expedition), Annie Oakley (crack shot who starred in Buffalo Bill's Wild West Show), Patsy Cline (country singer who died tragically young in a plane crash), Dale Evans ("Happy Trails to You" composer and wife of Roy Rogers), Willa Cather (Nebraska author considered one of America's literary lionesses), Georgia O'Keefe (iconic artist who personified the stark New Mexican landscape through her paintings), Sandra Day O'Connor (Supreme Court Justice), and Audrey O'Brien Griffin (Santa Ynez resident).
What these distinguished females have in common is that they are among a select group of 190 women who have been inducted into the National Cowgirl Hall of Fame since its establishment in 1975.
But wait. Sacagawea a cowgirl? Willa Cather? Sandra Day O'Connor? How can that be? And why Audrey O'Brien Griffin?
The answer is found in the mission statement of the National Cowgirl Museum and Hall of Fame, which "honors and celebrates women, past and present, whose lives exemplify the courage, resilience, and independence that helped shape the American West, and fosters an appreciation of the ideals and spirit of self-reliance they inspire."
Legacy of Legends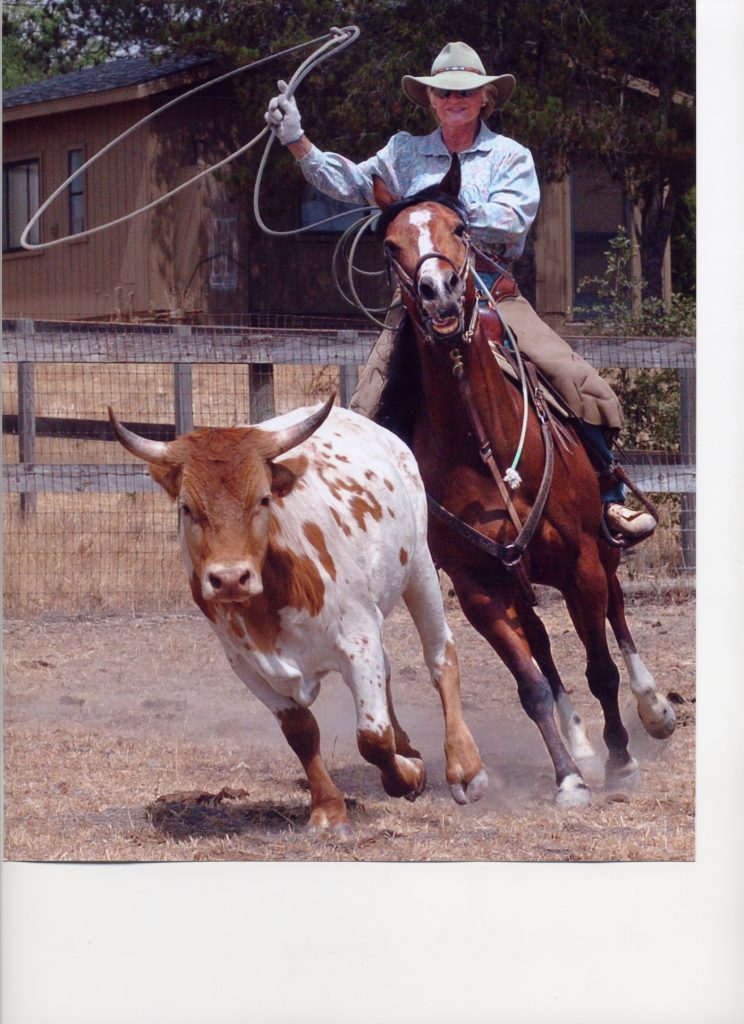 Located in Fort Worth, Texas, the purpose of the National Cowgirl Hall of Fame is to preserve the history and impact of western women. Not just rodeo champions, but artists, entertainers, pioneers, ranchers, trailblazers and writers. For those who know Audrey Griffin, she fits right in with this august group.
Audrey was born in Santa Monica, and grew up in the Los Angeles area. She was a typical horse-crazy girl, with a huge crush on her cowboy hero, Roy Rogers. At the October, 2008 induction luncheon, Audrey revealed that while growing up, she kept an 8×10 glossy of Roy hanging over her bed, and every night she would kiss his photo before turning out the lights. She got a big laugh when she admitted in her acceptance speech that she had literally "kissed his lips right off." (Something she never told Roy when she actually met him later in life.)
Although Audrey never owned a horse until she was fifty years of age, the turning point in her life came when she was eleven. That was when her father took her riding at Sunset Ranch in Culver City, and it was there that she learned how to make her horse habit (almost) pay for itself. During her teenage years, Audrey spent most of her spare time at the Ranch, helping with barn chores and learning about horses and riding.
"In the late 1940s we would get one dollar for harnessing the team and one dollar per hayride," remembers Audrey. "On a good day we could make seven dollars."
Sunset Ranch had a half-mile track, and it was there that Audrey and her friends would practice Roman riding (standing on the back of a horse). It was this skill that was to bring her opportunity and fame.
The Flying Valkyries
In 1950, unbeknownst to Audrey, a troupe of "Roman riders" was stranded in Palm Springs. Actually the "troupe" consisted of an elderly couple who traveled with seven white horses and the two girls who rode them. They would hire additional girl riders at each location, augmenting their traveling show with local talent.
The white horses were purchased by a woman named Lois Hall, who worked up some new acts that featured her 13-year-old daughter, Sydney. Within a few months, the newly revamped "Flying Valkyries" were ready to hit the road. They performed in a variety of venues that included Madison Square Garden, and with headliners such as Gene Autry and Roy Rogers.
In 1956, one of the Flying Valkyries by the name of Mary Stetler visited the Sunset Ranch. She told Audrey the group was in search of an additional girl rider who would be willing to travel all over the United States and Canada. By this time Audrey had graduated from Venice High School, completed her first year at Santa Monica City College, and had been working as a messenger girl at Metro-Goldwyn-Mayer studio for six months (where her father was also employed). Although excited about the idea of joining the show, the now 19-year-old Audrey doubted her parents would let her go.
"For the next two days my family discussed morals, integrity, opportunity, education, the chance of a lifetime and a dream come true. Lois Hall, the woman who owned the specialty act, arrived at my door and promised my mom she would be a good chaperone and see that I attended Mass every Sunday, so down the road I went. Two weeks later I performed at my first rodeo in Charles, Louisiana," recalled Audrey.
Within twenty-four hours of joining the Flying Valkyries, Audrey had earned the nickname "Prunie," since she was from California. (Is there anyone left today who first thinks of prunes when they think of California?).
"Rodeo champion Jim Shoulders was less complimentary, jokingly calling the group "The Flying Vultures," remembers Audrey, who is still close friends with Jim's widow, Sharon Shoulders.
Audrey's skill as a rider was augmented by her bravery. In the "Crossfire Jump" one woman on three horses raced in one direction and jumped a hurdle simultaneously with another rider going in the opposite direction (also standing atop three galloping horses). In another breathtaking act, Audrey stood atop the "wheeler" horse of a six-up hitch, executing figure-eights between barrels before driving and jumping all six horses over a high hurdle on both sides of the arena, followed by a high-speed exit.
Audrey has kept thorough and up-to-date scrapbooks of her career, and perusing them reveals of font of information and humorous anecdotes. A 1957 article from the Oklahoma City Times states: "One Valkyrie jumps five horses Roman style over a double jump. Miss O'Brien confides that the only mishap in this spectacular jump has been split riding pants."
Another snippet from a 1956 newspaper in Yoakum, Texas: "Audrey O'Brien, who has what Dan Coates calls an Italian name, is a stellar performer at water skiing, swimming and diving, when not flying those white horses in a rodeo arena."
One blurry but memorable photo in her collection documents Audrey competing in bareback bronc riding at the 1956 All-Girl Rodeo in Fort Stockton, Texas. "I rode two broncs, placing fourth overall," remembers Audrey. "I stayed on the whole eight seconds, and the pick-up man took me off both times."
In 1958, The Flying Valkyries traveled to Europe as part of the largest Wild West show seen there since Buffalo Bill's extravaganza fifty years before. They performed for two months at the World's Fair in Brussels, Belgium, in a special DuPont-built, air-inflated building seating 10,000 people.
"It was the biggest cowboy and Indian venture in Europe in half a century. The show cost five hundred thousand dollars to open, and was financed by American investors," said Audrey. The co-producers included Gene Autry, Amon Carter, Bob Hope, George Murphy and Red Skelton. In addition to dozens of cowboys and cowgirls, the show featured 230 head of stock and fifty Oglala Sioux Indians from the Pine Ridge Reservation in South Dakota.
By 1960, Audrey had retired from the Flying Valkyries and married her first husband, Dick Campbell. They reared their five daughters (Melinda, Maureen, Molly, Megan and Maggie) in Santa Monica, as the Campbell family owned five clothing stores in Los Angeles. Audrey's riding slowed during those years, as the family's main interest was sailing.
When Audrey finally bought her first horse, she was back in the saddle for good. In 1991 she moved to the Santa Ynez Valley with her second husband, dentist Gary Griffin. Ever since Gary's death in 2000, there has hardly been a day that Audrey hasn't ridden a horse, whether on the trail, or helping out at local cattle ranches with sorting, roping, calf branding or team penning.
Of the four Flying Valkyries still alive, Audrey is close to two of them, Mary Stetler and Ida Volquartsen. Audrey's blue eyes still twinkle brightly, especially as she recounts the excitement of being inducted into the National Cowgirl Hall of Fame. Sixty friends and family members accompanied her to the Texas-sized ceremony, including all five of her daughters. The ballroom was filled with elaborately decorated tables, each in a different western theme donated by local designers. Ironically, one of the tables assigned to Audrey's entourage featured a Dale Evans theme.
When Audrey was called to the podium, a silver medal on a red, white and blue ribbon was draped around her neck, and she was presented with a commemorative pair of black and blue cowboy boots.
"Is that to acknowledge all the bruises you've received over the years?" I jokingly inquired.
"I never thought of that," laughed Audrey. "But I'm still getting bruises!"
PHOTO CAPTIONS
A)At a 1957 performance of the "Flying Valkyries" in Phoenix, Arizona, young Audrey O'Brien demonstrated her Roman riding atop four jumping horses (photo courtesy of Audrey O'Brien Griffin)
You might also be interested in...