Montecito Creek Bridge Update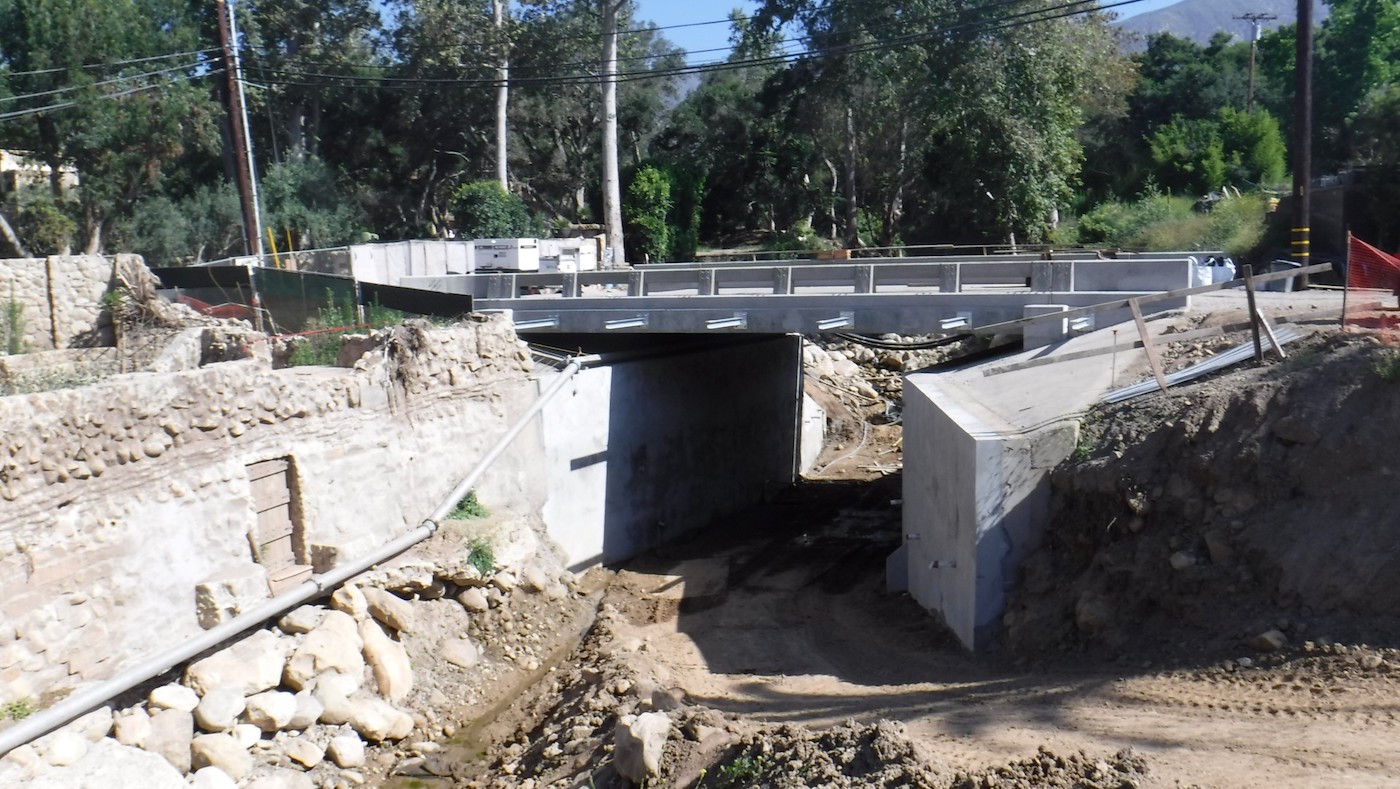 Caltrans is continuing work to rebuild the Montecito Creek Bridge, which was damaged in the Montecito debris flow in January of 2018. Most of the bridge construction has been completed with further road and creek restoration work ongoing. Barricades and locked gates will continue to secure the Montecito Creek location with detours available via local roads. Emergency responders will maintain access to this locked area for public safety. The bridge is expected to re-open in September.
For more information on this project and for traffic updates on other Caltrans projects in Santa Barbara County, residents may call the District 5 Public Affairs Office at (805) 549-3237.
Crown Castle at MPC
Last week two Crown Castle small cell telecommunications facilities were in front of the Montecito Planning Commission for approval. The two facilities are part of a larger 6-cell project, which will improve cellular capacity for AT&T, according to Crown Castle reps.
The project has been in the works since 2017, and includes sites at 1071 Alston Road, 206 Middle Road, 277 San Ysidro, 75 Eucalyptus Lane, 1915 San Leandro Lane, and 2023 East Valley Road. Each project includes adding a small antenna on an existing utility pole, as well as an equipment box mounted on the side of the pole. Crown Castle has been working with MBAR over the last few months ensuring the facilities are compatible with the community.
Last week's hearing included the sites on Alston Road (between Hot Springs and Glenview Road) and at East Valley Road (between Olive Road and Lilac Drive). Both sites include attaching equipment to existing power poles, as well as radiofrequency signage. The projects comply with FCC regulations, with a Radio Frequency Report concluding the maximum RF exposure from each facility would be .7% (East Valley Road) and .6% (Alston Road) of the FCC public exposure limit at ground level. Part of the conditions of approval requires verification of the project's actual RF emissions within 30 days after installation, as well as every five years after.
Crown Castle engineering manager Geri Freeman explained to the commissioners that even though the projects before them are to enhance the 4G cellular technology infrastructure, the next generation, 5G, has progressed along with technological devices over the last 50 years. She explained that 1G was for calls from older phones, and 2G was for sending text messages. In 2002, the technology was upgraded to 3G, which was for devices other than traditional cell phones such as Blackberries, and 4G came on the scene in 2010, which is for smart phones. "5G technology will provide more data speed, latency, and connections, enable everyone to use their devices," Freeman said.
Federal law significantly limits local government in regulating such projects; the MPC is limited to considering aesthetics as a basis in which to deny such a project. The aesthetic conditions must be applied from existing, published, and objective aesthetic standards, according to County counsel. Several commissioners voiced concern over the increasing number of such projects in our area, which would add to visual blight in the community. With new 5G technology on the horizon, more cell facilities will be required to build the infrastructure. "My concern is with the aesthetics of our community. We see the proliferation that is coming with the new generation of equipment," said Chair Charles Newman.
Because the Commission was limited in their ability to deny the projects, both projects were approved as presented by staff. An additional condition was added to the motions, which states that additional equipment needed in the future shall be shared by cell service carriers, if possible.
On a related note, next Wednesday, July 31, building biologists Larry Gust and Monika Krajewska will be at Montecito Hall lecturing on 5G and EMF (electromagnetic fields). They will present about the types and sources of EMF radiation in homes, and best methods for protection. The free lecture is from 5 pm to 6:30 pm at 1469 East Valley Road. For more information, call (805) 895-4687.
You might also be interested in...