Grilling Out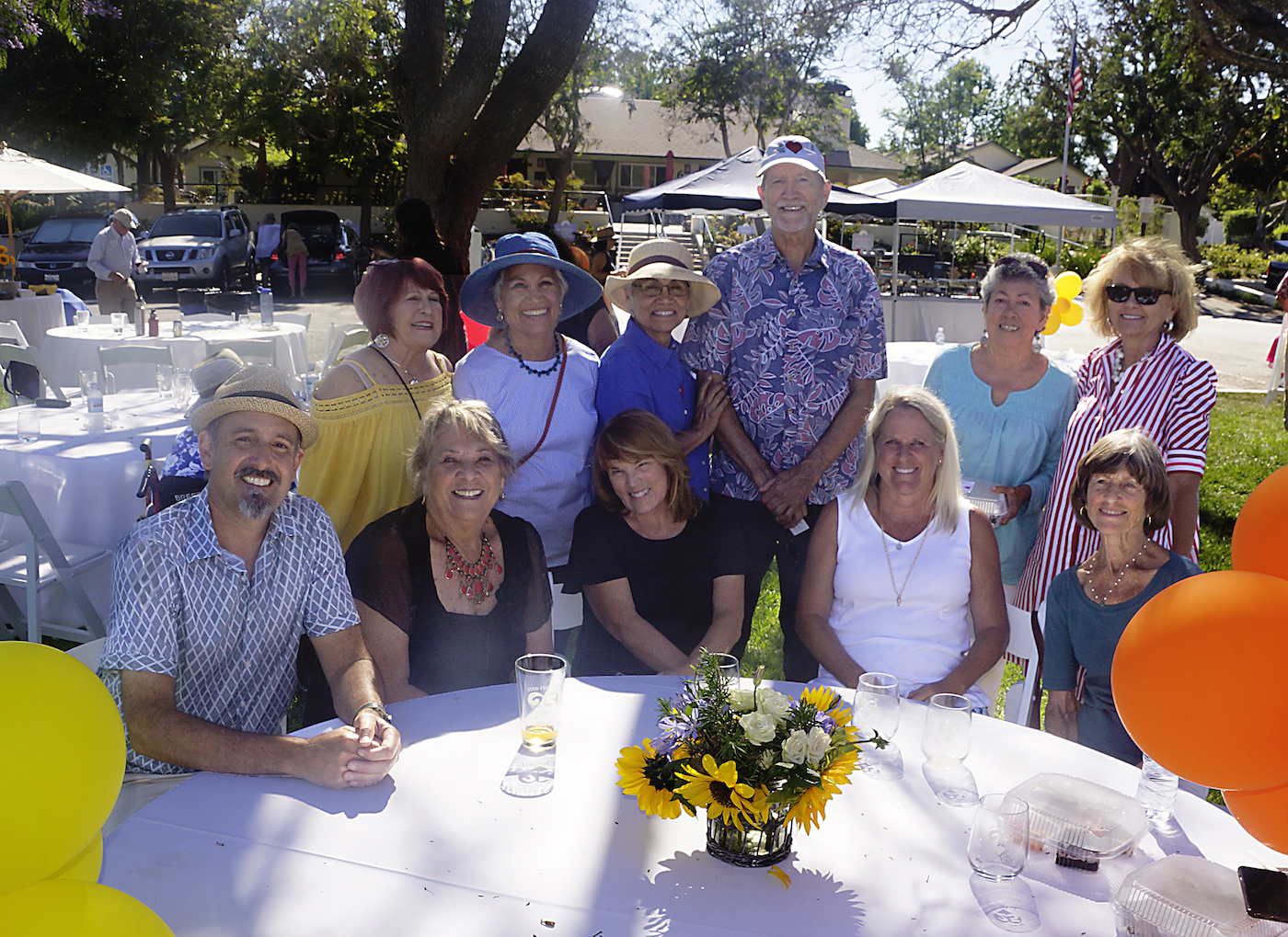 Food From The Heart, a Santa Barbara charity which serves 160 elderly clients a week using 60 volunteers, hosted a thank-you bash at the Pilgrim Terrace senior living facility to mark its 25th anniversary.
With an annual budget of just $270,000 and hydroponic vegetables grown on 120 produce towers by the Pilgrim Terrace Foundation, more than 60,000 people are helped annually, with food prepared by Aaron Casale at Trinity Lutheran Church.
The bustling barbecue bash for 170 guests in brilliant sunshine, co-chaired by founder Evelyn Jacob, Kelly Onnen and executive director Steven Sharpe, was cooked by Manny Ayala and underwritten by Community West Bank, with wine from the Gold Medal Wine Club and beer from the Draughtsmen Aleworks in Goleta.
Among the hydroponic hoard were Gregg Hart, Sheila Lodge, Budd and Jeanne Carr, Eric Onnen, Mindy Rosenblatt, Bill and Jean Howard, Carmen Ortiz, Dave Gonzalez, Lynda Fairly, and Renate Dill.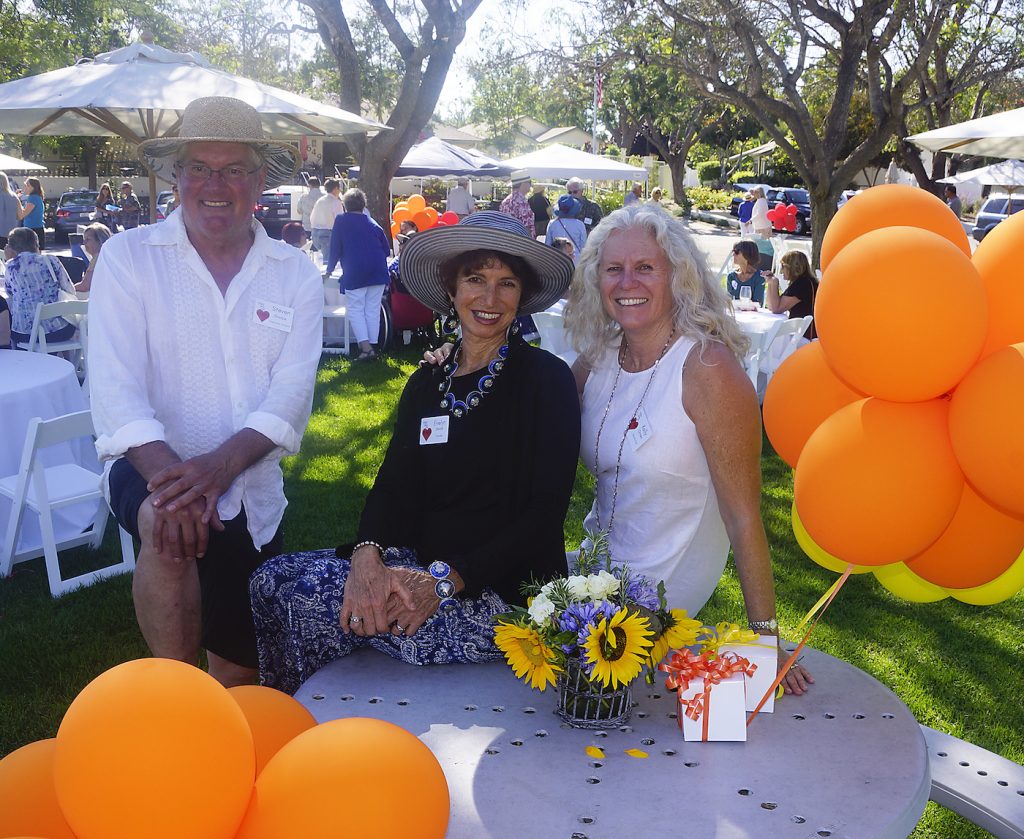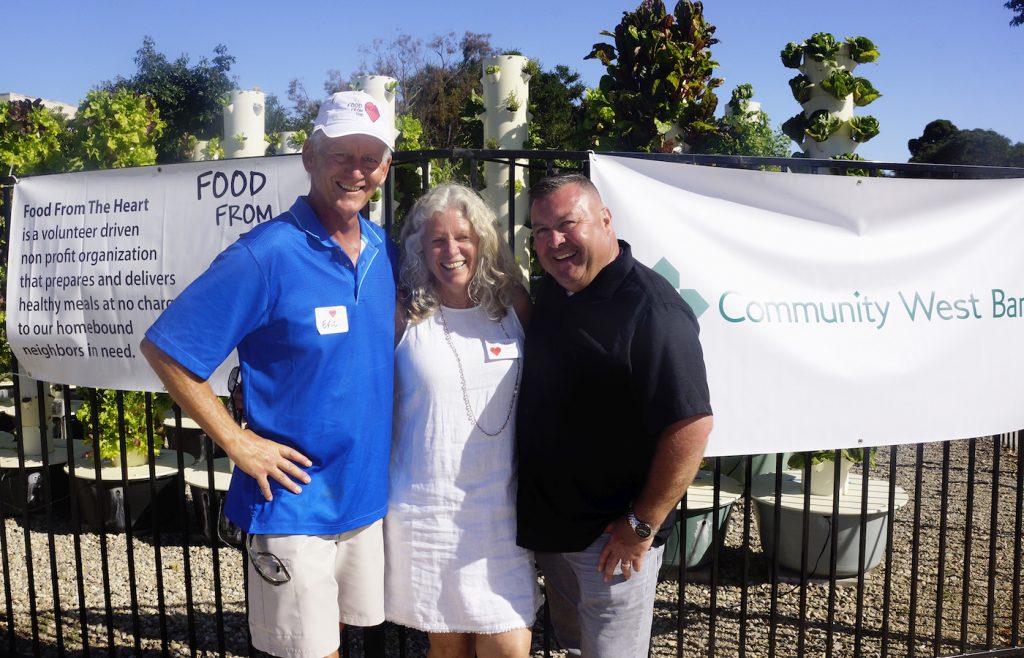 Suite Life 
Sleeping with Beanie Baby billionaire Ty Warner doesn't come cheap!
The Biltmore, the tony 22-acre hostelry, has just opened its newest suite, the 4,000 sq.ft. Ty Warner Villa, featuring a 180-degree view of Butterfly Beach and the Channel Islands.
Outfitted with the latest technology, two outdoor entertaining terraces and 12ft x 15ft. plunge pool, dual couples Dornbracht shower with a frameless glass wall that leads to a 150 sf.ft. outdoor jungle rain shower and a one-of-a-kind bathtub carved from a single piece of French limestone.
The suite, which is accessed by its own camera monitored private driveway, also features butler service, complimentary car washing, pedicab transpiration around the estate, and access to the members-only Coral Casino Beach and Cabana Club.
In addition, villa guests are offered select tee times at the newly Jack Nicklaus-renovated Montecito Club course.
Rates start at $12,500 a night…
Fountain of Youth 
Santa Barbara warbler Katy Perry has revealed her secrets to good health – and it involves something distinctly unpleasant.
The 34-year-old former Dos Pueblos High student says she practices panea karma to combat the effects of "getting older."
"I'm kind of into these types of things, like health and healing places, and self betterment places," she told an Australian radio show.
"Especially as you get older and you have longer hangovers you realize the cells in your body are dying. I did this thing, panea karma. It's basically ayurvedic eating and cleansing. You do a lot of enemas."
Ayurvedic eating involves consuming whole or minimally processed foods and practicing "mindful eating."
"You feel more energy," says Katy. "It gets all the c–p out of you, every pun intended."
Aloha and Thank You 
Montecito TV talk show titan Oprah Winfrey paid a visit to the Maui Humane Society to thank the organization for evacuating animals during the recent devastating wildfires.
Oprah, 64, signed photos for surprised fans and personally thanked volunteers in the wake of the inferno, which burned more than 9,000 acres of land.
The media powerhouse resides part-time on the Hawaiian island, having purchased a 163-acre property which sits on the slopes of Mount Haleakala, estimated to be worth upwards of $35 million.
Oprah also gave permission to use a private road on the property in order to evacuate residents and visitors trapped by the inferno.
You go girl…
Fourth Time's the Charm
It took four tries, but former Montecito funnyman John Cleese, 79, says he "finally got it right" when he married British jewelry designer Jennifer Wade, 47, on the Caribbean island of Mustique in 2012.
The former Monty Python star says he still only feels 43 despite his 80th birthday fast approaching.
In an interview on British TV, he says he highly recommends marriage "if you can find a wife you really like."
John's first marriage was to Fawlty Towers co-star Connie Booth in 1968 before tying the knot with American actress Barbara Trentham in 1981 until divorcing in 1990.
Two years later he got hitched to American psychotherapist Alyce Faye Eichelberger, but the pair went on to divorce in 2008.
Like a Bat out of Hell 
It's not a case of bats in the belfry, but bats at Balmoral that are causing problems for Queen Elizabeth at her Scottish estate.
Her Majesty, 93, who has been visiting the Aberdeenshire retreat built by Queen Victoria since she was a child, has protected Pipistrelle bats nesting in the castle's ballroom.
While the monarch reportedly used to catch them herself with a net before releasing them, she is now said to watch her many staff capture them.
An old friend, royal author Adam Helliker, says staffers would love to eradicate the bats because they "defecate everywhere," but are not allowed to because they are a protected species.
"I'm told the Queen shouts encouragement, but now just observes the proceedings," he reports. "It's more of a show put on by her staff to stop them getting bored stiff."
Gone but not Forgotten 
On a personal note, it is hard to believe it was 20 years ago that John Kennedy Jr., 38, and his wife, Carolyn Bessette, 33, were killed in a tragic air accident over Martha's Vineyard.
I was in the Hamptons that fateful day at a friend's beach house in Amagansett celebrating my 46th birthday.
I was in my bedroom looking forward to a champagne picnic on the beach to mark the occasion, but when I entered the living room everyone was glued to CNN as the news network covered the unfolding tragedy.
Many of the U.S. Coastguard vessels searching for the downed single engined Piper Saratoga were also from the Long Island area, which made it all the more poignant.
I would often see affable John in New York's Central Park biking or playing frisbee with friends, and a longtime acquaintance, the late KK Auchincloss, had the penthouse above Jackie Kennedy Onassis at 1040 Fifth Avenue, opposite the Metropolitan Museum.
To what might have been, even two decades on. A memorable day for all the wrong reasons.
Sightings: Dallas Cowboys tight end Jason Witten at the Rosewood Miramar… District attorney Joyce Dudley getting her coiffure teased at Supercuts on State Street… Carol Burnett noshing at Lucky's
Pip! Pip!
You might also be interested in...