So Long, Hollywood
Montecito entrepreneur and philanthropist Lynda Weinman and husband Bruce Heavin are selling their Hollywood Hills home for a bargain $21.995 million, $5 million below the original purchase price.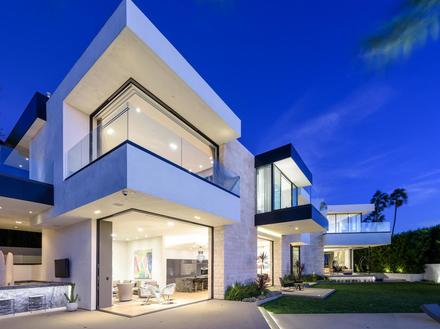 The dynamic duo bought the 12,500 square foot, three-level, six-bedroom, eight-bathroom property, which was originally on the market for $29 million, in the achingly trendy "bird streets" area above Sunset Boulevard in 2016.
As well as having actor Leonard DiCaprio as a neighbor, the house has sweeping views of the throbbing metropolis, a 2,000 sq. ft. master suite, and an eight-car subterranean garage.
They are currently building a "sea urchin" house on four acres in our rarefied enclave they bought for $13.4 million in 2015, just a tiara's toss from the former Brooks Institute of Photography, an eight-bedroom, 12-bathroom, 18,500 sq. ft. house on 7.5 acres they snapped up in April, 2018, from Grammy-winning record producer Allen and Anne Sides, which was on the market for $25 million.
The L.A. sale is being dealt with by Josh Altman of Douglas Elliman, part of the Big Orange real estate team on the popular Bravo show Million Dollar Listing.
Miramar Matrimony 
YouTube beauty guru Gigi Gorgeous, 27, married her longtime love, Nats Getty, 26, great granddaughter of oil tycoon J. Paul Getty, at an opulent beachside wedding at the Rosewood Miramar.
The bride and bridesmaid wore custom dresses by Michael Costello, while Getty, a model and fashion designer, wore a suit she designed for her own label, Strike Oil.
The lavish nuptials, which had 220 guests, were officiated by Mindy Weiss, according to People magazine, with attendees including actress Teri Hatcher and singer Bonnie McKee, who also performed.
The twosome met in February, 2016, getting engaged in Paris in March last year.
Oil's well that ends well…
Out of this World
The historic 115-year-old London Symphony Orchestra ruled the Granada stage for two consecutive nights, part of the Music Academy of the West's action packed summer festival.
The talented musicians, under conductor Elim Chan, kicked off with a Voyager Family Concert with the iconic theater becoming Mission Control for the 45-minute sold-out space-themed event, including "Also spruce Zarathustra" by Richard Strauss, Beethoven's Symphony No. 5, Holst's "Jupiter" from The Planets – a particular favorite of mine – Messiaen's Les offrandes oubliees, Shostakovich's Symphony No. 10, wrapping with Oscar winner John Williams' "Flying Theme" from E.T.
Just 24 hours later after being "spaced out," the orchestra, this time under Daniel Harding, music director of the Orchestre de Paris, performed another wonderful show with Beethoven's violin concerto in D Major, played with great finesse by Grammy-winning James Ehnes, Bartok's Concerto for Orchestra, and Agnegram, composed by the LSO's conductor laureate Michael Tilson Thomas.
Absolutely marvelous…
You might also be interested in...