Paul Cashman Opens Montecito Office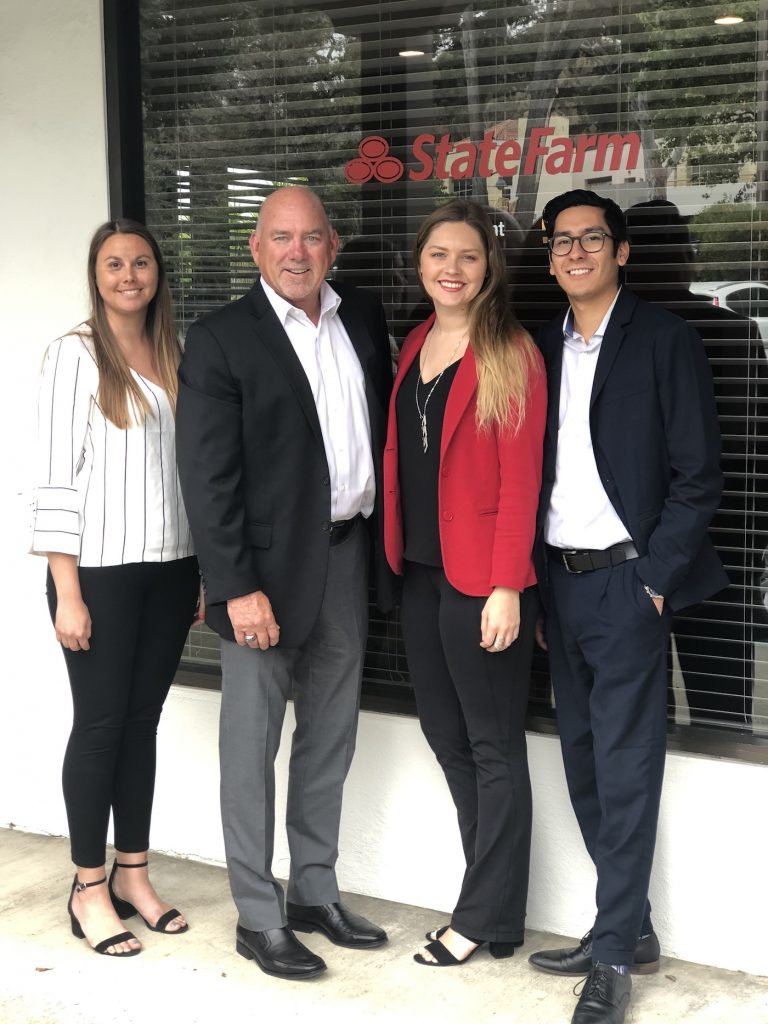 Local State Farm insurance agent Paul Cashman has expanded his business to Montecito, taking over Buzz Faull's State Farm office on Coast Village Road. "I'm really looking forward to this new phase of my career," Cashman told us last week. "Helping the community of Montecito gives me great satisfaction," he said, adding that Faull had an office in Montecito for over 40 years before retiring in April.
Cashman has been a State Farm agent in Santa Barbara for the last 37 years, currently running an office at 3433 State Street that consists of nine full time agents and serves roughly 4,000 families. The son of Jim Cashman, a State Farm agent for 38 years, Paul is consistently a top producer at the company, qualifying in the Top 50 agents out of 18,500 five times in the last five years. He's helped over 30 families recover from total fire or flood losses as a State Farm agent, giving him intimate knowledge about loss in Montecito. "I literally grew up in the insurance business; it's second nature to me," he said. Cashman has extensive community involvement, including serving as past president of the SB Junior Chamber of Commerce, the Riviera Association, Santa Barbara Firefighters Alliance, past chair of the Santa Barbara Fire Safe Council, past chair of the Santa Barbara Association of Realtors' Affiliates Committee, and current participant in the Santa Barbara Chamber of Commerce government relations committee and current board member of the Santa Barbara Police Foundation.
Cashman, along with his team, is in the process of getting to know 1,200 families who used to work with Faull, and hope to meet and get to know each and every one of them. "My goal is to meet with each client, and review their coverage, having conversations that can uncover where there are gaps in coverage, and how they can shift their risk," he said.
In addition to taking over current clients, Cashman is writing new policies all the time, as State Farm is a major writer of small business insurance, life insurance, disability insurance, mortgages, and more, in addition to home and auto policies. "What some people don't know is that State Farm is a bank, and also offers a wide range of loans and accounts. The only thing we don't do is take cash at the office," he said. "We cover a broad spectrum of hundreds of products." Part of Cashman's transition will also be helping clients deal with non-renewals from other companies, which he says has created a void in the marketplace. "We are happy to take on those clients, if their home and its location qualifies," he said.
Insurance has been a significant topic of conversation in Montecito post-debris flow, and Cashman says he's looking forward to being involved in those conversations as well as in the community at large.
The State Farm office is located at 1236 Coast Village Circle, Suite D. For more information, call 969-5838.
MSD Moves Forward with New Building
At a board meeting last week, the Montecito Sanitary District board of directors approved the District's 2019-20 operating and capital budgets, which earmarked over $4M for the District's Essential Services Building, slated to replace the current building on the five-acre site.
The project is part of the District's 2004 master plan, which also included a new maintenance building and laboratory, which have already been built. The new building will replace the existing Essential Services Building, which is considered undersized and has issues including mold, termites, asbestos, inadequate insulation, non-compliance with ADA requirements, and a leaking roof. The new building will be built on a different portion of the campus, in order to abandon the access on Monte Cristo Lane, and the project will include the roughly 5,000-sq-ft building, a new curb cut along Channel Drive, a 17-space parking lot, four bike parking spaces, lighting, and landscaping. The project layout on the site allows for 36,000 square feet of space to be utilized for a future water recycling facility, which is also in the works.
The building, designed by architect Brian Cearnal, will include a meeting room, lobby, and offices, set around an internal courtyard to give staff outdoor space, and will be built in a Spanish Colonial Revival style with a terra cotta roof and white walls. The project is not required to be reviewed by the Montecito Planning Commission.
The board voted 3-2 to award contracts for the construction of the building, which is expected to take two years to build.
You might also be interested in...