lululemon Pop-up to Open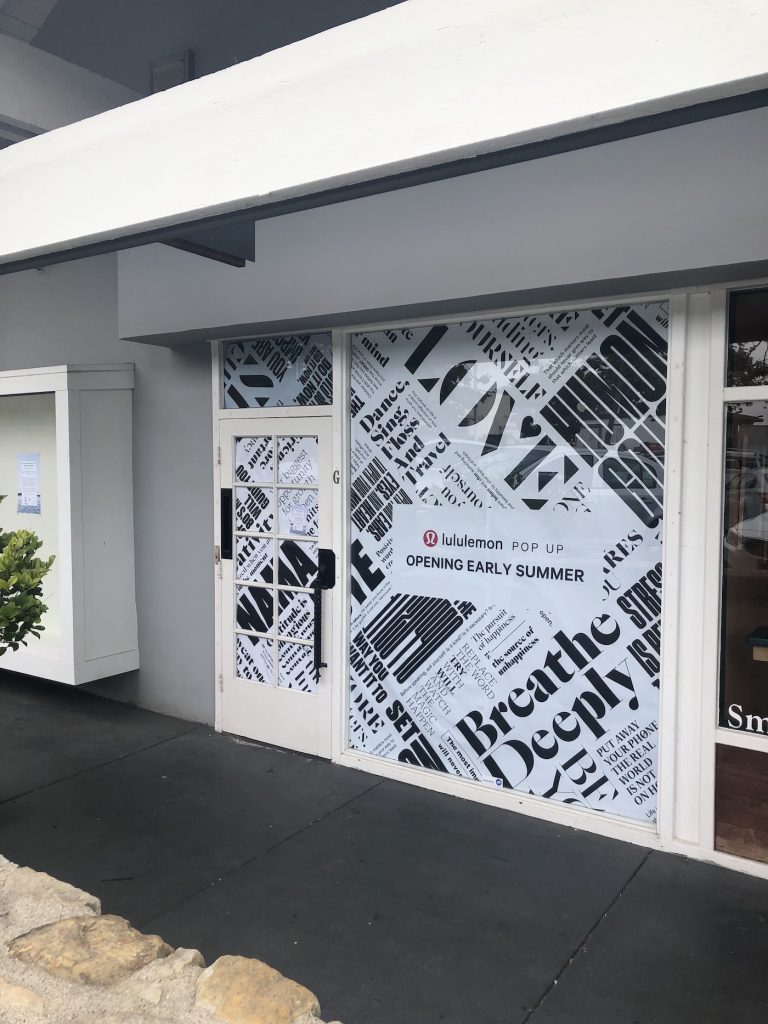 Fitness clothing company lululemon is opening a seasonal pop-up shop in Coast Village Walk, marking the grand opening next week with a trio of fitness events. The pop-up, which will stay at least through the holiday season, is slated to open on Friday, June 28. 
The store will offer women's and men's athletic clothing and leisurewear as well as fitness accessories; a smaller collection of items than the larger store on State Street in Santa Barbara, plus some other styles that won't be found downtown. The company began opening pop-up shops across the country in 2016, capitalizing on seasonal foot traffic and only committing to 3-6 month leases. Last year the company opened 60 seasonal stores, and this year that number is expected to increase. The seasonal Montecito store is located at the former location of Chasen, a women's boutique that closed earlier this year. The shop joins newest tenant Santa Barbara Running, which opened its doors on Tuesday, June 18.
The grand opening weekend includes sweat sessions with Physical Focus Training Center (Friday June 28 at 8 am), Santa Barbara Running (Saturday June 29 at 8 am), and yoga with Linda Baffa (Sunday June 30 at 9 am). A rep for the company tells us the store may stay open past December, if sales show promise for a permanent store.
For more information, visit the store at 1046 Coast Village Road, Suite G.
Changes at The Monarch
The Monarch, Silver Bough, and Sushi Bar chef and owner Phillip Frankland Lee has made several changes to The Monarch, and has announced the continuation of the popular wine dinner series.
Earlier this month, Lee and his team added a more relaxed section to the all-day eatery The Monarch, in the area of the restaurant surrounded by windows. "The Lounge at The Monarch" offers hotel guests and locals a place to enjoy comfortable couches, plush oversized chairs, and a cozy atmosphere in which to enjoy a casual lunch, a glass of wine with Margarita Kallas-Lee's sourdough baked bread, or an array of late-night bites. The Lounge is open seven days a week from 11:30 am to 10 pm and offers a variety of small bites as well as a few larger plate selections, all available à la carte.
For dinner, The Monarch remains open daily from 5 pm to 10 pm and now serves a nightly tasting menu where patrons can select from multiple courses and curate a tasting menu to their own liking. Additionally, a wine pairing is available and dinner pricing begins at Four Courses for $55 ($85 with wine pairing), Six Courses $85 ($130 with wine pairing), Eight Courses $110 ($170 with wine pairing), and Twelve Courses $165 ($255 with wine pairing). The curated dinner can be made with fewer or additional courses, and allows for anything from four courses of the same dish (Wagyu short rib), or a dinner completely made up of four courses of dessert (which currently would include baked brie, bergamot, strawberry, and dark chocolate).
On July 15, the Lee duo will continue with their very popular wine dinner series, welcoming Foxen Vineyard & Winery for a six-course paired dinner. The dinner is $85/person and features some wines that are only available at the Foxen Vineyard & Winery.
For more information, visit www.themonarchmontecito.com or call (805) 869-0789.
You might also be interested in...