Getting Ready For The Village Fourth – We Want YOU!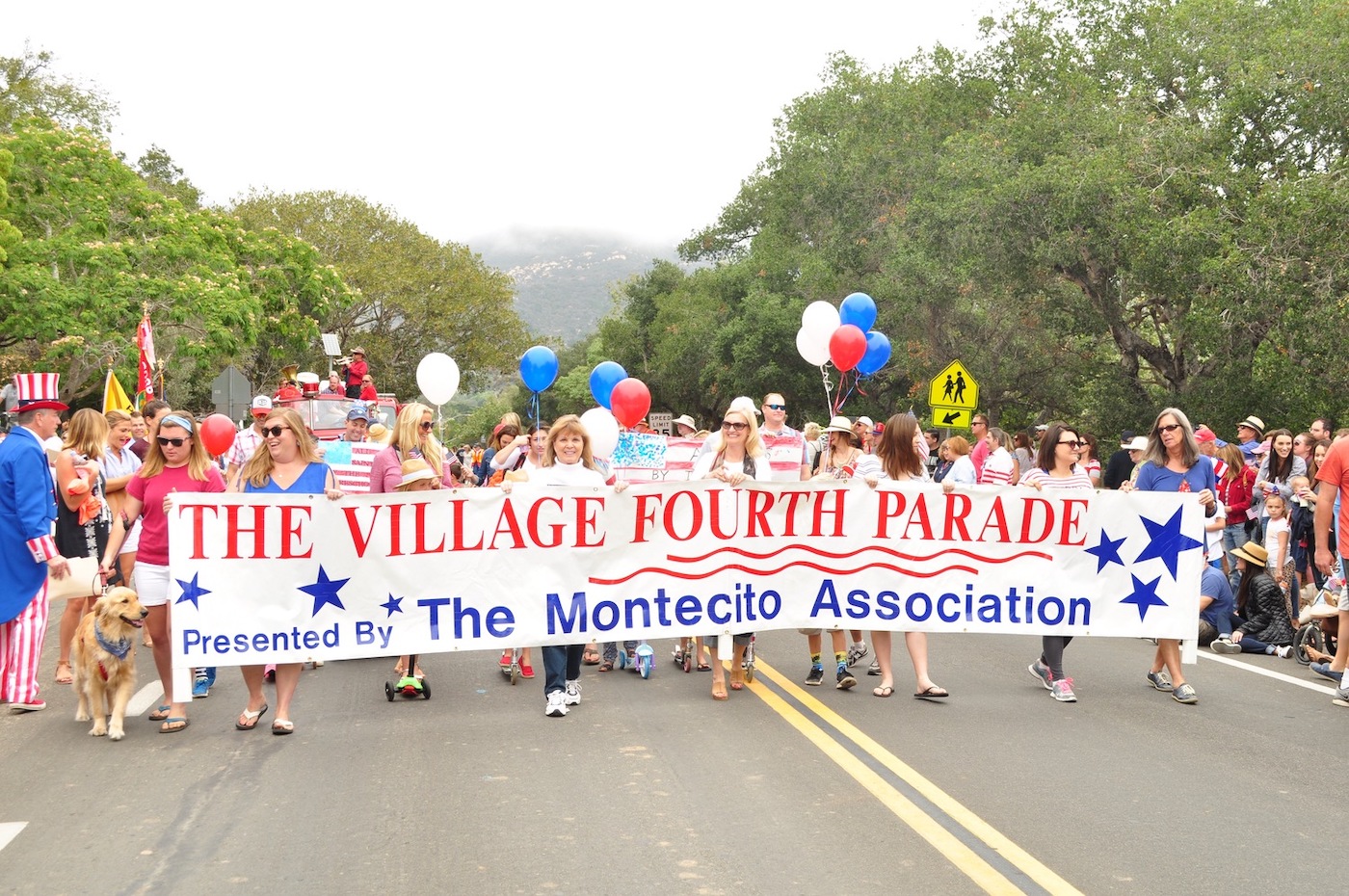 We're delighted to report that our July 4th Committee is busy making all the magic happen that's required for a stellar Village 4th Parade and Country Fair. This is Montecito's annual community-based and highly patriotic event, also known as "The Biggest Little Parade in the World." We'll have fabulous treats and a performance from American Idol star Jackson Gillies in Manning Park afterwards, and lots of family-friendly fun. This year's grand marshal is John Veneble. Please mark your calendars for July 4th 11:30 am. The parade route is along San Ysidro Road from Schoolhouse Road to Manning Park.
We're having a FUN-Raiser for the Village 4th this Friday night at the beach! You can get tickets by calling our office at (805) 696-2026.
Want to be in the parade? You can register your parade entry at our website at montecitoassociation.org/village-4th-parade.
We'll be selling Village 4th t-shirts for $20, designed by Montecito local Christy Venable, in our office. Come by 1469 East Valley from 9 am to 2 pm and pick yours up!
If you would like to support the parade, we welcome your sponsorship! You can come into our office at 1469 East Valley Rd any Monday through Thursday from 9 am to 2 pm and we'll be happy to assist you. Or you can go to our website montecitoassociation.org/village-4th-parade. We'd be honored to have your support! It truly takes a Village to produce the Village 4th.
Insurance Non-Renewal Problem Update
Thank you to everyone who participated in our insurance survey. Well over 200 of you let us know about not being renewed by your insurance company, struggles you've had on the open market, and premium increases.
This data will be shared with Assemblymember Monique Limon and Insurance Commissioner Ricardo Lara, who are working with this issue at the state level. We're mapping out properties that were and weren't renewed against the FEMA and Debris Flow maps to see if there are clear patterns we can provide to the commissioner. While Assemblymember Limon wants Commissioner Lara to come here to talk with us, we'd really like to see him mount a campaign with national insurance companies to come back into this market. Chief Hickman of MFPD, now retiring, pointed out to Chubb that when the Thomas Fire hit the Tea Fire burn scar, it stalled. We should be far safer from fire for at least the next 20 years, so insurers should be doubling-down in Montecito, rather than fleeing the market.
We'll keep you updated in this space as we move forward with this issue.
Parking Problem on East Valley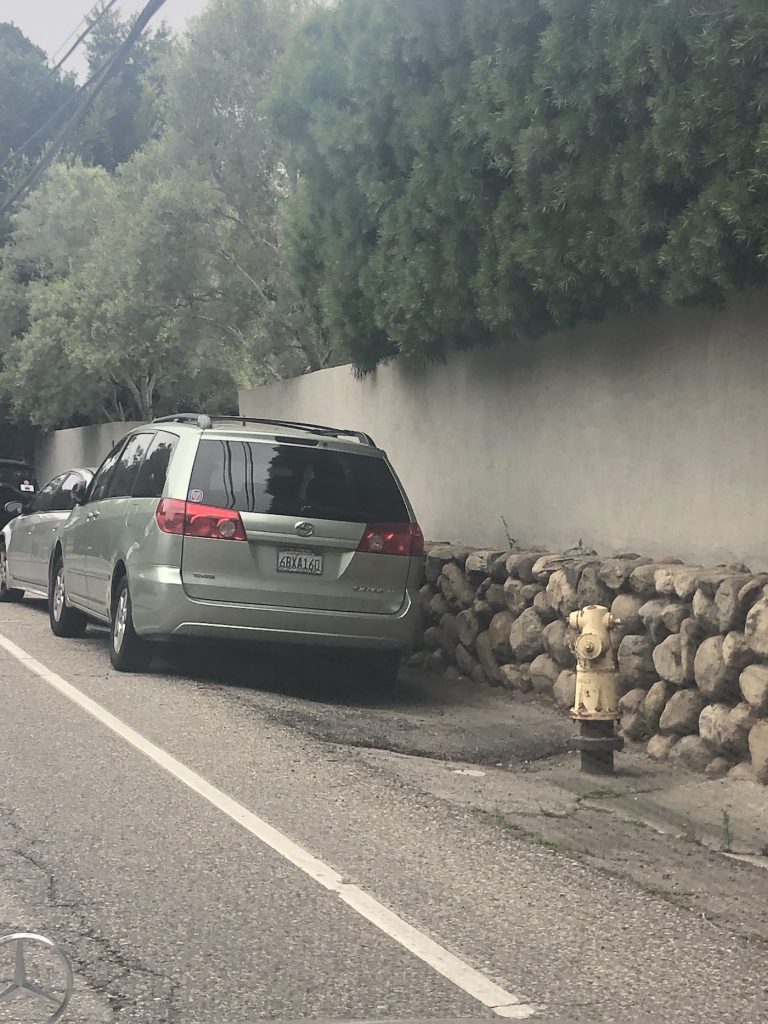 Thanks to everyone that came to our May 23 Transportation Committee meeting. One of the topics on the agenda is the "found" parking on 192 near the Upper Village. "Found" parking is when people begin to park on dirt or sidewalk areas that are neither really legal nor designated as parking areas.
This creates a safety problem as people are parking up against a hydrant, and forcing pedestrians off a dirt path and out into the open road. In our Transportation Committee meeting, CHP advised they have gone in to talk to businesses to discourage employees from parking there. Caltrans advised the problem has been referred to Traffic, which is run by Roger Barnes for Caltrans District 5. Caltrans also introduced us to a new feature on their website to report issues with their roads: the Customer Service Request at csr.dot.ca.gov. You can submit issues with 101 and ifs off-ramps, and also highway 192 – East Valley Road. Having tested it, I can tell you they do respond! We're also working with the office of Supervisor Williams to have Montecito removed from Waze and other app routing to reduce traffic burdens in the area. This is a fairly new problem for Montecito, as driving apps are pretty young, but traffic will only increase as we near 101 construction for Montecito.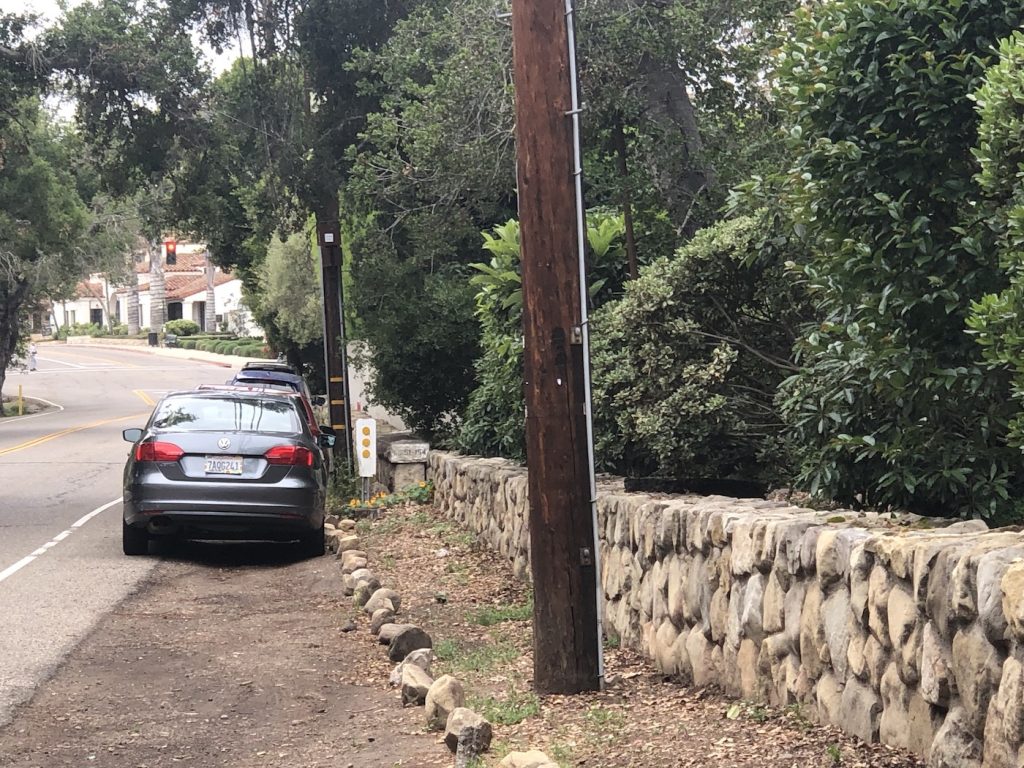 Montecito Association Upcoming Meetings:
Land Use Committee – July 2 at 4 pm at Montecito Hall
Board Meeting – July 9 at 4 pm at Montecito Hall
Transportation Committee Meeting – July 18 at 8:30 am at Montecito Hall
You might also be interested in...