Sweet Wheel Farm & Flowers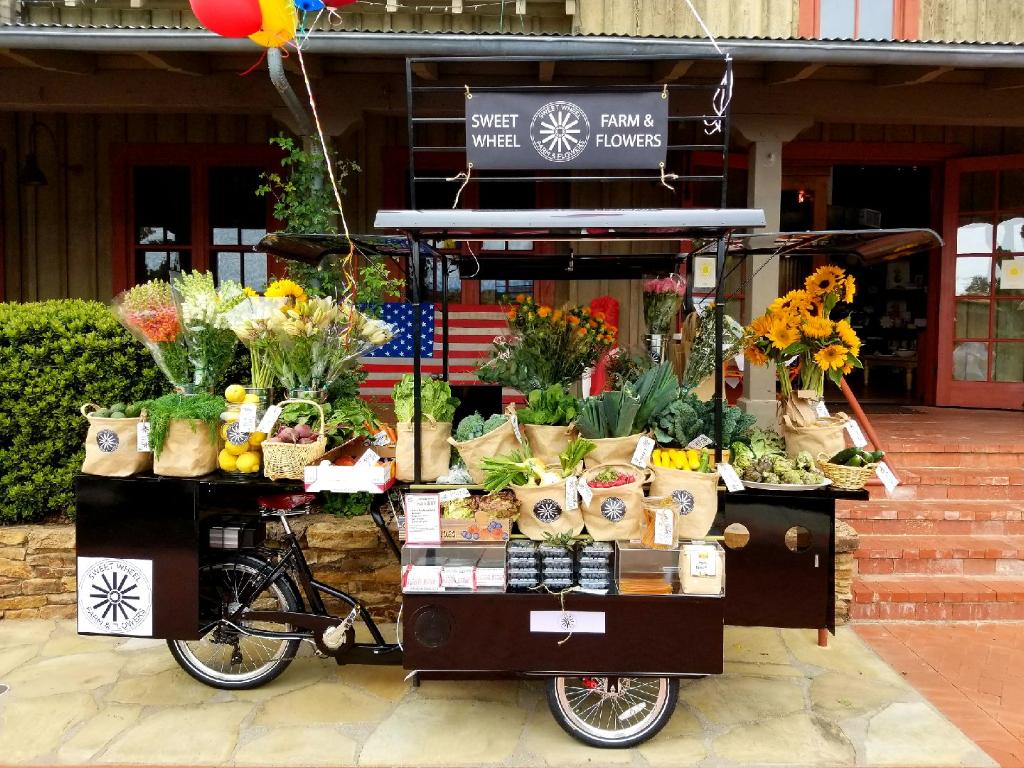 Leslie Person Ryan, the owner of Letter Perfect on Coast Village Road for 35 years, ventured into Summerland at the end of 2018, opening the Summerland Center for the Arts, a shop, gallery, and gathering space on Lillie Avenue. Last week she added a mobile produce shop to the Center, called Sweet Wheel Farm & Flowers, which has gained the positive attention of locals and vacationers. "All day people are stopping by and are so happy we are here with fresh produce," Person Ryan told us during a visit to the shop.
Summerland Center for the Arts is located in the former home of Just Folk, across from the Carpinteria-Summerland Fire District. "I've wanted to be out here for a long time, and after last year's disaster I decided now was the time to take the plunge," she said, adding that Letter Perfect on Coast Village Road isn't going anywhere. The Center offers retail on the ground floor – a mini collection of the Letter Perfect goodies Person Ryan has become famous for – and upstairs is a light-filled gallery featuring the works of mostly local artists including Ray Cirerol, Michael Drury, Sydelle Foreman, Jeremy Harper, Holli Harmon, Larry Iwerks, Virginia Pierce, and several others.
True to the Summerland spirit, the Center hosts various spiritual evenings, in addition to community events, art openings, art classes, yoga, and self-improvement workshops. April saw a packed house as local artist and author Rod Lathim and the Reverend Pamela Bollinger of the Church of the Comforter in Santa Barbara called all the Summerland Spirits to visit. On June 22, the Center hosts Fran Leigh, best-selling author and world-renowned spiritual guide. The Gallery's next exhibition is for Masha Keating, whose paintings will be on display from June 30 to July 25. Keating, an Otis College of Art graduate, will show her bold nature inspired paintings; a portion of the sales will be donated to the Santa Barbara Botanic Garden, where Keating will be teaching a painting class on June 22.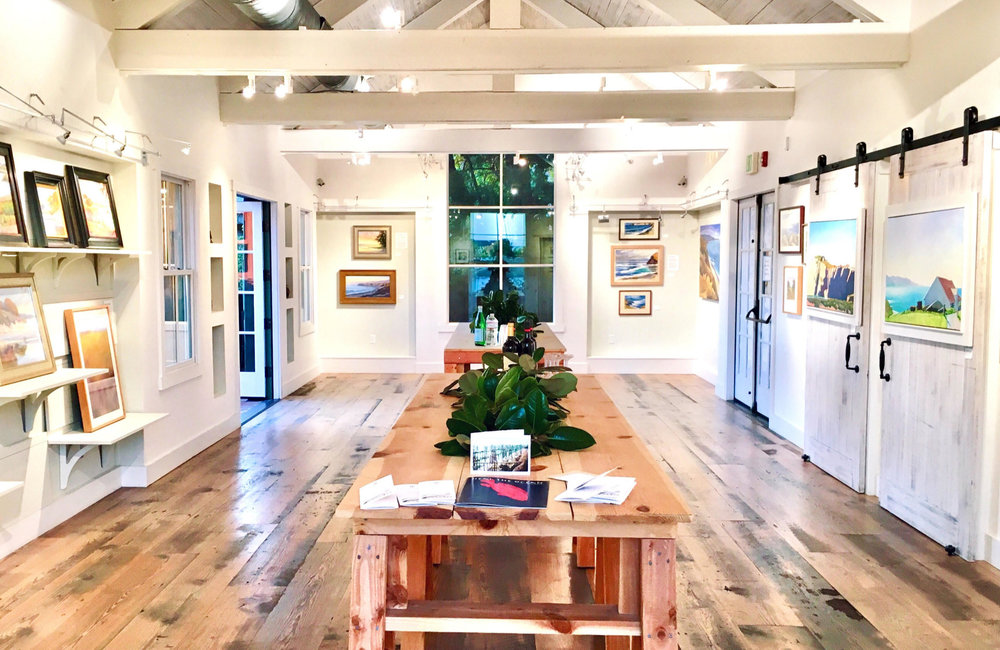 The newly launched Sweet Wheel Farm & Flowers offers mostly organic produce sourced locally from Summerland, Carpinteria, Goleta, and Santa Maria, from many of the same farmers who frequent our local farmers' markets. "It's the only place in Summerland to get fresh fruit and vegetables," Person Ryan said. The ultimate goal is to have 100% of the produce sourced from Person Ryan's own homegrown farm in Summerland. "I want to offer beautiful produce for reasonable prices, to serve the residents of Summerland so they can just go down the street for their produce," she said. In addition to seasonal fruit and veggies, there are fresh flowers and various locally sourced products including honey sticks and date bars.
Person Ryan plans to expand the offerings at the Center in the near future, making it a true hub for the Summerland community. For more information on the offe rings, visit www.summerlandcenterforthearts.com. The Center is located at 2346 Lillie Avenue in Summerland.
Montecito Water Quality Update
Last week Montecito Water District released the 2018 Annual Drinking Water Consumer Confidence Report (CCR), which is now available online at
www.montecitowater.com/doc/ccr2018. This report describes the District's water sources, provides information on water quality and how it is measured, and presents the District's 2018 test results which show that drinking water met, or was better than, state and federal water quality standards. The report also includes this message from General Manager Nick Turner:
"2018 was a year of challenges and opportunities for MWD, as it was for the entire community. When the rains came shortly after the Thomas Fire, and caused the January 9, 2018 debris flows, MWD's infrastructure was severely impacted. Our disaster response was immediate, and included the issuance of a Boil Water Notice. Water service was fully restored within 30 days, including all work needed to access, repair and disinfect our heavily damaged facilities. The MWD team, with tremendous support from mutual aid and neighboring agencies, did a remarkable job in extreme conditions.
"While nothing could have prepared us for the unprecedented twin disasters, in completing the needed repairs we've utilized all available opportunities to upgrade infrastructure, thereby maximizing the resilience of MWD facilities. The test results included in this report demonstrate that MWD's water quality met or exceeded all state and federal standards in 2018. The Montecito and Summerland communities can be assured of MWD's unwavering commitment to providing a reliable supply of high-quality water to our customers – under any circumstances."
Landlords, businesses, schools and other groups are asked to share this information with tenants, students, and other water users who may not be customers receiving communications directly from Montecito Water District.
For more information, visit www.montecitowater.com.
You might also be interested in...