Scholarship Foundation Fête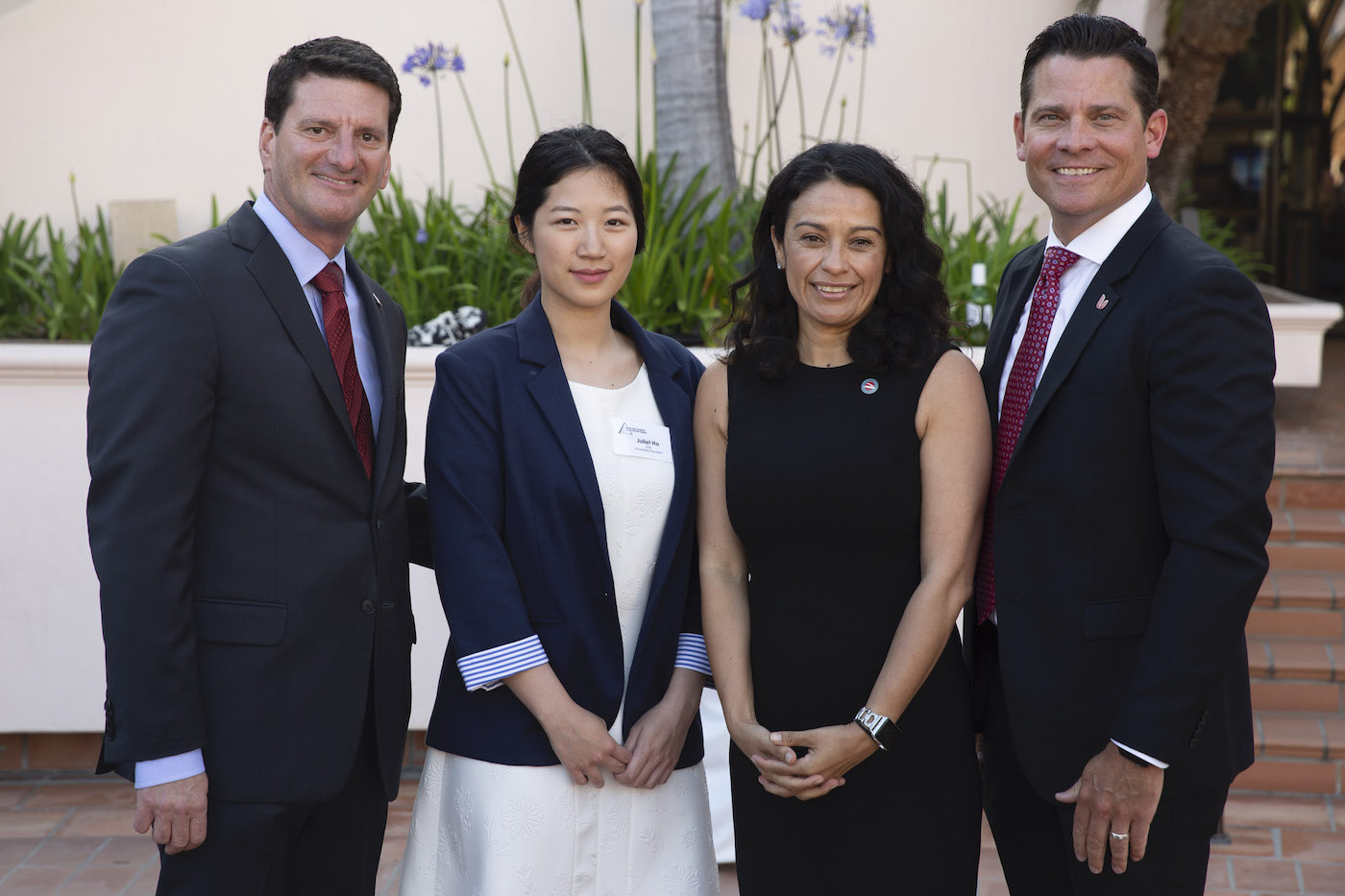 Social gridlock reigned when 620 guests packed the Hilton's ballroom for the 25th annual South Coast Business and Technology Awards which raised around $300,000 for the Scholarship Foundation of Santa Barbara, its most successful event to date.
The fun fête, co-chaired by Arnold Brier, general counsel of Yardi Systems and uber realtor Renee Grubb, featured scholarship recipient Juliet Ho, who is studying economics and accounting at UCSB, and honored a number of organizations and individuals, including CALM, Procore Technologies, Kevin O'Connor, Jeff DeVine, and Mike Pfau.
Since 2001 the awards ceremonies have raised more than $2 million for more than 900 students pursuing degrees in business and technology-related fields.
Among the tony torrent of techies supporting the boffo bash were Don Logan, Vince Caballero, Jennifer Garufis, Rich Block, Geoff Green, George Leis, Randy Weiss, Duncan Mellichamp, Charles de L'Arbre, Mike Muench, Joanna Funari, Ida Kane, Rick Tiko, Bob York, and Henry Dubroff.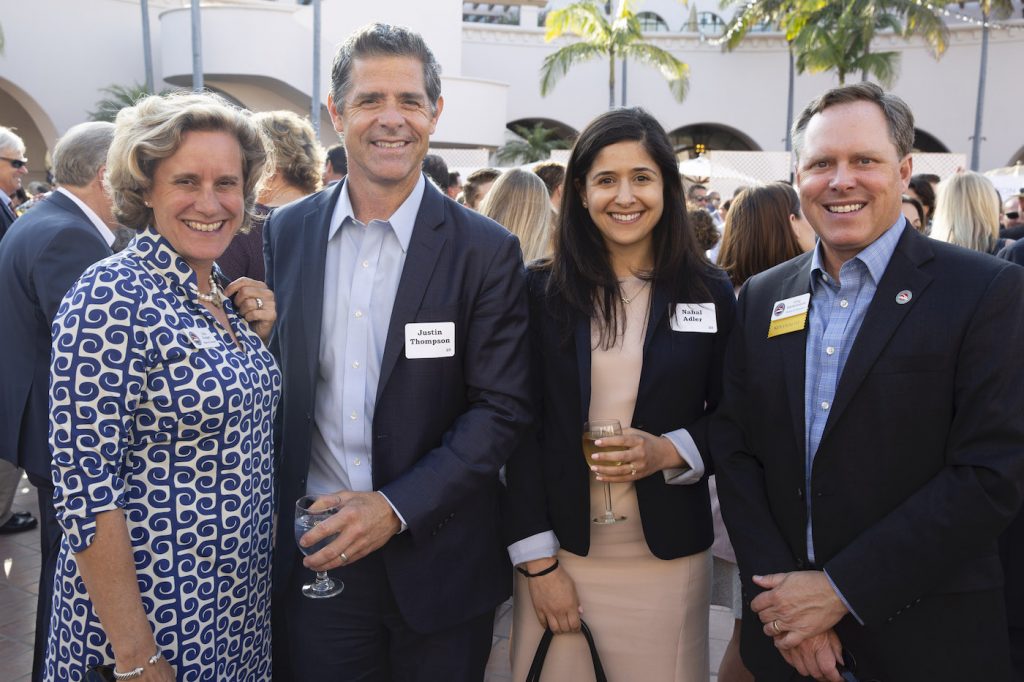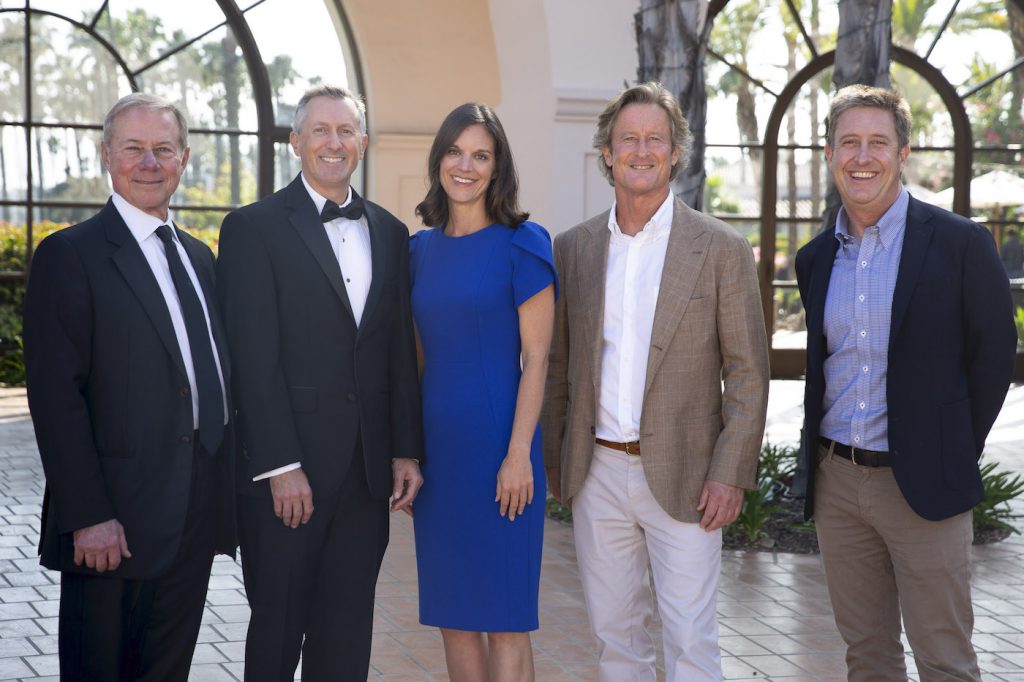 For Sale in Spain
Former Montecito resident Michael Douglas is providing his dulcet tones in an exquisite new marketing video to sell his luxurious cliffside home in Majorca, Spain.
After initially putting the sprawling 250-acre estate on the market for a hefty $60 million in 2014, the 74-year-old son of acting legend Kirk Douglas, 102 – another resident of our rarefied enclave –, is describing the splendors of the property, now priced at $32.38 million, to draw potential buyers.
In the two-minute video, the Oscar-winner reveals how he "fell under the spell" of the ten-bedroom, 11-bathroom S'Estaca property, with two opulent cottages, in 1989 when he purchased it with his now ex-wife, Diandra.
The price was dropped to $45 million in 2017 and then again to $40 million last year before being taken off the market.
Extravagant Nuptials
Chinese pianist Lang Lang, 36, a frequent performer at the Granada as part of UCSB's Arts & Lectures program, also knows how to party.
The classical music superstar just married fellow keyboardist Gina Alice Redlinger at an extremely lavish wedding at France's Palace of Versailles.
More than 300 guests, including singer John Legend, Chrissy Teigen, Bianca Jagger and TRH Prince Michael of Kent and his wife Marie-Christine, were treated to a Bach recital by the newlyweds, a seven-course feast, and an eight-foot wedding cake, accompanied by gallons of vintage Dom Perignon.
Fireworks followed with a view from the famed Hall of Mirrors.
There was also a two-story waterfall of white orchids for the ceremony and several thousand pink roses decorating the reception.
Women on Top
TV talk show titan Oprah Winfrey, 65, not surprisingly is in the top ten of Forbes Magazine's latest rankings of America's richest self-made women.
Montecito's most famous resident is at number 10 with $2.6 billion, while Kylie Jenner, 21, is ranked at 23 with $1 billion from her cosmetics empire.
Singer Madonna, 60, is at 39 with $570 million; Celine Dion, 51, at 46 with $450 million; and TV judge Judy Sheindlin, 76, at 47 with $440 million.
Fellow TV talk show host Ellen DeGeneres, 61, is ranked 63 with $330 million, and Montecito's Lynda Weinman, 64, is 69 on the list with $300 million.
Diana Hendricks, 72, leads the rankings with $7 billion as head honcho of ABC Supply, one of America's largest wholesale distributors of roofing, sidings and windows, followed by Meg Whitman, 62, with $3.8 billion from eBay.
Brad's Abode on the Market
Montecito actress Gwyneth Paltrow's TV producer husband, Brad Falchuk, has put his Los Angeles bachelor pad on the market for $10 million.
The Emmy winner, 48, is selling the 4,190 sq. ft. four-bedroom, four-bathroom Brentwood 1920s-style home five years after purchasing the property for $5.6 million.
It was once owned by American pin-up girl Betty Grable in the 1930s.
The Glee creator and Oscar-winning actress have been together for four years and were engaged for a year before tying the knot in the Hamptons in September, 2018.
Paltrow says the duo have not been living together full time because they have been trying to navigate their blended families and be respectful of their children.
The Goop founder has a daughter, Apple, 15, and son, Moses, 13, with Coldplay rocker Chris Martin, 42, while Falchuk has a son, Brody, and daughter, Isabella, with his ex-wife, Suzanne Bukinik.
Happy Canyon Nuptials
Lucifer star Tom Ellis is officially a married man after tying the knot with screenwriter Meaghan Oppenheimer in a woodland ceremony at the Grassini Family Winery in Santa Ynez Valley's Happy Canyon.
Ellis, 40, and Oppenheimer, 33, were surrounded by a small number of family and friends, including British actor James McAvoy, before quaffing cocktails and noshing on canapés in their al fresco setting.
The tony twosome have been together since 2015, announcing their engagement earlier this year.
Ellis was previously married to actress Tamzin Outhwaite, 48, from 2006 to 2014.
Guests were shuttled in from Solvang and the couple requested charitable donations rather than wedding gifts.
You might also be interested in...