From Africa to Montecito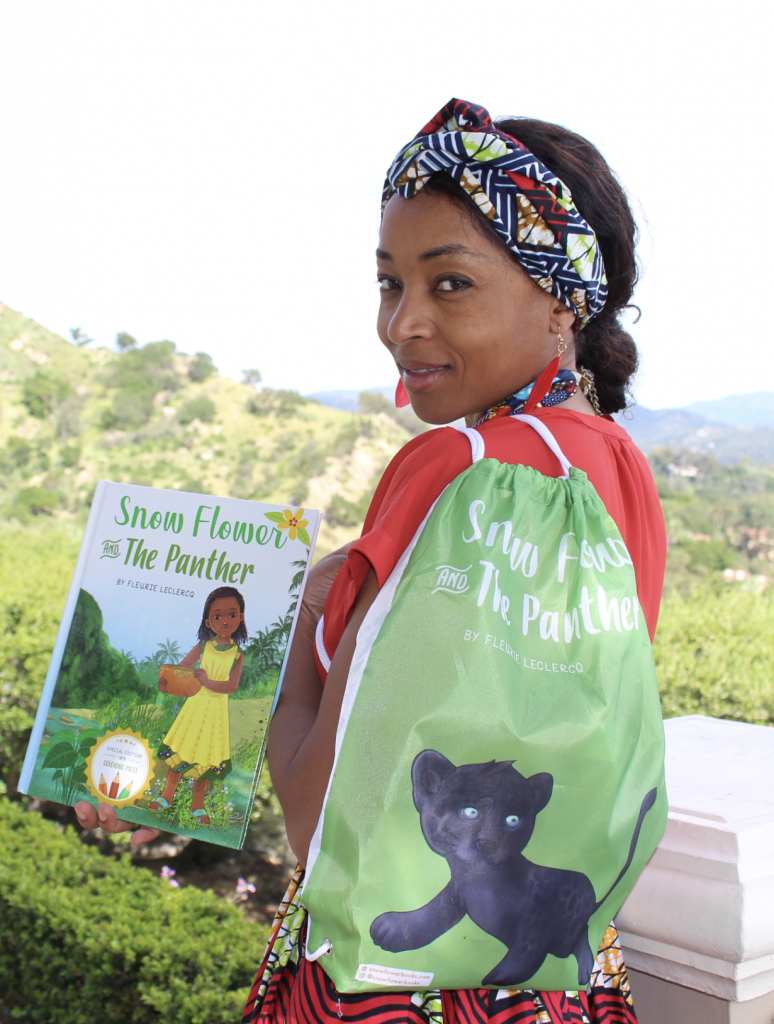 Fleurie Leclercq grew up in a little village in Cameroon, in Central Africa.
A village where she walked two miles each way – each day – to school. A village where she walked to the river to get water for her family. A village where her grandmother raised her 'til she was 10 years old, and who taught her resilience and respect. A village where there was a strong sense of community and care for one another.
The inner-strength she learned as a child helped shape her as she grew up and went on to live in France, and eventually Montecito – where she has called home for the past seven years with her three children.
It was a few years ago when Leclercq decided to share stories related to her childhood through the heroin, Snow Flower. Her children would often say "tell me a story about growing up in Africa" …and thus: Snow Flower and The Panther was born. The "panther" is an homage to her grandmother, who owned a little food shack called "Panther Bar" where villagers could come to buy drinks, plantains, beignets, or other food. Leclercq grew up working in the shack with her grandmother, and had a wonderful childhood there.
"I wanted to show people that you can be in a little village in Africa, carrying water from a river on your head for miles, and still be happy. Most people in developed countries assume that people in Africa are poor and miserable. However, not having a lot made people help each other more. You really feel a part of the local community, which makes you feel cared for." The story gives us a window into African culture through the eyes of a little girl. "We learned to take care of our family, with aunts and uncles helping to raise cousins, siblings, all together; it is so different from Western culture. Things like going to the river to get water were a fun activity, whereas people here in other cultures may see it as a dreadful experience."
Next month, another book, Kiki and the Sneaky Chameleon, will be out. Set in the fisherman's village of Kribi, Cameroon, this story uses a chameleon lizard to teach children about colors and the beauty of Africa. Also, the second book in the Snow Flower series, Snow Flower and the School Day Adventure, will soon be released.
Leclercq has written two books, Snow Flower and The Panther, with an English, French, and Spanish version, as well as African Animal ABC, which teaches the alphabet through animals in Africa. Her dream for the future is to eventually create a school in her home village and to continue to share the African culture with her children, the community here in Santa Barbara, and with children from all over: "I want to show the beauty of Africa, and not be so focused on the poverty of some areas. I hope to inspire people from all backgrounds to share their story. I hope to show that we are better being in a community and supporting one another, rather than isolating ourselves.
You might also be interested in...