Crane Says Goodbye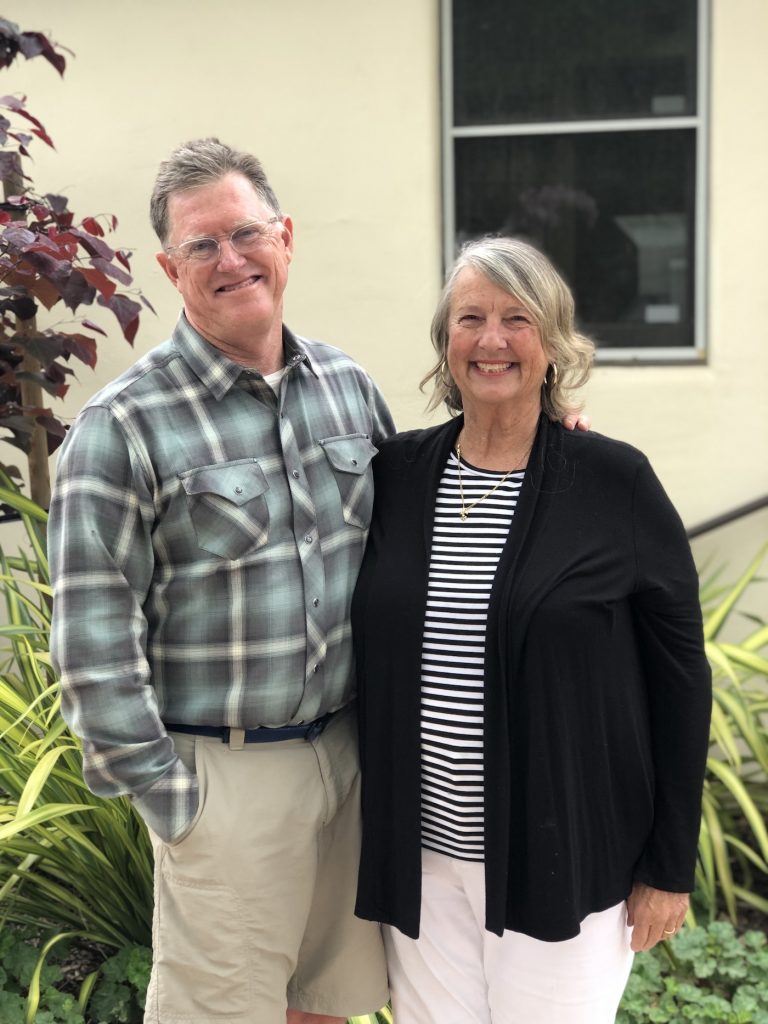 At an assembly last Wednesday, June 5, the entire student body at Crane Country Day School gathered to bid adieu to two longtime fixtures on campus: teacher Pat Bixler, who is retiring, and employee Anne Perkins, who is moving on to her next chapter. 
Crane staff and students spoke about both Bixler and Perkins, sharing heartfelt stories about their respective time on campus. Perkins, who became a Crane parent back in 1980, started the still thriving parent group, PFC (Parents For Crane). "Not much time elapsed at Crane before Anne officially founded PFC in 1982. She not only was the first PFC president, but also the third and the seventh. Her goal was to enlist parents to take on tasks and fundraise," said Crane Director of Development Debbie Williams. "One such fundraiser was the selling of holiday greens. Her family owns a cattle ranch where mistletoe grows. So Anne had this great idea to sell the mistletoe – pure profit for Crane. Hmmm … mistletoe grows high in trees and how did Anne get it down? Turns out that the way to harvest mistletoe is to shoot it out of trees with a rifle, which is exactly what she did!" Williams recalled with a laugh.
Perkins went on to become an assistant teacher, working alongside five teachers over her 26-year career at Crane. She is known for helping to organize the school's Baja trip every year for 24 years, and this year she was an integral part of the planning of Crane's 90th anniversary celebration, which included a weekend of alumni festivities. "Anne can do just about anything. Whether it is roping a cow, hosting a sit-down dinner party for fifty, or turning a classroom into a pasta factory, somehow she makes it all happen. Her creative thinking and willingness to try anything has amazed us and touched us in so many, many ways," said Gayle Sandell, Head of Lower School.
"Crane legend" Pat Bixler began teaching at the school in 1983, and is known by the name "Bix" to both faculty and students. "Bix loves kids, and he 100% recognizes that kids are at the heart of what we do. This has been evident in everything that he has done in his 36 years at Crane. No doubt, Bix is a Crane legend. His success may partly rest on his magic – that winning blend of folksy Oklahoman, intellectual science guy, devout sports fan, lover of literature and crossword puzzles, gourmet appreciator of bacon chili cheese everything – but a larger part of his success rests on his sympathy for adolescent psychology. In other words, not only does Bix like kids, he really gets them," said Peggy Smith, Head of Upper School. 
"If you want to know who Mr. Bixler really is, watch him coach. He loves winning, hates losing, and brings intensity and seriousness to everything he does," said Louis Caron, a former student of Mr. Bixler's who graduated in 1997. "This of course extends from the field, back into the classroom. In an era where teachers agonize over how to make their lessons more fun and engaging, Mr. Bixler reminds us of the basic secret to good teaching: if the teacher likes to have serious fun, the students inevitably will follow."
Bixler is known for his creative lessons in math and science, balancing fun and learning to engage students in curriculum. "Several students have recently said to me, 'You'll never replace Bix.' They're absolutely right; we won't. And we'll also never forget him, because for 36 years he's been a daily reminder of what great teachers are all about – lifting kids up by embracing and appreciating who they are," Smith said.
At the end of the assembly, Head of School Joel Weiss welcomed four retired staff members to announce that their names were now forever present on the campus: a new set of plaques honoring retired "staffulty" who have given 25 years of service or more was unveiled near the Oak Tree Quad. Those include Toni Mackie (1985-2010), Janey Cohen (1989-2014), Ellen Bonning (1984-2015), Dan McCaslin (1980-2016), Bob Ingersoll (1978-1984 + 1992-2018), and now Pat Bixler (1983-2019) and Anne Perkins (1993-2019).
"It's important to acknowledge the positive impact that they've had on all our lives," Weiss said about Bixler and Perkins. "They show a loyalty and commitment to their school that is rarely seen today." 
Montecito Association Meets
At this month's Montecito Association Board Meeting, Santa Barbara County Sheriff Lieutenant Butch Arnoldi announced that burglaries in the area are steadily increasing, sharing numbers from the last 2.5 years. Lieutenant Arnoldi reported that in 2017, there were 33 burglaries in Montecito, and 34 in 2018. From January to March of this year, there have been 20. Out of the 87 total, 72 of them were residential and 15 were commercial, with 18 of the residential burglaries showing entry was gained through broken glass, with 30 of them through unlocked doors. "I keep preaching this and I'll say it again: lock your doors and set your alarms, that's what you have them for," Arnoldi said. "If you see something that doesn't look right, call us; that's what we're here for," he said, adding that a direct, non-emergent line to dispatch is (805) 692-5718. 
MA executive director Sharon Byrne reported from the newly formed Insurance Committee, which was formed in April. The ad hoc committee is working closely with assembly member Monique Limon's office, congressman Salud Carbajal's office, Senator Hannah-Beth Jackson's office, First District Supervisor Das Williams, and Montecito Fire Protection District's Kevin Taylor to collect and disseminate data from Montecito regarding insurance issues.
A recent survey conducted by the MA garnered responses from 300 residents, who reported a broad array of experiences with insurance from being dropped from their carrier, to facing steep increases in prices, or not having any issues thus far. Byrne showed a map of the responses, which showed more non-renewals in the debris flow risk zone and high fire areas. The major insurance companies pulling out of the area are Chubb, AIG, and All State; some companies still insuring include Lloyd's of London and State Farm. "Prices are steeper and coverage is reduced," Byrne said. The next step is to deliver the data to Insurance Commissioner Ricardo Lara, showing that Montecito is working on being more resilient, with the steel ring nets, Randall Road debris basin, and microgrid project. "We're doing what we can to make ourselves more resilient, and we need the insurance commissioner to understand that," Byrne said. A revised Debris Flow Risk Map is expected to be released later this year, which will likely decrease the "red zones" on the map.
Pat McElroy with the Partnership for Resilient Communities reported that crews are finished installing the first phase of the steel ring nets: four nets are in place in Cold Spring Canyon, Santa Ysidro Canyon, and Buena Vista. Two more nets are manufactured and ready to be installed, and next week the Partnership will be in front of the Montecito Planning Commission seeking a follow-up development plan permit. "We raised over $4 million on an idea. Now they are built and the crews are gone. We're really proud," McElroy said. "We have so many people to thank that helped us though this process."
Village Fourth organizer Mindy Denson announced the Village Fourth Grand Marshal: former MFPD director John Venable. "He's been an active part of this village for many years," Denson said. We'll have more about the Village Fourth parade as it approaches. To sponsor or participate in the parade, visit www.montecitoassociation.org.
You might also be interested in...