Chief Hickman to Retire
At a Montecito Fire Protection District board meeting last week, Montecito Fire Chief Chip Hickman announced his retirement in July. Before taking the role as Chief in 2012 as the successor of Fire Chief Kevin Wallace, Chief Hickman was a 21-year veteran of the MFPD, beginning his career in 1990 as one of the District's first paramedic firefighters. Chief Hickman had the option of leaving his post last spring, but felt the fire department and the greater community were not ready for a change in leadership at that time. "It wasn't the right time for me to leave following all our community had been through. Now the time feels right, and I feel confident in my successor," Chief Hickman told us. 
Division Chief of Operations Kevin Taylor has been chosen by Chief Hickman to take over his role as Fire Chief; Chief Taylor will be officially appointed to the position at the District's June board meeting. Chief Taylor was hired by the District in 2015, after he spent 24 years with the Paso Robles Fire Department. Chief Taylor has been heavily involved in the emergency response efforts following the Thomas Fire and 1/9 debris flow. We'll have more on his appointment to the role of Fire Chief in a future edition.
Following the board meeting, the District held a special Awards Dinner to acknowledge and celebrate the exemplary performance of all personnel during the 1/9 debris flow. Chief Hickman said that the Awards Dinner was quite difficult to schedule, as the department has continued to be challenged with prepositioning in front of every significant storm system that approached Montecito following January 9, 2018, as well as responding at multiple locations across the state during extreme wildfires. "The fact that most all of our personnel were pre-deployed in front of the 1/9 debris flow event is why so many were placed in harm's way and why so many of our personnel are being honored here this evening," he said.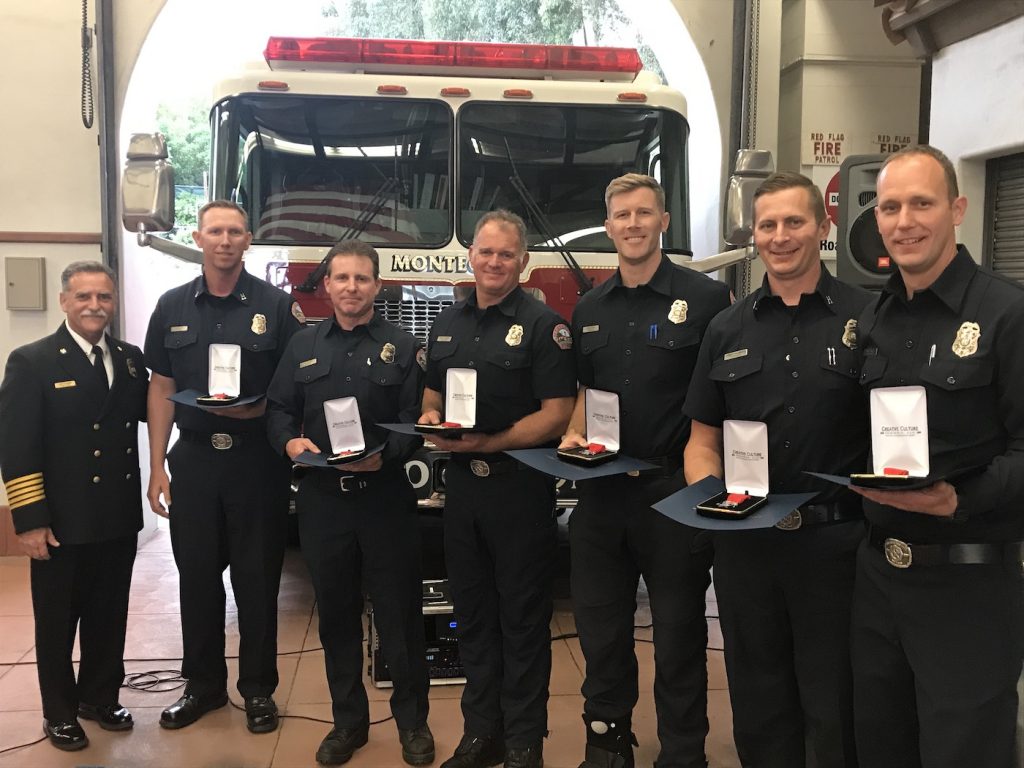 The awards process begins with supervisors or other department members nominating the performance of other members for award consideration. "After receiving theses nominations, the Fire Chief appoints a review committee to further investigate the nominations for merit and additional factual details. Due to the sheer enormity of the incident and number of submissions, two reviews were done prior to this evening's awards being presented," he said. In October, the District presented Medal of Valor awards to Maeve Juarez and Andrew Rupp; these are the highest honors bestowed. At Thursday's Awards Dinner, the Chief presented both Commendation Awards and Distinguished Service Awards. The Commendation Award bestowed by the Fire Chief upon those that performed well beyond what is expected during the normal course of assigned job duties. The Distinguished Service Awardis the second highest award level, and is conferred by the Fire Chief upon those that performed beyond what is expected during the normal course of assigned job duties, such as life saving at significant risk of injury or death to the member. "Due to the elevated exposure to risk by the member, this award includes a medallion which may be worn on the dress uniform and a ribbon available to be displayed on the work uniform to forever signify to others the personal level of commitment to the community we serve and our chosen profession," said the Chief.
Distinguished Service Award winners include Firefighter Daniel Arnold, Fire Engineer Loren Bass, Firefighter/Paramedic Garet Blake, Fire Captain Aaron Briner (Battalion Chief/Fire Marshal), Firefighter/Paramedic Alex Broumand (Fire Captain), Firefighter Stephen Cochran, Fire Captain Shaun Davis, Fire Engineer Mike Elliott, Firefighter Nicholas Eubank, Firefighter Kevin French, Firefighter/Paramedic Robert Galbraith, Firefighter Lucas Grant, Battalion Chief/Fire Marshal Albert Gregson (Retired), Fire Captain Ben Hauser, Wildland Specialist Kerry Kellogg (Retired), Firefighter Eric Klemowicz, Fire Captain/Assistant Fire Marshal Richard Lauritson, Fire Captain Jeff Villarreal, Firefighter/Paramedic Shawn Whilt, Firefighter William Wrenn, and Fire Engineer Jordan Zeitsoff (Fire Captain).
Commendation awards went to Firefighter/Paramedic Brandon Bennewate, Battalion Chief Scott Chapman, Battalion Chief Travis Ederer, Fire Engineer Ed Fuentes (Retired), Firefighter/Paramedic Kurt Hickman, Fire Captain Drue Holthe (Retired), Firefighter/Paramedic Ryland McCracken, Dispatcher Leslie Muller, Firefighter Keith Powell (Fire Engineer), Fire Captain Evan Skei, Fire Engineer Dana St Oegger, Dispatcher Jennifer Taylor, Division Chief of Operations Kevin Taylor, Firefighter Rodney Walkup (Fire Engineer), and Battalion Chief Alan Widling.
For more information about Montecito Fire Protection District, visit www.montecitofire.com. 
You might also be interested in...