North Jameson Walking Path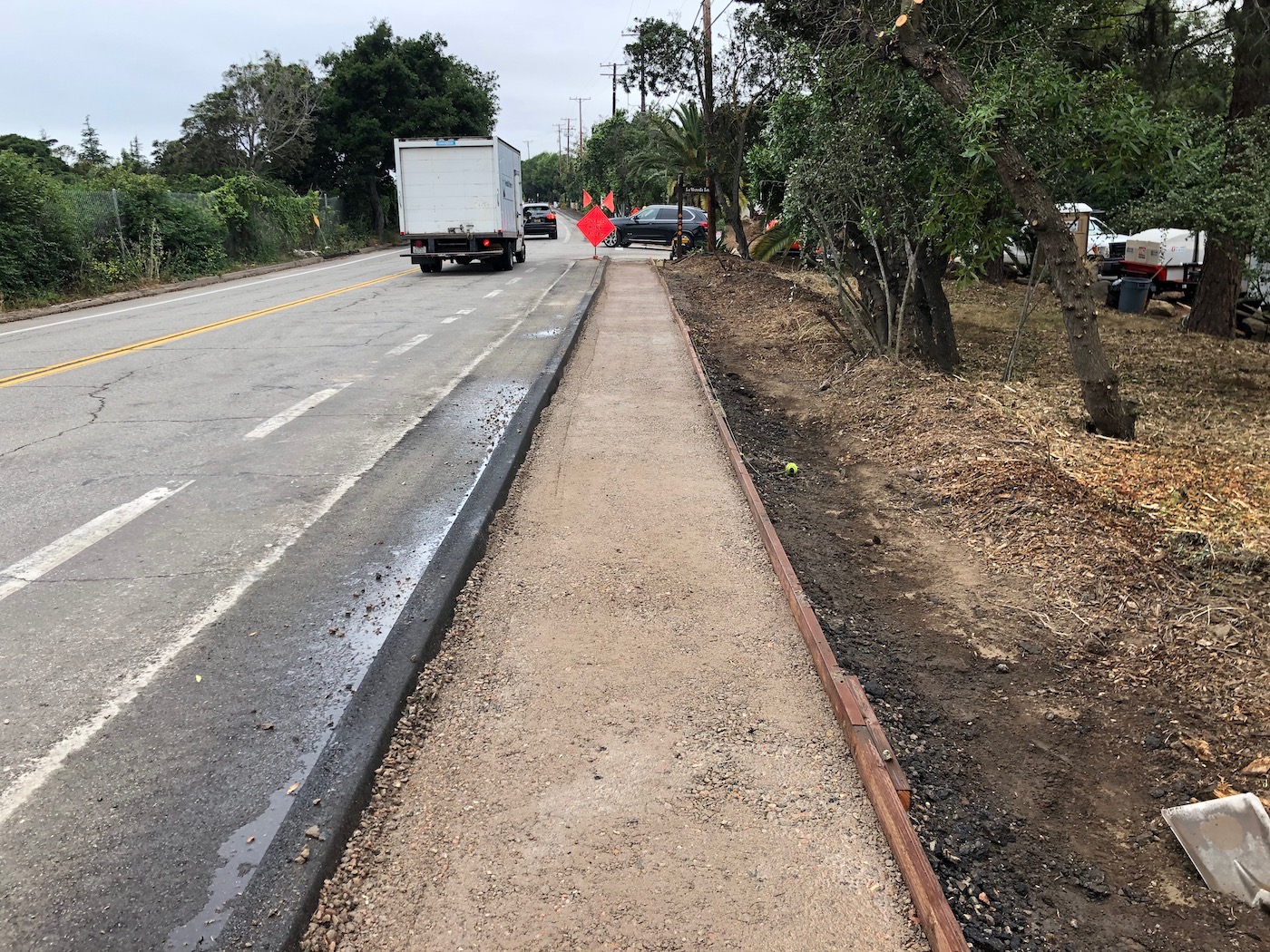 Last Friday, May 10, the Bucket Brigade, as well as reps from Montecito Community Foundation, Montecito Trails Foundation, Montecito Association, and First District Supervisor Das Williams, marked the groundbreaking on a new walking path on North Jameson Lane between Olive Mill Road and San Ysidro Road, with plans to add a longer path along the east side of Olive Mill, from North Jameson to Casa Dorinda. "If we're going to go to the trouble of cleaning this area up after the disaster, how can we leave it better than it was before?" Bucket Brigade founder Abe Powell said about the walking path in the North Jameson area, which was hard hit by the debris flow.
The project is a County-led road enhancement project following the 1/9 debris flow last year; County Public Works is adding a curb on North Jameson and Olive Mill, to be followed by the construction of a 48" wide decomposed granite path, all located in the public right of way. Because the path is considered a trail, and will be maintained by the Montecito Trails Foundation, it will not require ramps, unlike the pathway that meanders along San Ysidro Road. "The goal is to keep the semi-rural look of Montecito while connecting several walking trails so people can walk from the upper and lower villages, to Montecito Union School, and the beach, without safety being a concern," said MTF president Ashlee Mayfield.
The project, which is being overseen by the Bucket Brigade and MTF, is slated to cost $300,000 to complete, with Montecito Community Foundation giving $36K, earmarked for the Jameson portion of the project. Montecito Trails Foundation has also pledged $10,000. The Jameson portion of the project is currently underway, utilizing $50K in workforce labor through a Workforce Development Board grant. Twenty-four unemployed workers are being paid by the grant to work on the project for the next several weeks. Other sponsors include Montecito Association, Giffin Rental, Santa Barbara Garden Club, and Steve Hanson Landscaping.
To donate to the project, visit www.sbbucketbrigade.org.
You might also be interested in...