Why You Should Join the Montecito Association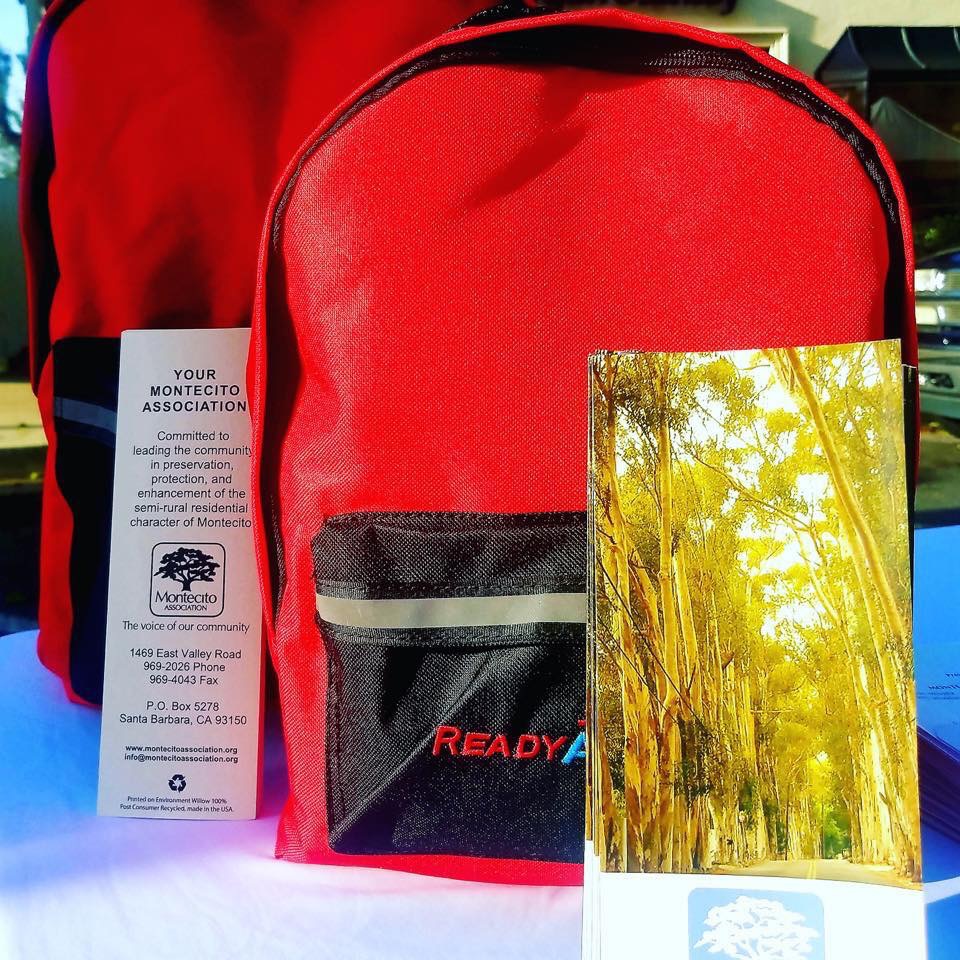 Spring is gorgeous around these parts, and it is also the time of year when we do our annual membership drive. We'd very much like to extend an invitation to you to join the Montecito Association, if you're not already a member.
We are offering a special three-day emergency safety kit this year as a gift with your membership. This backpack is loaded with useful items: water pouches, light stick, poncho, blanket, first aid kit, and more. These are ideal for your home or car. Our board member and Outreach committee member Aimee Miller proposed the emergency backpacks in response to our January survey, where our community identified safety and security as the top priority for Montecito. Please join at montecitoassociation.org today or come by our office at 1469 East Valley Road, and we'll sign you right up! We're open Monday through Thursday from 9 am to 2 pm. The safety kits are limited quantities, so join today and get yours while supplies last!
Red Zones and Insurance Issues
In our April Montecito Association Board meeting, we created an ad hoc committee charged with two priorities: investigate the process for updating the debris flow risk map, and homeowner's insurance cancellations in Montecito. We've met with Kevin Taylor at MFPD and Lisa Sherratt from Supervisor Williams' office, and learned that the US Geological Service, the US Forest Service, and National Weather Service all provided scientific data used in creating and updating the debris flow risk map. It will be updated again this year, once the growing season for chaparral completes in August. This year's map revision will include vegetation re-growth data, creek channel scouring, the installation of the ring nets, and other factors. It's expected that additional properties will be removed after the incorporation of that data into the map.
The proposed Randall Road debris basin could make a massive difference in the safety of the communities below it, along San Ysidro creek. That basin would provide six times the capacity we have at present. We just had a presentation of the Randall Road debris basin in our Land Use Committee meeting May 7. To see the presentation, please go to our website (montecitoassociation.org).
While the debris flow risk map is meant to be for evacuation and safety purposes only, we've learned some insurance companies are using it in their calculations on whether to renew policies. In further looking into this problem, we've discovered homeowner's insurance cancellations are a massive statewide issue, and there are efforts from MFPD all the way to the state commissioner to work on it. We contacted both our state reps, and the office of Assemblymember Limón responded that they are working with Congressman Salud Carbajal to bring California Insurance Commissioner Ricardo Lara here locally to talk with us about this issue. We also will survey our community for their experience with the insurance renewal process, now that we're outside of the state-mandated window of no-cancellations within one year of a disaster. Please visit our website montecitoassociation.org to take our insurance survey and share your experience with us. We will aggregate the survey data and provide it to Insurance Commissioner Lara to address this problem.
We also strongly suggested that the state run an informational campaign to educate insurance companies headquartered on the East Coast and Midwest about the California wildfire cycles. MFPD Chief Hickman related that when the Thomas Fire hit the burn scar from the 2008 Tea Fire, it stalled. That implies once we've had a wildfire, we are at far lower risk of wildfire for the next couple of decades, so insurance companies might need to adjust their risk models to incorporate that data, as it's unique to California's natural cycles.
We'll be sending regular email updates out about this as we work to address this problem, giving you just one more solid reason to join the Montecito Association today!
You might also be interested in...