Goat Fest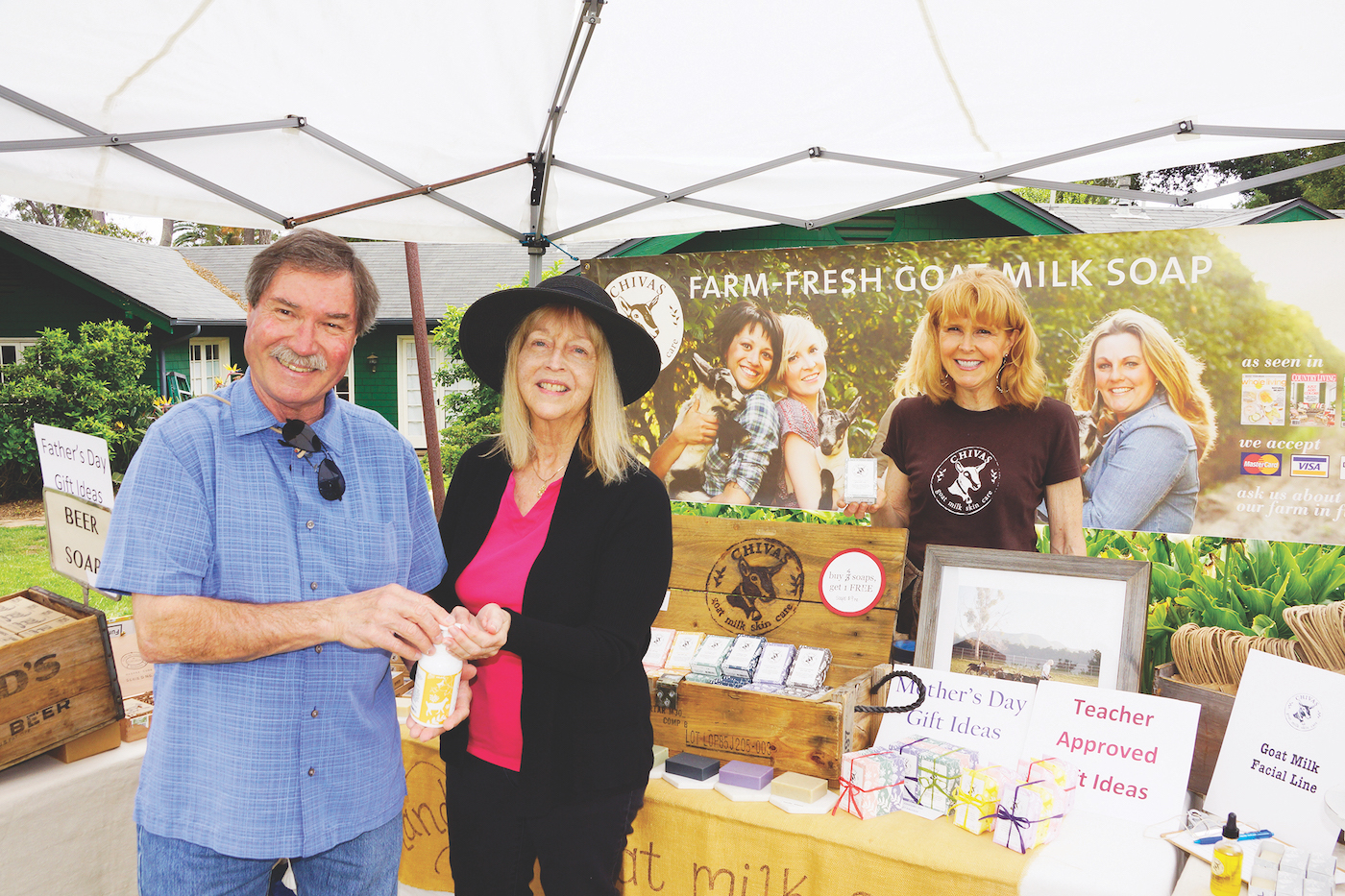 Goats were in abundance when the 12-year-old African Women Rising, a northern Uganda charity, held its third Goat Fest with more than 200 guests at a rustic Cold Spring Road estate, raising enough to purchase 300 of the animals.
"It's not so much a fund raiser as a friend raiser, to draw attention to the organization," says Linda Cole, founder, who visits the country three or four times a year.
"It's about giving these women who lives in very impoverished communities a livelihood. We work with nearly five thousand women."
Young Nubian and Nigerian goats were on display, much to the delight of the youngsters present, who noshed on food from Nimita's Cuisine and Oat Bakery and ice cream donated by McConnell's, and Hilliard wine. Renee Dektor and friends entertained while guests participated in a drum circle led by Cameron Tummel.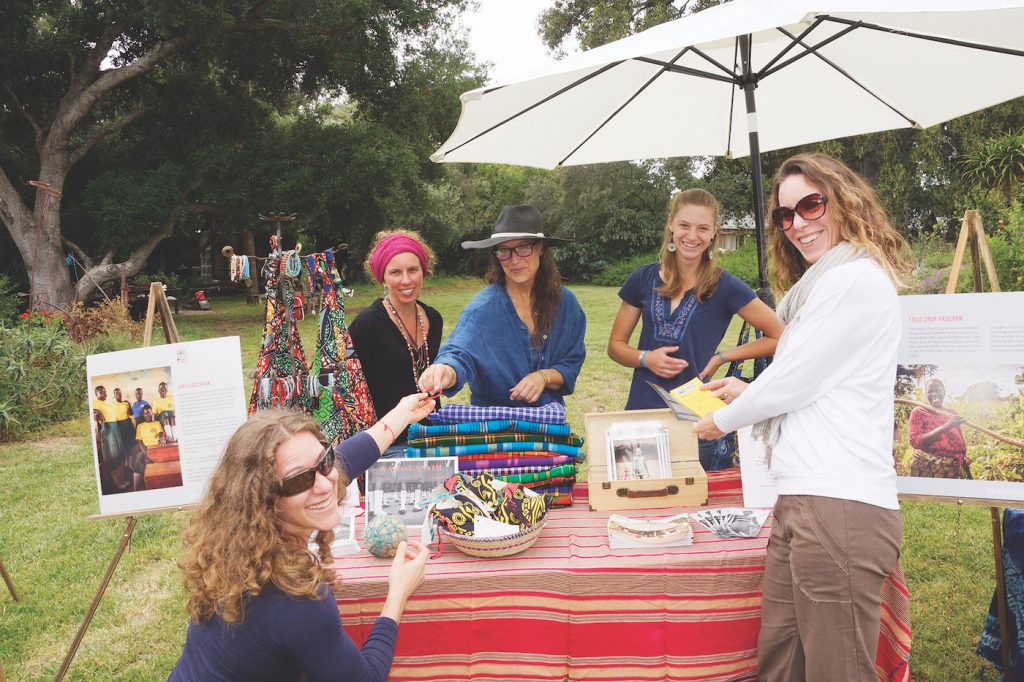 Splitsville for Dick and Noelle
Montecito TV mega producer Dick Wolf, 72, has reportedly agreed to pay his third wife, Noelle, $100,000 a month to settle his split from her.
The Law & Order creator ultimately agreed to give away a small fraction of his multi-million-dollar fortune to his wife of 12 years, according to the London Daily Mail.
One source says the tony twosome had a prenuptial agreement in place that would have limited how much Wolf could be required to pay.
The Chicago Fire producer reportedly earns $15 million a month, making his support payments to Noelle less than one percent of his monthly earnings.
Wolf filed for legal separation in early December, according to TMZ. It is not known when or if they'll file for divorce.
He was also married to Christine Marburg from 1983 to 2005. Before that he was wed to Susan Scranton from 1970 until 1983.
Wolf and Noelle have two children, Rex and Zoe.
Gone from 60 Minutes
TV talk show titan Oprah Winfrey's tenure as a correspondent for the long running CBS TV magazine show 60 Minutes is over, less than two years after making her debut.
"It was an interesting experience for me," says Montecito's most famous resident. "I enjoyed working with the teams, and I'm probably going to work with some of the freelance people on my Apple stuff. But it was not the best format for me."
Oprah, 65, tells the Hollywood Reporter her emotional delivery became a real issue for producers. "I think I did several takes on just my name because it was 'too emotional.'
"They would say, 'Alright, you need to flatten out your voice, there's too much emotion.' So I was working on putting myself down and flattening out my personality, which for me is not such a good thing.
"So I have only 85 jobs now!"
Approval from the Queen
Queen Elizabeth has given Prince William's wife, Kate, her highest seal of approval making the Duchess of Cambridge a Dame Grand Cross of the Royal Victorian Order to mark her eighth wedding anniversary.
The honor for Her Majesty's 37-year-old granddaughter-in-law is in the Queen's personal gift to those who have served her or the monarchy in a personal way.
The Dame Grand Cross is the highest rank in the order, founded by Queen Victoria in 1896 as a way of rewarding individual service to her.
Rest in Peace
On a personal note, I mark the passing of society grand dame Jayne Wrightsman, who has died in New York aged 99.
Wrightsman, who I would see on occasions at top society soirées when I moved to the Big Apple from London in 1978, assisted First Lady Jackie Kennedy in her efforts to redecorate the White House.
Of humble origins, she married into her husband Charles' Standard Oil fortune and amassed an enormous collection of art – Goya, Vermeer, Renoir, and Monet among them.
With no formal education she became a renowned connoisseur and one of the Metropolitan Museum's most influential benefactors, donating her entire priceless collection to the Fifth Avenue institution.
A brilliant autodidact who became a legendary cultural philanthropist, her parties at her 18-room apartment a tiara's toss or two away were also memorable with piles of Petrossian caviar and endless bottles of Krug champagne until the wee hours of the morning.
Wrightsman, who also extended her patronage to the British Museum, the Louvre and the Hermitage, was the last of a certain breed. The end of an era.
Sightings: Oscar winning actress Gwyneth Paltrow and husband Brad Falchuk checking out the goop store Rosewood Miramar… Real Housewives of Beverly Hills Lisa Vanderpump and husband Ken Todd lunching at Tre Lune… Full House actress Lori Loughlin noshing at the Silver Bough
Pip! Pip!
You might also be interested in...