Stars & Stripes USO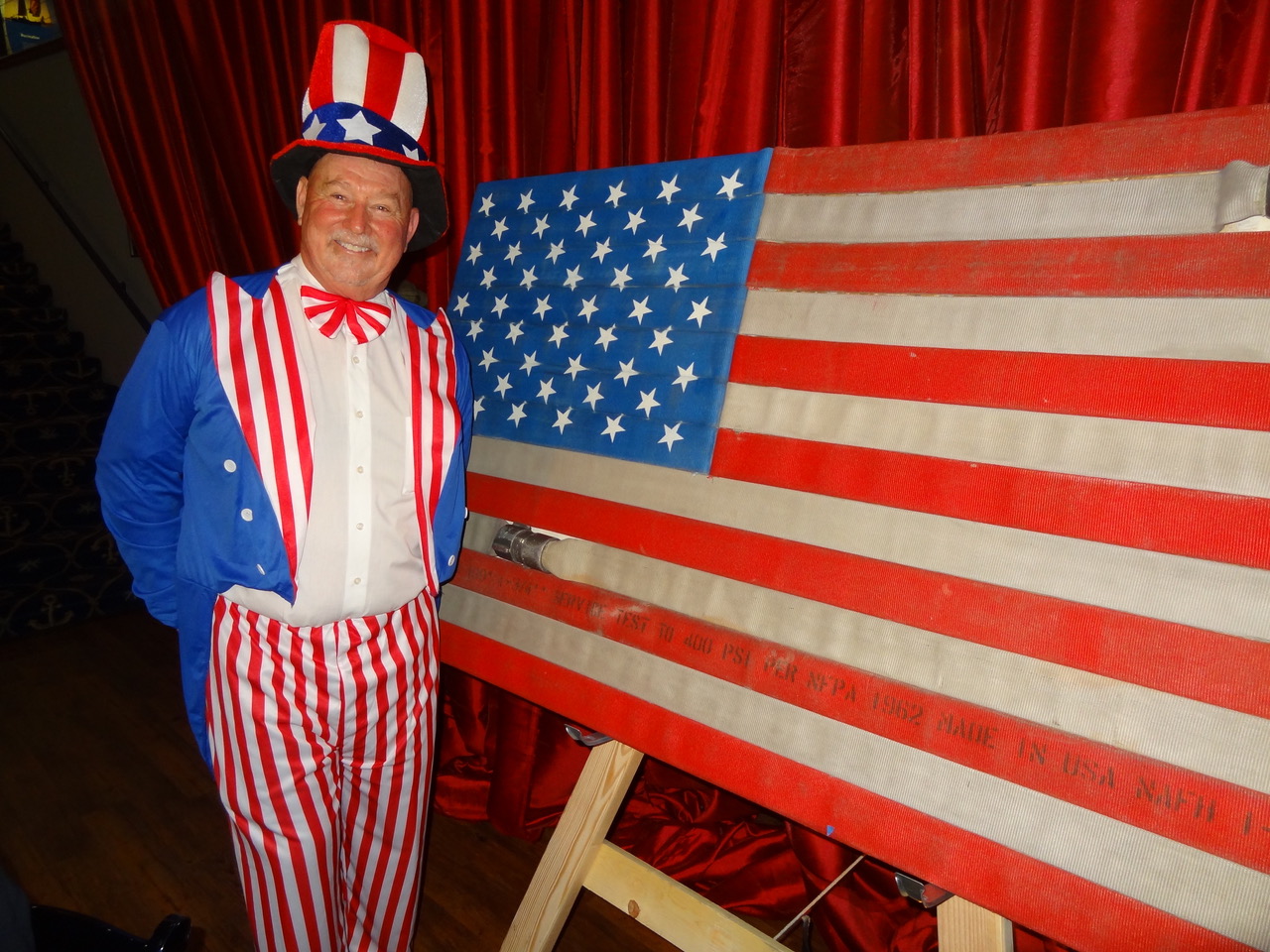 They were all there! Rosie the Riveter, movie stars, socialites, dancers, military, and medical personnel in the USO Hollywood Canteen aka the Santa Barbara Maritime Museum (SBMM). This was their annual fundraising gala stepping back in time to the 1940s. The evening's honorees were Pierre Claeyssens Veterans Foundation and the Santa Barbara Navy League. Sounds of the Andrew Sisters, Glen Miller, Woody Herman, Johnny Mercer, and more could be heard. The cigarette girl was "selling" candy cigarettes. The SBMM gala is so popular they sold out with the Save the Date cards and never printed the invitations. Adding to the atmosphere were real military in uniform standing at attention at various posts.
When you checked in, you received a dog tag and a card with an air raid warning. And there was one. We were all upstairs for the cocktail reception when it went off. Emcee John Palminteri had to announce that everyone go downstairs to the "air raid shelter" where we were also going to sit down for dinner.
At our places was a Victory Garden (to table) menu of our dinner courses and a U.S. Department of Agriculture Ration Book. I remember we had one in the '40s but we also had a cow so we could make our own butter. Board president Wilson Quarre, executive director Greg Gorga, and committee co-chairs Cindy Makela and David Bolton reminded us, "The dollars raised will go to programs like the Spirit of Dana Point Tall Ship overnight program, marine science, love letters to the sea, family nights, kardboard kayak races, and science nights serving thousands of local students each year."
The evening was a reminder of the days when for 50 years Bob Hope thanked our troops. When we lived in Italy and Spain, he came to both military bases and put on a show. We all loved it.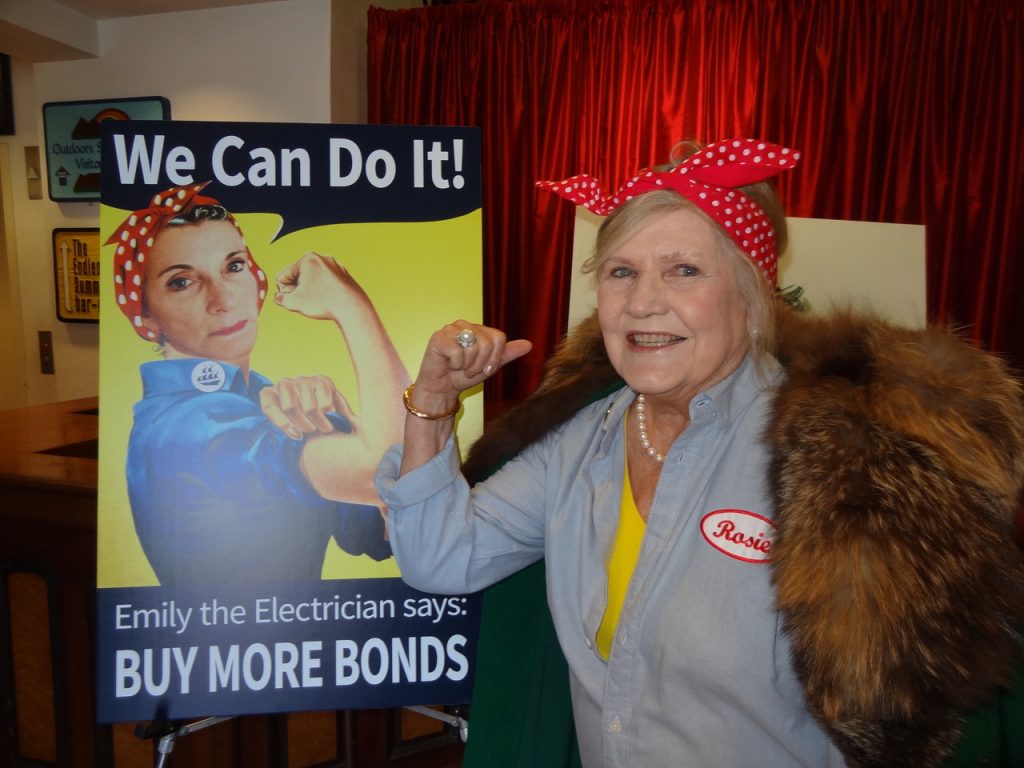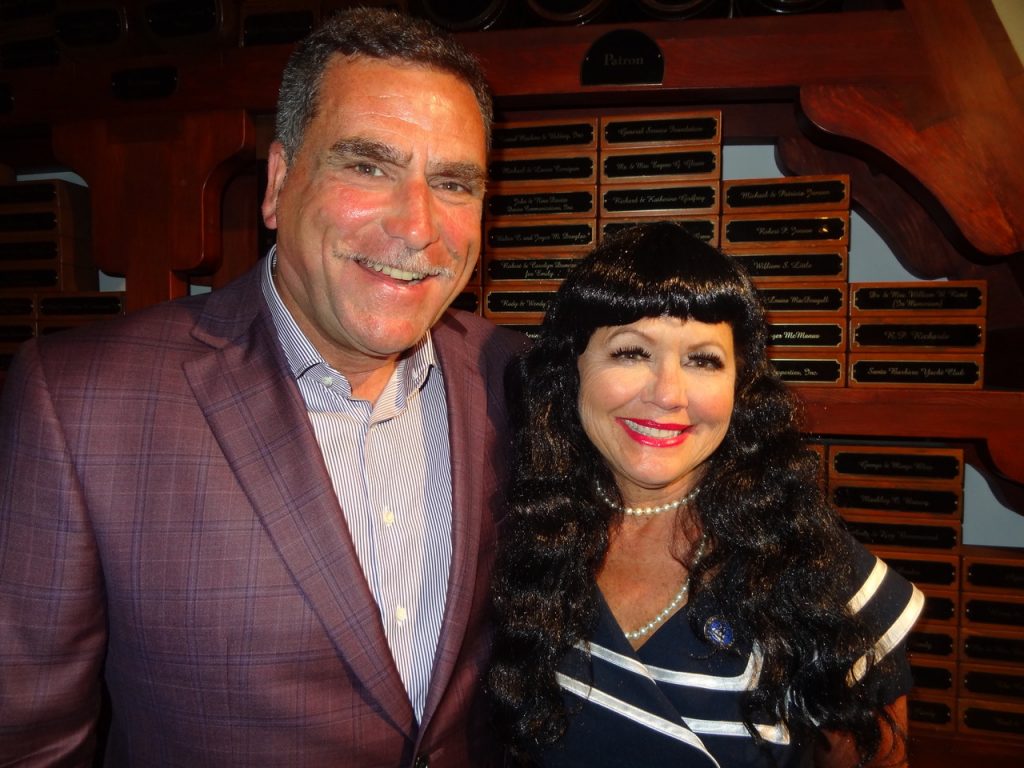 Because of the theme this year it was appropriate to honor two local nonprofits that serve our troops. The Navy League sponsors local ship visits and provides activities for visiting units while in town. They support personnel in the Navy, Marine Corps, coast Guard and the U. S. Flag Merchant Marine. John W. Blankenship and wife, Hazel, founded the Pierre Claeyssens Veterans Foundation in 2003. They honor all veterans of all wars. John also has an extensive collection of memorabilia and vehicles, which are displayed at various events throughout the year. The Memorial Day Service they put on each year at the Santa Barbara Cemetery is not to be missed.
John Palminteri led the live auction and had folks sailing off to Costa Rica, or celebrating July 4 in the Museum's crow's nest, or having a private dinner in the Museum for 20 of your best friends. Amanda Squitieri serenaded us with songs of the war years like "Stormy Weather." John put on a big nose and did his best impersonation of Groucho Marx and a sailor and a nurse (Cody and Patty Makela) recreated the famous kissing scene in Time's Square, New York.
Among the many to be thanked including the co-chairs were their committee: Gail Anikouchine, Will Cochran, Jr., William Cochran, Cynthia Anna Eriksson, Emily Falke, Pat Hinds, Craig Makela, Mimi Michaelis, Sabrina Papa, Lis Perry,and Rita Serotkin.
You can call 805.962.8404 for SBMM information. It's a happening place.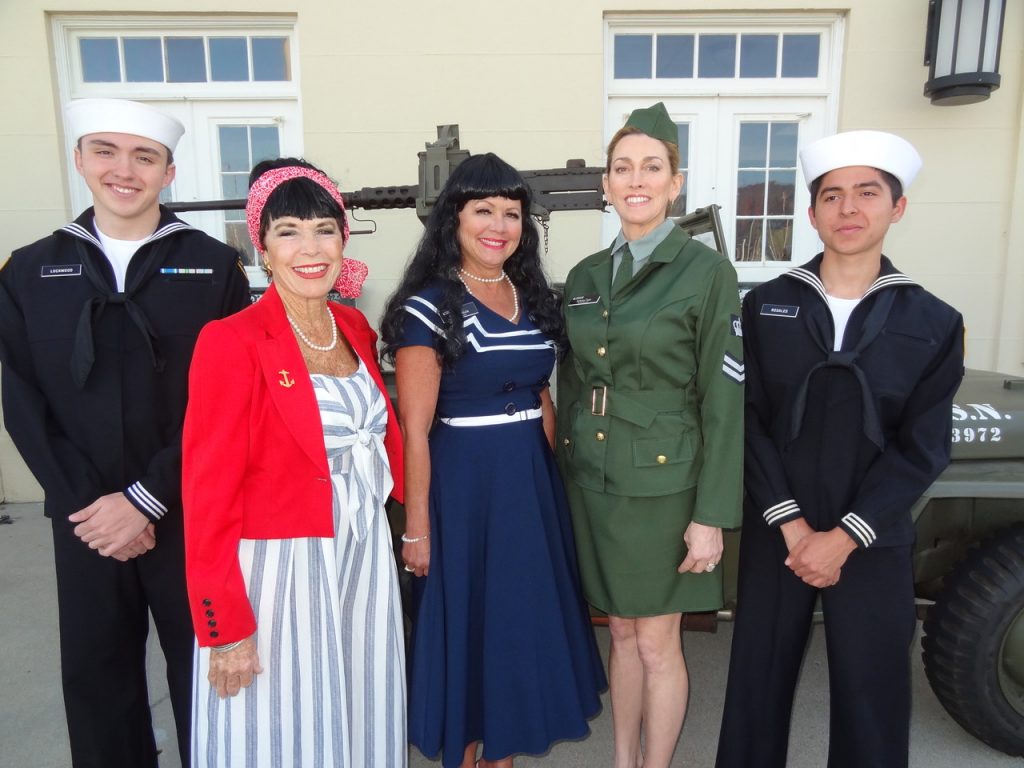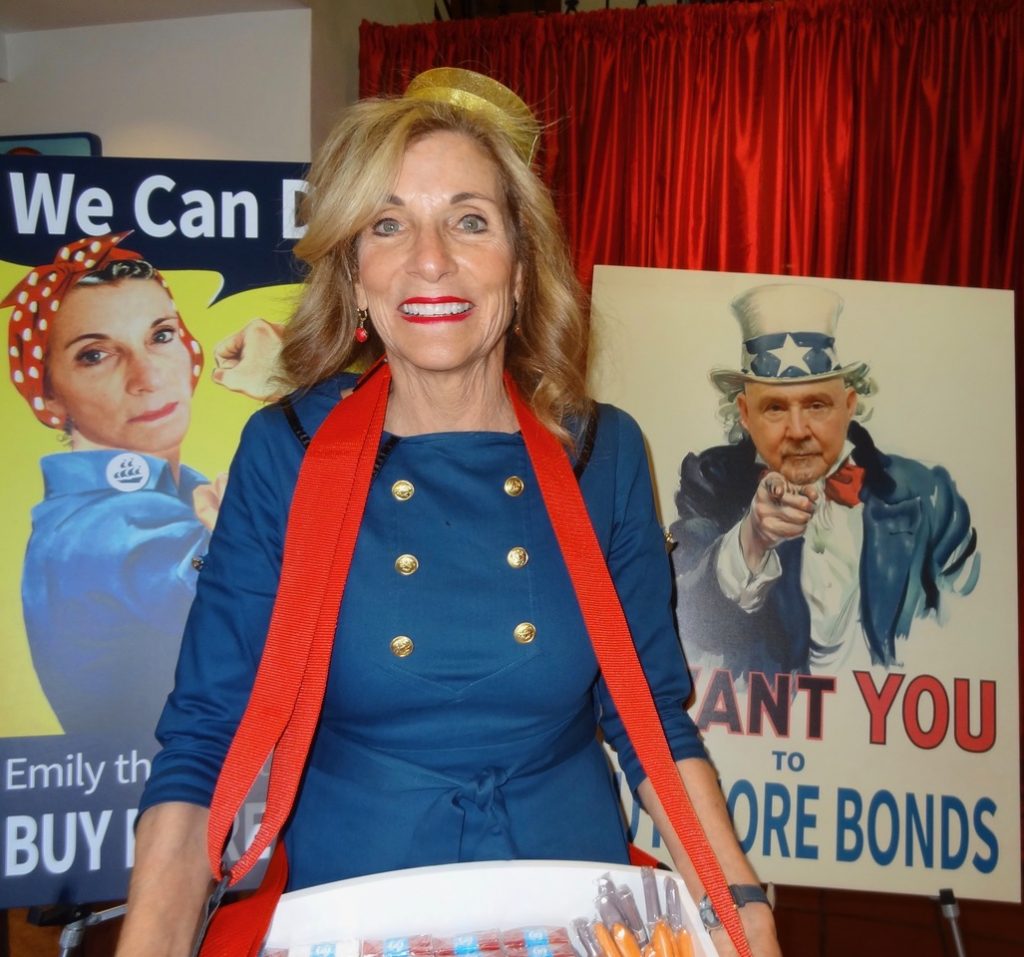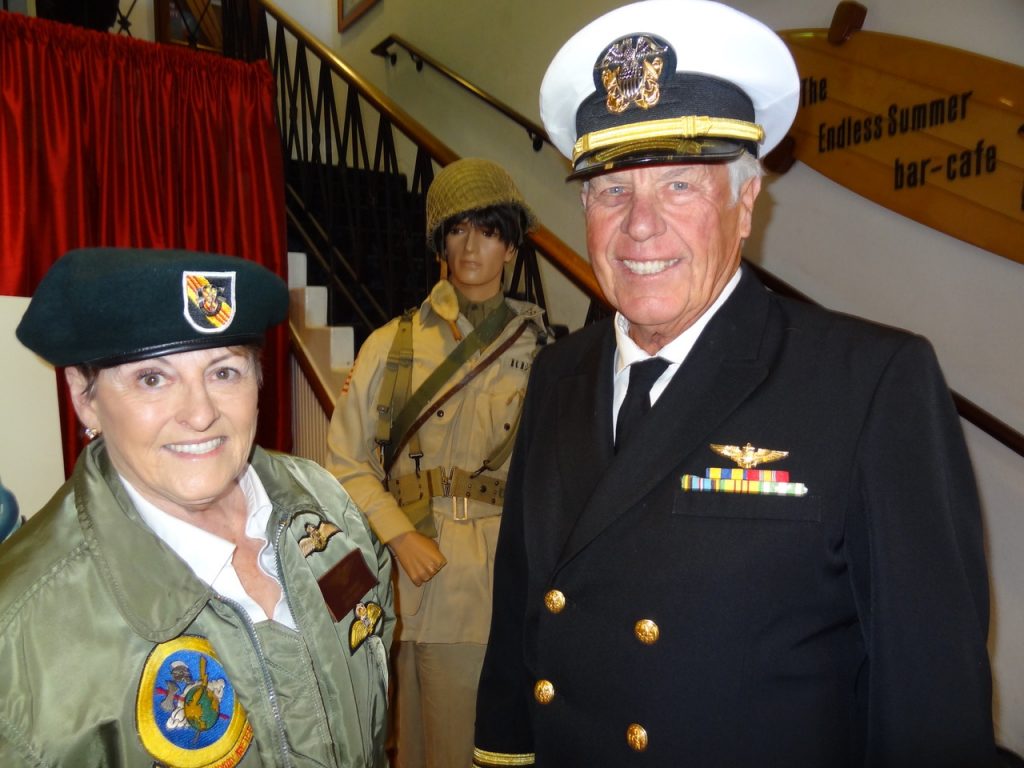 You might also be interested in...