Lunch with the Former President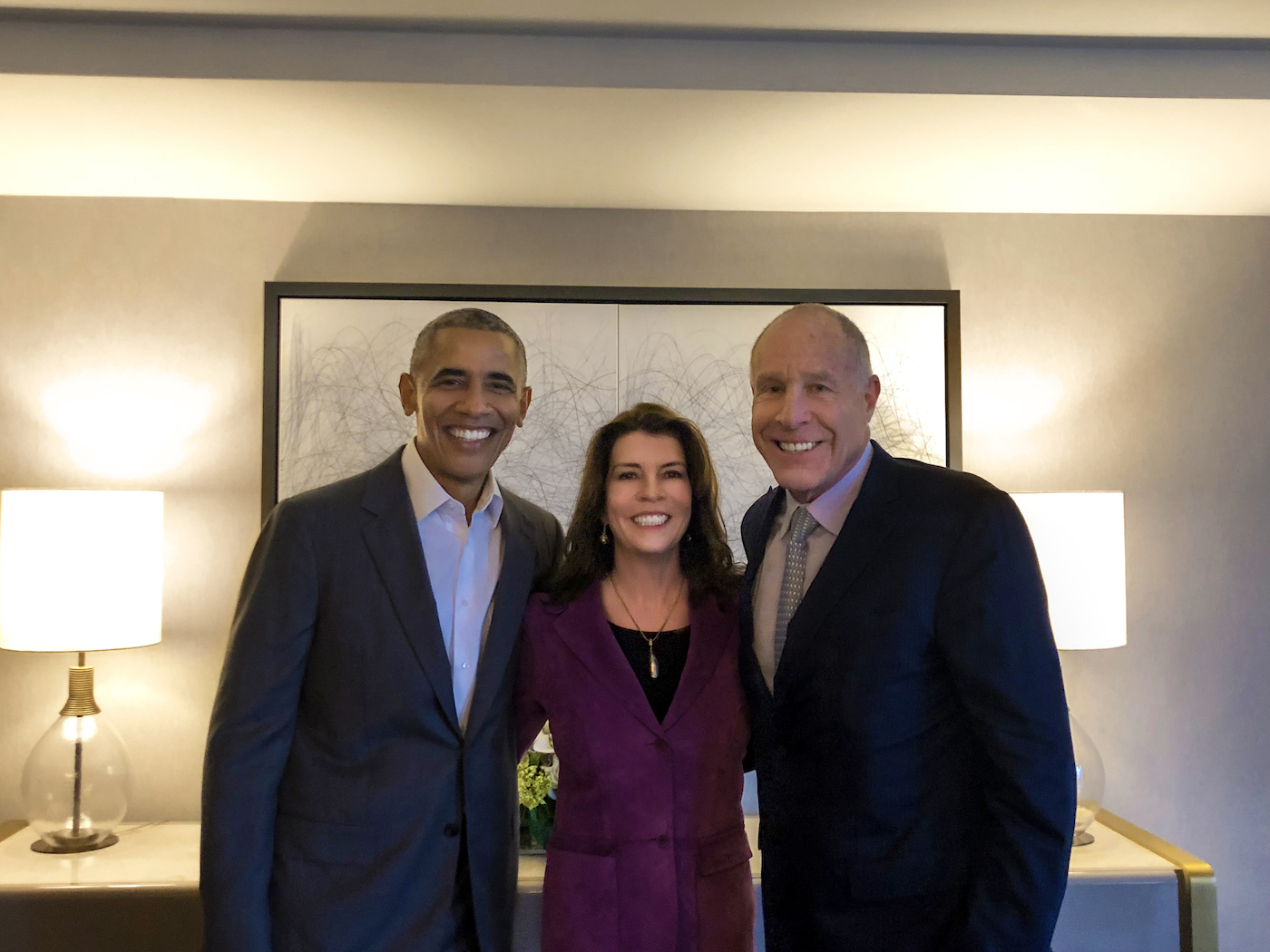 Paul and Jane Orfalea recently had the honor to meet one-on-one with President Barack Obama to discuss possible future philanthropic partnerships. "He's my favorite of all the Presidents," says Paul. "He's a real gentleman."
"We were both very impressed by his candor and commitment," says Jane. "Everything we asked, he answered, and very frankly."
Obama told the Orfaleas that he is currently working on his biography, which he admitted is taking longer than he thought, because he is writing it himself. Also, the new Presidential Center in Chicago is close to breaking ground, plus he and Michelle have a foundation focused on empowering young leaders to change the world.
"There is a huge disparity between wealthy and poor elementary schools in Santa Barbara County," says Paul, who founded Kinko's while he was a student. "Most people I talk with," Paul adds, "aren't aware that there is a 330% funding difference between the richest and poorest schools."
The per-student funding is as low as $8,500 at some schools, and climbs to $28,559 at others. "And these are all public – not private – schools", adds Paul. "Unlike most Western countries, our public schools are not funded equally across the board."
Unfortunately, the problems don't end there, since the at-home education and life skills experience also differ radically between rich and poor families. Santa Barbara Unified School District has the highest percentage of homeless kids in the state at 13%. Fifty-four percent of the students are on free and reduced lunch, an indicator of living below the poverty threshold
"People need to understand that it's not just a problem for the kids and their immediate families," says Jane. "It's also a problem for everyone else in society. There's a great expression: pay now or pay later."
The Audacious Foundation
It's this inequality that led Paul and Jane to create the Audacious Foundation, which adopts Title 1, low-income schools. "Our mission is to provide a complete learning experience for the whole child," says Catherine Brozowski, Executive Director of Audacious Foundation and former VP of the Orfalea Foundation. "We begin," she continues, "where academics end." Audacious works directly with the schools because it's the easiest way to access these under-served children. "The schools are at the front line," adds Catherine.
Audacious currently funds 30 non-academic programs in three categories: Healthy Habits, Nature-based learning, and Essential Life Skills; in total, there are nearly 5,000 kids. A big part of the Audacious model is no frills and low operating costs (it is run by two part-time co-workers) while partnering with like-minded "audacious" school principals and well-run charities.
In the nature-based programs, partners such as Nature Track and Wilderness Youth Project get kids outside in nature. The average student only has four minutes a day of outdoor play, versus seven hours of screen time. Explore Ecologyand LifeSource Landscapehelp with the 38 school gardens and edible forests across 11 districts. The food goes directly into the cafeterias and kids receive nutrition and garden education. "This exposure positively shapes food patterns and increases kids' consumption of vegetables," says Catherine. "Also, students who garden in school actually score higher on science tests."
Audacious sends Title 1 kids to CIMI and Astro Camps. "These are just givens in the higher-funded schools," says Catherine. "But they're not in the budget for Title 1 schools."
Health Notes
Audacious' Healthy Habits program works with partners like Santa Barbara Bike Coalition and COAST. "Fifty percent of second graders in Title 1 schools don't know how to ride a bike," says Catherine. "And outdoor education increases science scores by 27% in at-risk kids."
Audacious believes every child needs to know how to swim; which is not only important to prevent drowning, but also increases fitness and confidence. "The majority of our students have never been in a pool and don't know how to swim before this program," says Catherine. "And a lot have never even been to the beach. "
"My favorite program is Orthodontia and Oral Health," says Paul. Audacious has provided braces to 864 kids so far. "We work in partnership with top-rated orthodontists," says Catherine. "At very discounted rates."
The program also enrolls the entire family in Denti-Cal, working with partners SB County Education Office and Children's Oral Health Collaborative. "Teeth are the number one physical feature for why a kid is bulled," says Catherine. "Studies show that people with ideal smiles are considered more intelligent and have a better chance of getting a job."
"My favorite program is Essential Life Skills," says Jane. "When you're a kid from a wealthy or a middle-class family, there are a whole bunch of things you learn at home with your parents that aren't available to kids from poor families. Then when these kids get to college – if they get to college – they don't feel like they fit in."
Finance, Music, and Art
Audacious works with fantastic partners such as Montecito Bank & Trustto teach financial literacy to kids. They learn the difference between "wants and needs" and Audacious gifts their first bank accounts at Montecito Bank & Trust, which is matched by a gift from MB&T if the student hasn't used the funds in six months. "After a year, ninety percent of the students continue to save and grow their accounts," says Catherine
There are a lot of art and music opportunities in the Essential Life Skills program, such as Viva El Arte, Children's Creative Project, SB Maritime Museum, and UCSB Arts & Lectures.Kids have dancing and drumming integrated into their classroom and the whole family has access to free tickets and world-class performances at many of the local museums and galleries. Working with The Key Class, Audacious hosts an annual dinner at MOXI and all the kids gets dressed up and learn etiquette and social skills. Marshalls generously funded clothes so they can be really dressed to the nine. Kids learn everything from handshakes to mock interviews.
"The principals tell us that this class really helps kids to learn to respect their other classmates and it decreases bullying," says Catherine.
To know more, go to www.AudaciousFoundation.org or email Catherine@AudaciousFoundation.org. You can donate to any Audacious partner online or send a donation to any Title 1 school. "We really want to help close the life gap," says Paul. 
You might also be interested in...