Foodies and Winos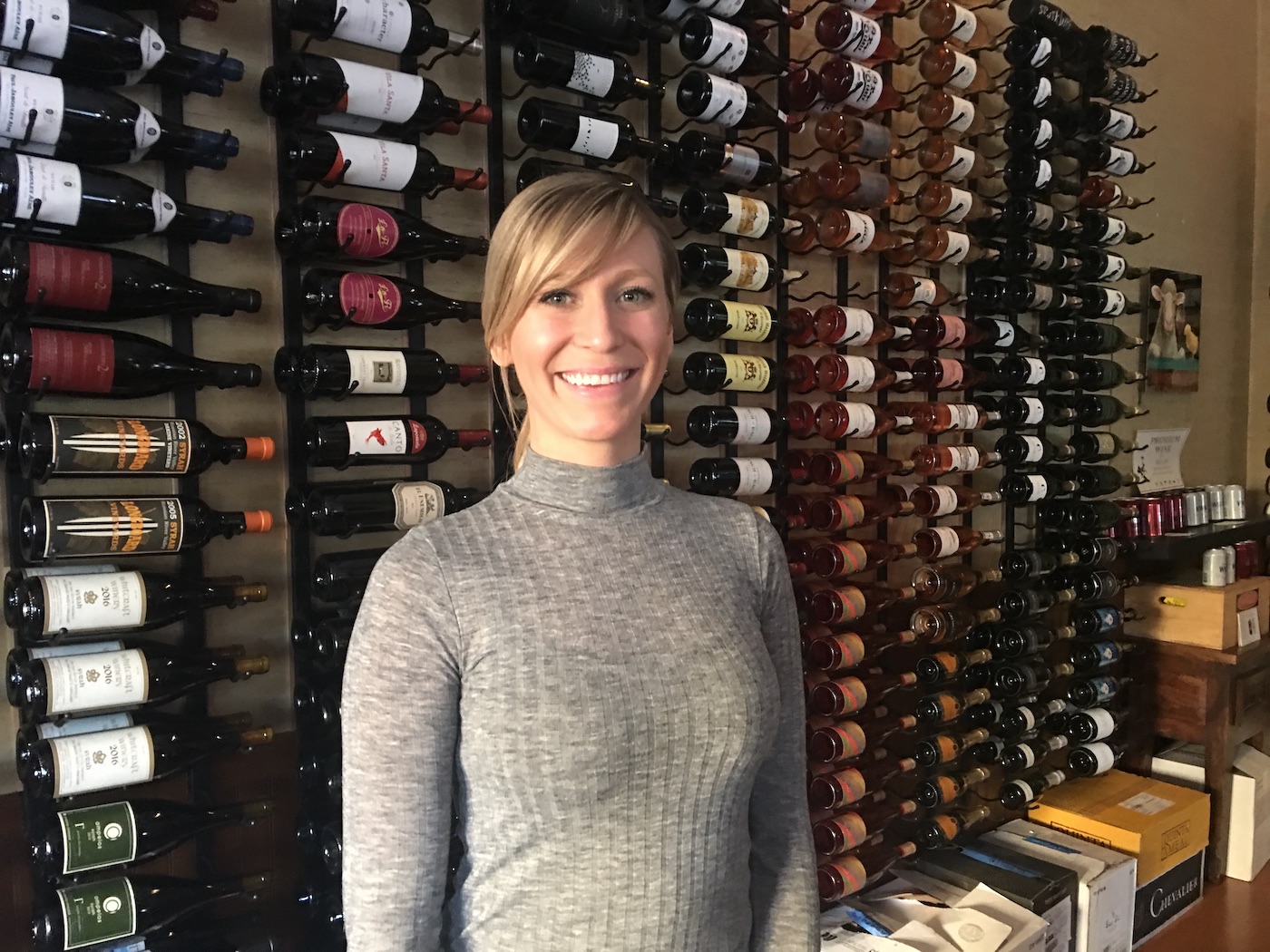 Gourmands and oenophiles were out in force at the Wine Shepherd when the Santa Barbara Natural History Museum threw an intimate bash to mark the 38th year of its popular wine and food festival in June, which is expected to raise $130,000 for educational programs.
The fest on the 14-acre campus along the shaded banks of Mission Creek, will feature 40 chefs and 60 premier Central Coast wineries, and already a third of the 900 tickets available have been snapped up.
"I think, given the participants, this will be our best ever event," says museum director Luke Swetland.
Among the guests were winemaker Gretchen Lieff, Miles Hartfeld, Lisa Osborne, and Karna Hughes.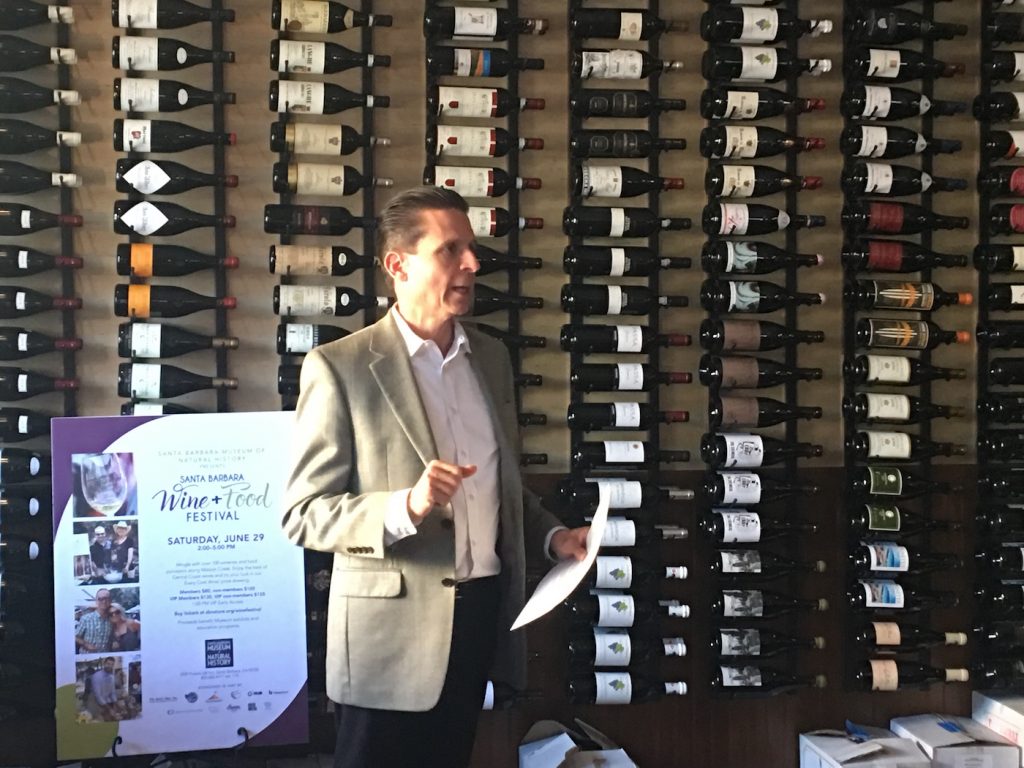 Chef's Table
To the Four Seasons Biltmore where executive chef Marco Fossati showed off his culinary skills as Beanie Baby billionaire Ty Warner's beachside hostelry introduced a new weekly chef's table menu at its scenic Bella Vista restaurant.
Accompanied by red and white wines from the Sunstone vineyard in Santa Ynez, the interactive three-course $45 a head dining experience, which takes place every Wednesday, featured a selection of local halibut crudo, abalone tartare, spaghetti di grande arso, featuring 100-year-old flour, sea urchins and clams, cucumber and gin risotto, and gnochetti Cacio e Pepe, a semolina pasta prepared table side in aged parmesan cheese.
Scrumptious…
Rosewood Run In
It's a small, small world as Eileen Mielko, wife of Montecito artist Tom Mielko, found out at the Rosewood Miramar when she was having lunch at Caruso's with friend Gloria Clark and their respective husbands, and TV talk show host Ellen DeGeneres and actress wife Portia De Rossi walked in.
Eileen met the Oscar host and serial real estate flipper many decades ago when she was a waitress at Willy G's, a New Orleans seafood restaurant, and had joined in a conversation revealing her goal to be a stand-up comedienne.
And as they say, the rest is history.
"Talk about your dreams coming true," says Eileen. "It was so nice seeing her again and congratulating her on her enormous success."
School Scandal
Rosewood Miramar developer Rick Caruso found himself unwittingly involved in the center of the college bribery scandal.
Rick, chairman of the USC Board of Trustees, was on his $100 million 215ft.long yacht, Invictus, in the Bahamas with his daughter Gianna and a group of fellow students, including actress Lori Loughlin's daughter, Olivia, 19, when the story broke and she disembarked and flew back to Los Angeles.
"Once she was aware of the investigation, the young woman decided it would be in her best interests to return home," says the billionaire philanthropist.
Olivia and her sister, Isabella Rose, 20, both students at USC, have now quit the prestigious L.A. university after the admissions scandal because they reportedly feared bullying.
Loughlin has now been dropped from Netflix's Fuller House and Hallmark has also cut ties.
Walking the Line
Santa Barbara warbler Katy Perry has found herself embroiled in the escalating blackface row.
The singer's controversial $129 Rue Face slip on loafers have reportedly been pulled from store shelves at Walmart and Dillards because of their resemblance to blackface makeup.
The sandals from the Katy Perry Collection featuring two eyes, a gold nose and red lips are being pulled "in order to be respectful and sensitive," say sources…
Gwyneth on Goop 
Montecito actress turned wellness and lifestyle guru Gwyneth Paltrow has opened up about being CEO of Goop, which has an outlet in the new Rosewood Miramar hotel.
The 46-year-old founder talked about the success of her booming company, now valued at $250 million, on NBC's Today show – and denied she is giving up acting.
The Oscar winner has continued to revive her career as Pepper Potts for the Marvel franchise, but has not taken on as many acting roles outside of the action films.
"I have never said I'm giving up acting," Gwyneth told Savannah Guthrie. "What I say is that Goop is my full-time passion. Being the founder and CEO of Goop is what I do all day every day.
"Occasionally something is right and it works out around my children and my life. I think I am just not focusing on full-time acting right now."
What's in a Name?
Birth announcement seen in the London Times: Olivia (née Falconer) and Hugo, a son, Dionysus Cosmo Chaos, brother of Hieronymus.
Only in England…
Rest in Peace
On a personal note, I mark the passing of one of the most charming and erudite men I have known, John Richardson, who has died in New York aged 95.
An eminent historian and author, John, who was knighted by Queen Elizabeth in 2012, wrote a well received magisterial series on his good friend, Spanish artist Pablo Picasso, who he met while living in the south of France.
I would often see him at elegant social soirees, as well as frequent receptions at the auction houses Sotheby's and Christie's, the latter of which he helped to launch in Manhattan.
Patrician in his speech and attire, his 5,000 sq.ft. Big Apple loft was filled with art by my neighbor Andy Warhol, Georges Braque and, of course, Picasso.
John, who I first met in 1980 at royal photographer and Oscar-winning stage and costume designer Cecil Beaton's memorial service at St. Thomas Episcopal Church on Fifth Avenue where he was an usher, also wrote for Vanity Fair and The New Yorker.
An extraordinary man who lived a most colorful and learned life…
Sightings: Oscar winner Leonardo DiCaprio masticating at Lucky's… Kourtney Kardashian, ex-husband Scott Disick and his new model squeeze, Sofia Richie, daughter of singer Lionel Richie, checking out the Rosewood Miramar… Former Dallas Cowboys quarterback Troy Aikman at the Juice Ranch on CVR getting his vitamin shot
You might also be interested in...