Not All Heroes Wear Capes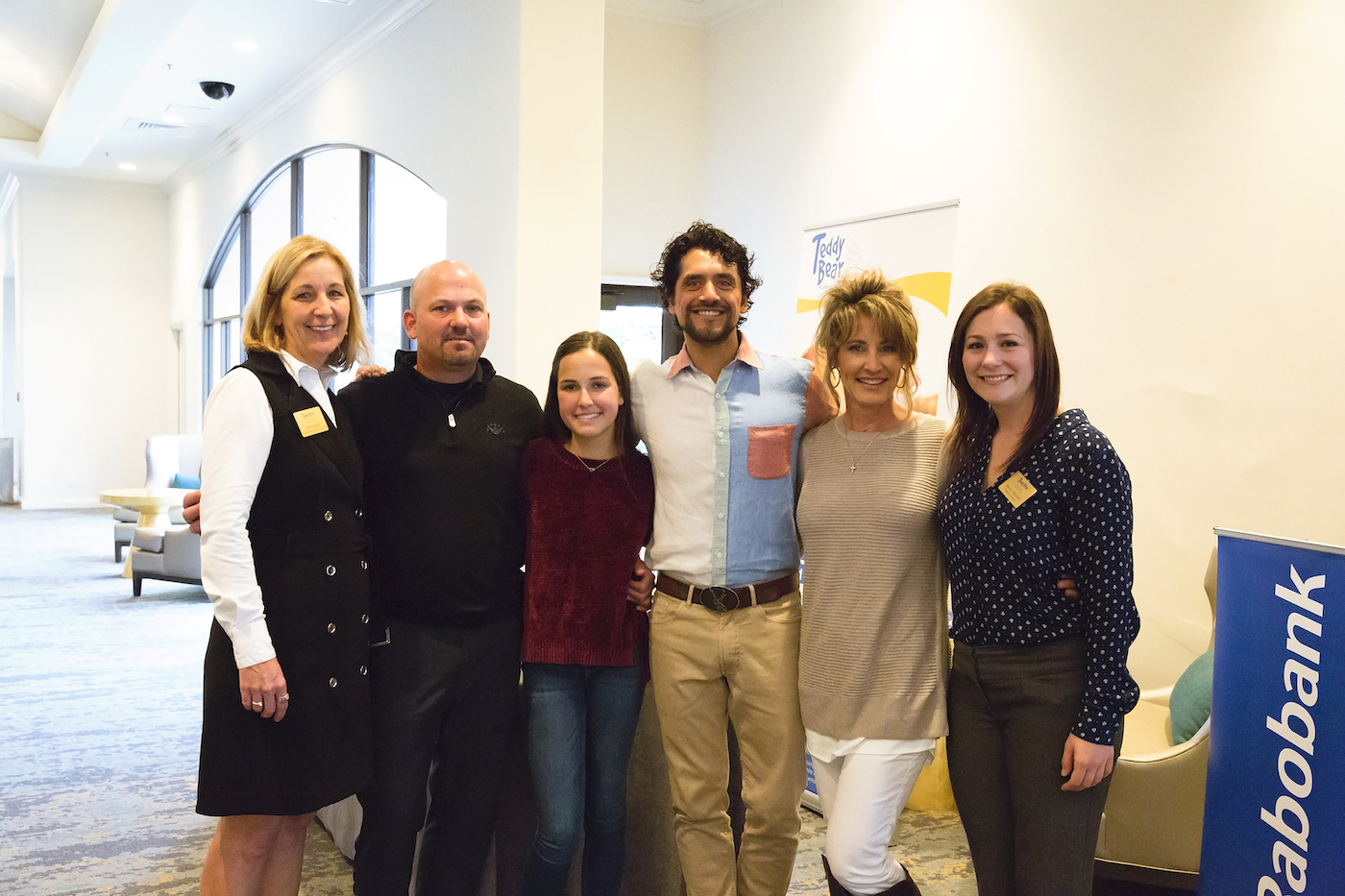 It was an early start when the Teddy Bear Cancer Foundation hosted its 5th annual Little Heroes breakfast for 350 guests at the Hilton, which was expected to raise around $100,000 for the popular charity.
The boffo bash, co-chaired by Heather Ayer, Matthew Fish, Emilee Garfield, and Nina Johnson, featured keynote speaker Eduardo Garcia, a classically-trained chef who lost his left arm while elk hunting in Montana after receiving a catastrophic electrical shock from a 2,400-volt power line – he was the subject of the documentary Charged, which opened the Santa Barbara Film Festival in 2017 –, and was then diagnosed with testicular cancer.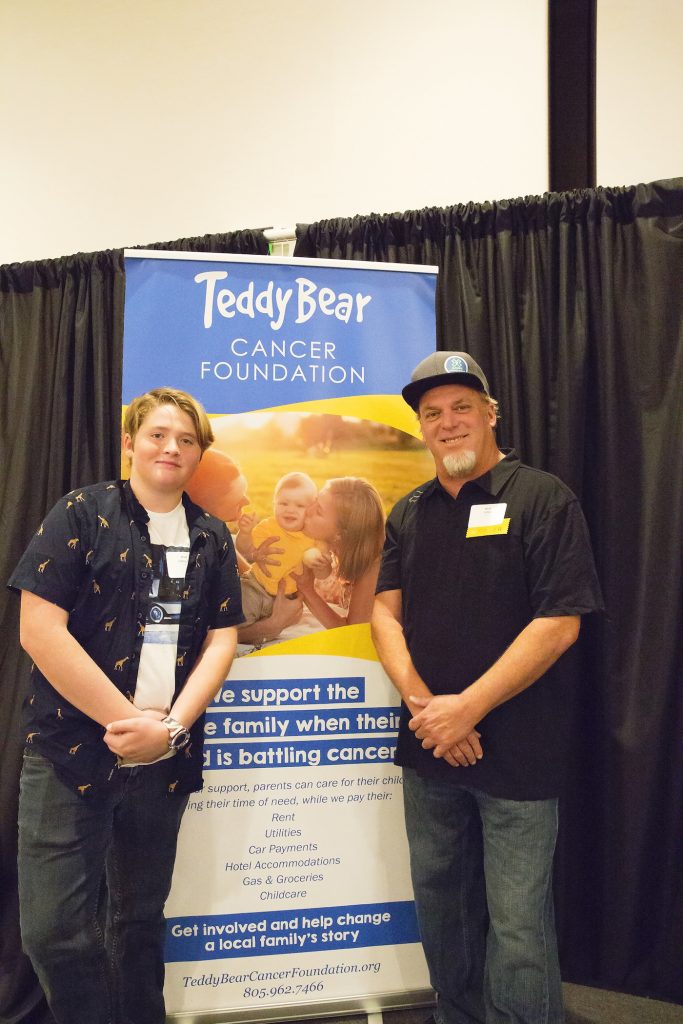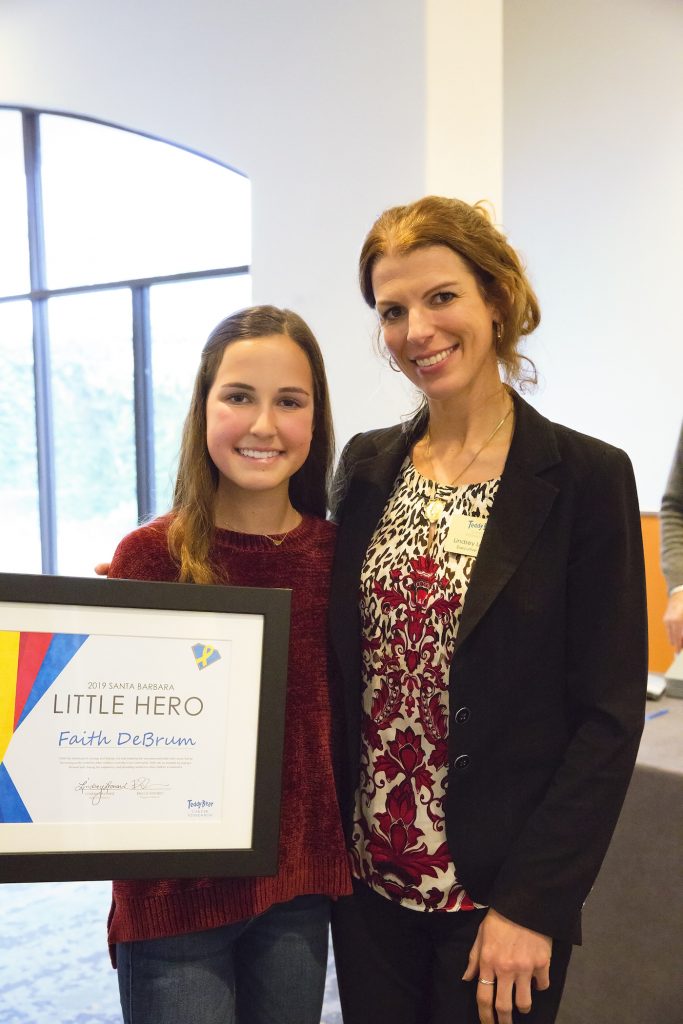 Garcia's uplifting speech was followed by the Little Hero Award to 15-year-old Faith DeBrum, who underwent successful treatment for Stage 2 Hodgkin's lymphoma, which was diagnosed when she was just 11.
Radio host Brad Lilley of KTYD, whose son suffered leukemia, emceed the event, while Lindsey Leonard, executive director, spoke of the great strides being made in treatment, with an 80 percent success rate.
The charity expects to help more than 200 children this year.
Among the supporters turning out were the ubiquitous John Palminteri, Geoff Green, David Edelman, David Selberg, Jeff and Margo Barbakow, Hayley Firestone Jessup, Ginni Dreier, Donna Barranco Fisher, Sheelah Hunt, Joe Ferreira, Marlo Tell, Nick Weiser, Kip Young, and Kerry Kelly.
Russian Rhythms 
Chinese-American pianist George Li mesmerized the audience at the Granada when CAMA – Community Arts Music Association – hosted the Russian National Orchestra for the fourth time in an all-Rachmaninoff program.
The 23-year-old keyboardist played the concerto No. 2 in C minor by the Russian composer, who performed at the Lobero in 1929 and 1941, to perfection as conductor and founder Mikhail Pletnev took the 29-year-old orchestra through its paces.
Li deservedly got a very long standing ovation after completing the challenging piece.
The concert concluded with Symphonic Dances, one of Rachmaninoff's last works, which he completed in 1940, while recuperating from surgery in Long Island.
Wide Exposure
Noted Vanity Fair photographer Annie Leibovitz packed the Arlington when she spoke as part of a UCSB Arts & Lectures event.
New York-based Leibovitz started her career as a photo journalist for Rolling Stone in 1970 with an assignment for a cover story on the late John Lennon. By the time she left the magazine ten years later she'd shot 142 covers and published essays on scores of stories, including her memorable accounts of the resignation of Richard Nixon and the 1975 Rolling Stones tour.
Leibovitz also did memorable covers for Vanity Fair, including a naked and very pregnant Demi Moore, and The View host and actress Whoopi Goldberg in a bath of milk.
When she was given an assignment to photograph Queen Elizabeth, she originally planed to have the monarch astride a horse inside Buckingham Palace, an idea that did not go down well with the sovereign's aides.
Eventually Her Majesty was photographed in her very ornate and heavy Order of the Garter robes, making a very memorable moment for a TV documentary that was being shot at the same time when Leibovitz told the Queen her hairstyle with the tiara looked "too fussy," with Elizabeth not being at all amused after all the effort she had gone to dressing up for the shoot.
Selling Neverland
The late Michael Jackson's Neverland Ranch in Los Olivos has just been listed for sale for the third time in three years with the initial listing agent, Montecito uber realtor Suzanne Perkins of Compass hoping to sell the 2,698 acre property with a new discounted price tag of $31 million.
That's a hefty 50 percent discount from the $67 million it was listed for in 2017 and a whopping 70 percent less than the $100 million when it was first offered in 2016.
The French Normandy-style property, which has a six-bedroom 12,598 sq. ft. main house, has now been renamed the Sycamore Valley Ranch since being bought by Colony Capital billionaire Tom Barrack, a Santa Barbara Polo Club patron.
To Be, or Not To Be 
It was to become the film that defined Montecito actress Gwyneth Paltrow's career, winning her an Oscar and catapulting her to major stardom.
But Paltrow has revealed she initially turned down the chance to star as Viola in Shakespeare In Love because she was so devastated after "a terrible breakup" from her fiancé Brad Pitt.
The tony twosome had co-starred in Seven before enjoying a high profile relationship from 1994 to 1997, then calling off their engagement.
When her agent first offered her the chance to star in the Elizabethan romp with Colin Firth, Dame Judi Dench, and Joseph Fiennes, she was distracted.
Talking to Variety as she marked the 20th anniversary of the movie, the Goop founder explained: "I was in the middle of a terrible breakup and the idea of going to England and being far from home just seemed…"
At first Paltrow refused to even look at the script.
"I don't even read it. I was just like I couldn't read anything right now. I'm having a really hard time."
Others in the running for the role included Julia Roberts and Kate Winslet, but Paltrow finally read the script.
"I just couldn't put it down. It was perfect. The rest is history."
Love in High Places
Santa Barbara warbler Katy Perry has revealed her engagement to English actor beau Orlando Bloom took place during a helicopter ride.
The 34-year-old American Idol judge told TV talk show host Jimmy Kimmel: "We went to dinner on Valentine's Day. I thought we were going to see some art afterwards, but instead we pulled up to a helicopter.
"He asked me to marry him in a helicopter. We did land and it was like James Bond. Everybody had an ear piece and we were rushed over… we landed on a rooftop and my whole family was there and all my friends. He did so well."
However, the former Dos Pueblos High student further revealed the Lord of the Rings star had problems retrieving the box with the antique ruby and diamond ring from his pocket, ripping his jacket in the process and accidentally smashing a bottle of champagne with his elbow.
Weight Loss 
Not that it should make too much difference to her bank account, but TV titan Oprah Winfrey lost $50 million on paper when Weight Watchers stock plummeted following the company's report that it hadn't signed up as many subscribers as it hoped this winter and expected profits to suffer.
Montecito's most famous resident owns about eight percent of the company, which rebranded as WW last year, after initially purchasing ten percent of the weight loss and wellness company's stock in 2015, before offloading two percent of her shares a year ago.
The company says it was "disappointed" with its start this year resulting in its stock tumbling more than 30 per cent in after hours trading, which saw it drop from $29.57 to $19.42.
The sharp decrease in value translates to an on-paper loss of about $50 million for Oprah.
Oops!
I seem to have jumped the gun with my news on Mesa Burger moving to Coast Village Road.
The owners of the chain tell me they have scoped a number of sites on the ritzy rue, but have not signed any contracts.
Stay tuned…
Remembering Stanley 
On a personal note, I mark the passing of the ever charming Singin' In The Rain director Stanley Donen, who has died in New York aged 94.
Donen co-directed the iconic film with star Gene Kelly, as well as Funny Face – one of my favorites –, Seven Brides For Seven Brothers, On The Town, and Charade.
I would often see him at Manhattan movie screenings and events, and would listen raptly to his Hollywood anecdotes.
In 1998 he received an honorary Oscar from director Martin Scorsese for his wonderful body of work marked by grace, elegance, wit, and visual innovation.
A gracious and talented gentleman, and the last surviving helmsman from Hollywood's Golden Age, he was sadly was not included in the Oscars memorial segment, which included my late neighbor, actor Tab Hunter and an old friend, Paul Bloch, who headed Rogers & Cowan, the Beverly Hills PR powerhouse.
Sightings: Actor Don Johnson watching the Gauchos basketball at the Thunderdome… New resident Terry Pillow, former CEO of Tommy Bahama, walking on Coast Village Road… Oscar winner Natalie Portman and family noshing at Olio e Limone
Pip! Pip!
You might also be interested in...