Making the Rounds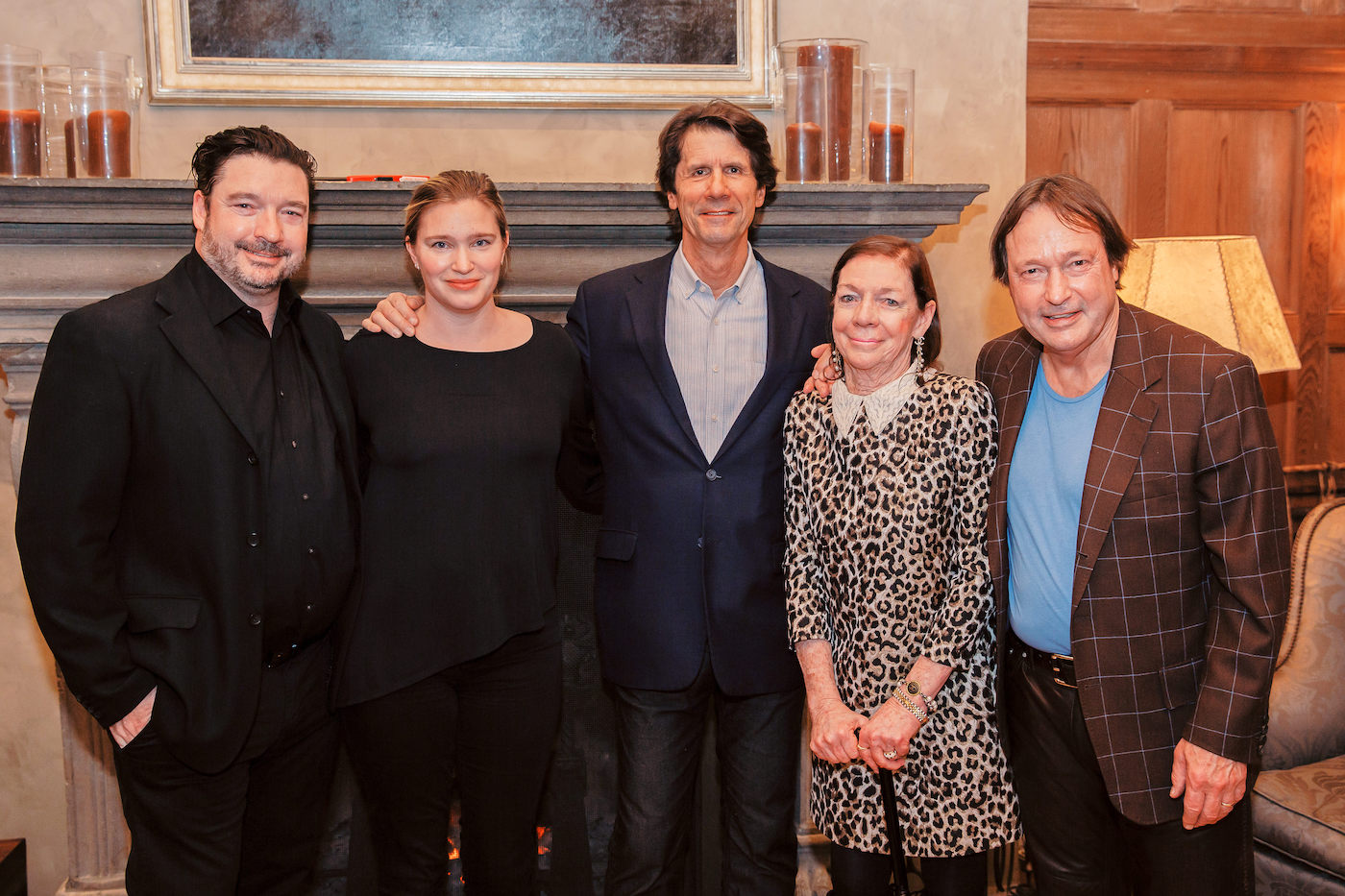 The mad social whirl was at full throttle when UCSB Arts & Lectures hosted parties for guest speakers at the Granada and Campbell Hall.
The first was held at the charming Montecito residence of Audrey and Tim Fisher, the former home of actor James Brolin, for global photographer James Balog, who spoke about his new film The Human Element, how humanity interacts with earth, fire, air, and water.
Turning out on a decidedly rainy night were Matthew and Erika Fisher, Betsy Atwater, Tipper Gore, and Bill Allen, Jeff and Hollye Jacobs, Rich and Luci Janssen, Randy and Roxy Solakian, Lou Buglioli and Natalie Orfalea, and Tom and Heather Sturgess.
Forty-eight hours later I was at the Hope Ranch home of modern art collector Susan Rose, who threw a bash for Pulitzer Prize-winning Washington Post reporter Eli Saslow, who spoke about his new book Rising Out of Hatred: The Awakening of a Former White Nationalist.
Guests included Sara Miller McCune, Lynda Weinman, Christopher Lloyd, Geoff Green, Lois and Laura Capps, Sam Tyler, Heather Sturgess, and Russell Ghitterman.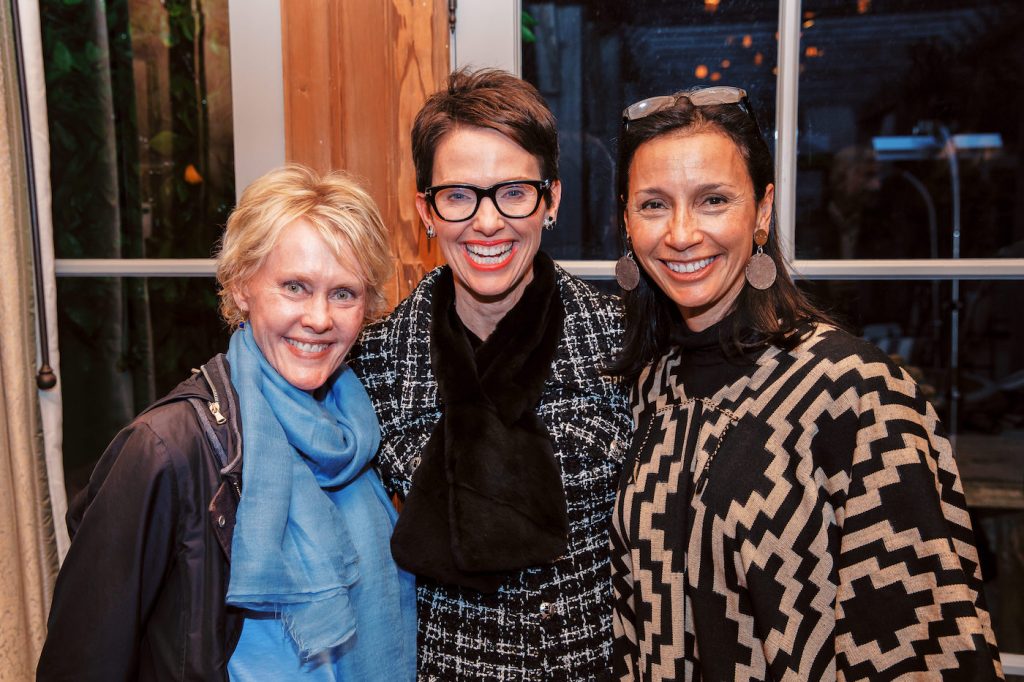 Words from Hawaii
Former Montecito resident, Norman Sosner, an ex-president of the Santa Barbara Symphony and fundraiser for the Lobero and Ensemble theaters, has celebrated his 91st birthday by publishing his third novel, The Lady of Lington Manor.
Norman, who now lives in Hawaii with Joyce, his wife of 63 years, describes the plot as "a heartwarming romance" of a titled lady, herself of humble origin, who befriends a young actress and a doctor, mentors their careers, while they in turn assist her in her ambitious plans to preserve the 700 year history of her West Sussex, England, estate.
Combining his affection for history, world affairs, and the romance of travel, he avoids exposing his readers to the current trend of violent and grisly crime, preferring his characters to spend their time to make the world a better place.
"I prefer to entertain and uplift," he adds.
If there are any old friends who wish to make contact, his e-mail is info@privatehomeshawaii.com
Wine Not?
Polo playing Summerland winemaker Bilo Zarif has sold his 17-year-old business to Santa Barbara County's largest winery, the Terravant Wine Company, says my mole with the martini.
The Turkish tycoon has built up a reputation for producing quality estate-grown Pinot Noir and Chardonnay.
"It is a bittersweet moment for me," Bilo tells me. "But I will be staying around."
"Since securing a $40 million re-capitalization from Raven Capital Management in December, the goal has been to expand our footprint in the Santa Barbara area and beyond," says Paul Griswold, Terravant chairman.
Bilo will remain as a wine brand ambassador for Summerland and work with Terravant to continue to promote the popular brand.
On the Rich List
Our Eden by the Beach is well represented in the 33rd Forbes rankings of the world's richest people, with Amazon's Jeff Bezos, 55, topping the list for the second consecutive year after toppling Bill Gates, 63, with $131 billion, $34.5 billion more than the Microsoft tycoon.
Warren Buffett, 88, partnered with Montecito's Charlie Munger in Berkshire Hathaway – ranked at 1,425 with $1.6 billion –, follows with $82.5 billion, with French luxury goods magnate – Louis Vuitton, Chanel, and the Belmond hotel chain – Bernard Arnault, 70, at four with $76 billion.
Oracle tycoon Larry Ellison, 74, who has three homes in our rarefied enclave, is at number seven with $62.5 billion, followed closely by Facebook founder Mark Zuckerberg, 34, with $62.3 billion.
Google honcho Eric Schmidt, 63, who lives on TV talk show host Ellen DeGeneres's former estate, near Lotusland, in ranked at 101 with $13.4 billion.
Dallas Cowboys owner Jerry Jones, 76, a frequent visitor here when his NFL team is in summer training in Oxnard, is number 224 with $6.8 billion, while Star Wars legend George Lucas, 74, who has a beach house near actor Kevin Costner and TV talk show host Conan O'Brien, is ranked 325 with $5.5 billion.
Virgin Atlantic entrepreneur Sir Richard Branson, 68, is at 478 with $4.1 billion, while Miramar developer Rick Caruso, 60, is at 504 with $4 billion, mega director Steven Spielberg, 72, at 568 with $3.7 billion and Montecito mall magnate Herb Simon, 84, at 645 with $3.4 billion.
Beanie Baby billionaire and hotelier Ty Warner, 74, is ranked at 877 with $2.7 billion, while TV talk show titan Oprah Winfrey, 65, is at 916 with $2.5 billion.
There are 2,153 billionaires on the list, 55 fewer than 2018. Their total net worth amounts to $8.7 trillion, down $400 billion from last year.
Reporting on Riven Rock
Montecito accountant Frank McGinity, who made the documentary The Romance & Reaping of Riven Rock, which was shown at the Santa Barbara International Film Festival, has now been accepted as an entry at the San Luis Obispo International Film Festival.
To finance the project, Frank approached 14 of his Riven Rock neighbors – consisting of 34 homes on 87 acres – and asked them to contribute $500 each to the project, which recounts the history of one of its most famous residents, Stanley McCormick, and is narrated by actor Ed Asner.
"Any time you can be creative it's a good feeling, particularly when your business is accounting and finance," says Frank. "It's a nice diversion."
Not So Far Out
Montecito actress Gwyneth Paltrow predicts psychedelic drugs will be the next big thing in health.
The Oscar winner, in an interview with The New York Times, says psychedelic medecine affecting physical and mental health "will come more into the mainstream."
Gwyneth, 64, specifically mentioned the controversial psychoactive substance Ibogaine, but stopped short of recommending it.
Ibogaine is banned in the U.S., but clinical trials of the substance for the treatment of alcoholism are currently underway in Brazil.
Katy Closes 
Santa Barbara warbler Katy Perry has sold her Hollywood Hills mansion for $9.45 million dollars to restauranteur Michael Chow after having it on the market for two and a half years.
The 34-year-old songstress moved to the sprawling pad, which takes up two and a half acres at Runyon Canyon's peak, six years ago.
The former Dos Pueblos High student initially put the 7,400 sq. ft. Spanish-style home, which has four bedrooms, four bathrooms and two half baths, up for sale in September, 2017, for $9.5 million and subsequently reduced the price to $8.95 million amid tepid feedback, but seemingly went back up in price.
The "Roar" singer initially purchased the home, part of the prestigious Outpost Estates, for $8.2 million from oil heiress Aileen Getty in April, 2013.
Katy also plonked down an additional $3 million for a small home adjacent to the main property.
Last year the pop megastar was the highest paid woman in music with earnings of $83 million dollars, according to Forbes.
Mizrahi Memoir
An old New York friend, fashion designer Isaac Mizrahi, sends me his new 372-page book, I.M.: A Memoir.
Isaac, 57, who grew up in a Syrian Jewish family in Brooklyn, reveals how he met with therapists, psychics, and even astrologers to escape the depressive spiral caused by being overweight and sexually confused.
The designer, who has worked with Meryl Streep, Diane Keaton, Diane Sawyer, Hillary Clinton, Elizabeth Taylor, and Michelle Obama, says he considered himself "a monster" compared to other children when just six years of age.
"I stuck out like a chubby gay thumb," he admits.
Isaac, who I first met at Manhattan's legendary Studio 54 in the late 70's when he was just starting out working for Chanel, Calvin Klein, Perry Ellis, and Jeffrey Banks, now regularly appears on the QVC shopping channel selling his fashion wares and is in partnership with Target, a long way from his humble beginnings.
He even has his own cabaret show and is quite an accomplished singer.
A Laughing Matter
Former Montecito funnyman John Cleese has teamed up with the Comedy Hideaway in Santa Barbara.
Owner Andrey Belikov says John, now living back in England, is interested in opening a club downtown in our Eden by the Beach.
Currently the club is in a converted meeting room at the High Sierra-Flightline restaurant at Santa Barbara Airport. It has been around in various locations for ten years.
Stay tuned…
Rushing to the Altar
Montecito's Billy Baldwin has been open about his support of his niece Hailey Baldwin's relationship and marriage to singer Justin Bieber.
But the 56-year-old actor suggests he wished the tony twosome had slowed their romance down and not rushed into it.
"I love them as a couple and would've loved to see them get married if they'd waited a couple of more years. Maybe that would have been better," he tells Us Weekly.
"But they didn't want to wait because they're both devout in their faith and that wasn't the right fit for them, so that's really none of my business.
"I said to them, I hope you don't jump right in and start having two and three and four kids right away. They can have the next few years together where they can rampage and just globe trot and just tear up and have fun."
Rest in Peace
On a personal note, I remember conductor André Previn, who just died in New York aged 89.
Previn won four Oscars for his film work and 10 Grammys for his recordings. He was famously married to Frank Sinatra's ex, actress Mia Farrow and German violinist Anne-Sophie Mutter, who just performed at the Granada.
I remember meeting him at a fundraising bash for the London Symphony Orchestra at the former Park Avenue triplex penthouse of Standard oil magnate, John D. Rockefeller, which was then owned by New York billionaire Saul Steinberg, owner of Reliance Insurance.
I was suitably impressed by the 38-seat dining room arrangement and impressive Flora Danica china!
Sightings: Oprah Winfrey checking out Stella McCartney's creations at Paris Fashion Week… German fashion photographer Ellen von Unwerth lunching with Santa Barbara Magazine owner Jennifer Hale at the Coral Casino… Rocker Peter Noone shopping at Montecito Country Mart
Pip! Pip!
You might also be interested in...