Mobile Command Center Unveiled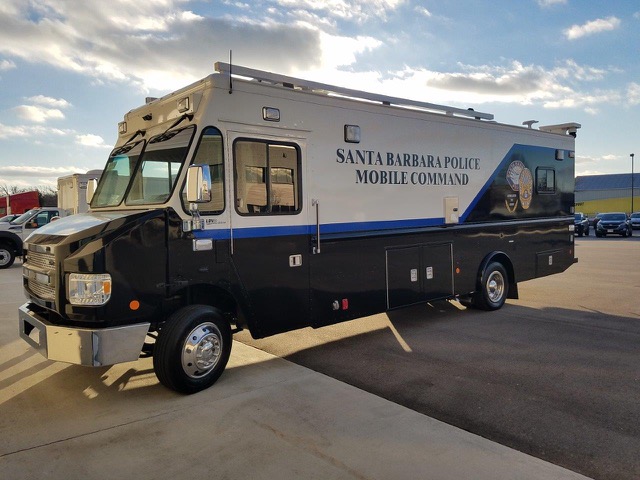 Earlier this month the Santa Barbara Police Department accepted and unveiled a new 32-ft long, 12-ft tall, custom mobile command unit that will be dispatched during community events, emergency situations, and disasters. The $350,000 vehicle was purchased by the Santa Barbara Police Foundation and One805, a local non-profit that was born after the Thomas Fire and 1/9 Debris Flow.
"In the aftermath of the Thomas Fire and mudslide disaster, we quickly realized that this was not a one off; that our first responders didn't only need our help in the wake of a disaster, they need it year-in and year-out," said Richard Weston-Smith, board president of One805. The non-profit hosted the large scale Kick Ash Bash in February of last year, marking the largest non-profit event in Santa Barbara history and raising over $2M for the local Fire, Police, and Sheriff departments.
This is the second of three Mobile Command Units to be delivered; the first was to Santa Barbara County Fire last year, with the third slated for the Sheriff's Department this July. Major sponsors include Yardi Systems (represented by Gordon Morrell and Kelly Johnson), Nora and Michael Hurley, and Vicki and Ron Simms, who attended the unveiling. "Without their support we could not have done this," Weston-Smith said.
The Mobile Command Unit is equipped with satellite communication facilities, a radio mast, and video equipment, allowing it to operate as a mobile police station.
Weston-Smith said the next One805 event will be announced soon, and that many exciting plans were in the works. "We still need to build out our board and Advisory Council, but our idea is that One805 will be membership based," he said. "We want to develop a community that is united around our First Responders, so you will be able to join One805 by means of an affordable membership fee." Future One805 events will be open to the public and designed in a way that allows anyone in Santa Barbara to come and enjoy a fun family experience, interacting with our fire, police, and sheriff departments.
For more information, visit www.one805.org. 
Drought Latest
The latest US drought monitor map shows the majority of the state, including Santa Barbara County, as no longer in drought conditions. While the drought may be over according to the US Drought Monitor, Montecito Water District remains in a water shortage condition, and has released a status update on each of our local water supplies.
Jameson Lake is at 100% capacity since spilling on February 3, 2019. Unfortunately, this water is currently undeliverable due to water quality issues resulting from the Thomas Fire. The District is increasingly hopeful that treatment plant enhancements will enable them to deliver an increased amount of water from Jameson Lake this year. Results on the effectiveness of the District's new treatment enhancements are expected in mid-late March.
This year's above average rainfall will likely result in some recharge of the Montecito Groundwater Basin. Prior to this winter, the groundwater basin was at or near a historic low level. It's anticipated it will take several years of above average rainfall before the basin will return to normal conditions.
While capacity is at 60% and climbing, the District's allocation from the Cachuma project currently remains at 20%. The District anticipates the Cachuma Project allocation will increase, potentially to 100% for 2019, but to date, USBR has not yet increased the allocation.
The 2019 State Water Project allocation remains below average at 35% irrespective of the significant rainfall and snowpack received across the state this winter. The District anticipates this will likely increase but there is no certainty.
While the drought conditions continue to improve, MWD reminds residents that at this time, it would be premature to conclude that our water shortage condition has ended. The effect of this year's significant rainfall and subsequent reservoir inflows on our overall water supply outlook for 2019 remains uncertain, and the MWD expects to reassess the water supply conditions at the end of winter and the rainy season in late March. Residents should their outstanding conservation practices, and understand that our message remains consistent with the State's: water conservation is a California way of life.
You might also be interested in...