Golden Mike Winners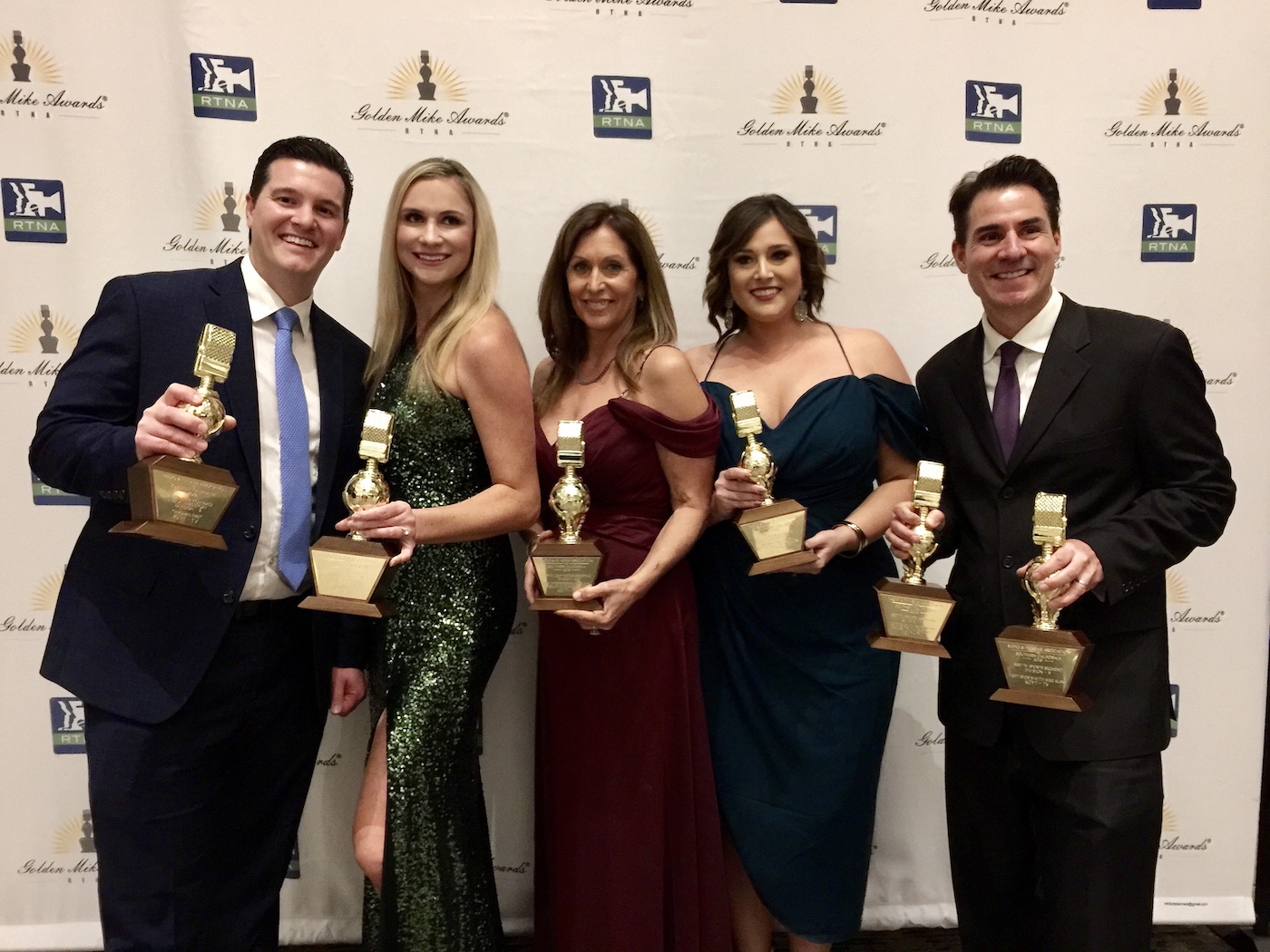 It wasn't quite the Olympics, but KEYT-TV reporters Mike Klan, Kelsey Gerckens, Joe Buttitta, Kacey Drescher, and Tracy Lehr were definitely going for gold at the 69th annual Golden Mike awards in Los Angeles.
The ABC affiliate broadcaster won the coveted trophies at a glittering Radio and Television News Association of Southern California gala at the Universal Hilton, with Kelsey – who won the Amazing Race and $1 million three years ago with her now husband, KEYT morning news anchor Joe Buttitta – getting the accolade for best weather segment for the second consecutive year.
Montecito resident Mike won for Best Sports Reporting, his third consecutive year, and Best Sports segment, Joe for the Best Live Coverage of a News Story with the Thomas Fire, Kacey for Best News Reporting, and Tracy for Best Light Feature Reporting.
Bravo!
Birthday Bash
Our rarefied enclave was well represented when actress Jennifer Aniston celebrated her half-century at the achingly trendy Sunset Tower Hotel in West Hollywood.
The bustling bash for 200 guests, included her ex-husband Brad Pitt, his former squeeze Gwyneth Paltrow, singer Katy Perry with beau Orlando Bloom, TV talk show host Ellen DeGeneres, Oscar winner Leonardo DiCaprio, Robert Downey Jr., George Clooney, Sandra Bullock, rocker John Mayer, Demi Moore, and Reese Witherspoon.
Invitees noshed on mini burgers, tacos, and a giant towering layered vanilla cake with cream and berries.
Mind Games
Montecito actor Rob Lowe is presiding over a new Fox Network game show Mental Samurai, launching next month.
Contestants will be tested on such categories as knowledge, memory, and numbers, while being transported around the set at high speeds in a specially designed capsule that rotates at 360 degrees.
Rob says he has loved mental competitions ever since he was on an all-star junior version of The $10,000 Pyramid in 1979.
"For me Mental Samurai is addicting," says Rob, who will also produce the show. "Every time you play, you think 'This time I'm gonna win!' But this simple game is almost impossible to crack."
He Put a Ring on It
How appropriate!
Santa Barbara warbler Katy Perry and her longtime beau, British actor Orlando Bloom, got engaged on Valentine's Day.
The tony twosome shared a delightful Instagram featuring the former Dos Pueblos High student's vintage ruby flower shaped engagement ring.
Katy, 34, captioned the photo "full bloom," while The Lord of the Rings star, 42, posted the same picture, writing "lifetimes."
Her mother, Mary Hudson, couldn't contain her excitement, sharing several photos from what appears to be the couple's engagement party.
"Look who got engaged on Valentine's Day!" she beamed.
The pair started their romance in 2016, but broke up in March, 2017. They rekindled their relationship in early 2018 with a trip to the Maldives.
Katy was previously married to British comedian Russell Brand from 2010 to 2012, while Orlando was hitched to Miranda Kerr from 2010 to 2013, sharing an eight-year old son, Flynn.
You might also be interested in...