A Royal Flush
Montecito residents Eric and Nina Phillips, longtime Dream Foundation supporters, hosted 33-year-old Trezevant, Tennessee, resident Zachary Butler in Las Vegas.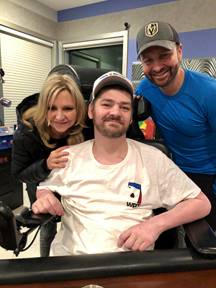 Zach, who has suffered from Friedrich's Ataxia from an early age and was completely disabled by his teens, had always dreamed of meeting Canadian professional poker player Daniel Negreanu, winner of six World Series of Poker and the second biggest live tournament winner of all time, accumulating $39,500,000, and spent three hours with him and fellow poker player Jennifer Harman, over several hands of the game at the Flamingo.
After the special afternoon, Eric, a board member of the Granada and the film festival, as well as the Santa Barbara Police Foundation Board, and Nina treated Zach, his mother, Cindy Mayberry, and caretaker, Barbara Jean, to a steak dinner.
"It's a day I'll cherish and never forget," says Zach, whose life expectancy is now six months.
Oprah's Birthday Equation
Montecito's most famous resident TV titan Oprah Winfrey celebrated her Medicare moment on the Caribbean island of St. Barts.
The 65-year-old and her best friend, CBS Morning News anchor Gayle King, were guests on the imposing mega yacht of entertainment mogul David Geffen.
Also joining the tony triumvirate on board the $300 million 454-ft. Rising Sun was King's son, Will Bumpus Jr.
It was a brief trip for the group who spent two days docked in Gustavia before leaving for St. Martin and jetting to Fort Lauderdale for Oprah's Girls Getaway with her O Magazine staffers.
To mark the occasion, Aziz Inan, a professor in electrical engineering at the University of Portland, Oregon, has used his mathematical expertise to prepare a number of curiosities in Oprah's honor.
"Winfrey's 65th birthday expressed as 01/29/2019 is numerically special because it's left and right halves, namely 1029 and 2019, contain the same digits 0,1,2, and 9 in different order," observes Inan. "Additionally, if 2019 is split into its alternating digits as 21 and 09, 21 times the reverse of 09, namely 90, equals the difference of 0129 and 2019.
"Further, twice 65 minus 1 yields 0129, Winfrey's birthdate, January 29. Moreover, the difference of the digits of 65 equals 1, the month number of Winfrey's birthday, and their product minus 1 yields 29, her birthday's day number.
"Also, the sum of the squares of the digits of 65 result in 61 and 61 is the 18th prime number and 18 equals the product of the digits of 1/29, the day Winfrey was born. Also, the prime factors of 65, namely 5 and 13, add up to 18. Note also that the reverse of 61, namely 16, corresponds to the number of letters in Oprah Gail Winfrey."
If that wasn't enough, Inan continues: "The reverse of 1/29, namely 921, equals three times 307 and 3 and 307 are the second and 63rd prime numbers, Interestingly, the sum of 2 and 63 equals 65. Furthermore, 2 times 63 equals 126, the reverse of 126 is 621, the 621st prime number is 4591, and the reverse of 4591 is 1954, the year Winfrey was born."
All too calculating for words.
You might also be interested in...