Art Kids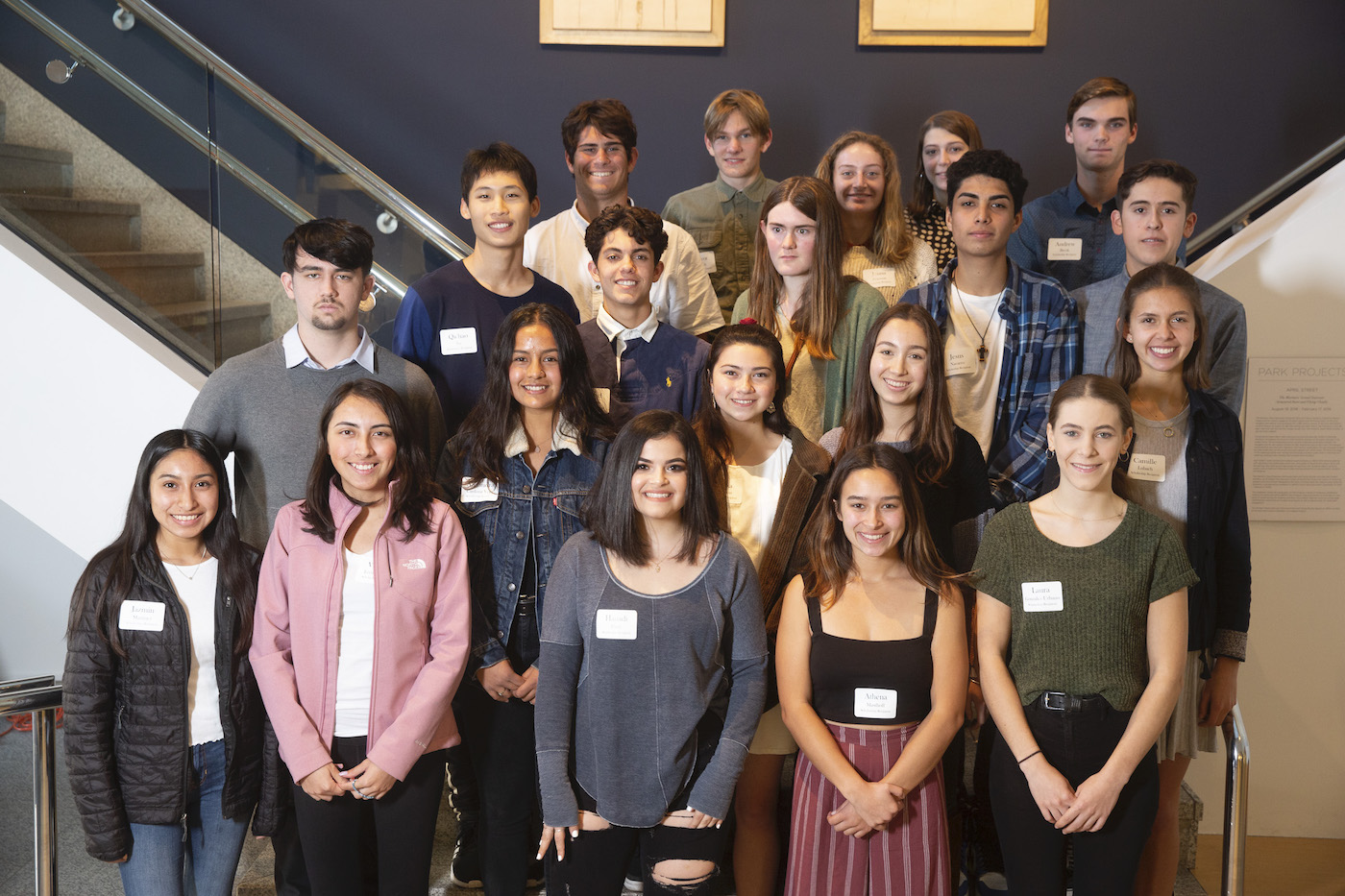 More than 20 student artists were honored by the Scholarship Foundation of Santa Barbara during a presentation and reception at the Santa Barbara Museum of Art, with each of them receiving a $2,500 scholarship and their artwork exhibited in the museum's Family Resource Center.
"Much of their work reveals a remarkable maturity and sureness of technique," says Victoria Juarez, foundation president. "Their evident skill is testament to the quality of art instruction in local high schools."
The works, done by 79 students, were judged by a panel of prominent local artists – Anthony Askew, Wayne McCall, and Patti Jacquemain – at the museum's Ridley-Tree Education Center at McCormick House, with the best of show winner, San Marcos High's Camille Lubach, receiving an additional $1,000 scholarship.
Among the guests were Joanne Holderman, Mercedes Millington, Caroline Rutledge, Garrett and Ginny Speirs, Nancy Ransohoff, Vicki Hazard, and Nancy Schlosser.
Charming Choir
Music lovers got a special treat at Trinity Episcopal Church when the Reed Collegium Musicum from Reed College in Portland, Oregon, under conductor John Cox, staged a free concert of early and medieval music.
The 15-member choir from the university, founded in 1908 and boasting 32 Rhodes Scholars and more than 100 Fulbright Scholars, included our tony town during its current tour with its performance Vox Sibyla: Voice of the Prophetess with works by Hildegard von Bingen, Orlando de Lassus, Tomas Luis de Victoria, Rameau, and Charpentier.
A magical evening…
Dudamel's Distinction
Los Angeles Philharmonic maestro Gustavo Dudamel, a frequent visitor to our Eden by the Beach, has been given a star on the Hollywood Walk of Fame.
Known as the Dude by his many fans, the 37-year-old Venezuelan Grammy winner began conducting the Big Orange orchestra in 2009 after the departure of Finnish director Esa-Pekka Salonen, who is the new music director of the San Francisco Symphony.
Dudamel was accompanied by award-winning composer John Williams and Emmy-winning actress Helen Hunt.
New Polo Board Member
After 15 years playing polo, developer Justin Klentner, patron of the local Klentner Ranch team, and winner of the 107-year-old Silver Air Pacific Coast Open last year, is the Carpinteria polo club's latest board member.
Justin, who lives just a tiara's toss from the club, joins attorney Kevin Nimmons, who has been a member for ten years. He also sits on the club's tennis, swim, and fitness advisory committees.
Sightings: John Travolta and wife Kelly Preston at the Dance Fever Studio in Carpinteria… Veteran actor Stuart Whitman lunching at the Biltmore… Writer T.C. Boyle walking his dog on Coast Village Road
Pip! Pip!
You might also be interested in...