An Evening with Albright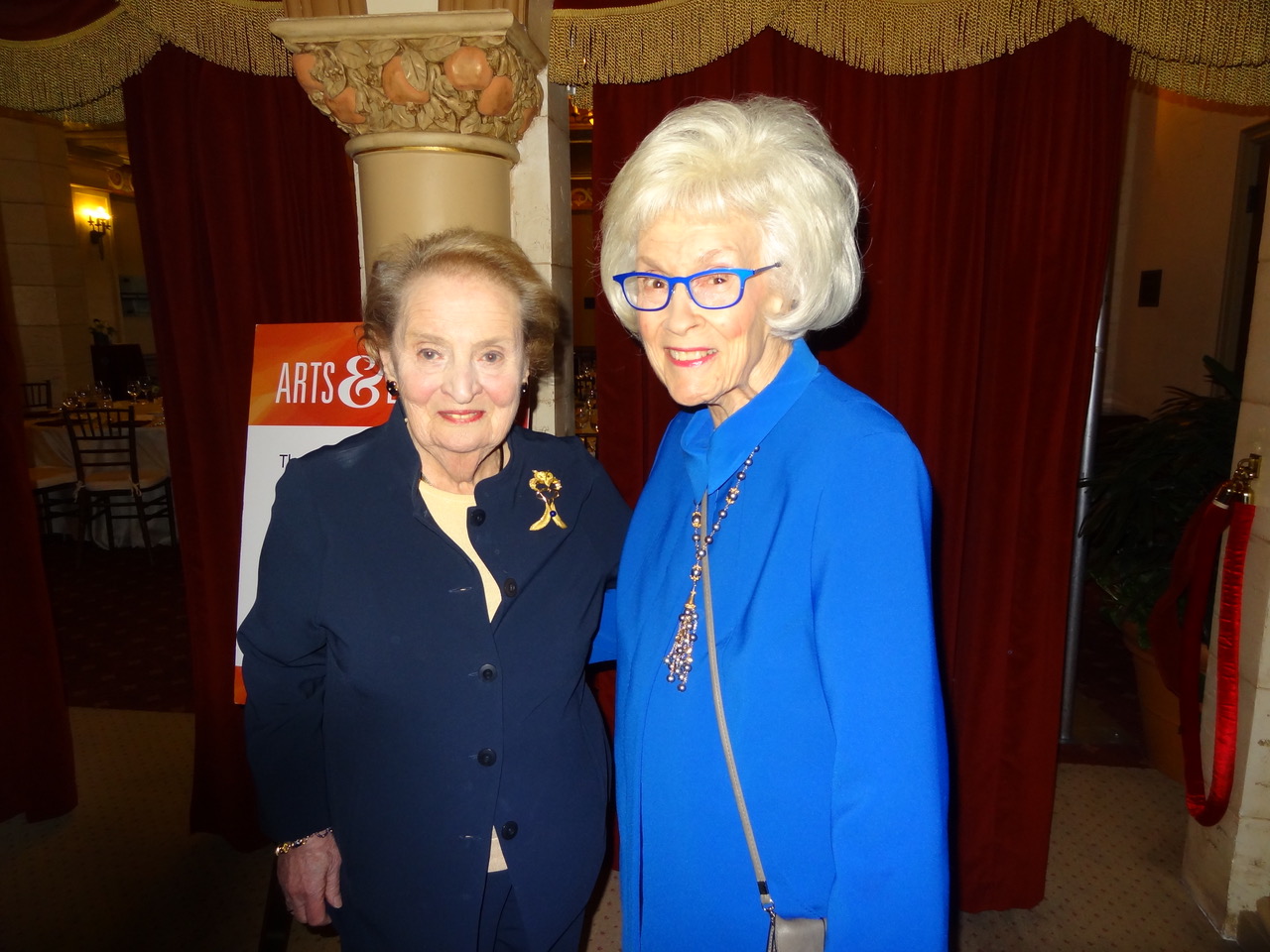 UCSB Arts & Lectures presented "An Evening with Madeleine Albright" to a packed house at the Granada Theatre. In case you don't remember, she was the first woman Secretary of State and the highest-ranking woman in the history of the U.S. government in 1997. Currently she is chair of Albright Stonebridge Group, which is a global strategy firm, and chair of Albright Capital Management LLC, an investment advisory firm focused on emerging markets.
She has served in many capacities including a member of President Jimmy Carter's National Security Council and as Chief Legislative Assistant to Senator Edmund Muskie. Now she is a professor in the Practice of Diplomacy at Georgetown University School of Foreign Service as well as serving on many boards. Her most recent book is Fascism: A Warning (2018) that is a New York Times bestseller. Ms. Albright joked, "They call my book tour, 'The Antique road show' since I'm eighty."
She spent the afternoon at UCSB with students. She claims she always learns from them. There was a dinner for sponsors and heavy hitters in the Granada Founders Room before Madeleine's talk. As Miller McCune executive director Celesta Billeci said, "Arts & Lectures is celebrating its sixtieth anniversary. This dinner is a thank you for all you do for UCSB Arts & Lectures. We couldn't do it without you."
Madeleine spoke to the audience first and was then joined on stage by a new resident of Santa Barbara, Jeff Greenfield, as a moderator. Jeff comes with a page full of credits. He is a veteran political, media, and culture reporter and analyst, spending more than 30 years on network television. He is a five-time Emmy winner. Jeff joked, "I love Santa Barbara where when a driver raises his hand to you, it's with all five fingers. In the big city that wasn't true."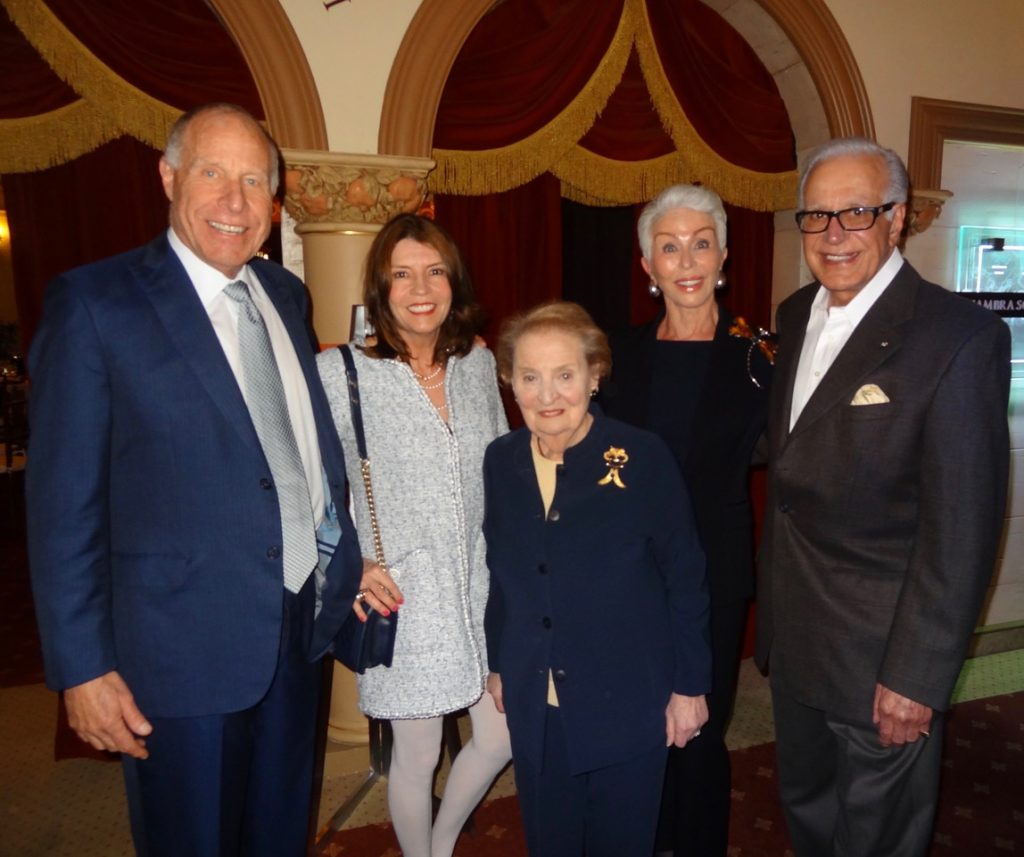 When he asked Madeleine if she was an optimist or a pessimist, she replied, "I'm an optimist who worries a lot." When it comes to negotiating, "If we're not at the table, we may be on the menu." She claims the hardest thing to do in these times, is to explain what the United States' position is. She never wants to speak badly about her country when she's abroad. Right now the national mood is cranky. She commented that we should never put up a red line if we're not going to hold to it. She says we are a nation of laws and we need a major immigration bill based on law. To explain how dictators get a hold of a country, she used this quote, "If you pluck a chicken one feather at a time, no one will notice."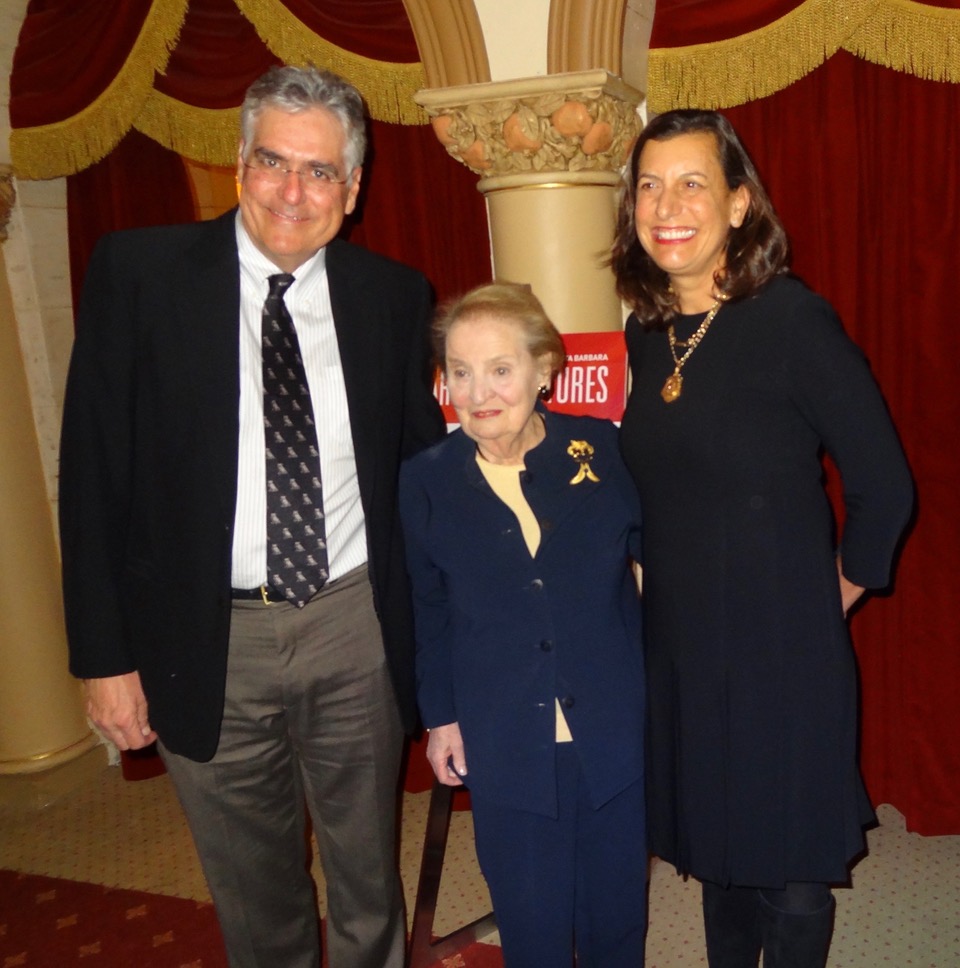 Albright herself is a product of immigration having been born in the Prague in the Czech Republic. "Because of my parents' love of democracy, we came to America in 1941 after being driven twice from our home in Czechoslovakia—first by Hitler and then by Stalin." Her folks became Roman Catholic and she was raised in the church, never knowing until she was sixty that she was Jewish.
Madeleine is a little tiny thing – small but mighty. As The New York Times says, "Albright's contribution to the cultivation of democracy as a stateswoman and private citizen is unparalleled."
The event sponsor is anonymous but the corporate sponsor is Mission Wealth. Additional support came from Bettina and Glenn Duval, Linda and Frederick Gluck, Judith Hopkinson, and Susan and Bruce Worster. If you'd like to contribute in any way call 805.893.3535 or visit www.ArtsAndLectures.UCSB.edu
You might also be interested in...