Walk to Remember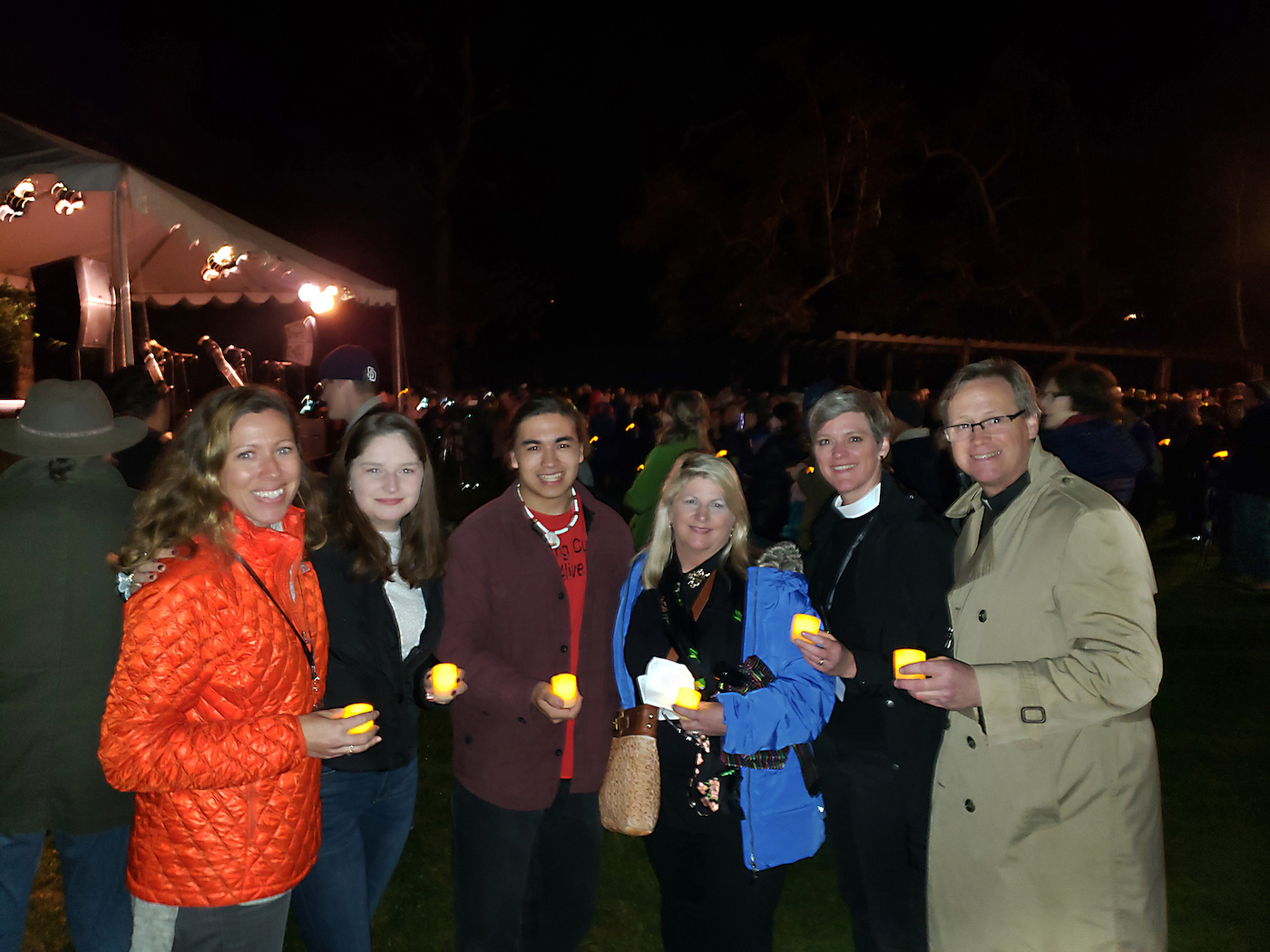 Montecito TV titan Oprah Winfrey, Kenny Loggins, and actor Rob Lowe paid tribute to the 23 people who lost their lives and many who lost everything a year ago, as our tony enclave was ravaged by catastrophic mudslides.
Oprah, 64, was among hundreds of local residents taking part in the first anniversary vigil, walking from Lower Manning Park to All Saints by the Sea Episcopal church.
Oprah stepped out linking arms with fellow walkers who held lights resembling candles as a symbolic gesture as they walked to the church, which was a focal point just off the 101 during the disaster.
She posted an Instagram saying: "A year today our little community was digging out of the mudslides. Searching for survivors. Twenty-three dead, two were never found. Tonight we said our regrets remembering them in a candlelight vigil."
Local school students gathered to sing "This Little Light of Mine" and a touching poem, "Blessing for the Longest Night," was read, while the church bell rang 23 times in memory of those who were lost.
A night never to be forgotten and, hopefully, not to be repeated…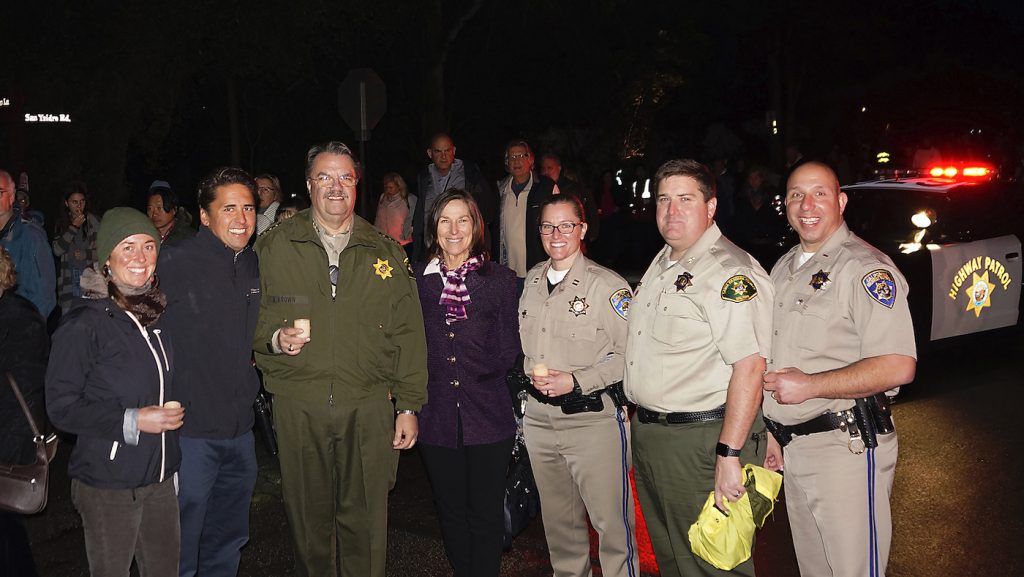 Big City Fellows
Twelve fellows from the Music Academy of the West have been making their mark in the Big Apple.
The talented Keston MAX musicians, aged 18 to 27, have been performing with the London Symphony Orchestra and its maestro Sir Simon Rattle as a part of an intensive ten day training program.
The fellows take part in all 21 hours of rehearsal for the orchestral concerts and, in due course, will be given further opportunities in London, as well as coaching from orchestra members audition training, ensemble coaching, and a mock recording session, giving them invaluable insight into the life of a professional orchestral musician.
The Miraflores campus's 2018 winners in the Marilyn Horne song competition and the solo piano competition also travel to London in due course, giving recitals and the world premieres of two specially commissioned works by Elizabeth Ogonek and Ricky Ian Gordon.
"It really is an amazing transformative opportunity for all our fellows," says MAW president Scott Reed.
Chart Topping
Santa Barbara has gotten some priceless publicity in The New York Times.
The Gray Lady just published a list of 52 spots to visit this year, listing our Eden by the Beach third in the rankings, topped by Puerto Rico with Hampi, India, second.
Panama, Munich, Germany, Eilat, Israel, the Setorchi Islands, Japan, Aqlborg, Denmark, the Azores, Portugal, and the Ontario Ice Cave in Canada, complete the top ten.
The Times dubs Santa Barbara a "food and wine heaven" and a "foodie magnet," giving shout outs to Bibi Ji on State Street and Montecito's new eateries, the Monarch and the Silver Bough, run by talented chef Phillip Frankland Lee.
The Santa Barbara Inn's Convivo and the Funk Zone's Tyger Tyger and Monkeyshine also receive plaudits.
Breaking Ellen's Hart
Despite Montecito TV talk show queen Ellen DeGeneres's intervention to help save the Oscars, it looks like her efforts to bring back comedian Kevin Hart as host for next month's ceremony have been to no avail.
Ellen, a former Academy Awards host herself, reached out to the comedian on her Burbank-based show after he quit the role when decade-old homophobic tweets he sent resurfaced online.
"I called the Academy today because I really want you to host the Oscars," she told Hart, who tied the knot to Eniko Parrish in our rarefied enclave in August, 2016.
"We want him to host, whatever we can do, we'd be thrilled," Ellen says she was told. "The Academy is saying what can we do to make this happen."
Hart said he was still angry about how the tweets were dredged up less than a day after he was formally given the hosting job last month.
After the tweets resurfaced the Academy told him to apologize. Instead, he stepped down from hosting.
Although he told Ellen he would "evaluate" their conversation, he ended up sticking to his decision and now multiple hosts will be in front of the camera for the 91st annual Los Angeles ceremony.
Cleansing the Soul
Montecito actress Gwyneth Paltrow may be the doyenne of detoxing, but she admits her controversial diet craze is not without its drawbacks – and once caused her to hallucinate from fatigue.
Speaking on her Goop podcast, the Oscar-winning wellness guru reflected on some of her more grueling cleansing efforts, extolling the virtues of the goat's milk diet and the infamous master cleanse, in which meals are replaced with a drink of lemon juice, water, cayenne pepper, and maple syrup.
Gwyneth, 46, admits her first cleansing attempt was "intense," but believes everybody should try to detox once in their life.
"I do think it's interesting or as an experiment once in your life to do a liquid cleanse of some kind, because it's a different experience."
The mother of two insisted that even though she struggled with the "horrible" raw goat's milk cleanse – said to eliminate parasites – she felt "amazing" afterward, so much so that she's tried it twice.
"People think that clean food is impenetrable, difficult, and weird," she conceded, adding that she sees Goop as "pioneers in that space of making clean food delicious and cool."
She is currently promoting her new book, The Clean Plate, which features recipes such as butternut squash taco shells, sheet pan chicken, broccolini, and cashew turmeric iced lattes.
Like Father, Like Son
Michael Douglas was the first big winner at last week's Golden Globes in Beverly Hills, which also praised Montecito residents Carol Burnett and Jeff Bridges.
And the 74-year-old Oscar winner, who took home his fourth Globe for his Netflix series The Kominsky Method, after being named best actor in a TV series-comedy, lost no time dedicating his win to his legendary actor father, Kirk Douglas, one of the last survivors from Hollywood's Golden Age, who celebrated his 102nd birthday in Los Angeles last month.
A delightful son-to-father gesture.
Living Large
Dallas Cowboys owner Jerry Jones, 76, a frequent visitor to our Eden by the Beach when his NFL team has summer training in Oxnard, has just splashed out $250 million on a new 357-ft yacht Bravo Eugenia, named in honor of his wife, Gene, who he married in 1963.
The impressive vessel can accommodate 14 guests and has 30 crew with not one, but TWO helipads.
Jerry, whose personal $2 million bus The Elegant Lady is often parked outside Lucky's on Coast Village Road when he's in town, is worth $6.8 billion, according to Forbes, much of it from gas and oil exploration.
He purchased the Cowboys in 1989 for a mere $140 million.
Since then they have won three Super Bowls and now the franchise is valued at more than $4 billion, making it one of the most valuable in all of sports.
You might also be interested in...