Remembering January Ninth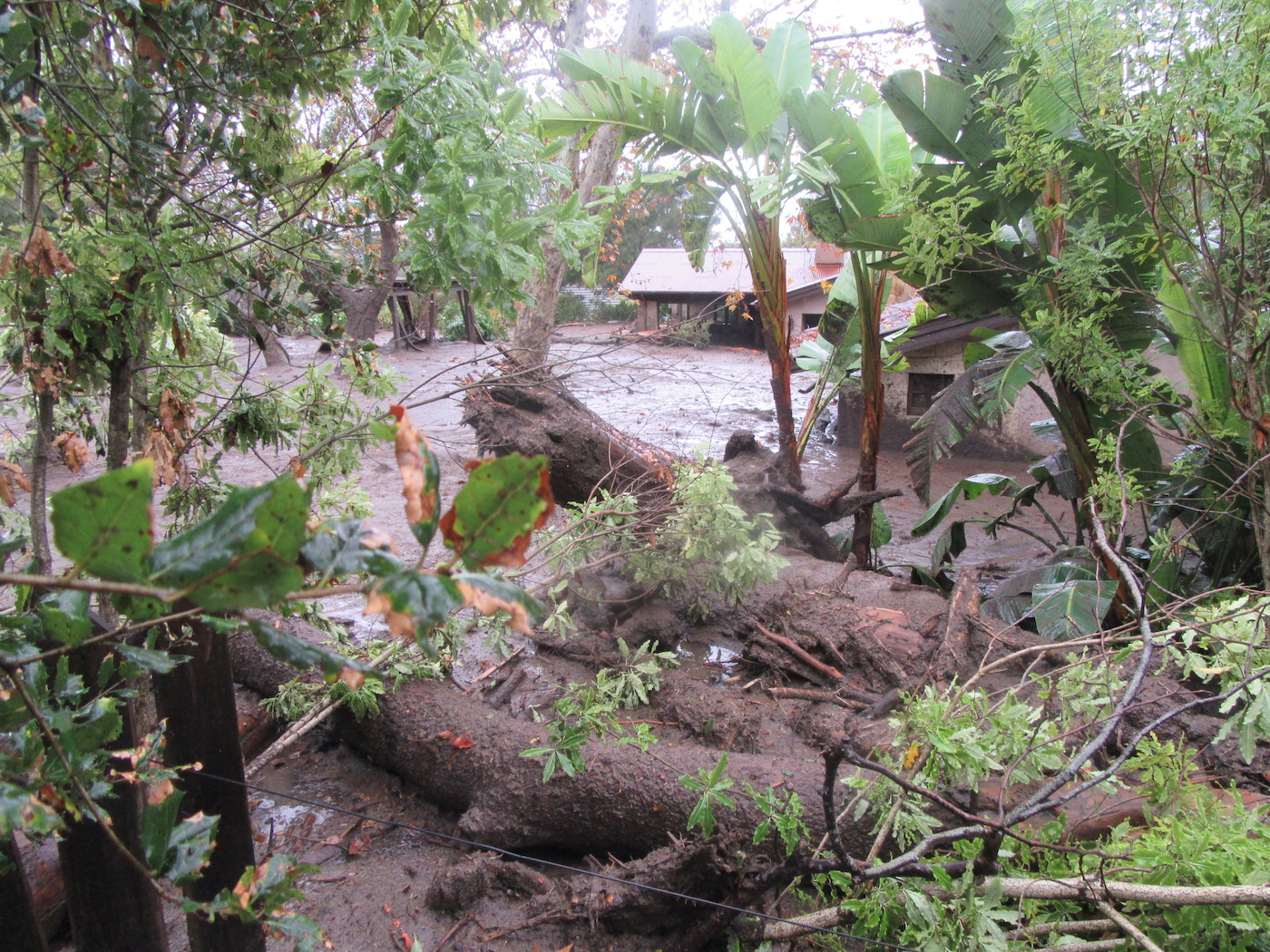 The Day The Hill Came Down
First, of course, there was the fire. The Thomas Fire, so named because it began on the campus of Thomas Aquinas College in Santa Paula before devouring nearly 300,000 acres in Ventura and Santa Barbara County along with nearly one thousand homes and/or structures.
Following California's cycle of cataclysms, large wildfires are frequently followed by mud-and-debris slides. The concept is simple: fires occur in the driest and windiest time of the year – typically June to September, although the dry season has historically fluctuated – and our rainy season generally runs from November to April. Once the fire has devoured all the accumulated brush, the hillsides are vulnerable to slides until flora regrowth occurs; it usually takes from three to five years for the landscape to fully recover. If torrential rains occur too soon after a fire, well, that's when disaster often strikes.
The Thomas Fire caused the evacuation of some 30,000 Santa Barbara County residents, including virtually all of Montecito. Thanks to the man- and woman-power of the Montecito, Summerland, Santa Barbara City and County Fire Departments, and a virtual army of firefighters from around this state and surrounding states, only 10 homes were lost in Montecito.
But, as most residents know, the Thomas Fire wasn't safely contained until late in December 2017. The rain fell heavy just a little more than three weeks later, sending tree stumps, ash, boulders, and other debris hurtling down the naked mountainside, causing the destruction of nearly 400 homes in Montecito and the deaths of 23 souls.
What follows are recollections of those fateful days, written by those who experienced it.
On Featherhill Road by Judi Anderson
During the afternoon of Monday, January 8, 2018, several neighbors were standing on Featherhill Road discussing the Mandatory Evacuation Order due to predicted floods and mudslides:
"Are you going to evacuate?"
"No, we evacuated during the Thomas Fire and we are sick of it."
"What do you think the chances are of a flood?"
"In the early 'nineties, we had two back-to-back hundred-year rains, and the highest the water got in the Romero Creek Flood Control District was about five feet out of the twenty-five feet depth."
"My wife refuses to evacuate."
"After the 1969 flood, the County came in and gunnited one side and the bottom of the flood control. The other side is three hundred acres of lemons and it is about five feet lower than our side."
"I can't leave my animals."
"OK, Looks like we are all staying."
The Deluge Arrives
At approximately 3:30 am on Tuesday, January 9, I awoke to the din of the hardest rain I had ever heard. It sounded as if the house was under a waterfall. I woke up my husband, Larry, just as the noise got deafening and the house began to shake. We discovered that the electricity was out when we tried to check the time. Because it was pitch black we saw nothing when we tried to look outside.
Next we ran to the front of the house and saw an eerie orange glow in the west that was pulsating.
It looked like the end of the world.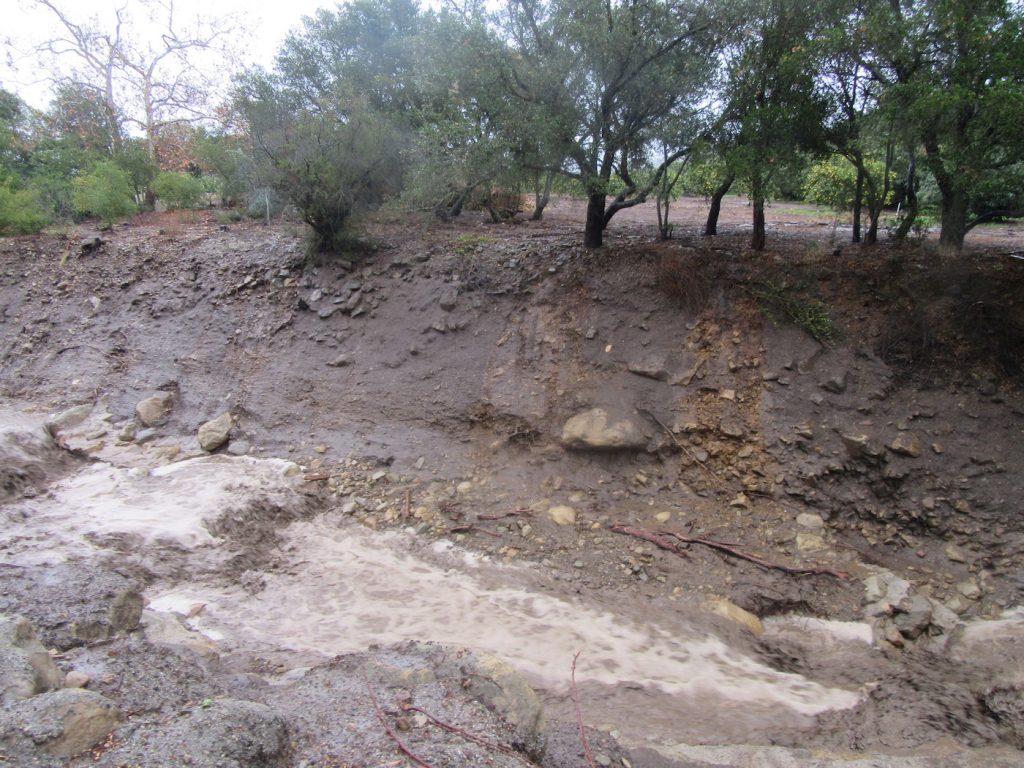 We could barely make out Featherhill Road by the light of the moon. It looked like a river. As we watched for several minutes in disbelief, the rain began to slack off. We knew something really bad had happened, but we could only guess as to what it was.
Lighting candles was not an option because of our cat, so we ran around getting flashlights, then decided to make coffee. Going back to sleep would have been impossible in our agitated state. From our RV-ing days, we still had a drip coffee pot, and since there was no electricity, we lit a burner with a match to heat some water. Still in shock, we sat at the kitchen table drinking coffee and staring into space.
Shaking and Shivering
As the darkness outside began to retreat, we were startled by a knock on our back door. We jumped a foot in the air, then opened the door to see our neighbor, who lived on our downhill side, with mud up to his thighs, wearing clothes that were obviously too small for him.
"You look awful, Thomas! Are you okay?"
"Yes, I'm fine, but I sure could use a cup of coffee."
He refused to sit down in his filthy clothes, but shared his story of being awakened by the deafening noise and shaking of the house. As he faced the French doors in his bedroom, the glass broke and pelted him. Turning immediately, he ran for the front door as fast as he could, barely beating the mud, which was filling his house. He stumbled through the river that was Featherhill Road, and went to the closest house he could see on the adjoining street, Camino del Rosario. There he sat on the front porch of the Nivases, neighbors that he knew had evacuated. Clad only in a t-shirt, he shivered as he waited for the dawn.
When there was barely enough light for him to see, Thomas went around the empty house looking for a way in. The French doors in the backyard yielded to his rattling and he was able to squeeze inside. The first door he came across was the son's bedroom, so he went in, found some clothes to wear, then sat, waiting for his adrenaline rush to subside.
When JC warmed up and stopped shaking, he went back outside and began looking around the neighborhood. The winking of our flashlights attracted his eye, so he pounded on our back door. Fortified with our coffee, he related his horrific tale, then returned to the Nivas' house to try and get some sleep.
Getting Out
Around 7 am, the rain had stopped completely, and we were able to walk out to the street to try and figure out what had happened. The first thing I did was step into two inches of thick mud that looked like pavement. There were boulders and debris all over the street. We went to our back garden to find that the mudslide had completely filled the Romero Creek Flood Control, spilled over the top in one area, and left several large trees behind as it receded. As we peered over to Thomas's property, we discovered that his backyard and pool were under three or four feet of mud, as was the inside of his house.
Then we heard the beating of a helicopter, which was to be a constant sound for the next five days as the sheriff, police, and Coast Guard searched for survivors. The helicopter hovered for a long time over JC's house. We discovered later that they were trying to locate him, and confirm that he had survived the mudslide.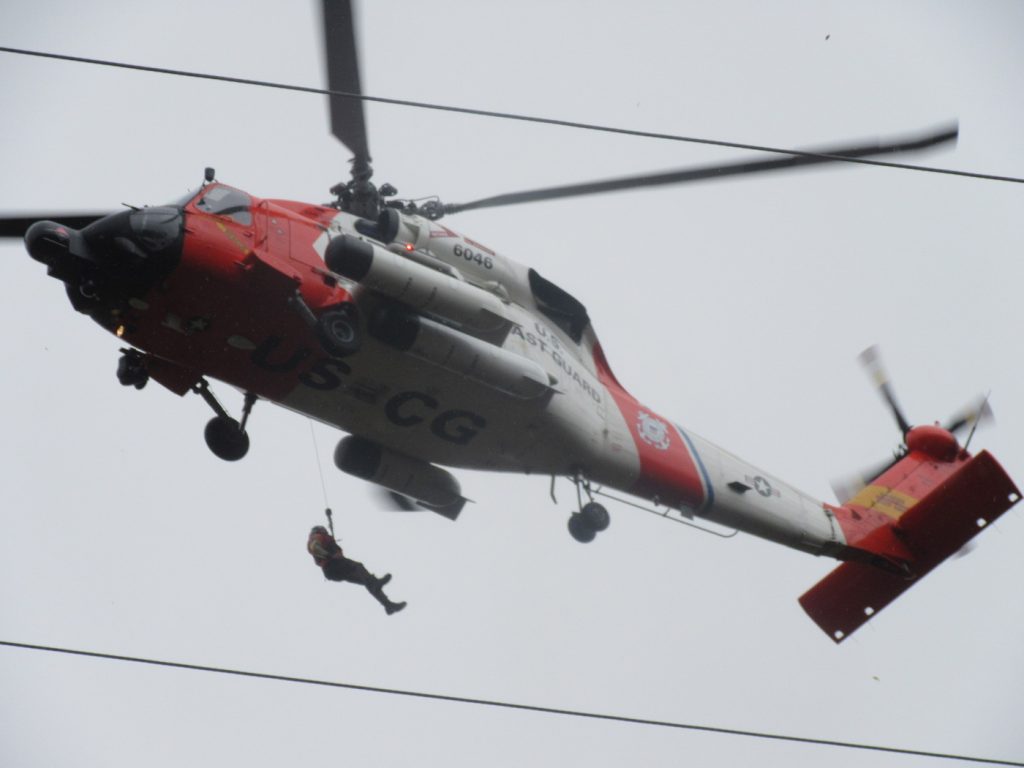 Perhaps the helicopters were also looking for us. Because we had no electricity, we had also lost all communication with the outside world. When we regained the use of our computer a few days later, we discovered that our picture was on a "Missing" list on Facebook. We had emails from relatives in France, England, and New Zealand asking us to confirm that we were still alive. Friends all over the country were asking the same question. Several weeks later, we were back in our home, shopping, banking, and having coffee when people we hardly knew came up, threw their arms around us, and expressed their relief that we survived the disaster.
We felt like celebrities.
Our other next-door neighbor, Charles, came over on the day of the mudslide with an extra emergency radio, which we used to learn the extent of the tragedy that had struck Montecito: the mud tore houses in half, blasted cars from garages, ripped down trees, and tumbled boulders like pebbles. Many people had been rescued, but many were still missing. After a week, the death toll was at 21, with a two-year-old girl and a 17-year-old boy still unaccounted for. To this day, they have not been found.
We got in the car to survey the damage to the neighborhood and found many large boulders had made it impossible to turn left on Romero Canyon, so we drove down Veloz to Lilac and turned left. We only got a few hundred yards down the street when a missing bridge made it impossible to proceed. Then we walked north as far as Winding Creek Road where the damage was extensive: there were three houses that were in various stages of being covered by mud, and one that was completely missing. We discovered later that parts of it were in the garden and driveway of the neighbor at the end of Featherhill.
Power Returns
As we made our way home, we saw a man in emergency gear by the side of the road. He was with the Coast Guard, surveying damage, and waiting for the helicopter to pick him up. He asked to hang out on our porch until his ride returned, refusing to come in because he was covered in what we found out later was "toxic mud," or mud that contained poisons from garages and sheds, sewer and septic tank contents, and ground up poison oak. He told us about the search for survivors and the dangers of wading through the debris,
 "We have to use a long probe as we walk around people's property to make sure we do not fall into a swimming pool filled with mud."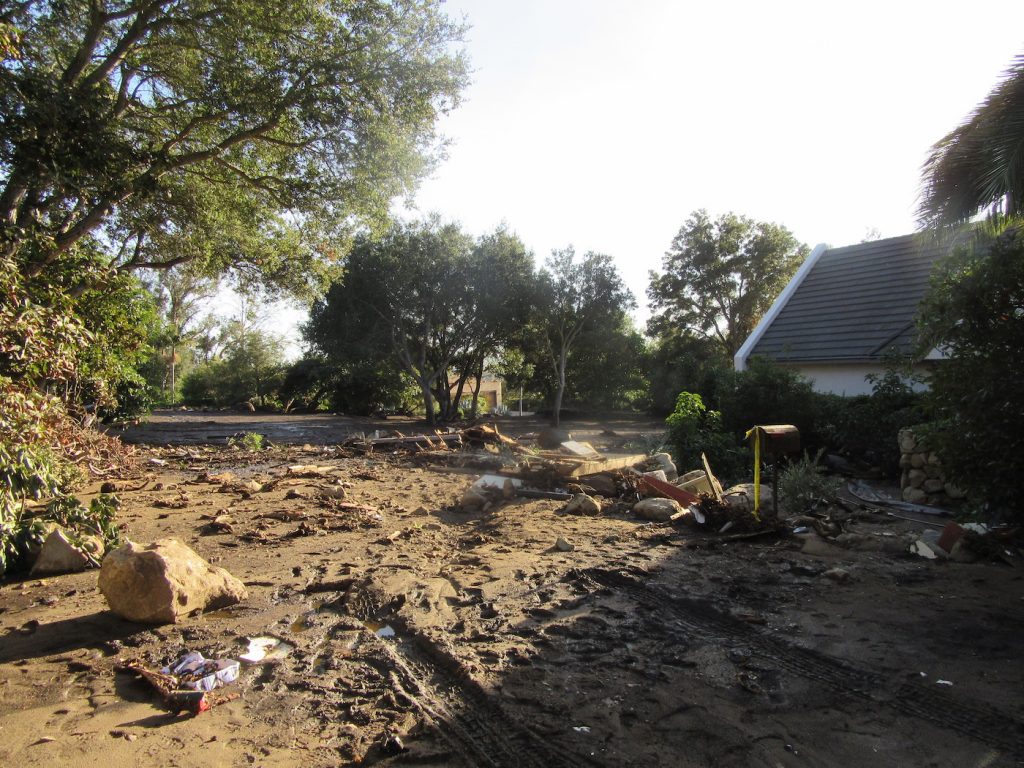 For two days (Tuesday and Wednesday), we were without electricity and used our fireplaces for heat. The first night we toasted hot dogs over the fire in our living room. We had no way to flush our toilets until our neighbor volunteered the use of his pool water. The emergency water we had stored in the garage came in handy for washing dishes, and two five-gallon bottles of water took care of our drinking needs.
After three days (Thursday), the water came back on. Gas leaks were an increasing problem (they actually caused the fire that lit up the sky in the west) so the gas company went from house to house and turned off the gas at each house after checking for leaks.
On day four (Friday) we discovered that a neighbor, Alex, who had a well and a generator, had not evacuated either. He insisted we use the shower in his guesthouse (our first since Monday). We were so grateful to be clean!
Later on Friday, our friend Clair, who had called us on our cell phone many times, insisted that we evacuate and go to her house to live. She gave us the number for the sheriff.
"You can call this number to arrange for the sheriff to escort you out through the closed streets."
We packed and waited until Saturday for the Sheriff's escort to arrive. When they did, we were allowed to drive our own car while following them closely and driving very slowly. Since the freeway was completely closed from a mile north of us all the way to Ventura in the south, we drove out of our neighborhood via East Valley Road.
As we watched in horror, we saw hundreds of trucks working in areas that we did not recognize. Boulders lined the street, a few of which were as big as a house. A stretch of the street past the Valley Club entrance on the left and Randall Road on the right was a sea of mud, rocks, and debris with nothing but mud where many houses used to be. It was impossible to tell where we were since the landmarks we knew so well were gone or greatly altered.
Staying With Friends
We (and our cat) spent 16 delightful nights with our friends, Clair and Harry. We had evacuated with them in Cambria for 12 days during the Thomas Fire. Since they do not live on a creek, their house and neighborhood were spared from being inundated by mud. We will never forget their gracious hospitality and many kindnesses.
When we learned that the Gas Company was visiting neighborhoods in Montecito seven days a week while turning on the gas house by house, we began to pack to return home. Then a neighbor called to say he had an appointment to get his gas turned on that day, so we raced home only to find that we had missed the Gas Company on our street. Larry drove the neighborhood looking for a gas truck, stopped three of them, and gave the drivers our address. They arrived late that afternoon; they could not have been nicer or more helpful.
With the gas back on, the only problem left at our house was water that was not potable. Montecito Water informed us that they were running super-chlorinated water through the pipes to cleanse them. The chlorine was not good for the plants, so we asked our neighbor to turn the water off during this process. Then we were told that our water would be tested for potability until it passed strict standards of purification. Until then we were advised to boil all water before we used it; the Boil Water Directive was lifted a few days later.
As Montecito continued to recover with the help of thousands of people working around the clock, we know how fortunate we are that our home was untouched and our garden had minimal damage. Now that the mud has dried out, there is dust everywhere, and the streets need to be cleaned, but we are delighted to be home, and we are especially grateful just to have a home.
Nearly 400 structures were eradicated and/or damaged in Montecito, not to mention the acres of property that washed down to the ocean. Trucks of all kinds were everywhere at all times of day, every day of the week. It was also difficult to drive because of all the road closures due to damaged and washed out bridges. We began to realize that our rural, quiet life would be over for a good while.
When we were allowed to return home after our 15-day evacuation, we found that our paper-white narcissus had bloomed during our absence, welcoming us home with one of the joys of spring.
As much as Montecito needs water, we dreaded the next rain. We didn't know if we'd be evacuated again or if the 101 would be closed again.
One thing we did know: this time we will evacuate.
Epilogue: Of the four Featherhill Road neighbors who discussed evacuation twelve hours before the mudslide, one got yellow-tagged (damage to property), two got green-tagged (house good for occupation), and one was red-tagged (house and property covered with mud).
Loving Grandma by Sterling Streatfield
It's raining.
Again.
The bench outside SBCC was cold and wet, like sitting on a block of ice. My bottom hurt. Droplets slid down my back. But sitting there for a half an hour in the pelting rain with my sister and mom, waiting to be picked up, wasn't nearly as bad as what I had just been through.
"Would you like to get under the umbrella sweeties?" the helpful lady asked. The hair bundled at the top of her head bobbled with each word she spoke. Her smile glistened. Her eyes twinkled.
With a frail face, my sister nodded, glad to get out of the rain. She got up from the bench slowly, and took the umbrella. The helpful lady left us – smiles and all – to go back to helping other mudslide victims.
"How long till grandma comes?" my sister asked, clutching the umbrella handle. I stared at her face, pale with dry tear streaks. Her eyes spoke fear, anxiety, and worry all in one look. She had seen so much.
Too much.
"Whenever she can," our mom comforted. She looked out into the long line of buses full of families with no homes, lost in thought. "I'm sure she'll be here soon."
We sat in the rain, in silence.
"How long will we stay with grandma?" I inquired.
"I don't know honey," my mom replied.
I prepared myself to live with grandpa again. I imagined our arrival and seeing him snapping, "Didn't they leave only three weeks ago? First the fire, now this?" His words would leave a ping of dread, like a needle full of fear jabbing me. That was until I'd see the smile hiding behind his rough mustache.
Suddenly, I realized a little red car making its way through the long line of buses. A little lady with that everlasting smile sat behind the wheel. That smile that takes you to a place where shadows become vivid, and dreams become reality. That smile when you know everything will turn out all right in the end.
"It's grandma! She's here! Finally, we're getting out of the rain!" My sister gushed. Her frigid face lit up, like the sun's first appearance on a cloudy day. The rainbow I was missing was back.
Ruby and I ran to greet grandma.
"C'mon on in!" she motioned, telling us to jump in the back. Eagerly we stepped into the warm car. My mom slipped into the front seat and gave grandma a long hug.
"Thank you for picking us up."
"Thank you!" My sister and I chimed in.
"No problem! Gives me an excuse to leave work anyways. Oh, girls, there are blankets in the back for you. Go ahead and snuggle up."
I smiled as I watched my sister rave on and on about our wild morning while our grandma listened attentively. I got that feeling. That feeling that replaced horrible rain, with cozy hot cocoa and snuggles.
I love my grandma. I know she will always be here for us.
The Fire by Erin Graffy
THE FIRE is an animal
who crept into our land
starting small
nibbling quick
growing, growing
embracing the wind
mating with its lusty gusts
spawning relentless offspring of flames
never slowing
ever growing
THE FIRE is an animal
nimbly darting out of reach
capricious, unpredictable
running, jumping, leaping
in its crimson course
racing down hillsides
roaring down canyons
fast and furious
beyond the breach
just out of reach
THE FIRE is an animal,
predatory animal
voracious appetite
insatiable appetite
ravaging chaparral
gorging on trees and terrain
devouring hillsides and homes
making meal of our memories
an ever-thirsty reservoir
always hungry for one more
THE FIRE is an animal
seductive in its glow and warmth
and shimmering sparks
of insidious harm
Turning vicious,
bearing teeth
of fearless destruction
sinking fangs into the earth
spewing gas of poisoned air
sloughing ashes everywhere
THE FIRE is an animal
pursued with frantic passion
hunted down with
backhoes and hoses
spraying and shoveling
digging and dousing
stomping and smothering
to extinguish all energy
until it gasps its final breath
and one last sigh before its death…
A Stressful Time by Bridgette Snyder
(Bridgette Snyder is 16 years old; she is a senior at Olive Grove Charter school, and is an aspiring writer, teacher, and musician. Her immediate family consists of three adults and six children. The adults are her mother, Jessica, grandmother (her mom's mom) Marcia, and Bridgette's mother's fiancé, Josh. The children are she, her sisters Jacinta (14), Grace (8), and Mary (7) and brothers Paul (12) and George (11). Paul's birthday was during the flood evacuation, so by the time they reached their aunt Dar's house, he was 13.)
The Evacuation Saga
It started on one December evening with a sudden power outage. We soon learned that the power outage was caused by the beginnings of the Thomas Fire. When the power came back, we figured we were in the clear for the time being and continued as normal. However, as the air quality rapidly declined, and with our home now dangerously close to the mandatory line, staying home for much longer didn't seem like an option. December 10, 2017, we were officially out of the house, heading out of the evacuation zone and into a safe air-filtered house.
I remember going to church that morning and having to leave mid-song because I started crying, and as much as I tried to hold myself together, I could hardly stay still. I was constantly misplacing my sunglasses and water bottle. No doubt the environment we were settled into helped us all stay sane.
Most evacuation notices lifted, we headed home that Thursday morning (December 14). All the utilities were functioning, and it was as if we'd never left. For some reason I kept my backpack packed, only taking clothes out if I really needed them. Thursday and Friday passed and we were looking forward to a more relaxed weekend. We were also going to try to get our picture taken with Santa. The first time we'd tried was on our way out of our house on Sunday, December 10, but Santa had been evacuated too. We were able to get a nice picture of all the kids in their masks in front of a poinsettia display. Man, what a unique Christmas card that would've made.
Saturday morning came much earlier than any of us would've liked. Seven in the morning and the Sheriff is at our door, telling us to get out and get out fast. Thank goodness I kept my stuff together, because I was one of the only members of our family that managed to get out with more than two outfits. A quick sweep over my room, and I was packing my stuff into our smaller car's trunk (my mom was working at the time and had our family car with her). Luckily, we were all able to make it out, thanks to a police escort for me and a few of my siblings. I could only hope and pray that this was the only time my family would have to watch me get taken away in a cop car.
We were being taken away from a full-blown firestorm. We left the house in an apocalyptic state: Red skies, red sun, and the wind blowing in more ash and smoke than ever. The winds were especially worrying. I knew how quickly they could stoke the flames, edge them closer to our home. I clung for comfort to a stuffed animal as we fled.
Our family was scattered between two houses this time; most of the kids stayed in the house of one of my stepfather's former band mates (and still good friend) and my sister and I stayed in my cousin's house with him and his family. Whether we were all in one house during the day or not, we were separated when evening came, as there were just enough sleeping accommodations for our large family.
On the Wednesday night when we were allowed to return, I stepped inside our house and finding my regular browsing spot (kitchen table, next to the router) felt better than it ever had. A quick cleanup, a little laundry done, and we were back on track. Time to focus on finishing up, and getting ready for some serious celebrating.
Sleeping in, watching lots of movies and just generally enjoying life was how we spent the next few weeks. I also had some time to enjoy my Christmas gifts, which included wireless headphones, a Fall Out Boy t-shirt, and lots of candy, as well as the pants and fuzzy socks that I desperately wanted (because my feet get cold, like everyone else's).
Everything was normal once more.
The Slide
January 9, 2018. I wake up and there's something immediately wrong. Bright lights are flashing through my curtains; there's shouting outside, and the winds are the strongest I've ever heard them. I look to my alarm clock and realize it's not on. Neither is my night light; the power's gone. I'm not sure what's going on, but I knew it couldn't be good. I could do nothing but lay in bed and try to talk my sisters back to sleep. Hopefully things would look brighter later in the day.
The next few days are hectic. Our house is fine, our yard is untouched, but nothing is normal. We have no power, no running water, and no gas. All the roads are closed, so no one can go to work, go grocery shopping, or leave the house at all. We hardly know what to do with ourselves. We just wandered around the house like restless ghosts, worked if we could, but mostly just sat and thought to ourselves about everything going on. Were we leaving again? How long would it be until our lives resumed?
No Going Back
Days passed, and we knew we had to get out. Without showers or food, we were in no condition to continue living here. Basic resources were suspended for an unknown time, and my parents needed to be able to get to work, but police barricades on our roads wouldn't allow that. After making some phone calls and finalizing some arrangements, we were packing up and loading into the car, this time not afraid that we wouldn't come home. We were more worried about when, because the way things looked, it could've been months. The man at the street corner didn't encourage us either. His parting words to my mom through the window: "You know there's no going back… right?"
After a night at a friend's house, and a few nights in a hotel, we were about to be separated from my parents for an undetermined amount of time; our final destination was with my elderly aunt and uncle.
We entertained ourselves the best we could. My grandmother's hot spot offered a slow WiFi connection, but as the days dragged on and going home seemed farther and farther away, tension naturally built in the household. My aunt, God bless her, did everything she could to make us feel at home, from separate bedrooms to home-cooked meals. She even treated us, getting the older boys new tennis shoes and taking them as well as my sister and me to see the latest installment in the Star Wars saga (The Last Jedi). Still, in our hearts it wasn't home, and as hard as we tried to stay positive, between us all getting sick and missing our home and our parents, the reaction to the news we received a week from our arrival was ecstatic: The evacuation was being lifted. We were going home.
Going Home Again
Saturday morning we were up and packing. My house was up and running: electricity, gas, water (still on boil notice, but I was showering), cable and, sigh of relief: WiFi. I'd be in my own bed, living out of a dresser instead of a suitcase, and I'd be able to start catching up on all that homework. Yes, there'd be some cleanup; no doubt things will have molded, gotten dusty and dirty since we basically abandoned the place, but it was all going to be worth it.
My mom's car in the driveway was a welcome site. After lots of hugs we were double-checking our rooms, taking out the trash, and loading up the car again. We wouldn't be so crowded this time; my aunt Donna (the one I'd stayed with in the second fire evacuation) was picking up my grandma, and she had space in her car for any items we couldn't fit or didn't immediately need. There was quite a bit of traffic, but no one minded. We were all too happy to be on our way.
Walking inside, the house wasn't quite as we'd left it. Everything smelled stale, and somehow, we'd left behind counters full of dishes. Our two best pots were completely rusted and had to be thrown away. The next few days would be full of work, but we weren't worried about it. We'd been through so much worse. This was just another obstacle.
Nothing was quite normal. Some roads were still blocked. There was construction outside our house every day, from early in the morning to late into the night. Phone lines still flickered and the bills that mounted even in our vacancy were staggering, what with days lost at work. We were still in a major hazard zone, and at the first signs of rain we had to hold our breath for fear of being moved again.
But whenever I started to feel sorry for myself, I looked down the street. I could see those houses that were completely swept away by the mud, completely empty. I looked at the posts of people that were lost, even from my own parish (one victim was in my religious education class). I thought about all those families that have lost loved ones, their houses, everything and realize how lucky we actually are.
I'll leave you with a lyric that has stood out to me through this time. I learned it at a leadership camp this summer that I'm very grateful I was able to attend. It's truly a beautiful song, and it's so oddly specific to our situation, I know it was something I was meant to hear.
I have this hope
In the depths of my soul
In the flood or the fire
You're with me
And you won't let go.
from "I Have This Hope" by Tenth Avenue North
You might also be interested in...