Portrait of a Fire Station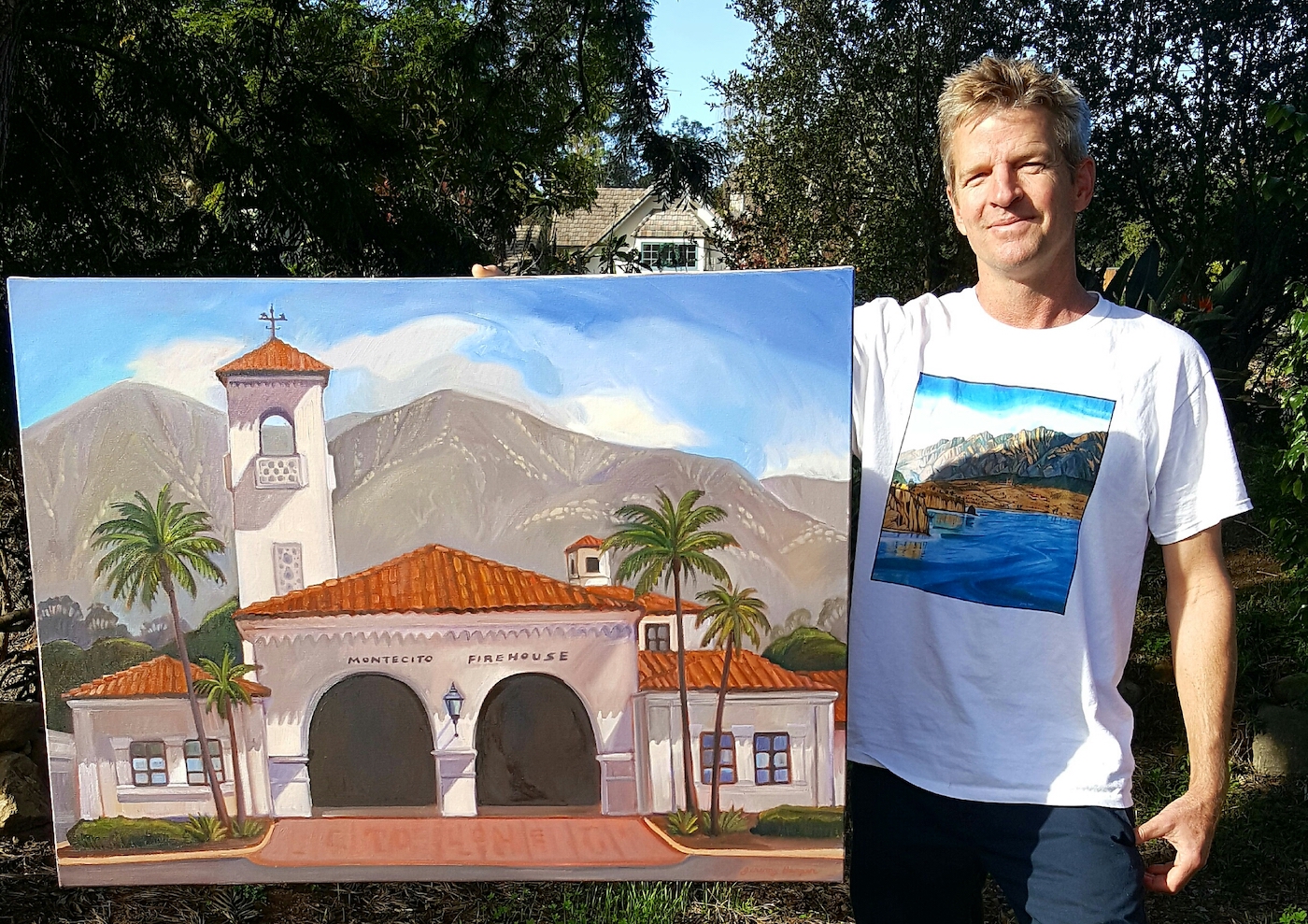 Longtime Montecito resident Jeremy Harper has painted a work of our rarefied enclave's historic fire station to mark the first anniversary of the fire and mudslide disasters, which has also been turned into a time-lapse video work commissioned by The Cheese and Wine Store's Patrick Braid.
Jeremy, who attended Montecito Union School – where he recently painted a 50-foot-long mural for students – and graduated from Santa Barbara High in 1988 before attending the San Francisco Art Institute and becoming a full-time artist 15 years ago.
He is also a member of SCAPE and the Oak Group, which creates landscape paintings that bring awareness and raises money to help protect wide open spaces endangered by development.
"I made the fire station painting over the span of three or four separate days spread out over two months," says Jeremy. "I have a good friend that wants to buy it, but for now I'm hanging on to it because I'm too attached to it to see it go at this stage."
But, he adds: "I have made a few prints.
DeMille Goes to the Dude
Montecito actor and all-around nice guy Jeff Bridges will add a Golden Globe to his many awards, including an Oscar, when the Hollywood Foreign Press Association showcases his life and illustrious career at the 76th annual gala at the Hilton in Beverly Hills next month.
Jeff, 69, who is receiving the Cecil B. DeMille Award, is being praised for starring in films, including Crazy Heart, True Grit, Hell or High water, and the Big Lebowski, which became a cult classic thanks to his nonchalant knit-sweater wearing role.
He won a Globe in 2010 for his role in Crazy Heart, when he remarked at the time during his acceptance speech about "chipping away" at his under appreciated status.
Jeff, who lives just a tiara's toss from Oprah Winfrey's estate, also received previous Globe nominations for his performances in Starman, The Fisher King, The Contender, and Hell or High Water.
The DeMille Award is given annually to an individual who has made a major impact on the world of entertainment.
Past recipients include Oprah, Meryl Streep, George Clooney, Sophia Loren, Audrey Hepburn, Robert De Niro, Morgan Freeman, Sidney Poitier, Denzel Washington, Barbra Streisand, and Lucille Ball.
Montecito Club Returns
Beanie Baby billionaire Ty Warner's Montecito Club, which has been closed since September, 2015, for major multi million dollar renovations, is re-opening with a grand celebration on March 29.
As well as the new par 71 golf course, designed by the legendary Jack Nicklaus, the club will also feature a 25,000 sq.ft. ocean-view swimming pool and a heavenly host of other improvements.
Home on the Ranch
Author Doyle Hollister, a fourth generation California native, has written an entertaining book on his upbringing and history at his family's historic Hollister Ranch.
The 127-page tome, I Only Went Out for a Walk: Finding My Wilderness Soul on a California Ranch, he describes as "a memoir about what happens to us as humans if we disconnect from the wilderness."
"If we don't pay attention to the wild and reconnect with it from our self exiling consciousness… we're terminal," concludes Doyle, who resides in an aerie overlooking Point Conception on rugged land his family has lived on and worked for 150 years.
He read excerpts from the book at a bijou bash at Tecolote, the tony tome temple in the upper village.
You might also be interested in...