On the Catwalk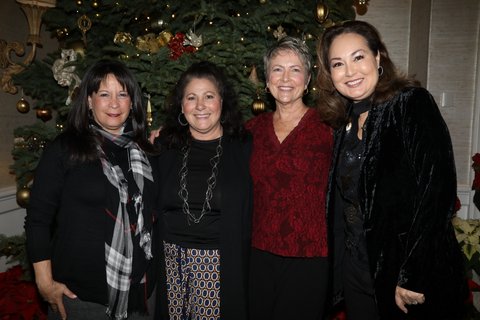 The Breast Cancer Resource Center jammed the Loggia Ballroom at the Biltmore when 165 guests turned out for the 11th annual tea and fashion show, which raised around $30,000.
Board president Rose Hodge and executive director Silvana Kelly welcomed the supporters as they watched a runway show staged by Lisa Stern, owner of the Montecito fashion boutique Chasen, with fashions modeled by SBRC clients, including Karen Anderson, Debbie Barnett, Cindy Feinberg, Alice Green, Amara Maliszewski, Colleen Rae, Barbara Urbonas, and Edna Vazquez.
Supporters turning out for the repast and winter market, with a record 11 vendors, included Debbie Arroyo, Kay Castagnola, Shane and Elizabeth Cohn, Michael Feinberg, Neil and Johanna Israel, Maria Long, and Melinda Rogers.
Celebrating a Living Legend
Veteran Montecito actor Kirk Douglas celebrated his 102nd birthday at his Beverly Hills estate, with fans and Hollywood bigshots all paying homage to one of the last stars from Hollywood's Golden Age.
With a huge floral backdrop that read "102," Kirk and his wife of 64 years, Anne, posed outside their home for the many fans gathered for the occasion, as a host of Hollywood heavyweights, including his Oscar-winning son Michael and his Welsh actress wife Catherine Zeta-Jones, joined them inside for lunch, along with Steven Spielberg, Dreamworks magnate Jeffrey Katzenberg, actress Angie Dickinson, film mogul Ron Meyer, son Joel Douglas, and Anne's sister, Merle, who flew in from Berlin for the occasion.
Our rarefied enclave was also well represented by jewelry and interior designer Corinna Gordon, Aris and Ilene Demetrios, son Peter Douglas, and grandchildren, Kelsey and Jason Douglas.
Catherine described Kirk, who received three Oscar nominations, a lifetime achievement Academy Award and the Presidential Medal of Freedom, as the "most beautiful man," while Cameron Douglas, his grandson, shared a laudatory post to "a gentleman's gentleman with a true heart of gold."
I fondly remember when I had dinner with Kirk, who has written ten novels and memoirs, and Anne some years back and I asked him what was his favorite film he'd starred in, thinking he's say his 1960 movie Spartacus with Peter Ustinov and Laurence Olivier.
He replied that it was Lust for Life, the 1956 film when he played a doppelgänger of the troubled artist Vincent Van Gogh.
Kirk is ranked number 17 in the American Film Institute's list of greatest film legends of classic Hollywood cinema and the highest rated living person on the list.
A career trajectory to be extremely proud of…
Another Living Legend
Veteran Montecito comedienne Carol Burnett is to receive a brand new Golden Globe award named in her honor by the Hollywood Foreign Press Association.
At the 76th annual awards ceremony at the Hilton in Beverly Hills next month the inaugural award will go to Carol, who celebrated her 85th birthday in April, herself.
The trophy will be given for the recipient's work in television throughout his or her career, and is not limited to onscreen personalities.
Carol's successful show with Vicki Lawrence, Lyle Waggoner, and Harvey Korman, ran from 1967 to 1978, winning 25 Emmys over the course of its run.
She won five Golden Globes, a record for a TV star, and got a further six nominations for the show, racking up a total of 17 nods throughout her stellar career.
The Ranch Returns
After suffering major damage in the New Year mudslides, Beanie Baby billionaire Ty Warner's San Ysidro Ranch is almost ready for its closeup again after digging out from the mud took three months alone.
The Stonehouse restaurant is offering brunch on December 22, 23, 29, and 30, and the charming rustic cottages are expected to be back on line by March.
"We want to show people we are back after the disasters," Scottish manager Maxine Rutledge told me when I visited the five star hostelry last week. "We have been deluged with people wanting to make restaurant reservations and book cottages."
Unfortunately, the giant bronze turtle statue that graced the lawn opposite the reception for many years went missing after the disaster, so a new one has just been delivered, but is yet to have a name.
If you care to christen the new turtle, please send your entries to me at the Journal (richardmineards@verizon.net) and Maxine will judge the most appropriate entry.
The winner will receive a champagne brunch for two at the Stonehouse…
You might also be interested in...