Caltrans Updates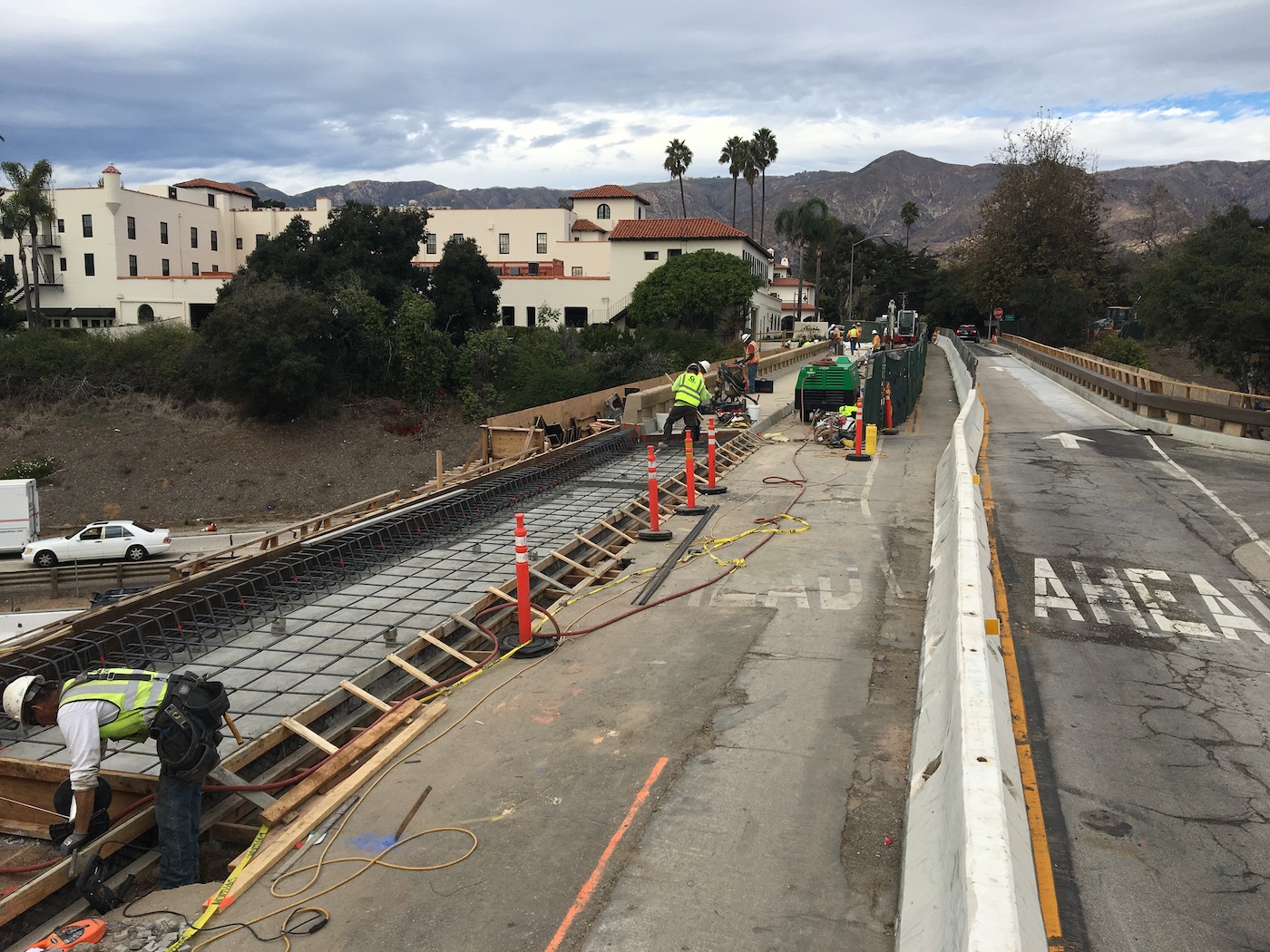 Earlier this week, Caltrans released updates on the major construction projects currently underway in Montecito, all related to repairs following the 1/9 debris flow. 
 According to project manager Jason Kline, the project to replace the bridge rails on the Highway 101 overcrossing at Olive Mill Road is nearing completion; the installation of bridge rails on the western side of the bridge is currently underway, with the bridge rails on the eastern side already completed. 
The traffic control and detours on Danielson Road are expected to end this weekend, weather permitting, when the sidewalk will re-open and Olive Mill returns to its full width for everyone. K-Rail will still be on site until the project is completely finished, and the supporting false work below the bridge on Highway 101 will be removed in early January, Kline said. The project is estimated to cost $1.5 million, and is being finished ahead of schedule.
Kline would like to remind Montecito residents that come Monday morning, there will no longer be flaggers at the intersection of North Jameson and San Ysidro, who were controlling traffic during the school drop-off hours. "We've been alleviating traffic there for months to help the congestion, but that will not be the case anymore," he said. "Drivers should use extra caution when using that intersection in the mornings."
A ribbon cutting ceremony for the finished bridge is slated for later this month.
This week, motorists on Highway 101 can also expect alternating lane closures due to the resurfacing of both lanes in each direction of the freeway between Hermosillo Road and Evans Avenue. The work began earlier this week, and will continue for roughly two weeks, weather permitting.
Caltrans also continues to rebuild and repair six bridges along State Route 192 following the 1/9 debris flows and flooding. The bridge repair and replacement are expected to cost $30 million, and are expected to be finished early next year.
Montecito Creek Bridge: Abutment work has been completed, and construction continues seven days a week from 7 am until 6 pm, weather permitting, to maintain the integrity of the construction site and surrounding area during the rainy season. This bridge is expected to be re-opened to traffic with some restrictions in mid-March.
San Ysidro Creek Bridge: Bridge rail work has been completed, crash cushions, guardrail, and bike rail work is continuing. Both lanes remain open during construction.
Romero Canyon Creek Bridge: Structure work has been completed with roadway and utility work continuing. This bridge is expected to be re-opened to traffic by mid-January.
Toro Creek Bridge: Bridge rails have been poured on one side of the bridge with the other side to be poured following the relocation of water lines in December. Roadway and utility work is ongoing. This bridge is expected to re-open without restrictions by the end of February. The bridge remains open to one lane of traffic until complete.
Highway 192 remains closed at multiple locations between Sycamore Canyon/Camino Viejo Road and Cravens Lane. Caltrans reminds motorists to move over and slow down when driving through highway work zones.
Coast Village Tree Lighting
This Saturday, December 8, the Coast Village Association, in conjunction with local businesses and property owners, are hosting a festive shopping and tree lighting event on Coast Village Road. "We wanted to 'go big or go home' this year, given the events of the last holiday season," said Board President Bob Ludwick.
The day of shopping local includes special offerings and refreshments from many retailers, a Santa photo opportunity at 1255 Coast Village Road, and a chance to enjoy the festive décor of the season. "We need this opportunity to feel whole again," Ludwick said, adding that the CVA, with the help of several generous sponsors, are decorating the trees in the Coast Village Road median. Serendipitously, there are 23 trees to cover in lights, the same number of Montecito residents lost in the mudslide in January. "When I realized that, I knew we had to do it," Ludwick said of the lighting.
The shopping event is from noon to 4 pm, followed by entertainment and a tree lighting ceremony. Kids from Mt. Carmel, Montecito Union School, and Cold Spring School will offer their musical talents and voices prior to and after the special tree lighting ceremony at 5 pm. A large 16-foot community holiday tree will be up in front of Renaud's Bistro, and center stage for the event will be the newly expanded patio at Coast Village Plaza, directly in front of Giovanni's Pizza and Here's the Scoop, whose owners have generously donated discount "Scoopons" to all of the nearly 150 student performers. The parking aisle in either direction will be closed to traffic and transformed into a gathering area for the community to view these performances and enjoy the festivities of the season.
"The CVA board welcomes and encourages our community to come out and support the businesses of Coast Village Road, and to enjoy the beautiful decorations retailers have installed to enhance the joy to the street as it comes to life for these holidays," Ludwick said.
Sponsors of the event include the owners from Olive Mill Plaza, CAVA, Calcagno & Hamilton, Coast Village Plaza, Montecito Journal, Four Seasons Resort the Biltmore, Energy Freedom, K.Frank, and the City of Santa Barbara.
For more information, visit www.coastvillageroad.com. 
You might also be interested in...