Light Up a Life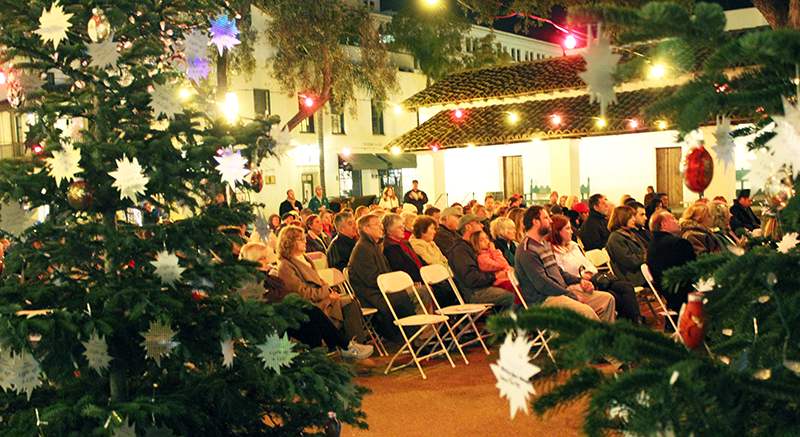 Hospice of Santa Barbara is celebrating 35 years of its popular and poignant series of tree lighting events, called Light Up a Life. This year, Hospice has announced the addition of a fourth ceremony location: Montecito's upper village, on the corner green. "We've been wanting to add a Montecito location for awhile, and it felt extra appropriate this year to provide special attention to that community," said Hospice of Santa Barbara CEO David Selberg. "It will be a chance for us to pause for awhile in the heart of Montecito, to give comfort this holiday season."
The first Light Up a Life tree lighting ceremony took place in Santa Barbara in December of 1983, kicking off what would become a cherished local holiday tradition. Since then, the annual event has expanded to include ceremonies in Goleta and Carpinteria. "The feel of the event is intimate and quiet, taking a sort of pause in the middle of a busy season," Selberg said. "The really wonderful thing about it is that people come together briefly and pause amongst the hectic-ness of the season to honor and remember the loved ones they've lost, no matter how recent."
Light Up a Life ceremonies are free to attend and feature special guests and speakers, music, and a memorial tree lighting, including hundreds of sparkling tribute stars hung to commemorate those who are no longer with us. At Montecito's inaugural ceremony, the choir from Cold Spring School will perform, and the Rev. Aimee Eyer-Delevett from All Saints-by-the-Sea will be the guest speaker. "This is an opportunity for all of us who have lost someone dear to them through the years to have a special ceremony of remembrance. Light Up a Life has made such an impact on those grieving during the holiday season, and we're looking forward to expanding this annual tradition to give more people in our community a chance to honor their loves ones," Selberg said.
Stars are available online and will also be available at each ceremony for a suggested donation of $15 or more for those wishing to personalize a star to hang on the tree. Hospice of Santa Barbara will record the names being honored and remembered into the Book of Life, which will be available in perpetuity online. The trees will be up through the holiday season, and tended to by Hospice personnel. All proceeds will benefit Hospice of Santa Barbara programs.
The local ceremony locations and time are as follows: Saturday, December 1, 5:30 pm at Casa de la Guerra, 15 East De La Guerra Street in Santa Barbara; Sunday, December 2, 5:30 pm at Camino Real Marketplace, Storke & Marketplace Drive in Goleta; Wednesday, December 5, 5:30 pm at the Montecito upper village green, corner of San Ysidro and East Valley Road; and Saturday, December 8, 5:30 pm at the Seal Fountain at Linden Plaza, Linden Avenue in Carpinteria. Everyone is invited to arrive at 5 pm to hang their personalized stars on the tree before the program begins; there will be chairs for those unable to stand through the short program.
To purchase a star or for more information about Light Up a Life, call (805) 563-8820 or visit www.hospiceofsantabarbara.org.
You might also be interested in...