Montecito Water District Updates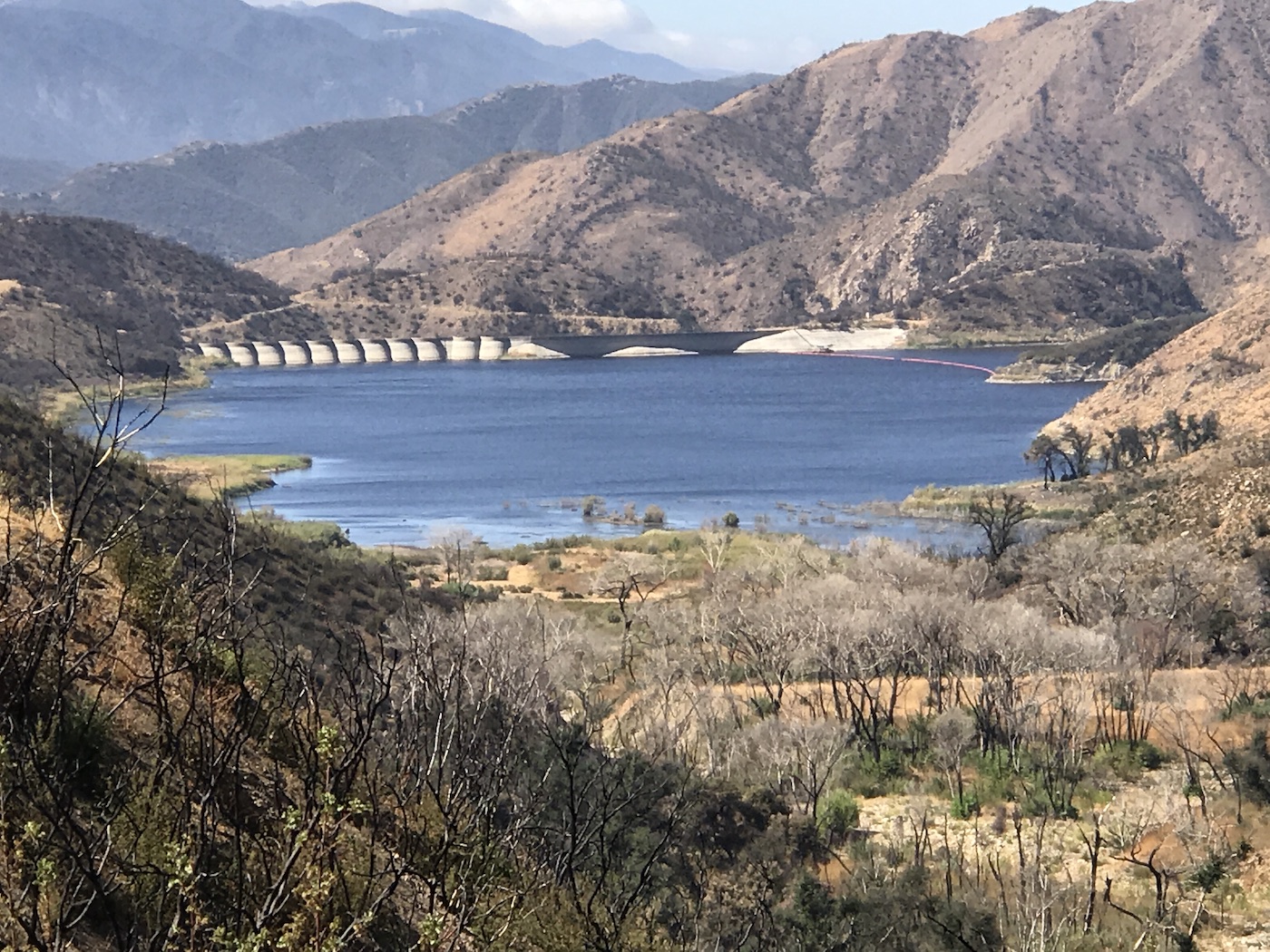 MWD general manager Nick Turner provides an update on District happenings as we head into a new water year: October 2018 – September 30, 2019.
The 2017-2018 water year presented nearly every challenge a Water District might face: ongoing historic drought conditions, unprecedented climatic events, high-demand for fire protection, infrastructure devastation, disaster response, and community restoration. Amid all of this, delivering a reliable supply of water at a reasonable cost to our customers continues to be MWD's main focus. Here's an update on important initiatives as we move into the 2019 water year.
Water System Restoration & Capital Improvements
MWD continues to make significant progress on repairs to damaged infrastructure caused by the January 9 debris flows. (Facts on actual damages are available on our website: www.montecitowater.com). The remaining permanent repairs along MWD's highline, on bridges, and at creek crossings are underway, either in the design or construction phase, and are projected to be completed before the beginning of the typical rainy season in January. The remaining repairs require highly technical investigations, full regulatory permitting, State/Federal environmental compliance, coordination with FEMA and other regulatory agencies, development of design plans/specifications and competitive procurement processes, and in many cases, construction schedules that depend on work being completed by other entities.
Special designs are being implemented at creek crossings to reduce the risk of compromised pipelines in the event of possible future extreme creek flows. Funding to cover nearly 94% of these project costs is expected to come from FEMA and California Office of Emergency Management. Grant and other funding mechanisms are also being pursued to cover the remaining costs.
As the disaster-related projects are completed in the coming months, the next phase of Capital Improvement projects will be scheduled. Aging infrastructure is a challenge for most public water systems, and Montecito is no exception. A significant portion of MWD's infrastructure – primarily pipelines – dates back to the 1920s. These older lines are more vulnerable to breaks, and main breaks can lead to service interruption for customers. To support water supply reliability, the District continues to prioritize main replacements and modernization of its water distribution system. Over the last year, the District successfully completed two large and much-needed scheduled projects, one on Ashley Road and one on Sycamore Canyon Road.
Water Supply Overview
MWD continues to evaluate water supply conditions to ensure water supply availability over the three-year planning period. Our three-year water supply planning outlook projects water supply availability through mid-2021.
Assumptions include consistent customer demand of ±4,400 acre feet per Year (AFY), continuing severe drought conditions, conservation maintained at 30-35%, and annual supplemental water purchases from various agencies across the state. Until local water supply conditions improve, or MWD successfully acquires new local and reliable supplies, we will remain heavily reliant on the State Water Project and its facilities, which deliver supplemental water purchases. These sources are projected to constitute ±70% of MWD's supply in 2019.
Following is a summary of our current water supply position.
Local Surface Water Supplies
As of October 1, Lake Cachuma and Jameson Lake (the District's primary local surface water supplies), are at 32% (61,200 AF) and 58% (2,950 AF) of full capacity, respectively. The United States Bureau of Reclamation has issued an initial Cachuma Project allocation of 20% (530 AF for MWD) for the new water year beginning October 1. Additional Cachuma Project supplies may be allocated later in the year depending on water supply availability in the lake. The District currently has approximately 2,700 AF of water stored in Lake Cachuma. Deliveries of water from MWD's Jameson Lake have been temporarily suspended due to water quality challenges following the Thomas Fire, the impacts of which are anticipated to last anywhere from five to 10 years. MWD is currently making upgrades to its treatment processes to enable continued deliveries of this critical water supply.
Groundwater and Management (SGMA)
MWD's ongoing groundwater monitoring program confirmed that groundwater supplies remain depleted as the region moves in to its eighth consecutive year of historic drought. Hydrogeologists forecast that it will take several consecutive years of above average rainfall for the groundwater basin to recover. MWD's monthly groundwater production varies but averages about 50 AF per month. Although groundwater makes up only 10-15% of our water supply portfolio (600 AFY), it remains one of our only local and reliable sources of supply. Proper management of this essential resource is necessary and required in accordance with the State's Sustainable Groundwater Management Act (SGMA). In August 2018, after nearly 2 years of preparation including a basin boundary modification, coordination with neighboring public agencies, and extensive public outreach, MWD filed with the State to become the Groundwater Sustainability Agency (GSA) for the Montecito Groundwater Basin. Development of a Groundwater Sustainability Plan (GSP) is expected to begin later this year. SGMA updates are available on our website, and we encourage interested parties to subscribe to our stakeholder email list through the website or by sending an email to sgma@montecitowater.com.
State Water Project (SWP) and Supplemental Water Supplies
The 2018 State Water Project allocation is 35% (1,155 AF for MWD), approximately one quarter of our annual consumption. As in prior years, MWD purchased water (2,800 AF in 2018) to supplement this reduced allocation and the lack of available local surface water supplies. While this water is being used to continue maximizing deliveries to Lake Cachuma through the end of 2018, approximately 900 AF of this supplemental supply was projected to remain in storage in San Luis Reservoir into 2019 and be at risk of loss in the event of a wet-year spill. Therefore, 900 AF is currently being banked in the Semitropic Groundwater Banking and Exchange program to protect it and bolster future State Water Project deliveries if/when future allocations are reduced. Participation in regional groundwater banking was initiated in 2017 with Semitropic as an opportunity to store surplus SWP deliveries and other supplemental water purchases without risk of spill or evaporation, which improves water supply reliability.
Recycled Water
In 2017, with completion of its 2015 Urban Water Management Plan Update, the District incorporated into its long-range plan a projected need and goal to add recycled water to its water supply portfolio as a potential future local reliable water supply. In late 2017, the District applied for and received grant funding from State Water Resources Control Board for the preparation of a new Recycled Water Feasibility Study. The report, which is nearly complete, considers all potential recycled water alternatives and will present feasible local projects, including cost estimates and conceptual designs. The results of the report will provide MWD with the basis for determining the feasibility of recycled water projects for the Montecito and Summerland communities. Because wastewater is the source of recycled water, close collaboration with local wastewater entities has been an integral part of the process.
Desalination
Desalination continues to be considered by many as the most immediate solution for providing MWD with a long-term, local, reliable water supply. In April 2018, District staff resumed negotiations with the City of Santa Barbara (City) on a possible long-term water supply arrangement. Under that proposed arrangement, the City would commit to deliver, and MWD would be obligated to purchase a specified quantity of water each year irrespective of the weather. Negotiations are progressing and nearing completion with a proposed term sheet expected before the end of 2018. This partnership would bring further diversification to the District's water supply portfolio and be a significant step toward acquiring local drought-proof water supplies.
Conservation
Despite the District's repeal of its monthly customer water use allocations and penalties in August 2017, customers continue to be voluntarily conscientious about conservation, and the current 12-month running average water conservation was a commendable 36% below 2013 usage. Conservation of 30-35% must be maintained to remain compliant with State regulations and the MWD's 2020 total production target as outlined in its 2015 Urban Water Management Plan. Compliance is essential, as it impacts our eligibility for future State funding that is made available for initiatives such as groundwater (SGMA), desalination, and recycled water.
MWD continues to encourage conservation and urges customers to look for ways to eliminate common wasteful practices, such as overwatering landscapes. On-site visits with the District's Conservation Specialist are available at no charge to all customers and can assist in identify water-saving opportunities.
Also, the Board recently approved implementation of a "smart meter" program to replace the aging manually read meters currently in use with electronic meters in 2019. These new meters can automatically record water usage at frequent intervals and communicate that information back to the customer and District for analysis. In addition, smart meters will help to reduce unintended water loss by alerting customers and the District of leaks in real time on their computer or mobile device. In the meantime, we continue to recommend that all customers track weekly meter reads for early leak detection and to prevent unintended water loss.
Financial Condition
MWD remains in sound financial condition despite the extensive damage incurred to its infrastructure following both the December 2017 Thomas Fire and January 9 debris flows. Board-allocated reserves funded all emergency-related repair work performed during the initial stages of the disaster, which total $2.5 to $3 million to date. MWD received financial advances from both FEMA and its liability insurance carrier totaling approximately $2.5M to assist with completion of the ongoing permanent repairs, which could total in excess of $5M.
District staff has worked closely with representatives from both FEMA and insurance to prepare the required documentation for project reimbursement and anticipates recovering the full 94% allocation for eligible disaster-related expenses. Grant and other funding opportunities are being pursued for remaining costs.
The District's latest five-year financial plan, cost of service study, and water rates (last reviewed in 2013), are currently in the process of being updated and are expected to be completed in early 2019. Cost assumptions informing the new financial plan, cost of service study, and water rates will consider the reduced new norm for water consumption, potential new sources of local reliable water supplies, and the elimination of the existing Water Shortage Emergency surcharge. Progress will be regularly communicated to customers.
Customer Service
This past summer, we introduced a new bill format and online bill-pay system that provides customers with 24/7 account access and features such as paperless billing and payments by credit card, all at no extra fee. We've received a lot of positive feedback on the new system and hope more customers will sign up.
In closing, I want the Montecito and Summerland communities to know that our thoughts are with them as we approach rainy season. We hope for modest rains, and I can assure you of MWD's ongoing commitment and dedication to service. If you desire any further information on water issues, please contact us.
You might also be interested in...