The Woody Robinson Experience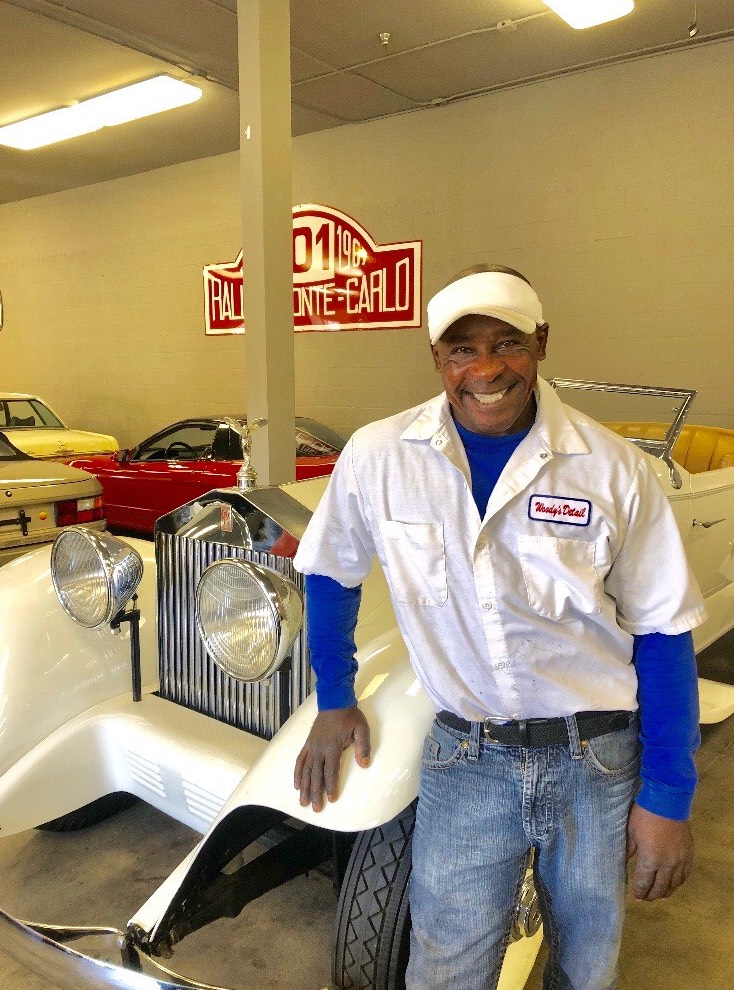 In 1985, an unfamiliar face appeared at a Santa Barbara car dealership and demanded a job as an auto detailer. The man who moved from the San Fernando Valley convinced the owner of his skills and devotion when he donated three days of labor free of charge.
Yes, Lynwood "Woody" Robinson landed the job.
Then, just a few years later, the native South Carolinian opened Woody's Auto-Detailing. Woody ran his business for 25 years in Santa Barbara: first on State Street, (briefly, until a storm destroyed the company), then over to Chapala for the majority of Woody's career.
After two decades of running a successful business on Chapala, Woody's partner bought him out and moved the well-known auto-detailing company over to Milpas Street, where the business continues its auto-polishing expertise today.
However, when Woody sold the company that kept the satisfied customers' cars looking clean and pristine, he didn't completely throw in the towel. Ever since Woody sold his business, he has more time to focus on a selection of customers who need their vehicle(s) taken care of.
"I'm a legend here in town, everybody knows Woody," says the 60-year-old and husband of Angela Robinson. "Plus, I pretty much know every business in town; we all help each other grow."
Woody and Angela Robinson moved from the San Fernando Valley, where Woody went to high school. The two arrived in Santa Barbara without any kids. Now the auto-detailing guru and his wife have two daughters, Whitney Robinson, 29, and Lynegeia Robinson, 37, as well as one adopted son, Chris Robinson, 25, adopted when he was six and who helps Woody restore and detail cars.
"I was too busy trying to run a business before, but now I have time to network with other businesses and am able to refer them to a business that has anything to do with a car," says Woody. "And Woody guarantees it will be perfect and a good deal."
Now Woody travels out of town to participate in car rallies in Pasadena, Long Beach, San Diego, and Monterey – rallies with beautiful "high-end" vehicles such as Woody's 1965 Convertible Mercedes, as well as a 1957 and a 1958 Mercedes 190SL. All restored to immaculate conditions.
Woody rents his restored Benzes for weddings and private or formal events, such as Drew Barrymore's wedding with Will Kopelmanin June 2012, when Woody drove the newlyweds in one of his cherried Mercedes Benzes while the newlyweds locked lips in the backseat.
So, for the car you've always dreamt about ever since you watched American Graffiti one memorable night at the drive-in, Woody has all the means to help you achieve what most Americans only brood about at one time or another.
Because ever since Germany and France invented the automobile in the late 1800s, followed by Henry Ford's mass production in the first half of the twentieth century, the acquirement of a drivers' own wheels has not been an easy endeavor to achieve.
But with Woody Robinson around to help Santa Barbarans keep their hard-earned accomplishments shiny and new, or to share his auto-connections with the zealous auto-world so others may enjoy regular jaunts through the American Riviera as well, this dream is just as much a reality.
You can reach Woody at (805) 886-5020 for anything to do with your old or new car. Woody has advocated for small businesses since the early 1990s and trained its employees, which still provide auto-detailing services on Milpas Street as well.
You might also be interested in...