Research Aims to End Alzheimer's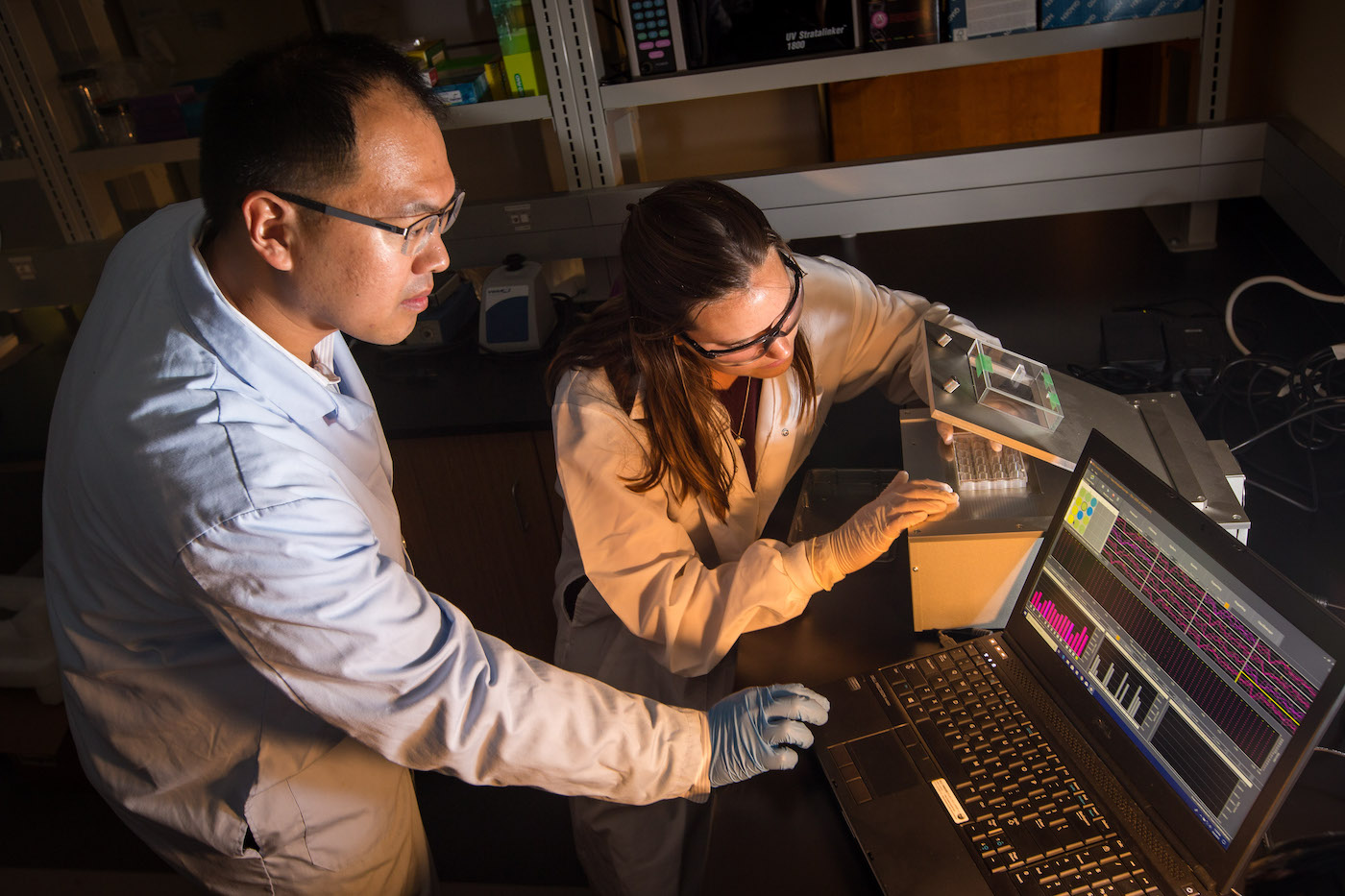 Westmont researchers are using a new high-tech tool to understand human neurological disorders, such as Alzheimer's disease. As part of a summer research project, Yi-Fan Lu, Westmont assistant professor of biology, and senior Heidi Pullmann used the new microelectrode array, purchased through the Westmont Provost's Office, to detect and record the response of neurons to genetic mutation or toxins. Westmont's academic program gives students opportunities to work directly with faculty on research and scholarly projects.
Pullmann and 22 other students presented their findings at the Celebration of Summer Research on September 21 in Winter Hall.
"The microelectrode array can also be used to screen for new drugs, examining if any compounds have reversed the effect of the mutation or the toxin to the neurons," Lu says. "This equipment has the power to push neurological disorder research to the next level in 20 years and potentially discover new drugs for many diseases that currently have no cure."
Lu and Kristi Cantrell, associate professor of chemistry at Westmont, are collaborating with colleagues at UC Santa Barbara to examine peptides that may lead to Alzheimer's disease. This summer, Lu worked with Pullmann, a biology major from Florence, South Carolina, testing four shorter tau peptide variants.
"I hope this research will lead to the advancement of the understanding of Alzheimer's and other neurodegenerative diseases. The project that we are working on is part of a much larger study into the mechanisms of the disease, and I would love to contribute to the knowledge of the scientific community. Scientific advancement typically happens in small increments, but I hope that what we are doing is an important one."
Think Fast, Slow with Kahneman
Daniel Kahneman, Nobel Prize Winner in economics, recipient of the Presidential Medal of Freedom and bestselling author of Thinking Fast and Slow, speaks at a luncheon Friday, November 2, at noon in Westmont's Global Leadership Center. Tickets to the event, which is sponsored by the Mosher Center for Moral and Ethical Leadership, cost $100 per person and may be purchased online at westmont.edu/mosher-events.
Kahneman, an Israeli-American psychologist, is one of the world's most influential living thinkers who has made profound impacts in many fields, including economics, medicine, and politics.
He won the Nobel Prize in 2002 for his revolutionary work on the psychology of judgment and decision-making and behavioral economics. In 2011, Foreign Policy magazine named him a top global thinker and The Economist listed him as the seventh most influential economist in the world in 2015.
He has won the Distinguished Scientific Contribution Award of the American Psychological Association (1982), the Lifetime Contribution Award of the American Psychological Association (2007), and the Presidential Medal of Freedom (2013).
The Mosher Foundation sponsors a series of speakers in Santa Barbara, including Pulitzer Prize winners, who address the moral and ethical strengths and weaknesses of various American presidents and society in general.
Past speakers include: Bob Woodward, Pulitzer Prize-winning investigative reporter; Jon Meacham, presidential historian, Pulitzer Prize winner and contributing editor at Time magazine; David Gergen, former adviser to four U.S. presidents; Guy Kawasaki, an entrepreneur who worked with Steve Jobs to launch Macintosh; Jack Rakove, Pulitzer Prize-winning political author and professor at Stanford University; and Ronald C. White, author of several best-selling books, including A. Lincoln: A Biography.
A gift by the foundation established the Mosher Center for Moral and Ethical Leadership that is part of Westmont's new Global Leadership Center, which opened in fall 2017
Concert Explores Immigration
The Westmont Fall Orchestra concert "The Dream of America" explores the theme of the American experience in powerful and hopeful ways Friday, October 19, at 7 pm and Sunday, October 21, at 3 pm, both at La Cumbre Junior High School. Tickets, which cost $10 for general admission (students are free), may be purchased at westmont.edu/music or at the door. For more information, please contact the music department at (805) 565-6040 or email music@westmont.edu. Proceeds from the concert benefit Immigrant Hope, the Anti-Defamation League, La Cumbre Junior High School, and Westmont Music scholarships.
The concert features Antonín Dvorák's New World Symphony and Peter Boyer's Ellis Island: The Dream of America, which includes a multi-media production.
"Both of these works combine powerful musical elements with emotionally evocative storytelling," says conductor Michael Shasberger, Adams professor for music and worship at Westmont. "Dvorak's blend of American-influenced musical themes with symphonic form creates a brilliant masterpiece. Boyer's use of symphonic music, reminiscent of the finest examples of film music, tells a powerful story itself."
Live actors will portray the true stories of seven immigrants who came through Ellis Island. They include Michael Bernard, Tom Hinshaw, Stanley Hoffman, Matthew Tavianini, Erin Brehm, Cheri Steinkellner, and Annie Torsiglieri.
The accounts range from an energetic Irishman arriving in the midst of the Roaring '20s, complete with ragtime music, to a Polish woman escaping the horrors of the Holocaust of World War II, accompanied by a gripping musical score. "Each begins with the challenging reason for the journey and ends basking in the light of the torch of the Statue of Liberty and the hope that emerges after a perilous ocean journey," Shasberger says. "It's a great piece of music combined with powerful, poignant, and moving stories of real people who have contributed to the story of our country."
Shasberger says he hopes audience members will leave with an affirmation of our highest ideals as a country and a culture. "This experience won't solve the challenging public policy issues around contemporary immigration issues, but I think it can give us all a window into the hope-filled vision of America that we share in common," he says. "Perhaps we'll find a common purpose to work out the thorny issues that face us today."
You might also be interested in...