The Montecito Heat Index
How hot is Today's Montecito Real Estate market? The Heat Index measures buyer choices for single family homes in five price sectors. Rather than sales data, typically at least 30 days old, the Index measures signed contracts resulting in present demand and thus market strength and direction.
Since home purchases fluctuate seasonally, indeed monthly, today's Heat is compared to this date a year ago. All data are from the Santa Barbara MLS and are uniformly deemed reliable.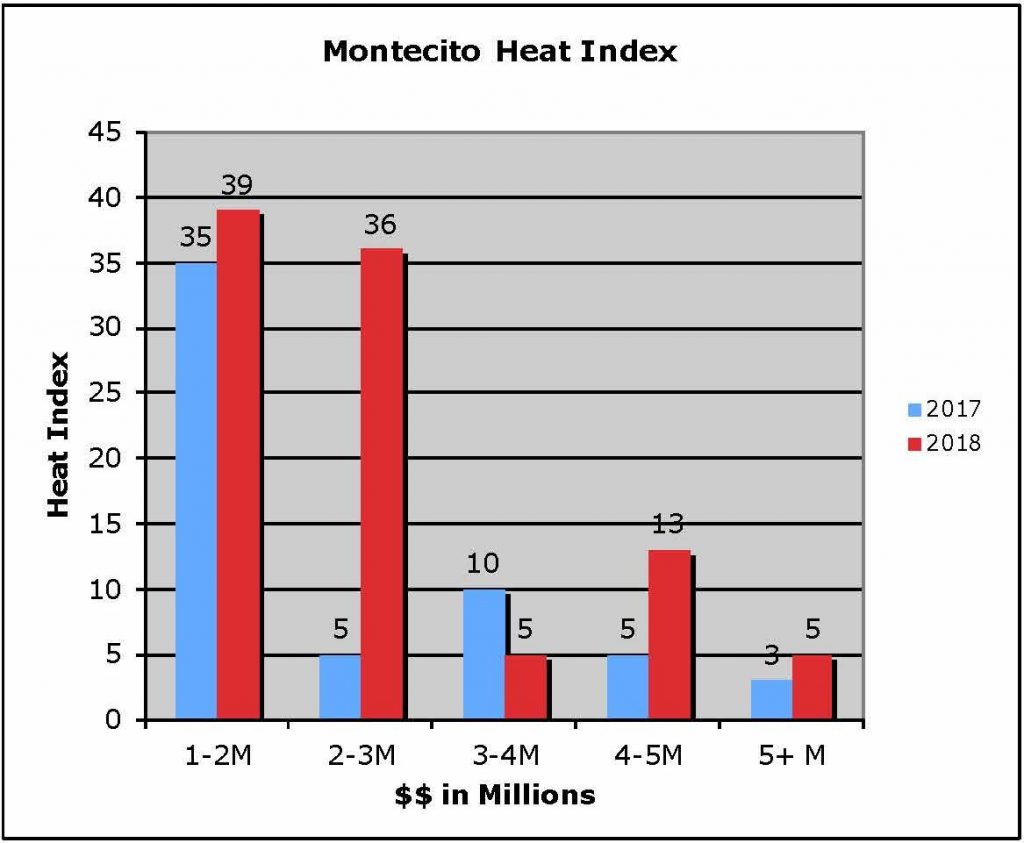 Today's total Heat score is 98, a significant increase over last year's score of 58.
As the chart describes, the $1-2 million group is our demand leader with a score of 39, just above last year's score of 35.
The $2-3M group just missed the leader position by 4% and easily outperformed last year's score of 5, while the $3-4M sector's demand is just half of last year's score.
The $4-5M group is always interesting to watch. Demand in this group changes more than any other. Today it scored a respectable 13, nicely outperforming last year's score of 5.
The $5M-and-above mega estates scored a 5, bettering last year by 66.6%. Since the past winter events, sellers have left the market in significant numbers. Today, the inventory of homes for sale in this group is down 24.3% from last year. All other sectors have nearly identical inventory levels as last year's.
Looking at year over year comparisons, we are the only area in our MLS with a negative median price. Hope Ranch, with admittedly just a third of our sales, shows a median price increase of 37% while Montecito's median price decreased by 8%. Sales show an equally dark picture. Hope Ranch is up a huge 37% while Montecito is down by a stunning 42%.
Sellers are trying to hold on to their asking prices yet are growing increasingly impatient with the lack of offers they are receiving. Buyers, on the other hand, still have few homes to consider with concomitant high prices not helped by the Fed's tightening monetary policy and President Trump's property tax deduction cap. As home sales continue to decline for the fifth consecutive month, buyers should be increasingly demanding price reductions before saying yes, and sellers might have to become more agreeable to close escrow. Given the strong Heat number today, our sales numbers should improve as these contracts proceed to closure.
Southern California is enjoying a 7.3% median price increase with sales numbers down 12%. Most economists are questioning the duration of the nearly 10-year sellers' market, yet don't see a 2006 collapse on the horizon but rather a slight shift toward buyers. Most important for Montecito is getting through this winter with both average rainfall and no fire or debris flow events. Nothing will normalize our market more than that.
You might also be interested in...