Laguna Blanca Celebrates 85 Years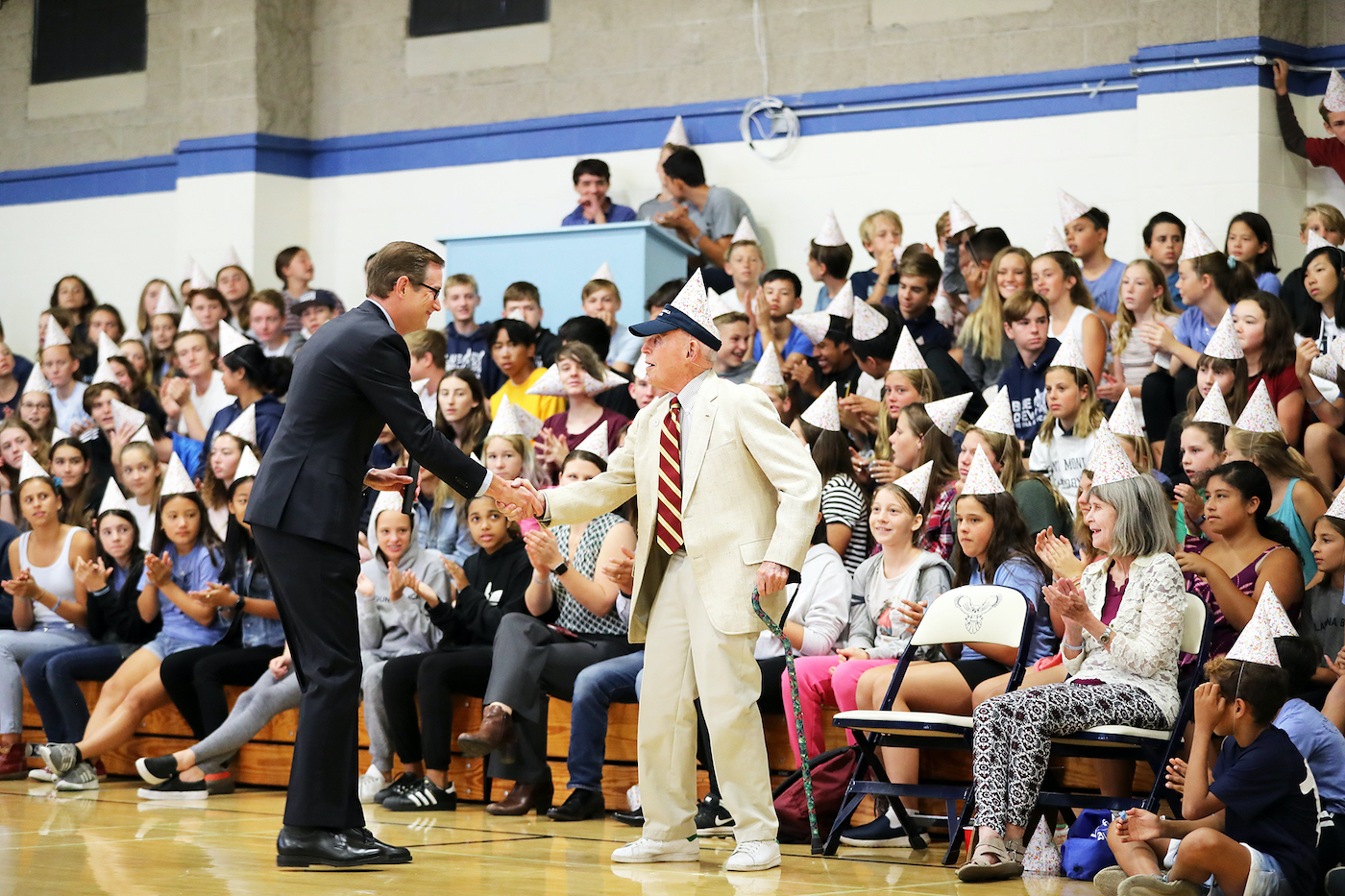 On Friday, September 21, 85 years to the day since opening its doors, Laguna's faculty, staff, and students gathered to celebrate the school and its accomplishments over the years. The All-School 85th Birthday Bash kicked-off with a pep rally in Merovick Gymnasium and a drone shot of the entire school formed in a giant 85. The extended lunchtime celebration included a taco lunch, birthday cake donated by Lilac Patisserie, and a hand-painted photo booth created by Laguna Blanca Lower School art teacher Courtney Guay and grades EK-4 students.
The highlight of the day included remarks from distinguished Laguna alumnus Arthur "Bam" Spaulding (class of 1943), nephew of the school's founder, Edward Selden Spaulding, and one of the first 40 boys who was there on Laguna's opening day on September 21, 1933. A veteran who fought under General Patton in the Battle of the Bulge, Spaulding was awarded the Purple Heart for wounds in combat and a Bronze Star for gallantry in action. After serving his country in the U.S. Army, he graduated from Cal Tech and spent his career in oil and natural gas.
At the pep rally, he also reflected about what it was like to be a Laguna student in the early years – how some boys rode their horses to school in the 30s, how happy he was when girls joined the school in 1942, and how attentive his teachers and coaches were – always encouraging him to succeed. He closed his remarks by encouraging the students to get involved in music or to learn an instrument, as it brings much joy to the retirement years. Currently a saxophonist in several swing bands, Bam still plays shows around Ventura County as a member of The Swing Shift Big Band.
Over the past 85 years, Laguna has evolved from a boys' academy into a dynamic early kindergarten through 12th grade learning environment, rooted in experiential learning. According to director of communications Tara Broucqsault, Laguna students are spending less time listening to lectures and more time working together to produce tangible outcomes in the school's signature programs such as TEDx, Science Research, Robotics and Engineering, Entrepreneurship, IoT, Humanities, and Global Urban Studies. "Faculty use novel teaching methods to give students an experience they will never forget," she said. "This approach captures the 21st-century students' interest and provokes serious thought in team-oriented, problem-solving contexts, which is more reflective of the skills needed for today's innovation economy."
 The school welcomes a population of about 360 students each day, located at the Lower School campus in Montecito and Middle School and Upper School campus in Hope Ranch. For more information, visit www.lagunablanca.org. 
You might also be interested in...