A Walk on the Wild Side
The Wilderness Hiking Speaker Series hosted by the SB Public Library on September 20, was with renowned wilderness animal tracker, interpreter, and teacher James Lowery, along with his wife, Mary E. Brooks, to more than 45 attendees. The presentation titled "Animal Tracking Secrets" is part of an ongoing series to teach all range of wilderness skills set up by our town's wildlife expert, James Wapotich, in conjunction with programming librarian Jen Lemberger, M.Ph.
Lowery has 30+ years experience in the field, authored two key field guide books, and operates his Earth Skills School in Frazier Park, California, where he teaches classes in animal tracking, wilderness survival skills, native plant uses, and traditional skills.
Little did we know walking in, and well-equipped in awe walking out. Lowery taught us using his personal on-location photographs and handwritten ledgers in a slide presentation, hands-on clay molds made from actual animal tracks, and himself actually performing the various dance-gaits of the coyotes he tracked.
The lecture began with Lowery sharing his main mission, to reconnect people with nature in an immediate and tangible way. He then explained that by knowing the animal tracks, one will learn more about the hiking and camping area as a whole: "Tracking opens a rich dimension into the lives of the animals around us. The tracks we find on the trails and in the wilderness can reveal what the animal is, its gender and size, where it's going and what it's doing, and even its mood."
He trained us to look at the animal tracks and ask, who are you, when were you here, what were you doing, why did you take this path, are you injured, looking for food, hiding, migrating, moving with more of your pack, and so forth. After studying animal tracks carefully that one comes across, he instructed us to draw a map of the tracking path, measure the size of the paws, step-distance and tracking length, and compare the sizes and shape of the paw to actual data on different animals commonly identified to get started.
Lowery re-assured us that after a short time studying tracks, we would be able to know the animals' body language by the gait shown on the path, such as humans who exhibit what is going on through their body language and how their posture is when they walk. He gave examples using mountain lions and coyotes, comparing their tracks to that of a large dog. Dogs have a distinct sharp toenail and rear-paw center pad compared to a mountain lion; the toe alignment patterns are different as well. An adult male mountain lion's back paw is equal to or greater than 50mm [1.9685 inches]. Alpha-male mountain lions will mark the trail at specific locations by making a mound with their back paws and spraying. He then gave two mountain lion tracking examples he and his students documented in 2014, one of which was exactly repeated in 2018 at the same location – Windy Springs, California (see photo 2).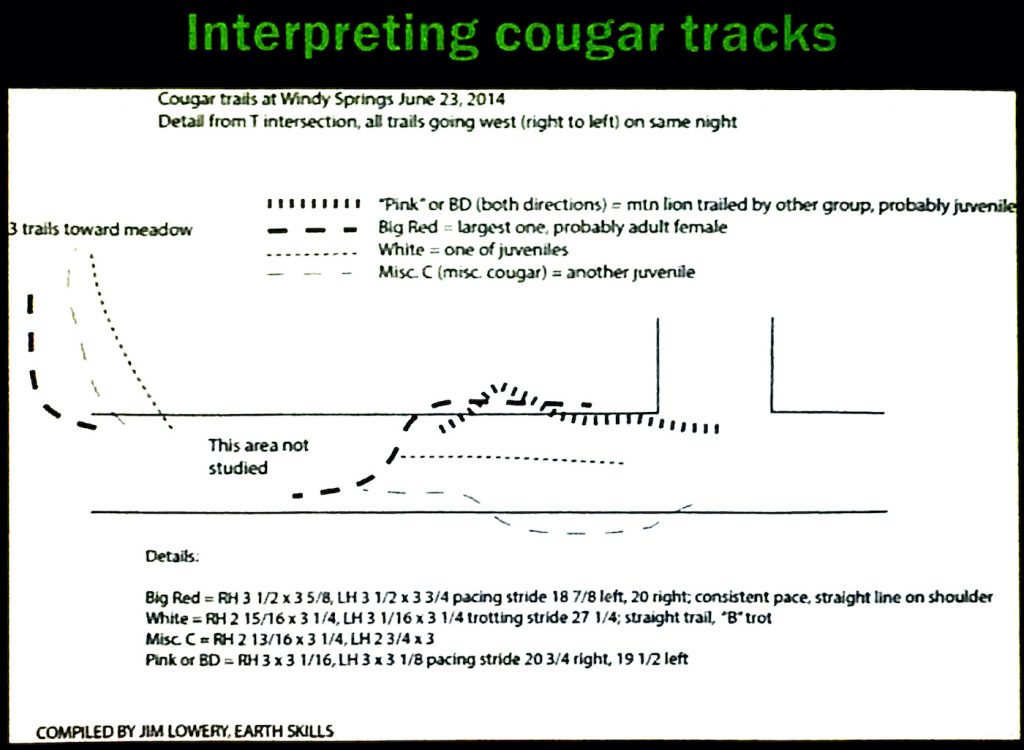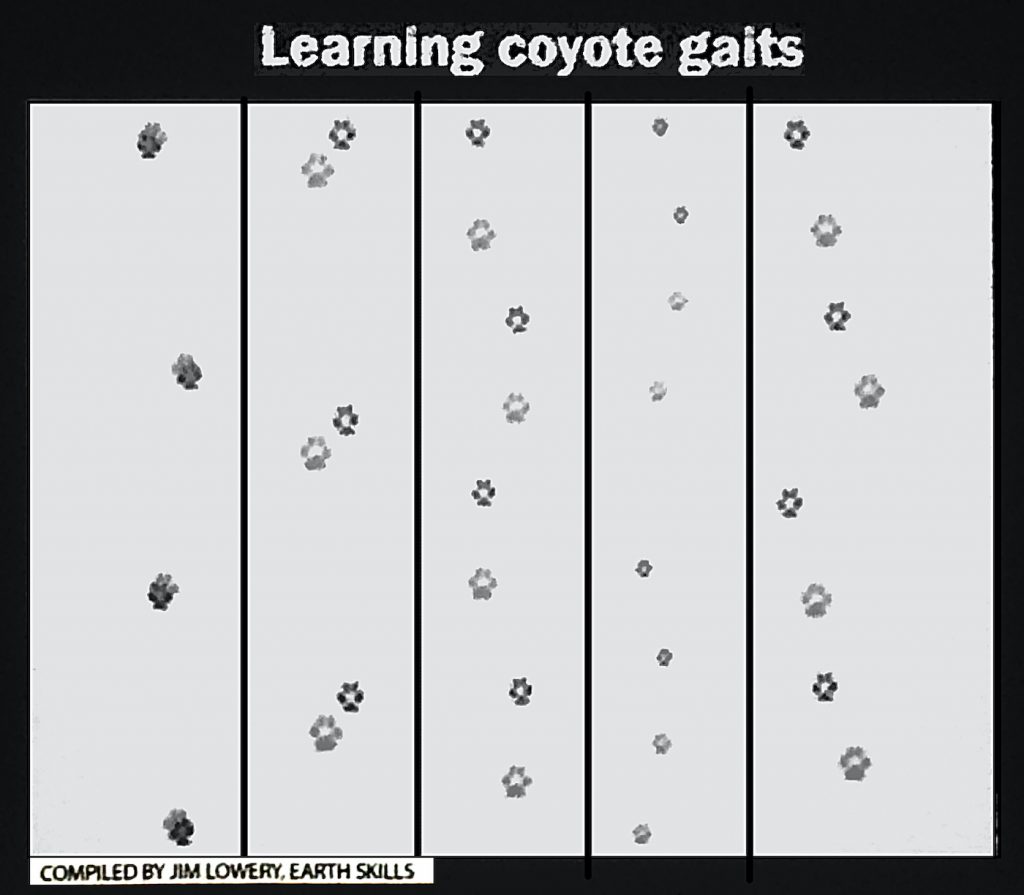 Next up was the coyote, to which he said is an animal of many dances and gaits, with at least 35 different styles (see photo 3): "They gallop, trot, side-trot, overstep, side-step, prance, and so forth." Lowery showed us many coyote tracks and one in particular he is holding in photo 1, which he demonstrated in class, dancing across the front of the room in the same pattern. 
He taught us that the next level in studying animal tracking is to try to emulate the animal's gait pattern, so one can get a feel for what may have been going on during the time the animal had walked in the area. He also corrected the myth that when coyotes howl in a pack they are getting ready to kill. "Not true!" Lowery says. "It's more like a prep-rally to create an auditory fence around a territory, supplementing the physical scent marks left by the group, with a yip-yip-howl used by the family, like a hip, hip hooray!" He taught that coyotes are not like wolfpacks and do not hunt as a pack for one game food, but rather a family of four may go out on the same path, each taking what they want to eat and explore. The most interesting thing about them to Lowery is their ability to dance a variety of tracking paths, unlike other animals who may have only a few or one style.
Following a question-and-answer period, everyone gathered around to check out the clay molds of the various animals Lowery tracked, his book, and to share information. The Earth Skills website has many free info downloads about tracking and gait videos to study. His books and classes are also listed to sign up.
411: www.earthskills.com
Jim Lowery founded Earth Skills in 1987, as an extension of his longtime passion for wilderness adventure. After completing many specialized classes in tracking, wilderness survival, and related subjects from Tom Brown, Jr.'s Tracker School in New Jersey, he put thousands of hours applying the skills, while he taught hundreds of beginning and advanced workshops for 30 years. Among these have been special trainings for universities, naturalists, docents, teachers, and wildlife biologists. He has been an expert tracking consultant for field studies of mammals and has led annual trainings in mammal tracking for State of California DPR staff since 2008. Jim is the author of The Tracker's Field Guide (Globe Pequot 2006 and 2013), based on 20 years of field research and photography as well as extensive study of mammal biology and behavior. Besides this field guide, Jim has written Walk with the Animal (2013), monographs about tracking, and 20 years' worth of newsletters about outdoor skills, nature, tracking, and traditional skills.
You might also be interested in...