Man and Woman of the Year
The Santa Barbara Foundation (SBF) gave its 75th Man & Woman of the Year awards, honoring extraordinary service and volunteerism in Santa Barbara, to Ernesto Paredes and Joni Meisel during lunch at the Coral Casino. The room was packed with friends and relatives of the honorees.
Board vice chair Pamela Gann welcomed the crowd and thanked luncheon chair Diane Adam for the lovely event. Pamela told us, "Harold Chase was the first honoree for WW II war bonds where he raised $85 million." He was the one who developed Hope Ranch. His sister, Pearl Chase, was the first woman to be honored several years later in 1956.
President/CEO Ron Gallo claims, "This is my favorite event of the year where we honor great deeds of ordinary people. These two individuals realize volunteerism makes a community." Ron told us that the SBF began 90 years ago with $100,000 and was strictly run by volunteers. Now there is a staff of around 30 and its assets are more than half a billion. Wow!
The Foundation has addressed many local problems during its history. from dredging of the harbor to water shortage. Ron joked that there was no silent auction. He did honor Abe and Jessica Powers for creating the Bucket Brigade during our disaster and awarded them a check of $10,000 saying, "They literally moved mountains."
Seth Streeter introduced Ernesto and presented his award. He said, "For Ernesto, being early is on time and he always dresses for success." He lives by this quote: "If you want to go fast, go alone. If you want to go far, go together." Ernesto responded, "I feel like I'm at my own funeral." He's been called the "Mayor of nonprofits."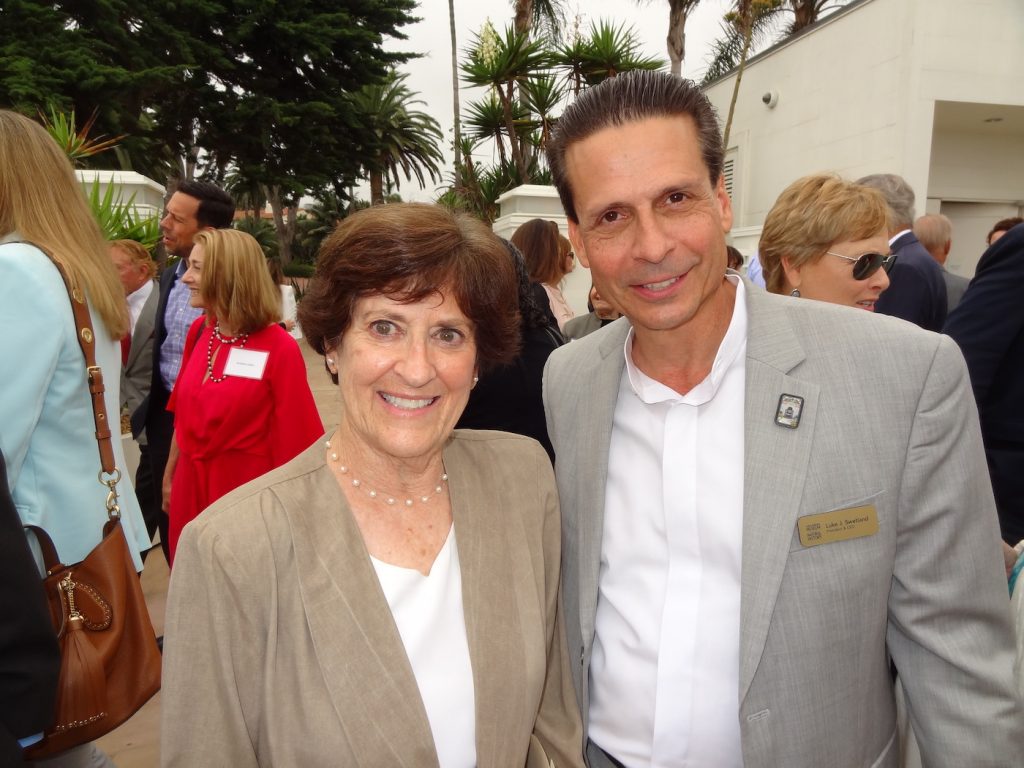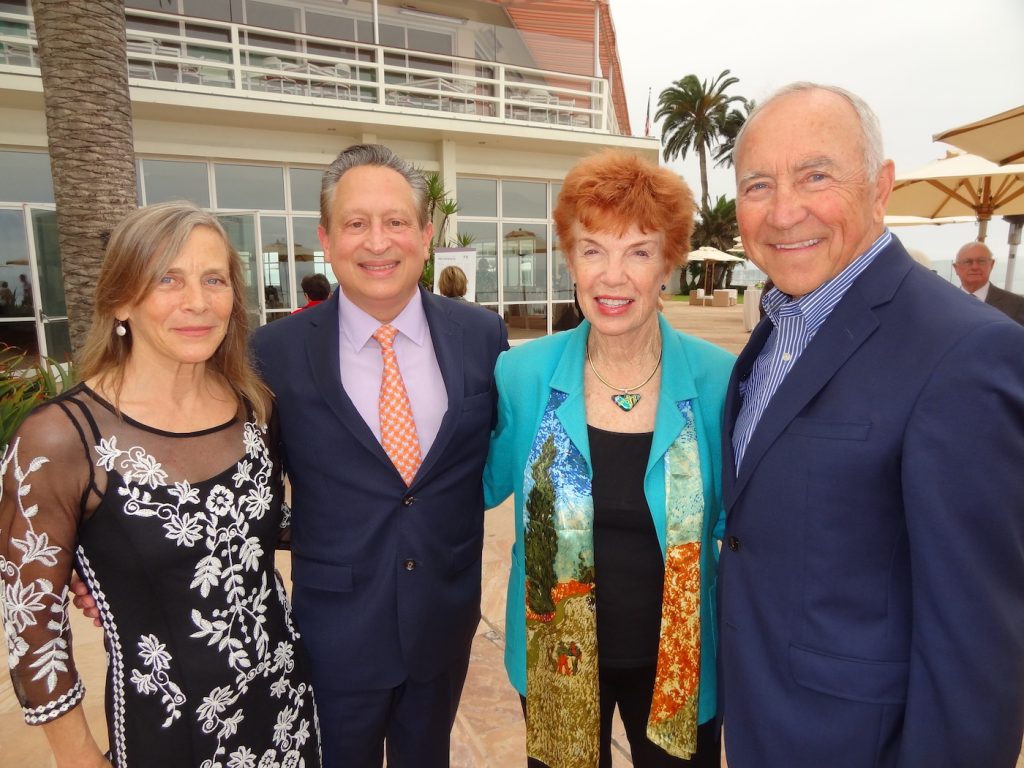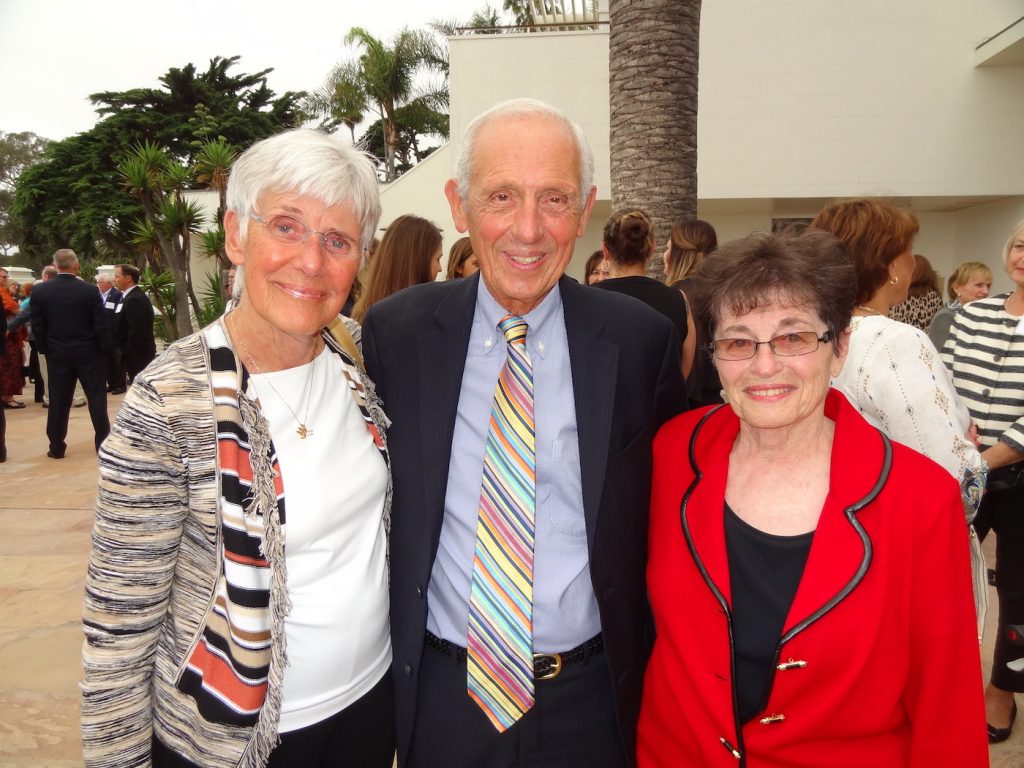 Ernesto's regular job is as executive director of Easy Lift Transportation Service. He/s been a Court Appointed Special Advocate (CASA) volunteer, the Executive Director Roundtable, and Future Leaders of America. He says "yes" to everything. He believes integrity is doing the right thing, even when no one is watching. To volunteer, it doesn't matter who you know, your bank account, or your physical ability. Ernest says, "My passion for serving came from my father and my love for our community in its entirety, from my friend Larry Crandell Sr." He misses them both.
Steve Lyons introduced the Woman of the Year, Joni Meisel. He said, "I'd call her the "Woman of the Decade." She has served in leadership for many organizations such as CALM, Santa Barbara Public Education Fund board, and the Anti-Defamation League's Santa Barbara/Tri-Counties regional board. She's known for helping youth and supporting seniors and those struggling with homelessness.
Joni went to elementary school in Philadelphia, where she became aware of the not-so-level playing field for some of the students. She began sharing with others, especially in high school when she could get around on her own. When she moved to Santa Barbara 48 years ago with her husband, Paul, she found it a perfect-size community. "The needs are the same everywhere else, but the support here to meet challenges is extraordinary."
These honorees believe that "Community is about belief, not tribe." A few of the many past honorees attending were David Peri, Ken Saxon, Peter MacDougall, Bill Cirone, Bob Bryant, Carol Doane, Gerd Jordano, Anne Smith Towbes, Barbara Tellefson, Susan Gulbransen, and Janet Garufis. Premiere Legacy Gold sponsors were Montecito Bank & Trust and Santa Barbara Foundation, the Media sponsor was Noozhawk, and the Invitation sponsor was Bryant & Sons, Ltd.
You might also be interested in...